Best Summer Gear of 2020 - ACCESSORIES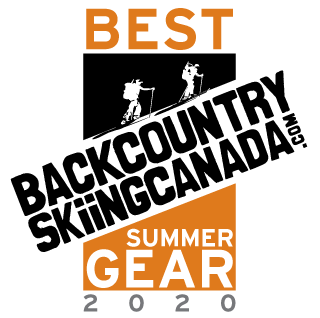 ACCESSORIES
We've researched all the new gear along with some existing classics to provide you with only the best of the best, which we've broken down into three categories: Camping, Apparel, and Accessories. Whether you need to replace an outdated, broken or well-loved piece of gear—or are just in the market for something new, the following list should help ensure that your hard-earned money is well spent. If you are just window shopping that's ok too, nothing wrong with making a wish list for your upcoming birthday, Christmas or just because.
We started off with the Best Summer Gear of 2020 in the Camping category and then went onto the Best Apparel but now it is time for the Best Accessories that you should simply not be without.
Peruse over the list and see what strikes your fancy and if inclined click the 'Buy Now' button and get a great deal too!

Peak Design's Every Day Messenger Bag and the Capture Pro Camera Clip. They have now set their sites on improving the common travel tripod since they have always suffered from needless bulk, weight and wasted space. Peak Design has spent the past 4 years designing their new for 2020 Travel Tripod from the ground up. They have created a travel tripod that packs down to the diameter of a water bottle—without compromising height, stability, or features.
The new Peak Design Travel Tripod comes in an Aluminum and Carbon version, both provide faster and easier setup and takedown with ergonomic adjustment points. Both versions come in a durable, 100% serviceable design that is made for the open road and backed by Peak Design's lifetime guarantee.
The Peak Design Travel Tripod includes a protective soft case, ARCA-compatible Standard Plate, mobile mount, hex tool with carrying clip, and bushing removal tool for maintenance.
If you're looking for a tripod that's built for adventure with pro-level stability, high load capacity and a high deployable height for the versatility you need to get the shot you want—then this is it.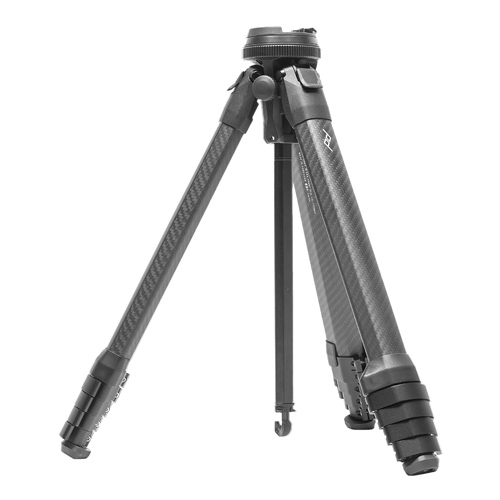 Materials:
Ball Head, Hub, Load Hook: Powdercoated A380 aluminum
Legs: Anodized 6061-T6 aluminum (Alloy), Carbon fibre (Carbon)
Quick Release, Adjustment Ring, Center Column Knob: Anodized 6061-T6 aluminum
Locking Ring: Polycarbonate/ABS blend
Feet: ShoreA60 TPU
Features:
The spatially efficient design eliminates wasted volume when packed down
Packs down to the diameter of a water bottle
No protruding knobs.
Unique design allows quicker, easier setup/takedown
Secure, fast, and ergonomic camera quick release
Fast-locking, low profile leg cams
Legs deploy in seconds, without having to flip over like traditional travel tripod legs.
Pro-Level Stability and features
Ultra-smooth, omnidirectional Compact Ball Head
20lb weight capacity (optimized for a full-frame DSLR + telephoto lens)
Stability and vibration damping performance comparable, if not better, than most tripods in its class
Low and inverted modes position your camera inches off the ground
Integrated load hanging hook
Nonslip, shock-absorbing feet
Anchor attachment points for carrying with Peak Design straps (sold separately).
Weather and impact-resistant materials
All parts are serviceable, cleanable, and replaceable
Includes a padded, weatherproof case
Securely grips any phone/case
Guaranteed for life
Specs:
Price: Aluminum - $512CAN / $349.95US;
Carbon Fibre - $878CAN / $599.95
Weight: Aluminum - 1.56kg / 3.44lbs;
Carbon - 1.27 kg / 2.81lbs
Weight capacity: 9.1kg / 20lbs
Dimensions: Length - 39.1 cm / 15.4"; Height: 130.2cm / 51.25"; Diameter - 7.9 cm / 3.125"

GoPro Hero 8 Black

GoPro has been the leader in action sports cameras for years now and they further cement their position with the release of their new Hero 8 Black. This is the best GoPro yet with a more streamlined design, higher maximum bit-rate, 1080p live streaming, new microphone and improved app. They have also built-in new time-lapse modes, capture presets and improved the digital stabilization. On the hardware side, GoPro now offers a series of Mod accessories to make blogging easier. There is the Media Mod which attaches a premium shotgun 3.5mm mic and HDMI out ports to the Hero 8 Black, the Display Mod incorporates a flip-up screen to make framing your shots even easier, while the Light Mod adds powerful LED lighting.

While all of these features are great additions to the GoPro Hero 8 Black, the best one by far has to be the integration of the new built-in mount which means that there is no more need for the cage. Waterproofing used to be provided but the cage, however, that long went away when the GoPro itself became waterproof, so the only real benefit the cage provided was for mounting the GoPro to tripods or add on's. The new GoPro Hero 8 Black has two hide-away mounts that fold out from under the GoPro which work with all current GoPro accessories.

GoPro also unveiled their new GoPro Plus service which offers unlimited cloud storage for all of your footage along with 50% off mounts and accessories, plus free replacement of your GoPro should you break it—no questions asked! GoPro Plus is available for $4.99US/month or $4.17/month with a year-long contract.

The new GoPro Hero 8 Black was just released in the fall with most of the Mods being released in early 2020 so now you can get the latest and greatest action cam to capture all your hero worthy adventures.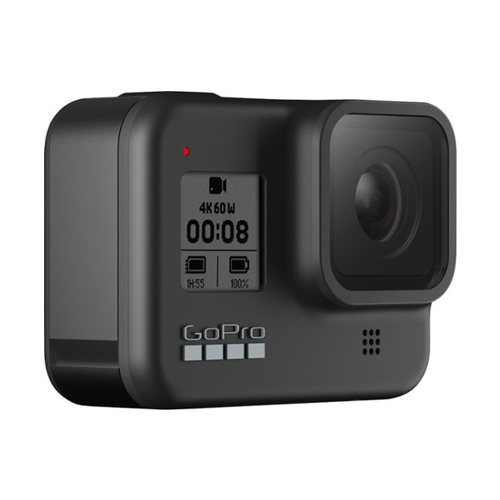 Features:
HyperSmooth 2.0
TimeWarp 2.0
Live burst photos
Improved HDR
Better low light image processing
RAW Photos
100Mbps bitrate for 4K and 2.7K
Capture presets
Twice the shock resistance
In-built mount
Front-facing mic
Improved audio wind-resistance
Specs:

Price: $526CAN / $399US

Weight: 126g / 4.44oz

Dimensions: 6.63 x 4.86 x 2.84cm / 2.16 x 1.9 x 1.11"

Video: 4K60, 2.7K120, 1080P240.

Photo: 12MP

Max video bitrate: 100Mbps (4K)

Connectivity: Wi-Fi, Bluetooth.

Waterproof: 10m / 33ft

Battery: 1-2hrs, 3hrs charge time

Mounts: In-built

Mic: Front-facing

Features:

Yeti Trailhead Dog Bed Features
Pillow Bolster - mattress topper encircling the bed. Conducive to chin resting and sweet dreaming.
Sturdy Bottom - EVA-molded base is ultra-durable and sturdy, so it stands up to the weight of the big dogs.
Quilted & Cushy - A high-density foam core delivers comfort and support, sandwiched by another lighter-weight foam for extra cush.
Waterproof Bottom - Rugged, waterproof material prevents the wet ground from seeping through, keeping the foam protected.
Boomer Dog Bowl Features
Food safe
Dishwasher safe
Barefoot Non-slip ring
BPA -Free
18/8 Stainless Steel
Duracoat Colour
Specs:

Yeti Trailhead Dog Bed Specs

Price: $399.99CAN / $299.99US

Colour: Charcoal

Dimensions: Home Base - 6 1/2" × 39 3/8" × 29 1/8"

Travel Bed - 32 1/4" × 2 3/4" × 22"

Weight: 10.3lbs

Boomer 4 Dog Bowl Specs

Price: $49.99CAN / $39.99US

Weight 544g / 1.2 lbs

Capacity: 946ml / 4 cups

Dimensions: 8 x 17cm / 3 1/8" × 6 3/4"

Colours: Coral, River Green, Stainless Steel, Navy, Seafood, Brick Red, Black

Boomer 8 Dog Bowl Specs

Price: $64.99CAN / $49.99US

Weight: 861g / 1.9 lbs

Capacity: 1893ml / 8 cups

Dimensions: 8.9 x 20cm / 3 1/2" × 8"

Colours: Coral, River Green, Stainless Steel, Navy, Seafood, Brick Red, Black

Purist Bottles

With what seems like an endless array of water bottles hitting the market over the past few years how is a relatively new brand like Purist supposed to catch your attention? With the ability to keep your favourite liquids hot for 12 hours and ice cold for 24 the Purist Bottles offer up impressive functionality but what really sets them apart is their minimalist design. Purist Bottles are the ultimate in sleek modern design without giving up any features, not to worry, form still follows function but they really nailed in on the form thing.

Purist currently offers three bottles to choose from, the Maker (10oz), the Mover (18oz), and Founder (32oz) all of which are dishwasher safe, guaranteed leak-proof, and easy to clean, thanks to their wide mouth openings. Their interior glass finish means that Purist Bottle can go from water to coffee to beer and back again without any after taste and the exterior surgical-grade stainless steel is not only appealing to look at and easy to hold but also surprisingly durable.

Each Purist Bottle has three available top options to choose from, the Element (jar top), the Scope (360-degree top), and the Union (pour top). Each of these tops is guaranteed leak-proof and made with easy-clean, PBT (BPA-Free) plastic materials. The Element​ is the Jar top option that uses a sleek, flush design and comes with an integrated handle that hides away when not needed. The Scope​ is a 360-degree top with a twist-to-open function. It has an adjustable sip volume and is only available for Mover and Maker bottles. The Union​ is a pour top with a flip-top cover that locks back while open. Like the Element Top, the Union has an integrated handle for easy carry but is only available for Founder and Mover Bottles

If you appreciate well-designed products that make a statement and also keep your beer cold and your coffee warm, then the Purist Bottles are worth checking out.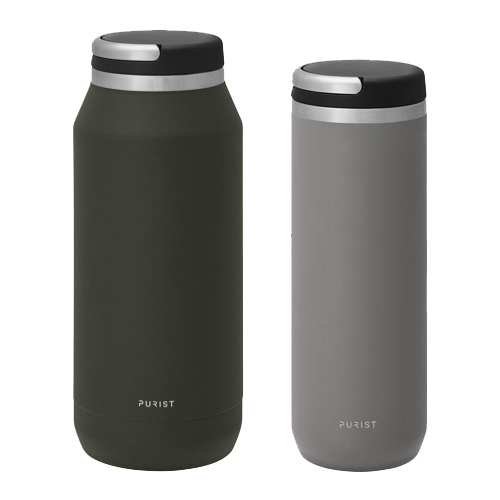 Features:
12 hours hot and 24 cold
Dishwasher safe
Guaranteed leak-proof
Surgical-grade stainless steel
Specs:

Prices: Founder​ - $54US with Union & $52US with Element lid

Mover​ - $42US with Scope, $44US with Union, $42US with Element lid

Maker​ - $42US with Scope & $34US with Element lid

Tops: Element​ ($14US), Scope​ ($14US); Union​ ($16US)

Volumes: Maker (10oz), the Mover (18oz), and Founder (32oz)

Colours: Bare, Black, Ash, Bone

Smith Guides Choice Sunglasses

For Spring 2020 Smith has taken their original Guides Choice Sunglasses which were initially designed in the early '90s and have redesigned them with several new improvements and Smith's latest and most advanced technologies. The modern design of the Guides Choice Sunglasses provides large facial coverage with wide temples and an aggressive wrap for superior light protection. Their premium Italian auto-lock spring hinges, soft nose and temple pads and detachable sunglass leash are a few of the features that make this new Guides Choice ideal for mountain and lake adventures.

Smith used their most advanced eyewear technologies in the new Guides Choice Sunglasses including their proprietary ChromaPop lenses which amplify detail and enhance natural colour beyond the normal capabilities. These high impact resistance lenses filter two specific wavelengths of light that cause colour confusion and deliver greater definition. This means more natural colour and unmatched clarity which enables you to see more detail. They provide 100% UV protection and feature a backside anti-reflective coating and complete water and oil resistant lens coating as a barrier against the elements. The lightweight yet durable frames are comprised of a proprietary Evolve eco-friendly material that doesn't sacrifice durability or fit.

The new Smith Guides Choice Sunglasses are ideal for those who want on the water optical performance, comfort and versatility no matter the adventure.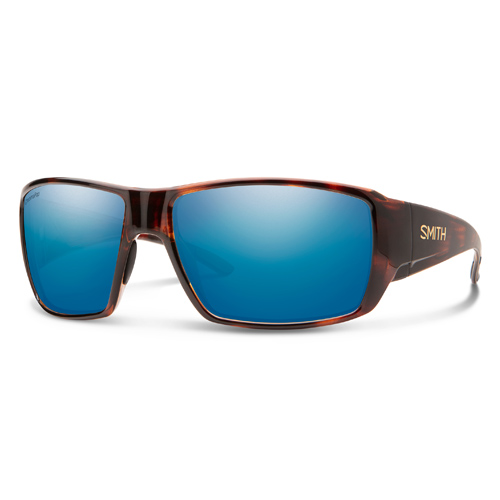 Features:
Lens options: ChromaPop polarized lenses / TLT polarized glass TLT lenses
Anti-reflective and hydroleophobic lens coatings
Medium-large fit / coverage
Stainless steel spring hinges
8 base lens curvature
Includes integrated/detachable sunglass leash
Specs:

Price: $260CAN / $239US

Lens Colour: ChromaPop Glass Polarized Bronze Mirror, ChromaPop Plus Polarized Blue Mirror, ChromaPop Glass Polarized Green Mirror, ChromaPop Polarized Opal Mirror

Frame Colour: Tortoise, Mate Black

Warranty: Lifetime

Hydro Flask Down Shift Hydration Pack

Hydro Flask is best known for their iconic drink wear which is built tough and keeps your refreshments cold for hours and hours. The same can be said for their new Down Shift Hydration Pack since it uses Hydro Flask's innovative Cold Flow System that consists of an insulated reservoir, neoprene sleeve with reflective lining with an articulated back panel to keep water chilled for 4+ hours. The 2L insulated sweat-proof reservoir is included with the Down Shift Hydration Pack and is located at the bottom of the pack so that it provides a stable carry while providing ample storage for your other gear.

While Hydro Flask designed the Down Shift Hydration Pack mainly as a biking pack it can also be used for hiking, paddling, running or any other activity where you need easy access to cold water on the go.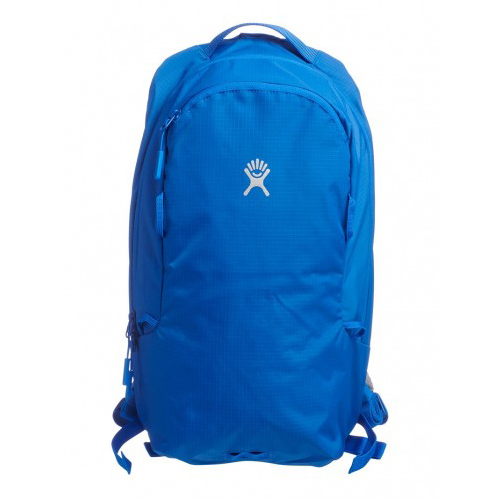 Features:
HydraPak IsoBound 2 L Insulated Reservoir
High-flow HydraPak Blaster Bite Valve self-seals after each sip
HydraPak Plug-N-Play connect system lets you easily disconnect the hose and remove the reservoir from your pack for convenient refilling
Padded back panel for added comfort
Fully adjustable shoulder, sternum and hip straps
Soft pocket for sunglasses or a phone
Helmet attachment loops
Chest strap with integrated whistle
Webbing for a bike light attachment
Specs:

Price: $174.95CAN / $144.95US

Volume: 14L

Weight: 997g / 2.2lb

Water capacity: 2L

Dimensions: 45.7 x 25 x 17.8cm / 18 x 10 x 7" (L x xW x D)

Colours: Black, Sapphire, Guava

Warranty: Lifetime

Suunto 7 GPS Smart Watch

Suunto's latest offering in their GPS sports watch/smartwatch line is the Suunto 7 which was just released in January of 2020. It is not only a beautiful timepiece but also offers up all the smartwatch features from Wear OS by Google and will also pair with iOS phones. The Suunto 7 will track your adventures with the built-in GPS and full-colour maps along with the 70+ sport modes you can choose from. It's both durable and waterproof, so you can take it along on any adventure and the built-in altimeter, barometer and digital compass will ensure you always find your way.

You can connect the Suunto 7 with your smartphone via Bluetooth to retrieve notifications, view incoming calls and messages, use Google Pay, and get smart help from the Google Assistant. You can even connect via wifi to the internet to access thousands of apps on Google Play or just keep the Suunto 7 up to date with the latest software upgrades.

Use the touch screen to navigate the Suunto 7's interface to easily find the features or information you need. You can also enjoy 1,000's of songs with the Suunto 7's 8GB of storage space and a pair of Bluetooth wireless headphones.

There is no need to worry about battery life since the Suunto 7 battery lasts up to 48 hours in smartwatch mode or up to 12 hours in GPS tracking mode. Should you need a quick charge the Suunto 7 can get two hours worth of power in just 20 minutes, and in just 100 minutes you can completely recharge the battery.

From work to the trail, and the gym to the pool, the Suunto 7 has you covered for all the features you could ever want in an appealing, user-friendly package.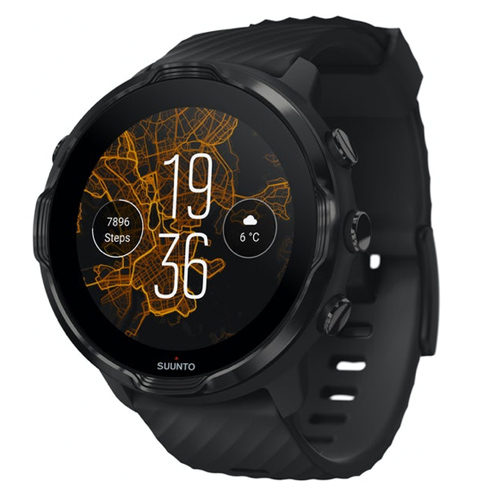 Materials:

Bezel - Stainless steel

Glass - Gorilla glass

Case - Glass fibre reinforced polyamide

Strap - Silicone

Includes:

Suunto 7, USB cable, 1 additional strap loop, Quick guide, International limited warranty leaflet, Safety and regulatory leaflet

Features:
Over 70 sport modes
Free offline outdoor maps
Optical heart rate sensor
50 m water resistant
Touch colour display
Water-resistant to 50m
Rechargeable lithium-ion
Wireless firmware upgrade
Vibration alerts
Smartphone compatibility
Wifi and Bluetooth connectivity
Digital compass
Barometer
Altimeter
GPS Tracking and Navigation
Google Fit, Assistant, Play and Pay
Music storage: 8GB
Specs:

Price: $649.99CAN / $499.00US

Weight: 70g / 2.47oz

Measurements: 50 x 50 x 15.3 mm / 1.97 x 1.97 x 0.6 "

Colours: Graphite, Graphite Copper, Black, Black Lime, Sandstone Rosegold, White Burgundy

Battery Life: 7 hours - 40 days

Charging: 20 min = 2 hour charge, 100 min = full charge

Features:

HydraPak Flux 1.5L
Spillproof - Twist to drink nozzle with a self-sealing valve
Filter compatible - Compatible with most 42 mm threaded water filter
Easy carry - Flexible bail handle for comfortable carrying and easy attachment
Comfortable fit - Soft walls won't give you that hard bottle bounce, fits in pack bottle sleeves
Lightweight - 60% lighter than most hard bottles – replace your single-use bottle
Packable- Flatten and roll when empty and stow in bail handle
Easy to clean - Cap and valve come completely apart, top-rack dishwasher safe
HydraPak Expedition 8L
Lightweight water storage and delivery solution for camping, picnicking, or any backcountry expedition
Widemouth Plug-N-Play cap creates a versatile dispensing solution at basecamp, easily pour or use the included dispensing tap for a controlled flow
Low profile daisy chain for lash points and am unbreakable webbing handle provide multiple options for hanging or attaching to your pack or moto
Dual baffles provide stability to the flexible walls so it is free-standing when full, embossed top and bottom add structure and durability
Backcountry water filter compatible, most 63mm threaded filters screw on to the top allowing you to filter more water at camp
External capacity gauge allows you to track your hydration intake or measure out the contents
Made of ultra-rugged, waterproof TPU film laminate & RF welded seams for superior durability and versatility
100% BPA & PVC free, wide working temperature range (can be frozen - max temp 60° C / 140° F)
Specs:

HydraPak Flux 1.5L

Price: 1.5L $34CAN / $25US; 1L $27CAN / $20US

Capacity: 1.5L / 50fl oz, and 1 L / 32 fl oz

Weight: 97g / 3.4oz and 77 g / 2.7oz

Dimensions: 29.5x 9.3cm / 11.5 x 3.6in and 24.5 x 8.5cm / 9.6 x 3.3in

Colours: Malibu, Mammoth

HydraPak Expedition 8L

Price: $74.99CAN / $60US

Capacity: 8L / 270fl oz

Dimensions: 38 x 20cm / 14.8 x 7.8in

Weight: 257g / 9oz

Colour: Black

Smith Trace Helmet

Several years back Smith replaced their best-selling Overtake model with the Trace Helmet and now they have an updated Trace version debuting in their Spring 2020 line. You'll find improved ventilation on the new Trace Helmet with the top two vents being fully open and no integrated Koryod panels to maximize airflow while riding. The lightweight in-mould construction of the Trace Helmet surrounds the interior of the helmet in Koroyd which is proven to absorb more energy during direct and angled impacts. The use of Koroyd provides a solid skeletal structure with all the protection you need while not sacrificing ventilation. The Trace's AirEvac system dissipates heat build-up around your eyewear to prevent fogging while channels on the sides of the helmet provide secure storage for your sunglasses when you no longer need them. The overall sleek look of the Trace Helmet means it is more aerodynamic than most other helmets on the market and makes it a great all-round bike helmet.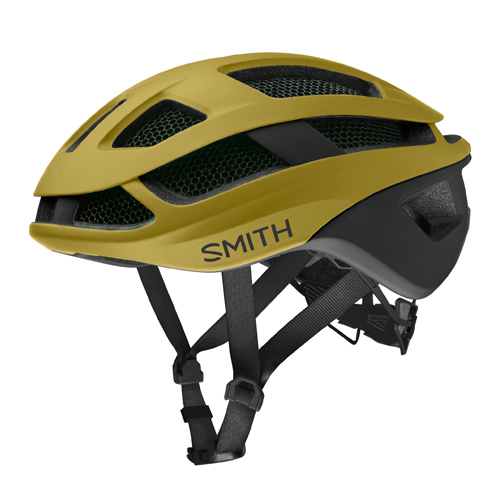 Features:
Lightweight Aerocore in-mould construction
Complete ventilated protection featuring Koroyd
Integrated skeletal structure
VaporFit adjustable fit system
18 optimized vents
XT2 anti-bacterial performance lining
Ultra-light single layer webbing
AirEvac ventilation
Ultimate eyewear integration
Light mount compatible
MIPS system available in all colours
Weight: (Size M, MIPS) 10 oz / 280 grams
Certification: CPSC
Specs:

Price: $300CAN / $250US

Sizes: Small (51-55cm), Medium (55-59cm), Large (59-62cm)

Colours: Matte Mystic Green-Black, Matte Neon Yellow Viz, Matte Rise-Mediterranean, Matte, Black, Matte Iron, Matte Hibiscus-Black-Teal, Matte Gravy, Matte Indigo-Iris-Jade

Weight: 280g / (Medium)

Warranty: Lifetime

Best Camping Gear for Summer 2020 then click on over here and for the Best Apparel for Summer 2020, that can be found here.

Want to get a great deal on the latest and greatest camping and hiking accessories and help make this web site possible in the process? Click the 'Buy Now' button or any of the images in the gear widget below and see what deals await you.