Westcomb Cayoosh LT Sweater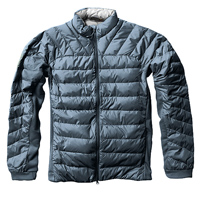 Westcomb has designed a new lightweight down sweater for the 2011/2012 season which utilizes zonal construction to help shed some heat when needed. The Pertex Quantum shell material is the lightest fabric in the Pertex line up with the best strength to weight ratio—even though it feels incredibly delicate to the touch. The Westcomb Cayoosh LT Sweater is made up almost entirely of this super soft Pertex Quantum fabric except under the arms and the side panels. Polartec WindPro stretch fabric is used here to give increased range of motion as well as breath like a soft shell to allow you to dump some heat if needed.
The Westcomb Cayoosh LT Sweater has only two Hand pockets which the specs on the Westcomb site state are "velour lined hand warmer pockets that shut out the frigid cold" but our jacket did not have this much needed velour feature, hopefully this is an upgrade coming soon. The zipper is a CF zip with windguard which minimizes the wind penetration at this vulnerable area of the jacket. There is also an internal insulated wind flap that is meant to shut out the cold as well as wrap the zipper head to protect your chin from abrasion. To ensure seam integrity Westcomb uses 12 SPI construction (that's stitches per inch) single needle construction which keeps things bomber with out compromising the down insulation.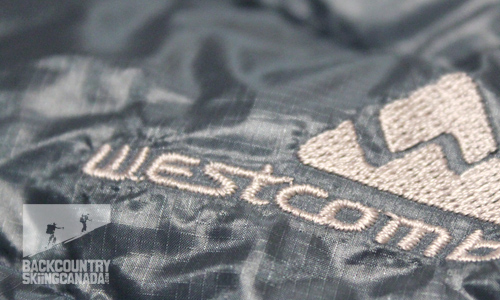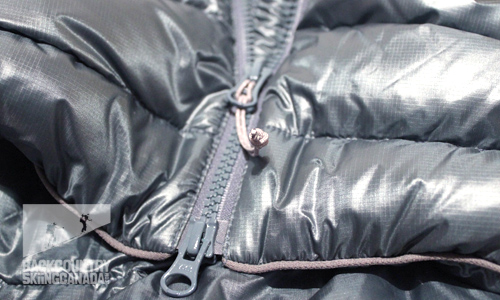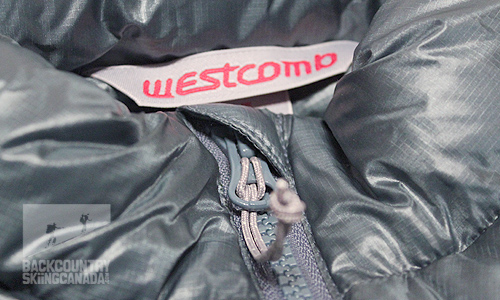 Materials:
The Westcomb Cayoosh LT Sweater uses two fabrics strategically placed to maximize their strengths: Pertex Quantum and Polartec WindPro. The insulation value comes from Hutterite Down insulation.
Pertex Quantum - Soft as silk and has the smallest packing volume and best strength-to-weight ratio in the Pertex fabric family. This fabric is a result of a patented woven process.
Polartec WindPro - This fabric is breathable yet provides four times more wind protection than traditional fleece. It performs both as an outerwear and insulation; and offers good durability and range of motion.
Hutterite Down - This hypoallergenic goose down offers good loft, warmth and durability. Each ounce of the Hutterite down is made up of mature down consisting of millions of heat-trapping filaments. The down plumes interlock to create an even layer of insulated with no clumping and no flat spots. Westcomb searched the country for the best down available and this is the result.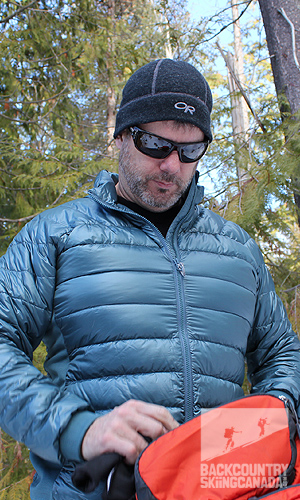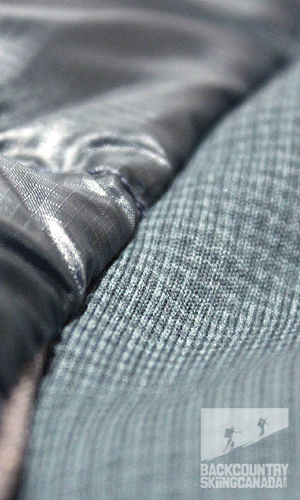 Verdict:
For a down jacket to work for backcountry skiing it has to obviously keep you warm at transitions and breaks but it must also be light, compact and tough. The Westcomb Cayoosh LT Sweater gets full marks on the first two and if the claims about the Pertex Quantum are true then this ultra thin and soft fabric should do the trick. However, I am not willing to sacrifice my jacket to see how it stands up to the abuse of skiing some tight trees so we will just have to take their word for it. The Westcomb Cayoosh LT Sweater is a good insulation layer for these parts but if you run cold and/or ski in the rockies you may need some additional BTU's in which case Westcomb makes the Kokanee Hoody with 850 down fill and a hood. If you are looking for a similar weight down jacket without the Polartec WindPro then the Westcomb Chilko Sweater may be to your liking.
Back to the Cayoosh LT Sweater, a few things that could be improved are the addition of zippers on the pockets as you cannot use them for anything other than hand warming when there is no closure system. If these pockets were lined with fleece it would also increase the true value of their "hand warming" capabilities. An additional interior Napolean pocket would also be a nice feature and would not add much weight. Westcomb also went with a lightweight elastic at the hem instead of the traditional draw cord. I can see the aesthetic value of their choice and since this is classified as a 'sweater' and not a 'jacket' it may make sense but for this reviewer I like to seal out the cold and snow around the hem and found the Westcomb Cayoosh LT Sweater a little drafty without this feature.
We were testing the Orion colour and it is a beautiful jacket, fits well and is unique in its design and construction. I did find however that while this piece works for backcountry skiing it is better suited for urban fashion than hardcore backcountry use.
SPECS:
Price: $260
Size: S, M, L, XL, 2XL
Colours: Orion, Bark, Black
Weight: 11oz / 300g
PROS:
Zonal construction with venting under the arms and pits is a new feature in down jackets and offers some good 'give' for backcountry skiing. Westcomb is a Canadian company that designs and manufactures their products in Vancouver BC.
CONS:
No draw cord at hem to seal out cold drafts, pockets would be warmer if they were fleece lined, no interior storage pocket and outer pockets not zippered to secure items from falling out.
For additional reviews of Westcomb products have a look at our reviews of the mens Westcomb Revenant Jacket,Westcomb Focus Hoody, Westcomb Shift LT Hoody, Westcomb Boreal Fleece, Westcomb Tango Hoody, Westcomb Apoc Jacket and the Westcomb Orb Sweater. On the womens side check out the Westcomb Drift Hoody.
Rating: 7.5/10
Fit                    2/2
Packability        2/2
Warmth             1.5/2
Features            .5/2
Quality / Price   1.5/2

This is only our opinion. Do you disagree? Did we miss something? Are we totally out to lunch? Join the discussion in the forums here, and let us know what you think. People like/dislike gear for different reasons so chime in and we'll get a well-rounded evaluation.
Back to the rest of the reviews.
---