Vapur MicroFilter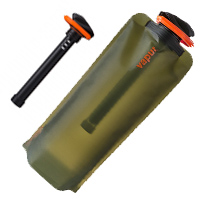 The Vapur Element is a staple in my pack for any hiking or ski touring trip (long or short) and now there's now a new addition that extends the versatility of the current Element. Enter the Vapur MicroFilter. This relatively new product from Vapur takes their successful Element Anti-Bottle and ads the ability to filter water before you drink it.
The Vapur MicroFilter is a lightweight and chemical-free water filtration system that uses a hollow fibre membrane to make dirty water safe to drink. Niney-nine point nine per cent of waterborne bacteria (such as Salmonella, Cholera and E. coli) and 99.9% of protozoa (including Cryptosporidium and Giardia) are removed by the Vapur MicroFilter so you can use clear backcountry streams and rivers as safe water sources. The filter has a life span of 500 litres which is many, many years for most people and at only 31 grams for the filter and 76 grams for the filter and one litre bottle, so there is no reason not to carry the Vapur MicroFilter on every backcountry outing.
Vapur Element on the left, Vapur MicroFilter on the right.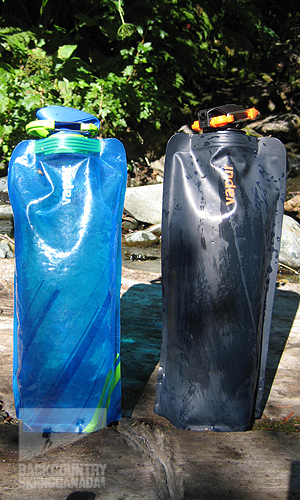 The Vapur MicroFilter is made of 60 meters of hollow fibre membrane that is packed into the filter casing. These membranes are produced from 100% polyethersulfone and the surface is coated with a hydrophilic polymer to aid in the filtration process. Their absolute pore size is 0.2 micron with a minimum throughput capacity of 500 litres when used in clear water.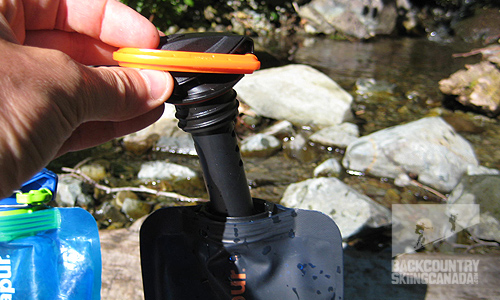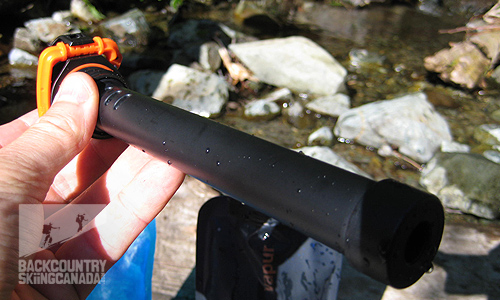 How to use:
1. Fill Bottle: Fill bottle with clear water from natural or municipal sources.
2. Insert MicroFilter: Insert MicroFilter and screw SuperCap into Anti-Bottle threading.
3. Drink or Squeeze: Drink by sucking water through spout opening, either when connected to an Anti-Bottle or as a straw directly from the source. Alternatively, you can squeeze water through the bottle into another bottle or vessel.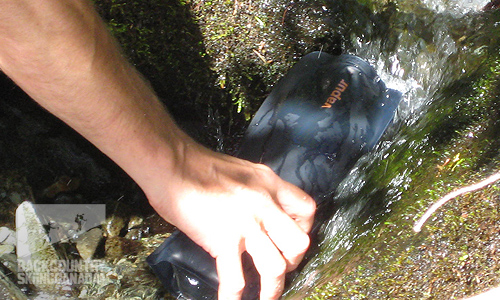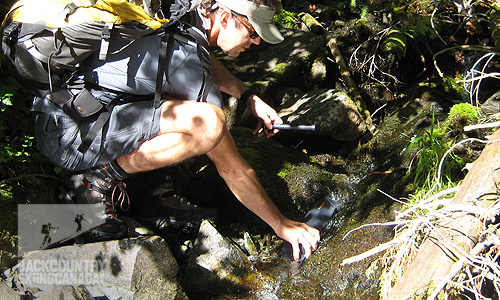 Features:
- Manufactured in the United States (MicroFilter manufactured in Korea).
- Removes 99.9999% of waterborne bacteria (such as Salmonella, Cholera and E. coli) and 99.9% of protozoa (including Cryptosporidium and Giardia).
- Pore size: Absolute 0.2 microns
- SuperCap: Tough seal with an easy open
- Durable 3-ply construction
- Dishwasher safe
- BPA free
- Filter Technology: Ultra Membrane Technology (Hydrophilic capillary membrane)
- Flow Rate: 0.5L/min @ 0.2 bar
- Filter Life: Maximum of 500 litres
- Matte finish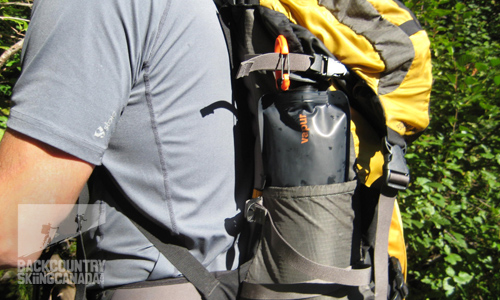 Verdict:
The Vapur MicroFilter is a nice upgrade to the standard Vapur Element Anti-Bottle as it can provide filtered water. As a bonus it can also function in the same manner as the Element; all you have to do is remove the filter. This flexibility provides dual purpose to the Vapur MicroFilter; use it around town or on short day hikes without the filter or bring the filter along on longer hikes and camping trips when you may run out of water on the trail. On the down side, the Vapur MicroFilter does not allow water to easily pass through the filter so you do have to suck rather vigorously even when squeezing the container.
If you are looking for a low cost way to make your water taste better and reduce tap water odour then you could also consider the Vapur ShakeFilter. To use the ShakeFilter you simply fill your bottle and drop in this activated carbon filter and shake, the Vapur ShakeFilter does the rest by removing impurities such as bad tastes from the water in your Element Anti-Bottle. Packs of three carbon filters sell for $3.99 and each one lasts for 50 uses over 30 days based on a 500ml bottle.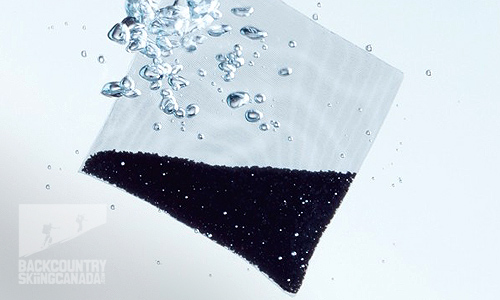 SPECS:
Price: $69US
Weight: Bottle + Filter 76g / 2.7 ounces, Filter only 31g / 1.1 ounces
Dimensions: 14.6cm x 25.4cm / 5.75"w x 10"h
Capacity: 1 Litre / 34 oz
Colours: Night Blue, Olive Green
PROS:
- The filter is removable so if you don't need it you can leave it behind or in your pack just in case you do need it.
- Provides clean drinking water on hikes where you don't have access to clean water sources.
-Lightweight filter option.
CONS:
- You really need to suck and squeeze in order to force the water through the filter and even then you will not quench a big thirst quickly.
- You cannot roll the Anti-Bottle up once empty as the filter is rigid.
Be sure to dry the filter completely before storing to avoid mildew build up (like with any water filter)
- Each of the products I received did not have the rubber O ring seated properly. Check yours before you buy or use the product to ensure the ring is seated in the appropriate groove so that you don't have any leaks.
- Particulate can eventually clog the filter so chose water sources without floaty-bits (again, this is true of any water filter).
Rating: 8/10
Innovation       1.5/2
Function          1/2
Size / Weight   2/2
Features          1.5/2
Quality / Price 2/2

Join the discussion in the forums here, and let us know what you think. People like/dislike gear for different reasons so chime in and we'll get a well-rounded evaluation.
Back to the rest of the reviews.
---