Vapur Element Anti Water Bottle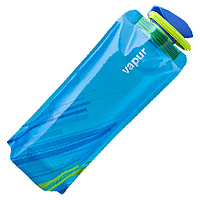 We've been using the Vapur Element water bottle for a couple months now and are quite impressed by its durability and portability. Featuring a "SuperCap" easy to open lid with a reliable seal and carabineer style storage clip, the Element was designed to meet the "performance needs of outdoor enthusiasts everywhere."
Vapur bottles are made of a flexible BPA-free plastic that allows them to be rolled up into a highly compact package. This saves weight and space, be it on your daily adventures around town or on a longer backpacking trip or backcountry ski. As you drink, you can roll it up and pack it away. It's also a convenient alternative to wasteful, disposable water bottles.
The patented, flexible design has proven durability after we took it on long treks through Nepal and daily ski touring around the Kootenays. It's quite unique to have a collapsible design that is this tough.
One consideration, however, is that if you are heading far into the backcountry it's important to carry a metal container of some sort in emergencies as it's invaluable to be able to melt snow for water if you're benighted. This safety recommendation aside, the Vapur is a great design and keeps things light and easily packable.
Overall: Designed and manufactured in the United States, Vapur has designed a product that is up to day-to-day duty in a convenient package at a reasonable price.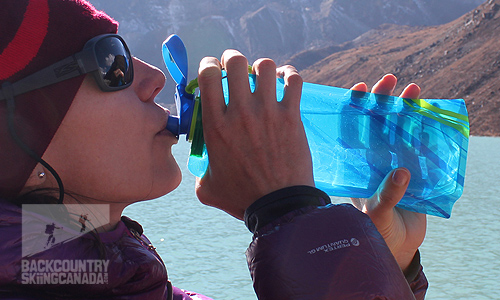 The features:
- SuperCap - Tough Seal. Easy Open
- .7 litre or 1-litre capacity
- Durable 3-ply construction
- Made in the USA
- Dishwasher safe
- BPA free
- Four catchy colour options
Slick, sturdy design.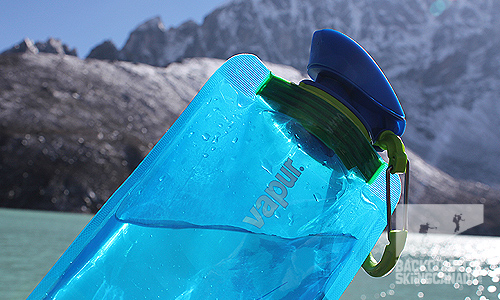 Large mouth spout for big gulps and "SuperCap" to keep the dirt out.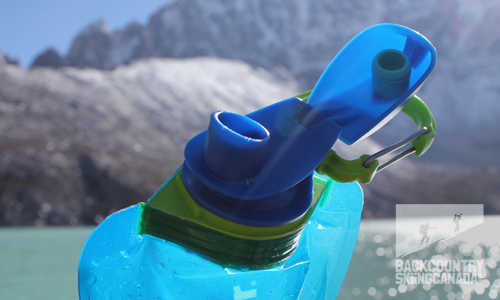 As you drink the contents the Vapur Element gets smaller in volume and eventually, when empty you can roll it up into almost nothing.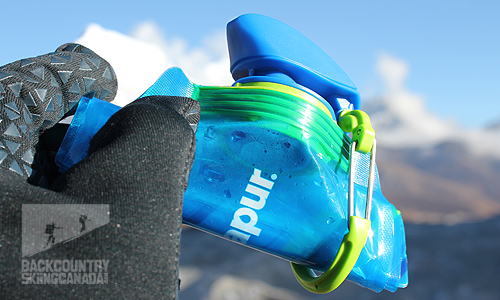 The full frontal of the one-litre version, plenty for a sidecountry lap or day trip.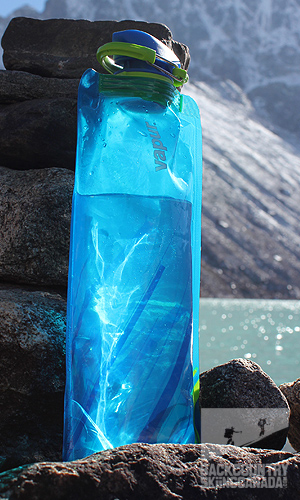 Verdict:
The Vapur Element is a convenient way to carry water or other liquids in your pack and reduce bulk as you consume the contents. It's super light weight at only 73.7 grams which is important as water is heavy enough to carry along on your adventures. One of our testers took the 1L Vapur Element on an 18 day trek to Nepal around Mt. Everest and a further three weeks exploring the country side and the Vapur Element proved very useful given that countries lack of clean water. You would not want to leave your health to chance so water was a crucial element to staying hydrated and healthy. Given the small size of a day pack the compressible size of the Vapur Element was key in keeping pack weight down and maximising space for other gear.
Check out our more recent review of the Vapur MicroFilter, similar to the Vapur Element only it removes 99.9999% of waterborne bacteria!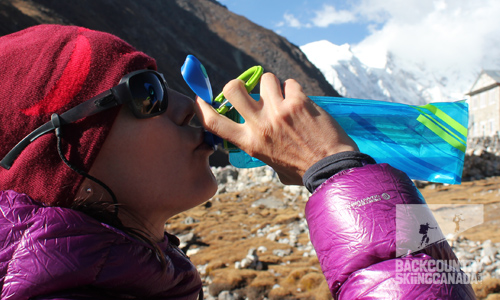 SPECS:
Price $11.99 US
Capacity: .7 litre / 1 litre
Weight: 73.7g / 2.6 oz
Colours: Water (blue), Wind (white), Fire (black), Pink
PROS:
- Collapsible
- Durable
- Light
- Easy to clean
CONS:
- Does not replace metal containers for emergencies
- Would like to see a version that's compatible with standard hydration systems in packs, i.e. a lid that adapts to this standard system
Rating: 9/10
Innovation           2/2
Function              1.5/2
Size / Weight       2/2
Features              1.5/2
Quality / Price     2/2

Join the discussion in the forums here, and let us know what you think. People like/dislike gear for different reasons so chime in and we'll get a well-rounded evaluation.
Back to the rest of the reviews. 
---