Suunto Ambit2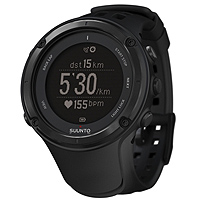 When Suunto released the original Ambit GPS watch in the winter of 2012 it was received with much excitement and awe. The technology that Suunto was able to cram into such a relatively small device was incredible. We here at Backcountry Skiing Canada HQ bestowed our coveted Gear of the Year Award on the original Ambit.
The currents of innovation move swiftly and now Suunto has released the new Abmit2. Again it is garnering much attention for its' upgraded feature list and new capabilities as well as for some turmoil within the original Ambit owner community. Feature set aside for now, the original Ambit users had a beef with Suunto as they felt the new Ambit2 would overshadow the original Ambit. On record Suunto reported they would no longer support the original Ambit with software updates and instead focus their energies in developing new upgrades for the Suunto Ambit2. Original Ambit users were justifiably upset since the big selling feature of this GPS watch was its' ability to evolve and improve over time.
On July 5th, 2013 Suunto let everyone know that they are not going to abandon the original Ambit users and instead have committed to staying true to their word. They will in fact continue to upgrade features for the original Ambit through future software upgrades. As of May 7th, 2013, Suunto did upgrade the Movescount.com web site and released a 2.0.8 software upgrade to optimize the original Ambit GPS watch. This is not to say that all future features designed for the new Suunto Ambit2 will also be available for the original Ambit. The hardware limitations (specifically the limited memory for software-code on the original Ambit) will dictate what Suunto can and can not upgrade with future releases. Suunto says they are committed to finding a solution for this by optimizing the Ambit's software in order to free up required space.
Suunto released three powerful software upgrades in 2012 for the original Ambit and in December of that year they created the Suunto AppZone which offers new and creative functionality for both the original Ambit and now the Ambit2 watch.
On June 27th, 2013 Suunto released software upgrade 2.5 for the original Suunto Ambit which includes Storm Alarm App, Sunrise/Sunset App, Countdown Timer, Autopause and Battery Charge Level. Ambit2 owners also received a new software upgrade to version 1.5 on August 29th, 2013. Features included new power saving options and track back features (see below for more details on this). It looks like Suunto is standing behind both devices with vigour. Bravo Suunto.
Below is a side by side comparison of the Suunto Ambit (original) and the new Suunto Ambit2.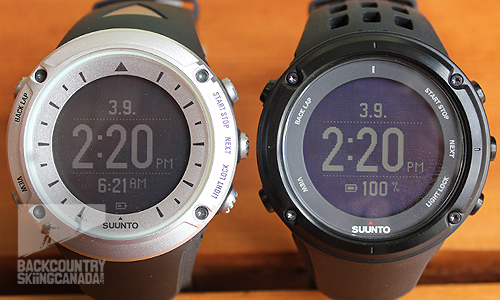 The reduced thickness of the Ambit2 is hard to notice but take note of the new less aggressive buttons.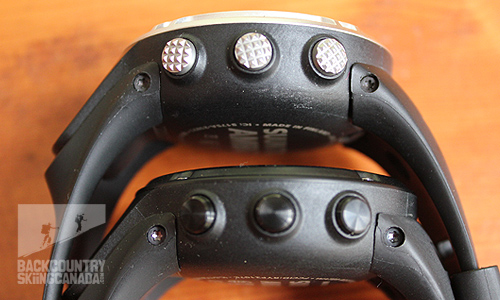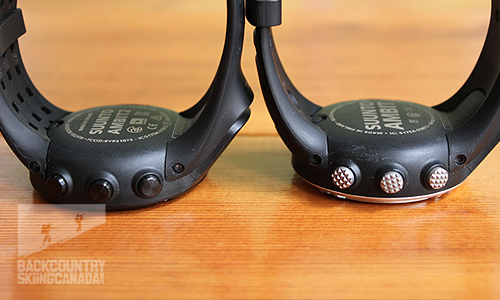 The Suunto Ambit2 band is quite different from the original Ambit. I prefered the thicker clasp and less detailed strap but the new one is just as nice.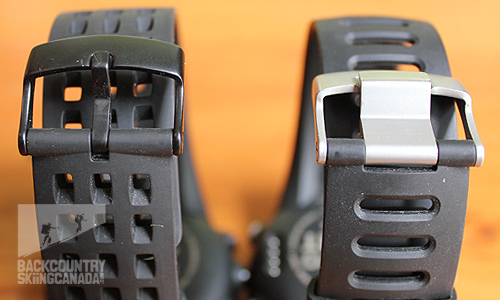 Whats new:
The Suunto Ambit2 has many new features. The most talked about are listed below but lets first look at a few that are not as life changing but still just as important.
- The Suunto Ambit two can pair with any ANT+ accessories including those for biking and running - even those from other brands. Suunto's ANT (notice they are not ANT+) components are proprietary so they only work with other Suunto products.
- The Suunto Ambit2 heart rate monitor model is $20 more expensive than the previous Ambit version.
- You can now assign five apps or data fields per sport mode on Ambit2; previously this was only one for the Ambit.
- The Ambit2 is a mere .75mm thinner than the original Ambit at 17.15mm thick. Both Ambits are identical in width at 49.89mm wide (excluding buttons). The Ambit2 is 11 grams heavier if you choose the black model, and only 4 grams heavier if you stick with silver. This is according to the Suunto website, however I am not sure why the black weighs more.
- 16 hours of battery life for the Ambit2 with 60 second GPS fixed intervals versus the previous 15 hours.
- Battery Life now shows as a percentage on the Ambit2 and not just three icons showing full, 1/2 empty and really empty.
- Movescount.com was completely re-designed in the spring and now offers a more refined and simplified look and feel, along with improved usability.
- The Suunto AppZone now provides over a thousand apps to choose from with much more powerful features thanks to the multitude of attributes that can be used to create and build new apps.
No app required for the sunrise/sunet times if you have installed the latest software update.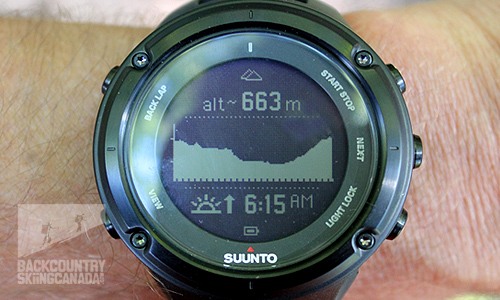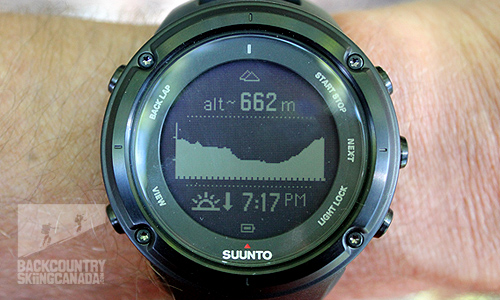 FusedAlti
The previous Suunto Ambit used only barometric data to determine altitude whereas the Ambit2 uses a combination of GPS data and barometric data to determine a more accurate altitude. This is a very handy feature for mountaineers and backcountry skiers when a system rolls in and causes the barometric pressure to increase or decrease over the day. This new feature even allows you to get accurate elevation while flying in a plane if you so choose.
Multisport functionality
Suunto has integrated multisport capabilities into the new Ambit2 and this is big news. Triathletes and adventure racers can now track their individual sports as well as the combined race. Simply press the "Back Lap" button for a three seconds and the Ambit2 seamlessly transitions from one sport to the next without stopping the cumulative tracking. This provides data for each leg of the race, adventure or triathlon as well as overall data totals. The original Ambit GPS watch was able to track both cycling and running, but couldn't transition from one to the other while still tracking both sports totals. The Ambit2 allows you to create multiple segments of a given event and customize them to your particular race and also includes any sports that you created specifically for your Ambit2.
Selecting your sport or sports in the case of the new multisport mode on the Ambit2 is pretty straight forward by selecting it on the Movescount.com web site.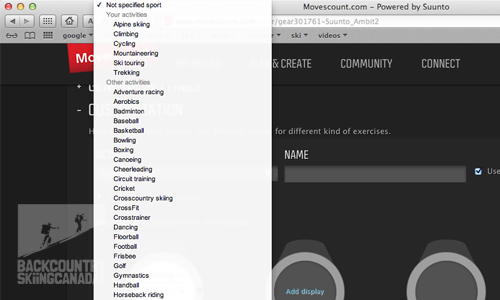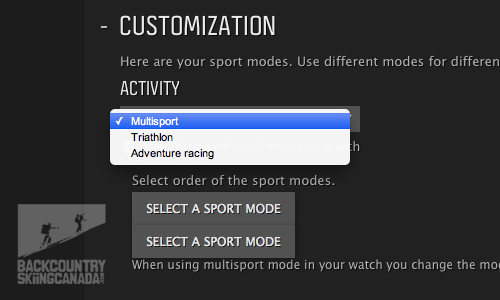 Swimming:
The Suunto Ambit2 now provides metrics for swimmers such as distance, pace, laps, efficiencies, stroke and event style. The integrated 3D accelerometer measures acceleration and movement on a 3D axis which enables the Ambit2 to track stroke type and lengths within the pool. This provides the user with distance and pace information but because it depends upon changes in acceleration it is key that the Ambit2 knows how long your pool is. It then analyzes the data to determine what strokes you are performing in the pool (if you perform them well, that is). Open water swimming is unique in that it uses the GPS to track distance, time, speed and thus pace. The internal accelerometer meanwhile measures stroke information and provides strokes per minute data.
Movescount.com offers up plenty of options for swimmers be they indoor or outdoor.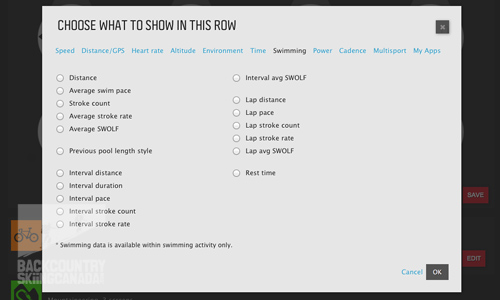 Ambit2 software1.5 update:
As mentioned above the latest software release at the end of August provided several robust upgrades and new features. Let's take a look shall we?
- Increase battery life while using the GPS function: You can now choose between three levels of GPS accuracy with satellite pings every 60seconds, 5seconds or every 1 second. The new 5 second setting provides good data accuracy while tracing your route for a full 24 hour period of battery life.
- Track back feature: Retrace your exercise route at any time to ensure you can always find where you started from.
- Sunset/Sunrise: This often missed feature is now found under the Alti/Baro mode however keep in mind that times are based on your last recorded GPS location.
- Memory sync reminder: When 50% of the logbook memory has not been synced to Movescount.com a reminder will be displayed immediately after an exercise.
- Automatic display scrolling of exercise data: This provides continuous data from any fields you have set for that particular exercise.
- Multisport summary: You can now view the summary of individual sports along with totals for a multi sport adventure.
- Improved swimming display: View customized display while swimming; the dreaded screen saver is now gone.
- Context-sensitive view button: Shortcuts to altitude reference and compass settings are provided when you keep the view-button pressed.
- Outdoor swimming: Enhanced accuracy is now provided.
The Sunset/Sunrise App is one of the most popular apps on the Movescount.com web site and for good reason.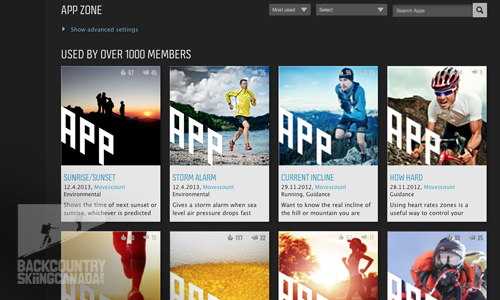 Here is the sunrise/sunset app as a screen option on the Movescount.com web site (look at the third screen set-up).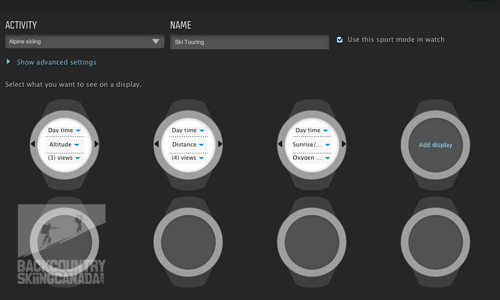 Here you can see the sunrise/sunset app in action on the Ambit2 while tracking an adventure. The middle numbers show that the sun will rise at 5:22 and another cool app is displayed below that. This one calculates slope angle, you can see it shows 36.98°.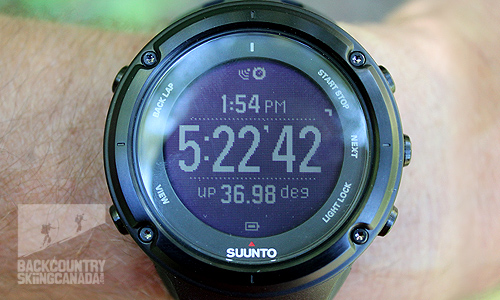 Verdict:
Overall the Ambit2 looks and feels just like the original as most of the new features are under the proverbial hood. While the Suuto Ambit2 is not a large watch by comparison to others on the market it is still a big watch to have on your wrist. I did not find it obtrusive, however some people may disagree. At 89 grams some may also say that it's pretty heavy but again I disagree, as all this technology takes some weight to make it work. I think it's a fair weight relative to the features provided, especially when compared to a normal watch that simply tells the time. We tested the silver model in the original Ambit review, and this time around we tried out the Ambit2 in black which I must admit I prefer. It provides a much more technical look however you have to be more careful as scratches show more easily on the face housing and the strap clasp. I also preferred the inverted display setting as it lends itself more to the look of the all black Ambit2.
Overall, just like the original Ambit, the GPS picked up satellites and tracked them pretty flawlessly and spit out accurate data via the Movescount website. I purposely didn't repeat details about functionality common between the original Ambit and the Ambit2, dedicating this review to what is new and improved. If you are not familiar with the Suunto Ambit GPS watch then you really should first read my review of the original Ambit to get an idea of all the functionality and how it works.
A few things that could still be improved upon are the ability to effectively use the GPS to set the time automatically when you travel and frequently switch time zones. Currently the Ambit2 will correct the time as long as it is within 7.5 minutes and it will only correct the seconds and minutes but not hours. The sunrise/sunset times that are a basic feature on the Suunto Core models are now found under the Alti/Baro menu, thanks to the recent software upgrade 1.5. Previous to this you had to download a Suunto App from the AppZone and even then the sunrise/sunset times would only be accessible during exercise.
For the dedicated backcountry skier or summer mountaineer/hiker there are only a handful of new features that warrant an upgrade from the original Ambit GPS watch. The new FuseAlti technology is perhaps the biggest innovation and a welcomed one at that. Improved elevation data in combination with the new Trackback feature will likely save many a skier or hiker from getting lost in the mountains while exploring new terrain in inclement weather. The big news items such as Multisport functionality and swimming capabilities are also useful items however they are more geared toward the triathlete and adventure racers out there. Further functionality for the backcountry skier can be found in the AppZone, such as: Oxygen level % which tells you the percentage of oxygen at your current elevation, Real time hill incline which as the name states calculates the steepness of your up-track and also Ski Speed which is pretty self explanatory.
So the big question for those owners of the original Ambit is: to upgrade or not? This is best answered by what sports you participate in and what new features are most important to you. While Suunto is adamant about continued upgrades to the original Ambit most of these may come by way of Apps rather than hard coded OS upgrades. After all you can not hold a technology company hostage to legacy devices simply to keep users happy; if this we the case we would never see any innovation or progress.
For a review of the original Suunto Ambit and Suunto Ambit3 click on their corresponding links.
The Display is easily changed from light/dark to dark/light as it was in the original Suunto Ambit.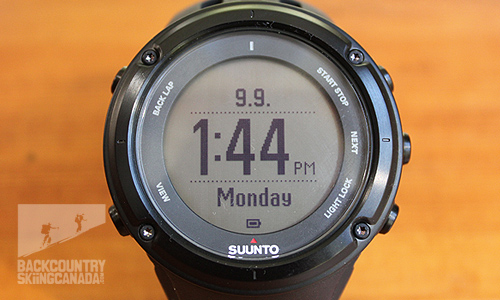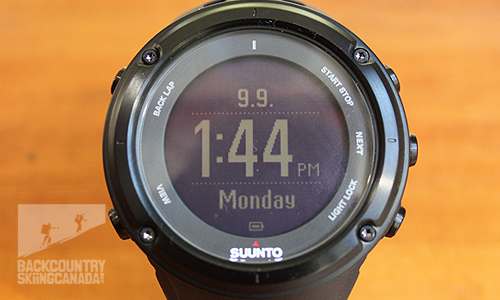 Tracking an adventure is still the same process.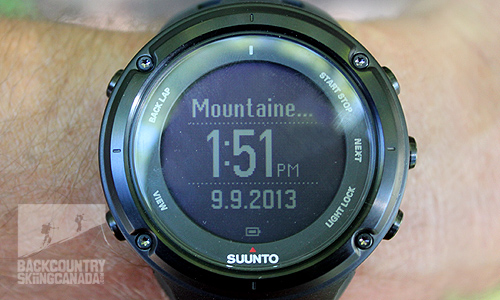 Customizable screens are still a big plus of the Ambit2 as are the addition of more cool apps like the slope angle app on the bottom line.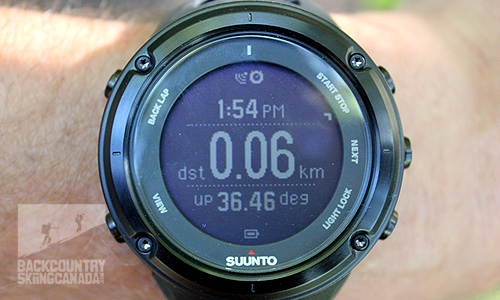 Acquiring a GPS signal from over head satellites is still just as quick in the Ambit2 as in the original Ambit.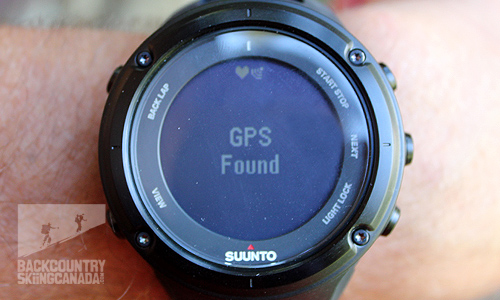 Data provided after a strenuous climb like this one is still just as comprehensive.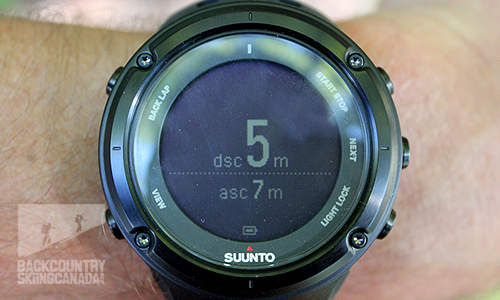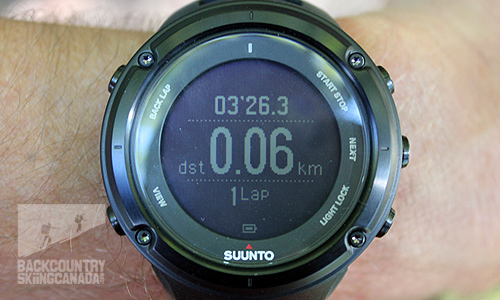 The backlight is still as cool as ever.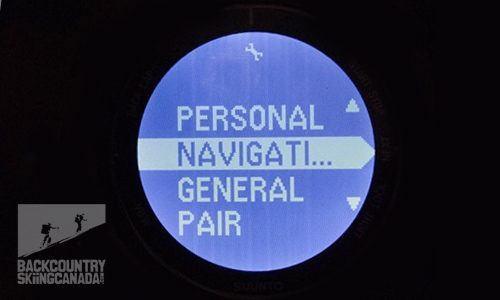 SPECS:
Price: $545 CAN
Weight: 89g / 3.14oz
Dimensions: 50mm diameter, 18.1mm thickness
Colour: Black or Silver
Battery Life: 16 hrs - 50 hrs depending on GPS setting and use
PROS:
All the same pros from the original Ambit hold true for the Ambit2, find them here
- FusedAlti provides more accurate altitude data
- Track back feature, allows you to retrace your route
- Now supports swimming in pools and open water
- Multi sport mode for those triathletes and adventure racers out there
- Route navigation forwards and backwards
CONS:
- The Service menu sleep mode function no longer exists. Instead you only have the 30 minute hibernate function, as Suunto says this is more efficient at battery conservation. The Ambit2 wakes with the slightest of movements so don't try and store the Ambit2 in your desk as it will wake often as you work. Since I don't wear a watch in my daily life and instead only for adventures such as ski touring and mountaineering the sleep mode is sorely missed as the watch is stored a good portion of the time.
- The Ambit2 band has many more smaller holes in it and a smaller metal clasp. I am a fan of the original Ambit strap for reasons of comfort and ease of use.
- While the apps are very useful there is little to no guidance on how they work or how to access them in any Suunto literature or online.
- There are still a few recommendations that I would like to see from my original review of the Ambit such as the ability to clean up routes in Movescount.com when errand data presents itself and it would also be nice to see a graphical representation on the Ambit of your current route so that you can get some idea of where you have come from.
If you are interested in a review of the Suunto Core or Suunto Quest watch + GPS POD you can find them on our technology review page.
Rating: 9/10
Ease of use 2/2
Features 1.5/2
Quality 2/2
Size / Weight 2/2
Price 1.5/2

This is only our opinion. Do you disagree? Did we miss something? Are we totally out to lunch? Join the discussion in the forums here, and let us know what you think. People like/dislike gear for different reasons so chime in and we'll get a well-rounded evaluation.
Back to the rest of the reviews.
---