Suunto Ambit GPS Watch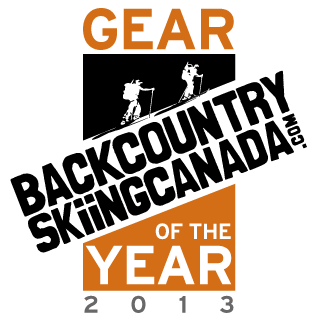 The Suunto Ambit GPS Watch combines everything a backcountry skier and mountaineer would want in one timepiece. Its integration with Suunto's Movescount.com web site allows you to keep the operating system up to date and share all of your data with the world. Suunto combined an intuitive user interface, beautiful design and heaps of functionality, earning it a coveted spot in our "Gear of the Year" picks.
The Backcountry Skiing Canada Team.
---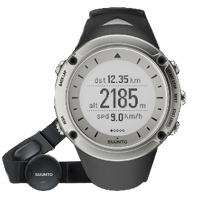 I don't wear a watch. There, I said it. I am not one to be a slave to the clock and wearing a watch is part of this for me. The only place you will see a watch on my wrist is in the backcountry where it's a piece of safety gear that allows you to calculate the amount of daylight left and set your turn around times accordingly. Although I've always felt that any watch will serve this purpose, the new Suunto Ambit, which was released in spring 2012, offers you, not only the time of day, but also a fully enabled GPS, barometer, altimeter, compass, heart rate monitor and more. As if performing all these functions weren't enough, the firmware that runs the Ambit is fully updatable via the Suunto movescount.com website so you know the watch will ever go out of date. Also the watch is rechargeable thanks to the lithium-ion battery and the Suunto Ambit has an intuitive menu system with large easy to read words that make the various features easy to access. With all this, Suunto may be changing my "any watch will do" mentality!
(For a complete review of the new Suunto Ambit2 watch click on over here but you should consider continuing to read this review first as these features are not covered again in the new Ambit2 review, instead it's more of a 'what's new review'.)
Unpackaging even conveys the Suunto experience.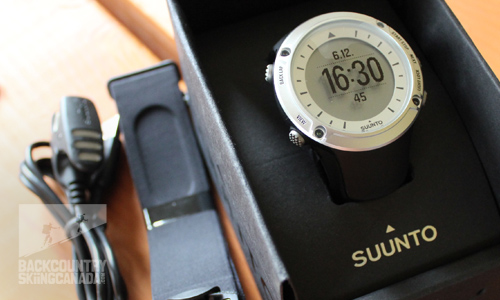 Time and date is the default screen.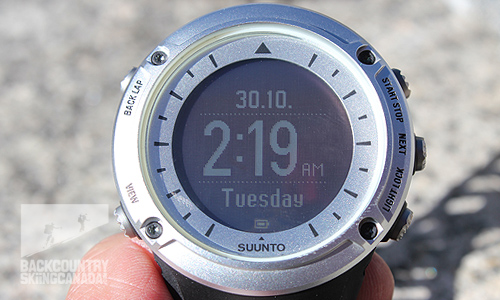 Compass.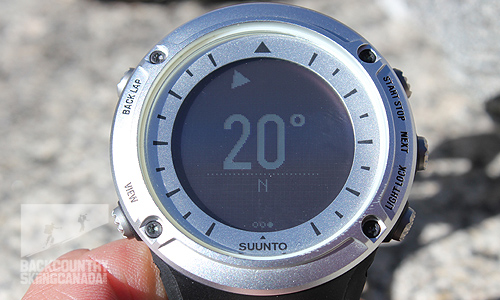 Altimeter with graphical charting.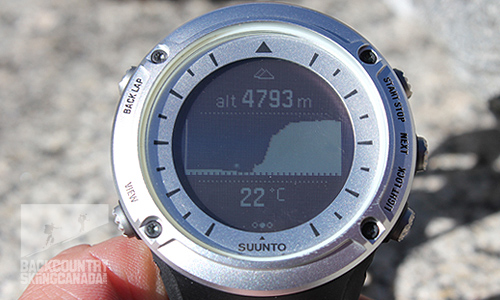 Tracking:
If you participate in a variety of sports, you can use the Suunto website (www.movescount.com) to customize the menu options on the Ambit to include your activities of choice (for example, ski tour, hike, climb or bike ride). Once customized it is easy to choose your sport of the day under the start/stop menu.
Once you finish tracking your exercise you can download all of the information collected by the Ambit to the movescount website so that you can analyze or share it in a customizable graphical format (see my latest moves here). 
But wait, this is not a one way street, a unique feature of the Ambit is its ability to not only download but also upload information from the movescount website; you can use the website to create a route with waypoints or points of interest (POIs) for your next run/bike/ski/hike and upload this data to your Ambit. The watch will then alert you each time you reach a waypoint or POI to help keep you on track along the route. This feature is ideal for something like the Wapta Traverse where weather notoriously rolls in at a moments notice and, thanks to all that glacial terrain, you are instantly lost if you don't have a navigation system. 
Have a look here at a backcountry ski route we recently created and uploaded to the Suunto Ambit. This ski touring route is called White Queen and lies just outside the boundary of legendary Whitewater Ski Resort. With this link to our Moves Count page you can see the actual route we followed thanks to the GPS tracking and you can also see where the going got tough thanks to the heart rate monitor. The three images directly below show you what this exact route looks like on the display of the Suunto Ambit, the directional information displayed to ensure you stay on track and also the amount of wind I was sucking at that very moment, 110BPM,... must have been an easy section of the climb.
White Queen backcountry ski route shown on the Suunto Ambit display.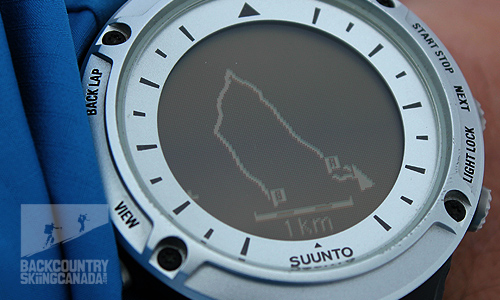 Directional information to keep you on track, go left 320m if you want to find way point #1.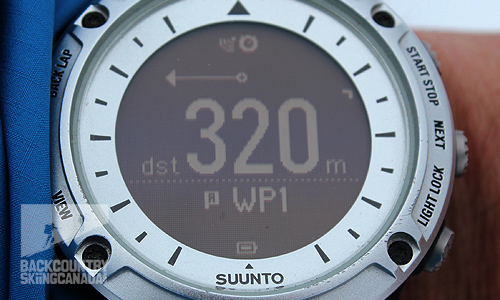 Within the first 1/10th of a km and in only 6 seconds my average heart rate was 110 beets per minute.

Selecting your exercise of choice.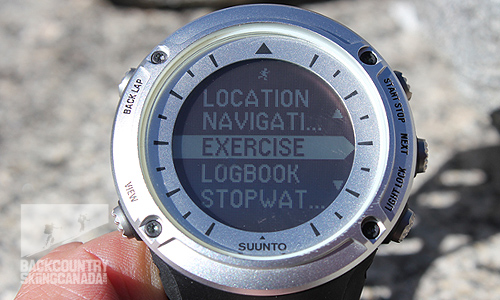 Finding the satelites in the sky above.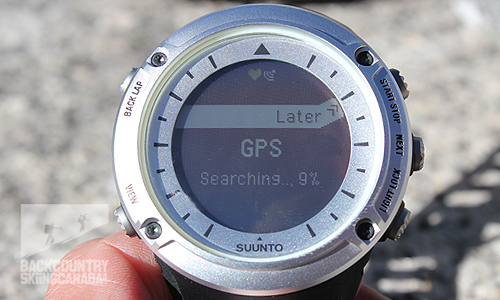 Heart rate monitor is optional if this is not your thing.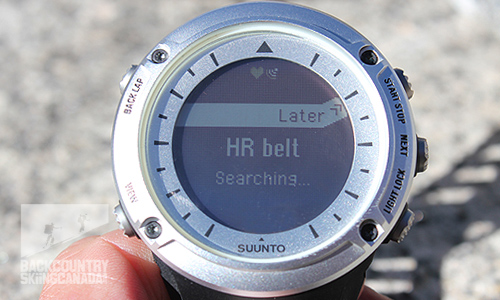 GPS ready to track your movements.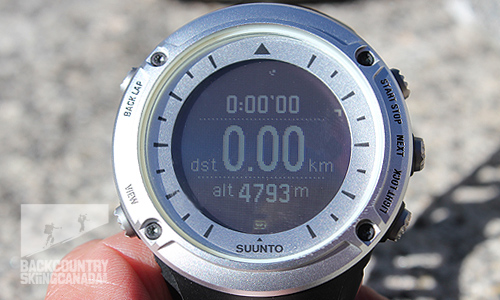 Battery Life:
One of my biggest concerns with any GPS enabled watch with a rechargeable lithium-ion battery is battery life. There is nothing worse then being out in the mountains and your watch battery runs out of juice and leaves you with no access to technical data or even the time for that matter. Thankfully battery technology keeps pushing the boundaries and Suunto has taken full advantage of this. The rechargeable Lithium-Ion batter in the Suunto Ambit will give you 30 days off a full charge for altimeter, barometer and compass functions—and of course the time. If you are using the GPS feature then this time is shortened to 50 hours if you choose to ping the satellites every 60 seconds. If you want more accurate data and chose the one second interval then the battery life is cut down to just 15 hours. For the sake of this review we set the GPS tracking interval to 60 seconds as this provided sufficient data results and also gave us the capability to track our route over multiple days.
Download the data and juice up the battery.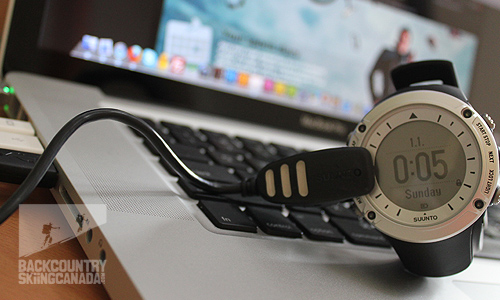 Features:
Casing: Robust Built To Last -casing
Water resistant: 100 m / 328 ft water resistant (ISO 2281)
Upgradeable: New operating system upgrades with new functionalities through Movescount.com
Backlight: On/off or timed
Dot-matrix display: Black on white or white on black
Menu based interface: Simple and intuitive to use
Logbook: Tracks all of your activities' data
Button lock: To avoid accidental activation or de-activation of features
Battery Power indicator: Shows current battery power level and low battery warning.
Languages: English, French, German, Spanish, Italian, Finnish, Swedish, Portuguese, and Dutch
Watch: 12/24h, alarm, dual time
Front face with large display.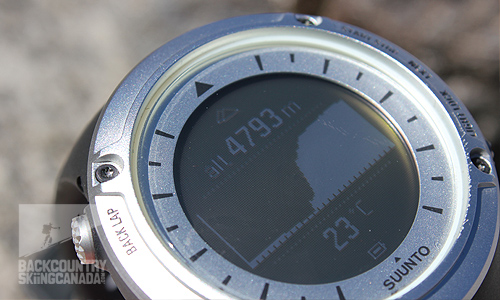 Back view.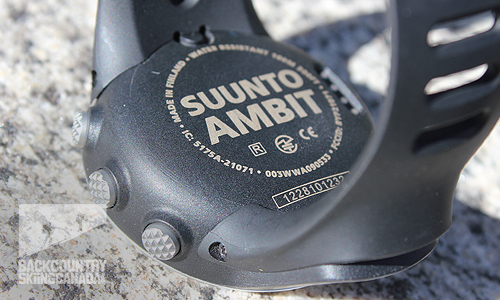 The GPS brains on the left of the face above the band.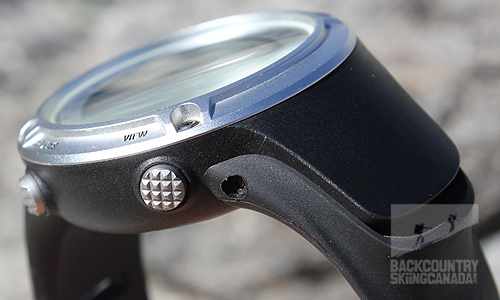 Comfy strap and clasp.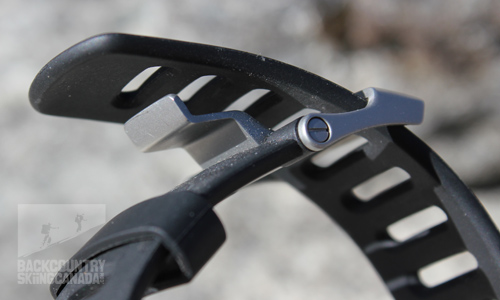 Buttons with traction.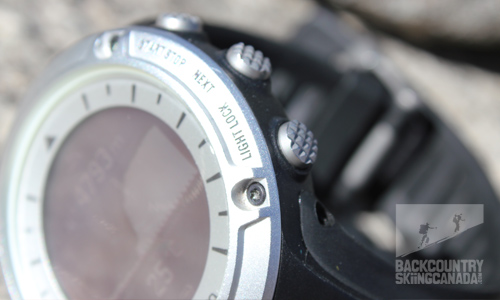 Outdoor Features:
GPS: Full-featured GPS with Waypoint and route navigation, global and local GPS grids based on the SiRFstarIV technology. Gives distance, speed, location, points of interest, routes and find back functionality.
Compass: 3D digital compass which compensates for tilt, allowing you to get a reading regardless of the angle of your wrist. Guided calibration and declination setting.
Altimeter: Accurate barometric altitude, Real-time vertical cumulative value, Automatic Alti/Baro switch, Total Ascent Descent, Vertical speed
Barometer: Trend graph, range of 950-1060 hPa / 28.34-31.30 inHg, resolution of 1 hPa / 0,03 inHg
Temperature
Chronograph: Laps and stopwatch
Training Features:
Pace and speed: FusedSpeed technology uses accelerometer with integrated GPS to give accurate feedback
Vertical speed: Uses barometric altimeter
Heart rate monitor: With Peak Training Effect, Recovery Time, average heart rate and real time heart rate.
Movescount.com: Online sports diary with planning & analysis tools
Compatibility: Suunto Bike, Road Bike, and Cadence PODs
Recovery Time:This feature estimates how long your body needs to recuperate after training. The time is based on the duration and intensity of the session
Routes: Create routes with waypoints at Movescount.com, then download them and navigate with notifications when you have reached a waypoint.
Computer connectivity: PC and Mac
Easy navigation and heaps of functions under the 'next' button.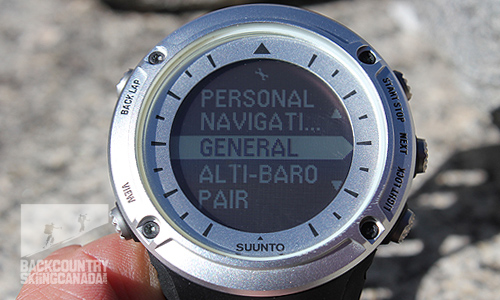 Hidden options like long term sleep mode can be accessed with a double button push.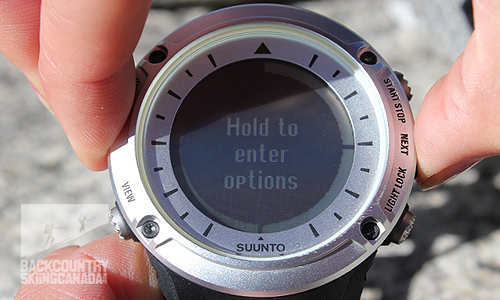 Verdict:
Our testing for the Ambit consisted of several multi-day hikes/climbs and backcountry skis as well as a 5 week adventure to Nepal. The constant elevation change and extended use over these 5 weeks simulated well the same conditions you would encounter on a long backcountry skiing traverse. Overall we were very impressed with the Ambit, not only it is a great looking timepiece, but it is also tough and functional. We sensed this the first time we picked up the Suunto Ambit; its quality is immediately evident and, more importantly, we were happy to see that it stood up under testing.
In terms of the user interface, Suunto did a great job at making it simple and intuitive to use. Although there is an incredible amount of information, options and menus needed to operate all of the features on the Ambit, Suunto managed to organize them all into a very small space with only a few navigational buttons.
To test the battery life I used the Suunto Ambit for a three day hiking/climbing trip and used the GPS tracking feature for three hikes over the course of the trip for a total of 8 hours. At the completion of the trip the battery was only down 20%. The fact that I set the GPS preference to take a GPS fix every 60 seconds (opposed to every second) greatly extended the battery life, which is a great option to have on longer trips. I also really liked that once hooked up to my computer via USB it only took 15 minutes for the Ambit to fully re-charge from this level.
Another battery saving feature we found useful is the power saving mode which kicks in after 30 minutes of inactivity and puts the watch to sleep until the accelerometer senses motion and it wakes up. Also, if you dive a little deeper and venture under the Service Menu>Action you will find that you can put the Suunto Ambit into a suspended state and further preserve your battery for longer periods of storage. Our testing showed, however that this system is not perfect as the battery is still drained approximately 3% a week.
Despite these battery saving features, for multi day trips where you want to track your route you will have to look into a way of powering the Suunto Ambit. We tested it with the Suntric Solar Charger and found that this was an ideal way to ensure you had enough power - even over 18 days of trekking. By using the sun to charge the watch and being prudent with use of features it is fairly easy to ensure you have enough battery life for week long expeditions, or more.
When using the Ambit here in North America, we found the GPS connection to be instantaneous. Unfortunately it did have considerable difficulty connecting in Nepal. Given several minutes it would pick up the satellites but did not always stay connected as we found it did here in North America. I believe this is due to a combination of lack of satellite coverage and incredibly tall mountains. We also had some challenges with the GPS connection when hiking in thick foliage (both at home and away) as there was not a clear view of the sky, however this is standard for any GPS device.
During testing, we couldn't help but compare the Ambit to the previously reviewed Suunto Core 75th Anniversary edition. Although the Core does not have GPS capabilities, it has many of the other features included in the Ambit and, as such, allowed for easy comparisons.
On the positive side, we were very impressed that even with a GPS included, the Ambit is only 1/8" thicker than the Core and it has the same watch circumference. We were disappointed to find, however, that several features, which were instrumental on the Core, were missing from the Ambit. These features include: storm alarm, countdown timer and sunrise/sunset. We hope to see these integrated to the Ambit on future Firmware updates.
Another feature currently not available on the Ambit (or the Core) that would be a welcome addition would be the ability to flip the primary time with the secondary time. This way when you are traveling the local time could be the larger more prominent time and the time back home could appear smaller and below.
Overall the Suunto Ambit is a full features watch for any backcountry skier, mountaineer, climber or trekker. It is a little on the pricey side but all this technology takes a lot to develop and bring to market so the price does not seem out of line for what you are getting. I am impressed with the aesthetics and functionality and have to say one of my favorite features is the fact that the firmware is upgradable so you know that this watch will not be obsolete any time soon. Combine all this with an easy to use web based community where you can track your stats and now even design and download custom apps for your Suunto Ambit! Having previously tested other GPS watches (and units) it was nice to see one that finally lived up to all of its claims and offered a solid backcountry solutions that fit nicely on your wrist.
For a review of the Suunto Ambit2 and Suunto Ambit3 click on their corresponding links.
Yes, that is Mt. Everest in the background behind Nuptse.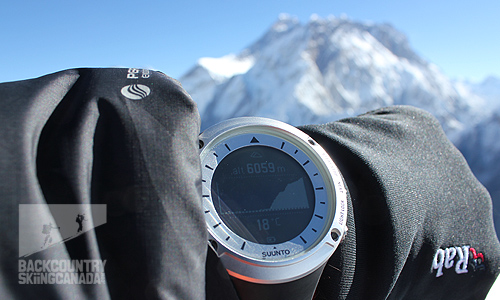 SPECS:
Price: $525 CAN
Weight: 78g / 2.75oz
Dimensions: 58mm diameter, 18mm thickness
Colour: Black or Silver
PROS:
- Satellite connection was instantaneous in North America with a clear view of sky
- Greater battery life than full sized GPS and provides adequate data in the field
- Lithium battery saves $10/year on batteries
- movescount.com is very useful for analyzing and sharing your data
- The GPS transmitter is at the lower end of the watch, which naturally faces up towards the sky as you move
- Operating system is updatable
CONS:
- GPS tracking was hampered (even with the fusespeed technology) when in thick forest and erroneous results were given, however this is true for any GPS given its reliance on satellites
- Pricey
- movescount.com navigation is not very intuitive to use
- mouvescount.com does not include tool to clean up route points
- Current route cannot be viewed graphically to see where you have come from
- Battery indicator does not have many levels (goes from full to 1/2 charged when there is really more juice than this)
- Sunrise /Sunset feature is a must (as in the Suunto Core)
Rating: 9/10
Ease of use       2/2
Features           1.5/2
Quality             2/2
Size / Weight    2/2
Price                 1.5/2

This is only our opinion. Do you disagree? Did we miss something? Are we totally out to lunch? Join the discussion in the forums here, and let us know what you think. People like/dislike gear for different reasons so chime in and we'll get a well-rounded evaluation.
Back to the rest of the reviews.
---