Surface Live free skis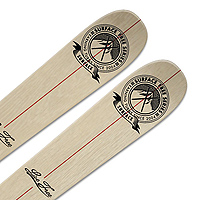 Surface Skis were born in the Utah Rockies in 2004 and are becoming the fastest growing free ski brand on the market for good reason. With the Live Free, the designers at Surface have married together some of the great features from other skis into a new and truly inspirational hybrid design. This ski is designed to be a backcountry ski and boasts the lightest fat, rockered backcountry skis on the market.
The Surface Live Free skis are available in two different sizes and has different dimensions and a slightly different turning radius depending on length. The 181 has dimensions of 146 / 110 / 130, a turning radius of 22m and weighs in at 4.3lbs—a little less than 2Kg's per ski unmounted. The 191 has dimensions of 156 / 120 / 135, a turning radius 26m and weighs in at of 5.1lbs, a little over 2Kg's per ski. I am a big guy, 187cm 105Kgs (6'3" 230lbs) and I love to tour big lines. In a traditional side cut ski I generally go about 185 but with rockered skis you can go a little longer and actually reduce your turning radius due to less of the front and back of the ski in contact with the snow. I have tried different rockered skis with greater and lesser results, but I really enjoyed skiing on the Live Free's hybrid design. If you are in the market for something a little less burly then the Surface Walk Free Skis may be right up your alley, give that review a look over here.
Free-heel beauty shots.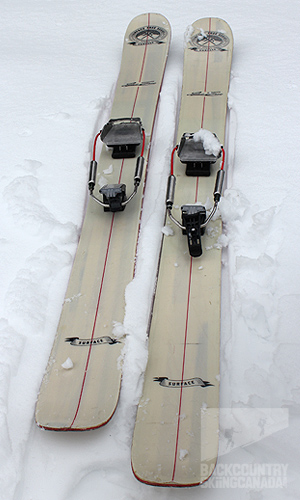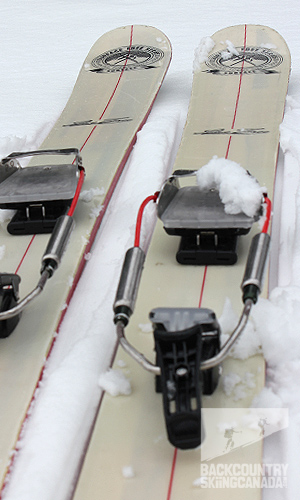 The Surface Live Free skis have Kevlar Bands, Binding Reinforcement Sheets, Full Wrap steel edges, ABS side walls and a Directional Tapered Shape all strapped to a Poplar Wood core which all combine to make a very durable, stable and well mannered ski. They also eat up the crud and schmoo without chatter or deflection. I gotta say, I still love the feel and longevity of a wood cored ski. I also love the confidence the Live Free's engender knowing that the ski is going to respond how I want in all kinds of conditions.
The Live Free skis have A-symmetrical rocker, these are not a full rockered ski but instead have early rise tips and, to a lesser extent, tails with traditional camber underfoot. With 152 in the shovel these skis love to open it up in the pow and have great underfoot loft at 120 which accommodates my big boots without the drag co-efficient. The early rise tips surge for the surface even in heavy coastal pow and makes for breaking trail in the deep fluffy stuff equally as effortless. The slightly less rockered "late" rise tails make for slashy turns even in heavier snow. They were equally at home making perfect S turns in open bowls as they were long GS turns on big lines. I also found dolphining turns in deep cold pow effortless with the Live Free.
Plenty of edge.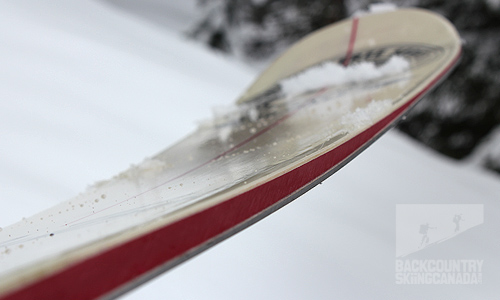 Simple top sheet graphics are appealing.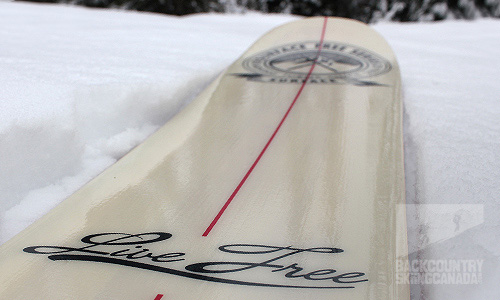 Where this ski really came alive for me was actually in the trees. With its stiffness, size and length I expected I was going to have to really stay ahead of them and drive them in the trees. What I found was a really responsive platform that allowed me to open up the speed with confidence in the trees and point and shoot my turns rather than muscling them around with white knuckles. My confidence built with them on each lap and I came to trust that they were going to be there for me whatever I asked of them.
The camber underfoot makes it possible to edge and flex them in packed powder conditions (although the width does require muscling them up on edge a bit), once there, they were totally stable and not chattery like some other rockered skis.
Last year's Live Free did have a problem with excessive top cap chipping but that has largely been addressed in this year's model with 2mm mini cap design. The new Graphic for the 2012 season with a homage to old school long (surf) board design with red stringer down the middle is a winner and doesn't show the dings nearly the same as the black and orange design from 2011. It looks like Surface is going to stay with the long board graphic for the 2013 Live Free as well. The only thing I would have wished for is a skin clip notch in the tail which would allow use with my old skins, but there are twin tip designed skins out there that probably would have lessened some of the chipping in the tail from my skin clip.
Early rise tip and tails with plenty of camber.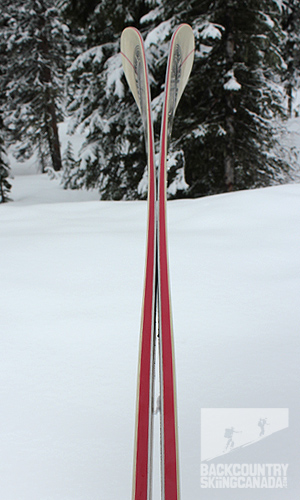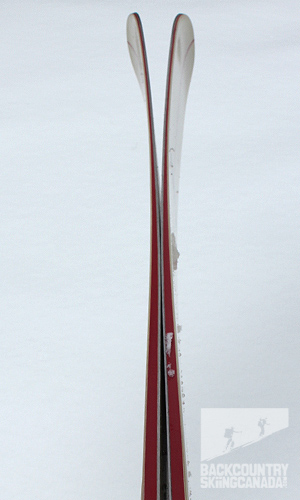 Tip front an back.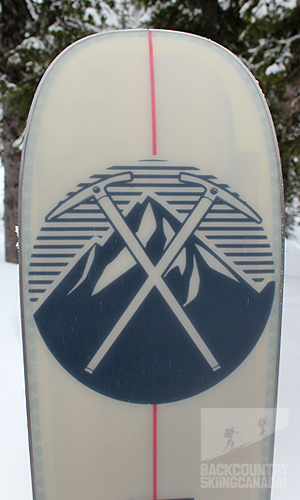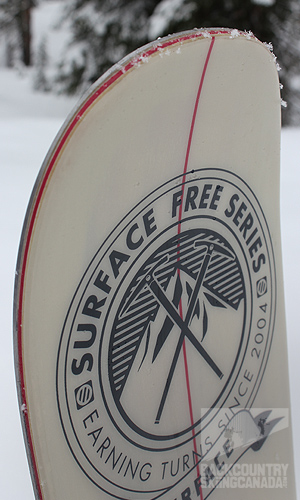 Verdict:
The Surface Live Free exceeded my expectations on a number of different levels and the design, while primarily backcountry touring oriented, was equally at home on cat ski and resort days in all kinds of conditions. If you like touring for turns and hitting big powder lines I think you'll love the Surface Live Free.
So fat they almost fly.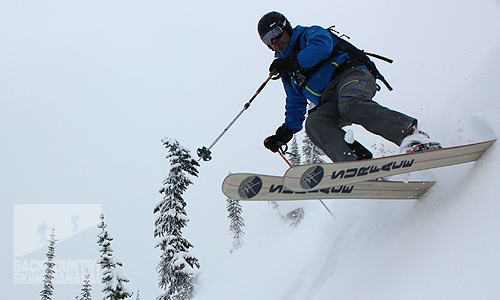 SPECS:
Price: $650 US
Turning Radius: 181cm 22m, 191cm 26.2m
Weight: 181cm 8.6lbs (set), 191cm 10.2lbs (set)
Dimensions: 181cm - 146 / 110 / 130, 191cm - 156 / 120 / 135
PROS:
Hybrid construction, early Rise tips and tails with camber underfoot, wood core durability, weight is good for a big ski, price point is right. Versatility and performance in differing snow conditions, responsive turning for a big ski.
CONS:
I am hard pressed to come up with a con here even the lack of skin notch just requires stepping up to a skin fixation system that is made for twin tips versus going with my old flat tail skins. This wouldn't be my choice for an ultra light, long traverse ski.
Rating: 9/10
Powder Performance         2/2  
Groomer Performance       1.5/2     
Stability                            2/2
Weight                              1.5/2
Value                                2/2

Join the discussion in the forums here, and let us know what you think. People like/dislike gear for different reasons so chime in and we'll get a well-rounded evaluation.
Back to the rest of the reviews.
---