Sherpa Adventure Gear Hero Tee, Karnali Shirt, Sonam Quarter Zip, Koshi Shorts and Saba-Tek Pants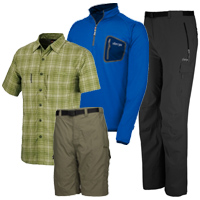 This is our second review of Sherpa Adventure Gear products and I can confidently say that we are huge fans of their company. Why? Well, it's refreshing to see a company that supports their local economy, is socially conscious and gives back to the community. Sherpa Adventure Gear is Sherpa owned and Sherpa run with most products manufactured right in Katmandu, Nepal. In addition, a small portion of the proceeds of each product goes to support the education of local Sherpa children. We are definitely impressed by the gear produced by Sherpa Adventure Gear but we are even more impressed that as a for-profit company they have stayed true to their roots.
This review will look at a full top to bottom set up of Sherpa Adventure Gear clothing starting on top with the Sherpa Adventure Gear Hero Tee, Karnali shirt and Sonam Quarter zip long sleeve shirt. On the bottom we will look at the Koshi shorts and Saba-Tek Pants. Each of these products comes with a lifetime warranty and a heap of technical features to make your off-season adventures more enjoyable.
Sherpa Adventure Gear Hero Tee:
Price: $55 CAN
Sizes: S, M, L, XL, XXL
Colours: Lama Red, Black, Nadee Green, Monsoon Grey, Vishnu Blue
Weight: 6.9g / 196oz
Fabrics: 85% polyester / 15% cotton
The Endless Knot icon.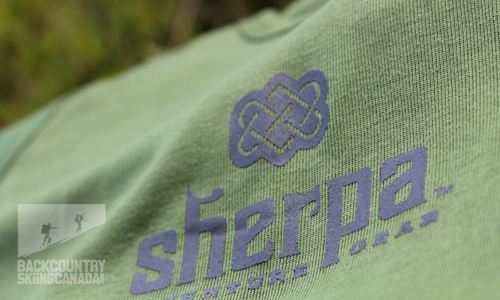 Slim athletic cut.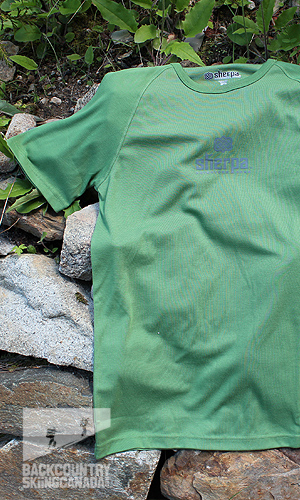 The saying in the mountains is "cotton kills" so Sherpa Adventure Gear designed the Hero Tee with a poly-cotton blend that dries four times faster than plain cotton. This dri-release® fabric is breathable, anti-microbial, moisture-wicking and reportedly keeps you cooler by a full 7 degrees. FreshGuard is thrown in to control odours while the soft finish feels nice against your skin. The slim athletic cut won't shrink and the raglan sleeves eliminate seams under your pack straps where they can chafe. A subtle Sherpa Adventure Gear logo and 'Endless knot' icon finish the design off nicely.
---
Sherpa Adventure Gear Karnali Shirt:
Price: $65 CAN
Sizes: S, M, L, XL, XXL
Colours: Darjeling Mist, Gokarna Green, Gomba Orange, Pani Blue
Weight: 177g / 6.2oz
Fabrics: 76% nylon / 24% polyester
Mesh lining to help keep you cool.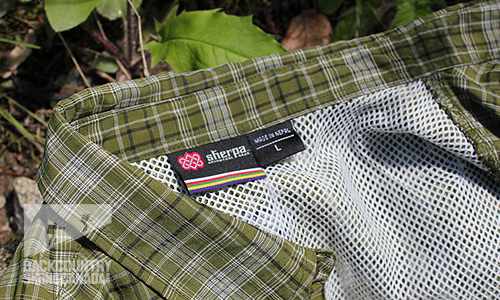 The Sherpa Adventure Gear Karnali Shirt is a nylon/polyester blend that is wrinkle resistant.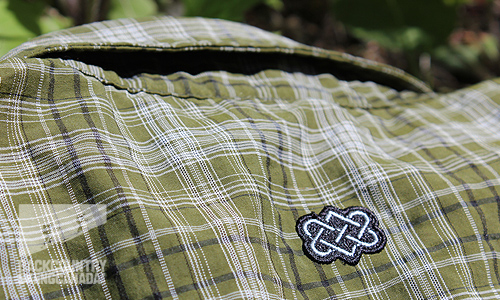 Two zippered pockets.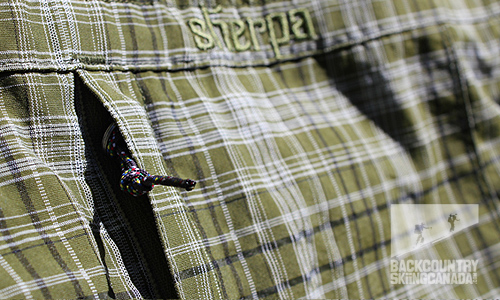 Back vent to help keep you cool.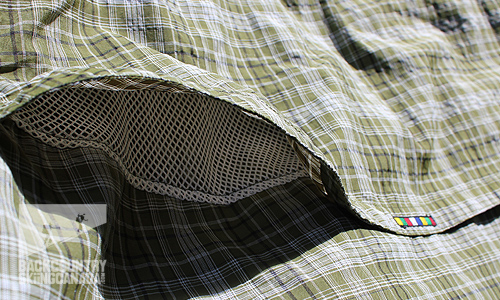 Glamour shot.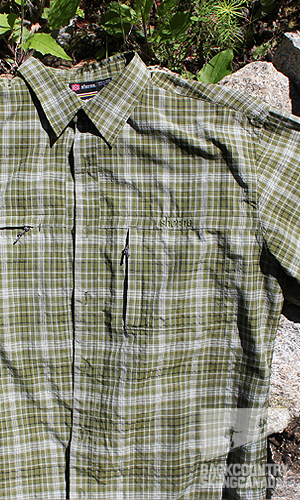 The Sherpa Adventure Gear Karnali Shirt is perhaps my new favourite summer shirt. It's named after the longest river in Nepal and is designed to wick moisture, dry quickly and give you 40 UPF sun protection on the trail. With an active cut and gusseted arms it gives you unrestricted movement climbing or paddling and the back vent and mesh really do let the cool breeze flow through to keep you drier. On top of these features, the two zippered chest pockets (one with Napoleon-style side entry) ensure that your things stay put. The Sherpa Adventure Gear Karnali Shirt is also wrinkle resistant so it can go from trail to dinner out and still look good.
---
Sherpa Adventure Gear Sonam Quarter Zip:
Price: $90 CAN
Sizes: S, M, L, XL, XXL
Colours: Subji Green / Chive, Kharani / Black, Sarkar Blue / Rara Blue, Suntala / Gomba Orange
Weight: 215g / 7.6oz
Fabrics: 54% polyester and 46% Dry Zone nylon
Detail on the zipper pull tab is a nice addition.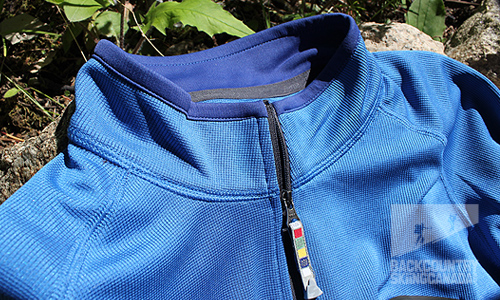 Welded chest pocket.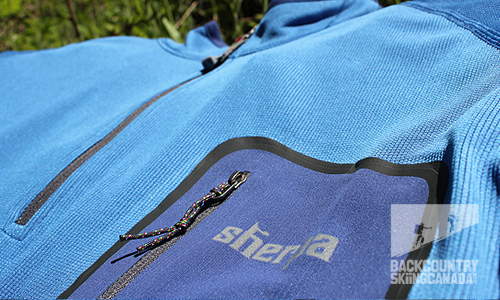 Cuff detail with accenting fabric colour.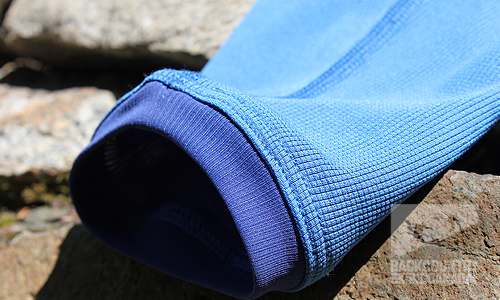 Another glamour shot.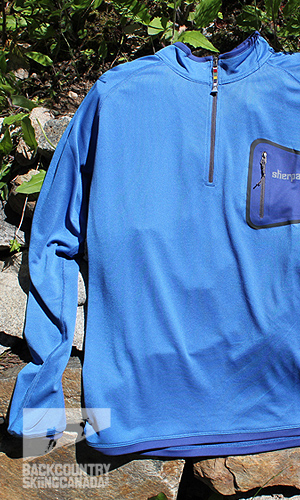 The Sonam Quarter Zip was named after the Tibetan word for good fortune and is Sherpa Adventure Gear's most popular long sleeve shirt for summer. The Sonam is a lightweight long sleeve zip shirt that has a really unique stretch rib fabric called "Dry Zone smart fabric." This fabric was developed specifically for Sherpa Adventure Gear and its unique weave helps controls thermal conductivity; basically it keeps you warmer in cold weather and cooler in the heat of the day while blocking out 99% of UV rays. The fabric not only has fast-wicking properties but is also woven with anti-bacterial silver ions to minimize odours over those multi-day treks or single-day scorchers. The Sonam works as a great midlayer as it is thin enough to layer over and has a relaxed fit and 1/4 zip so it's also easy to layer under. As a great "Sherpa" detail, the shirt also has a welded zip chest pocket for small items you need to keep safe.
---
Sherpa Adventure Gear Koshi Shorts:
Price: $75 CAN
Sizes: S, M, L, XL, XXL
Colours: Karhani, Peepal Green, Tchampa
Weight: 250g / 8.8oz
Fabrics: 100% nylon spandex
Integrated belt.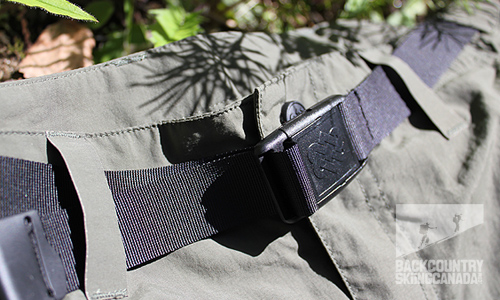 Velcro closures on 4 of 6 pockets.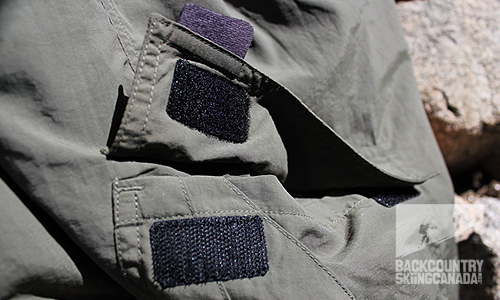 Yet another glamour shot.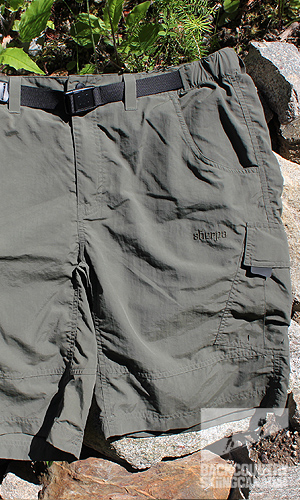 The Sherpa Adventure Gear Koshi Shorts are built with lightweight Supplex fabric that is ideal for hiking and swimming. When the day gets hot you can cool off in a lake or stream and know that the Koshi Shorts will dry quickly thanks to the 100% nylon fabric and mesh lined pockets with laser cut drain holes. A total of 6 pockets will adequately stash all of your trail treats, and, as a bonus, all but the two front hand pockets have velcro closures and the right cargo pocket even has a hidden zipper pocket inside to keep your essentials super safe. In case you get the Koshi Shorts wet a lot they are also antimicrobial, which will work to keep them smelling fresh. The antimicrobial product used (Ruco-Bac-Agp) is based on silver ions and stands up to washing. In addition, to keep the shorts where they belong there is a removable belt with a spring loaded clasp and an elastic waistband at the sides for comfort.
---
Sherpa Adventure Gear Saba-Tek Pants:
Price: $125 CAN
Sizes: S, M, L, XL, XXL (Available in two inseam lengths: Regular 32" and Tall 34")
Colours: Black, Tchampa
Weight: 494g / 17.4oz
Fabrics: 96% nylon / 4% spandex
Integrated belt and snap to keep things snug.

Back zippered pockets.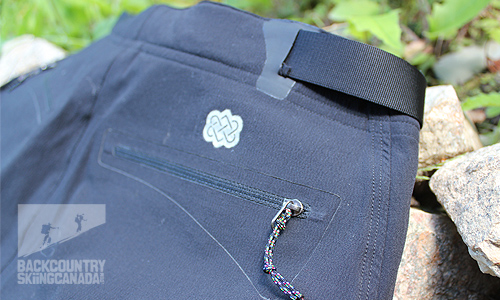 Cargo pocket flap and snap.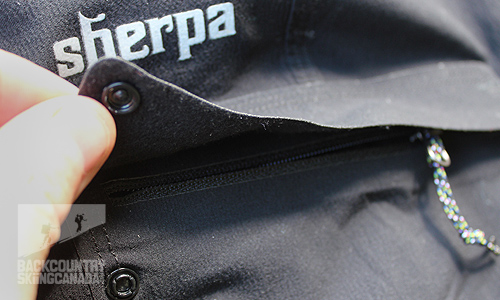 Zippered hip pocket with fleece linning and zippered ankles allow for easy on and off.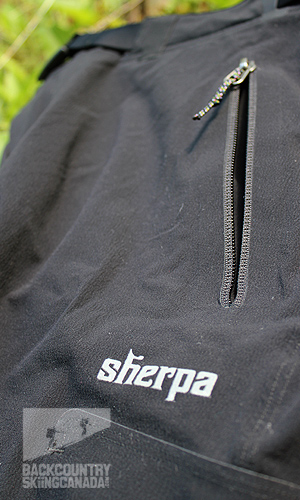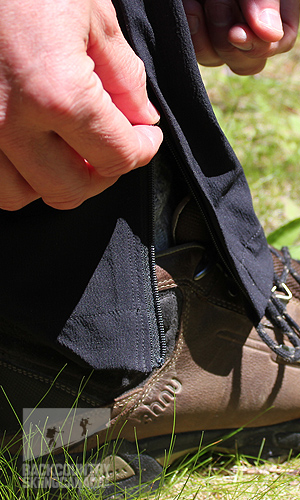 They even work as a great spring ski touring pant.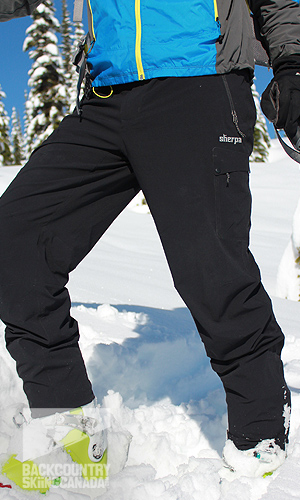 The Sherpa Adventure Gear Saba-Tek Pants are a 4-way stretch, technical pant that does not hamper your mobility thanks to the articulated knees and gusseted crotch. The active cut also has plenty of room so the pants move with you in all directions. The soft-shell-like material is very thin, soft and comfortable while still providing some abrasion resistant properties. All six pockets have zipper closures, which is a nice feature to keep your stuff safe. In addition, the hip pockets are fleece lined which provides a warm and comfy place for your hands when they get cold (this is a great feature). Zippered ankles allow you to use the pants over ski boots for ski touring or just help with getting them on and off over a pair of hiking boots - a great feature! The integrated belt has a unique closure system and allows you to cinch the pants tight so your pack and gravity don't win the battle against you trying to keep the pants up.
---
Verdict:
Today there is an incredible array of choices of outdoor clothing companies and it is very refreshing to find a company that not only designs and manufactures great quality products but also has a social conscience and is not simply a marketing gimmick. The majority of Sherpa Adventure Gear products are made right in Katmandu, which provides work for locals with up to $.50 from every product going towards a special fund for the Sherpa children of Nepal. In addition, the company is owned and run by Sherpas - just ask Tashi Sherpa the founder and President. These reasons alone make buying their products a good thing. Add to this, that the gear is well designed and well made and includes many unique details and you should have no hesitations in buying Sherpa Adventure Gear.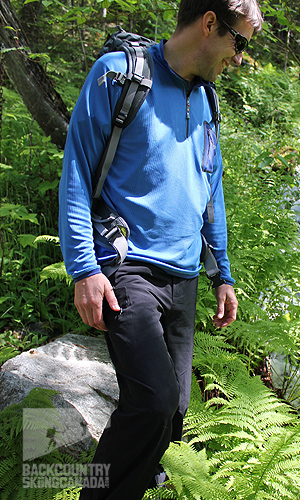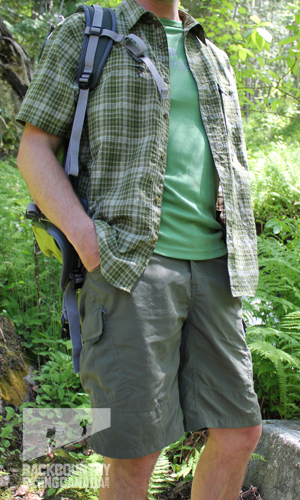 For a behind the scenes look at product development at Sherpa Adventure Gear watch the following video tour with the president of the company:
PROS:
- Pockets either have a zipper or velcro closure system to ensure your things stay put - this is a nice feature which adds value to the products. The Karnali shirt, for instance, has two zippered pockets, which is a nice change from traditional open pocket designs.
- The back vent flap/mesh on the Karnali Shirt really keeps your back cool by allowing in a breeze.
- Colourful zip pulls and 'endless-knot' icon are a unique detail on most items.
- The fabric on the Sonam 1/4 Zip is very unique as is the fleece lined hand pockets on the Saba-Tek Pants.
CONS:
- The Sonam Quarter Zip has a welded chest pocket that, although I hope it stands up to the test of time I have not had good luck with this technology on other manufacturers' clothing.
On the Saba-Tek pants:
-The middle belt loops could be closer together to avoid the belt staying up and the pants riding down at this location
-The pocket flaps on the cargo pockets are an extra step to access your things
-The main pocket zippers open in reverse, down is closed and up is open - maybe it's a Sherpa thing?

This is only our opinion. Do you disagree? Did we miss something? Are we totally out to lunch? Join the discussion in the forums here, and let us know what you think. People like/dislike gear for different reasons so chime in and we'll get a well-rounded evaluation.
Back to the rest of the reviews.
---