Sherpa Adventure Gear summer 2012 - REVIEW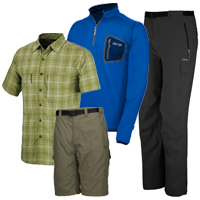 Today there is an incredible array of choices of outdoor clothing companies and it is very refreshing to find a company that not only designs and manufactures great quality products but also has a social conscience and is not simply a marketing gimmick. The majority of Sherpa Adventure Gear products are made right in Katmandu, which provides work for locals with up to $.50 from every product going towards a special fund for the Sherpa children of Nepal. In addition, the company is owned and run by Sherpas - just ask Tashi Sherpa the founder and President. These reasons alone make buying their products a good thing. Add to this, that the gear is well designed and well made and includes many unique details and you should have no hesitations in buying Sherpa Adventure Gear.
This review will look at a full top to bottom set up of Sherpa Adventure Gear clothing starting on top with the Sherpa Adventure Gear Hero Tee, Karnali shirt and Sonam Quarter zip long sleeve shirt. On the bottom we will look at the Koshi shorts and Saba-Tek Pants.
Read the full review in our "Off-Season" gear review section.