Salomon Soul Quest BC GTX 3L Jacket and Pants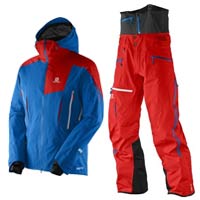 The Salomon Soulquest BC GTX 3L jacket and pants are the top outerwear offering from Salomon and have an impressive set of features in a comparatively lightweight package. Utilizing Gore-Tex's proven Pro 3L fabric, the Soulquest BC GTX is a rugged and waterproof option that will feel at home hucking cliffs at your local hill, touring your favourite stashes and on bolder ski mountaineering missions.

Last season, we tested Salomon's Quest Motion Fit jacket and pants and were impressed with the outfit's innovative design pattering combined with its proprietary climPRO Storm 3L fabric, which offered a great fit and range of motion in a comfortable, if not slightly heavier, package. For a good explanation of Salomon's Motion Fit design, read the Salomon Quest Motion Fit Jacket and Pants review here. The Soulquest BC GTX shares the same Motion Fit principles as the Quest, but packs similar features into a lighter, more durable and waterproof design, largely thanks to the Gore-Tex Pro 3L fabric.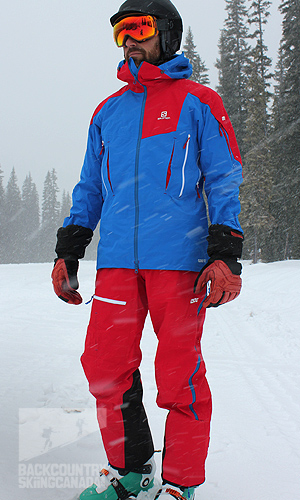 Salomon's Soulquest jacket and pants come in two matching colourways, a bold red/blue combo and an equally bright blue/green. We tested the red/blue combo and while you'll certainly be the photographer's likely go-to for the shot that "pops," we couldn't help but feel like Captain America ripping down the slopes. But of course colour choice is a personal thing, so take that for what it's worth.

As for construction, Salomon's Soulquest outfit has excellent stitching, is fully seam sealed, burly Velcro and bomber YKK zippers – all the attributes one would expect in a jacket and pant combo that will set you back $1,100 ($600 jacket, $500 pants). However, to get a well-constructed, technical jacket with Gore-Tex Pro 3L fabric, it's priced competitively.

We used the jacket and pants in a variety of conditions from ski touring slack country laps at Whitewater Ski Resort to simply lapping the lifts on powder days (which were in short supply early season). The Salomon Soulquest BC GTX gear worked very well given its Gore-Tex Pro 3L fabric, it breathed as expected and certainly kept this reviewer dry on those soggy early December days. The light and fast and light feel of the Soulquest jacket and pants were a welcome treat in the backcountry and I found that they packed down relatively well given the long list of features that you'll read about next. While this kit could be lighter if you took away features it was nice to have all the bells and whistles while skiing the resort.
Check out the following Salomon Freeski TV Episode which shows off Salomon's Soulquest BC GTX 3L jacket and pants:
Features:
Soulquest BC GTX 3L Jacket:
- Motion fit design
- Gore-Tex Pro 3L fabric
- Relax fit
- Goggle wipe
- Harness and backpack compatible
- Key hook
- Snap-in connection with pant
- Articulated sleeves
- Cuff adjustment
- HEM adjustment
- 100% taped
- Water repellent pocket zipper
- Goggle mesh inside pocket and pit zip air vent system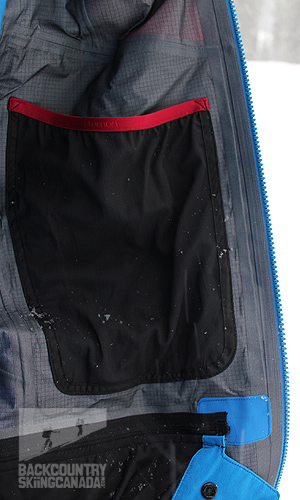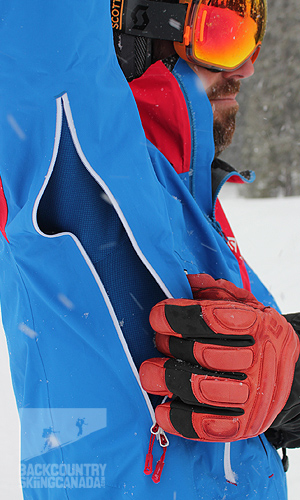 - Fixed, helmet compatible hood with 3D adjustment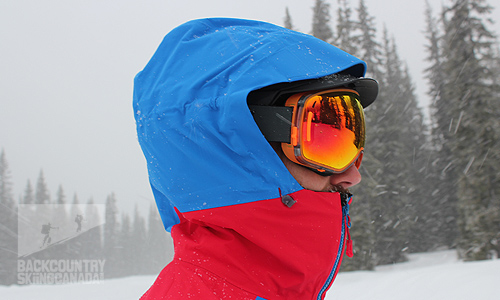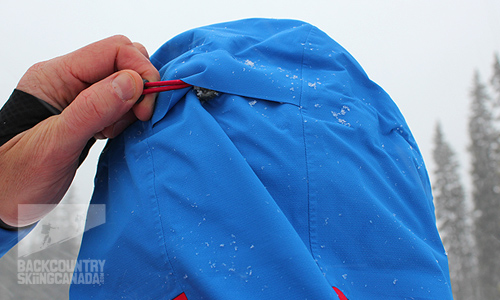 - Two hand zipper pocket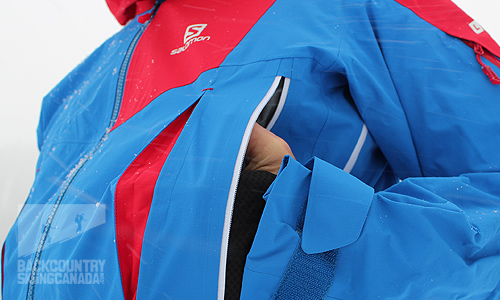 - Left arm lift pass pocket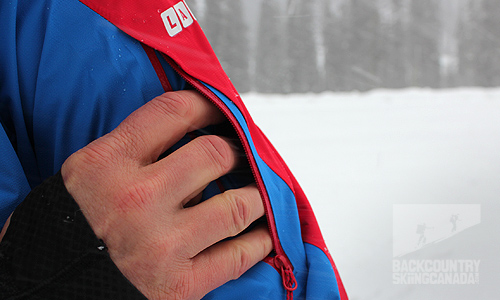 - Removable stretch powder skirt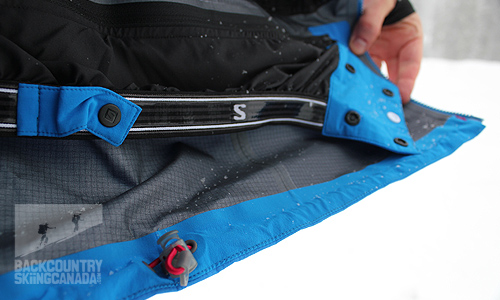 - Zipped internal chest pocket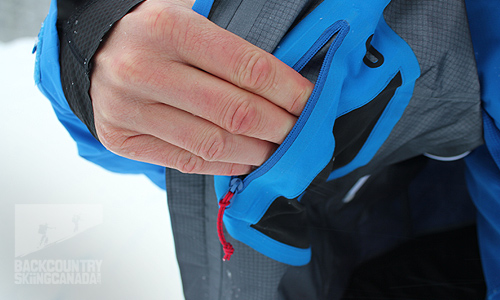 - Water Repellent YKK front zipper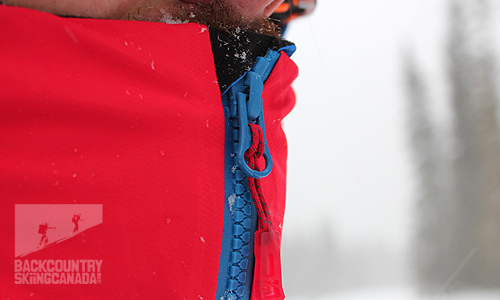 - Moisture wicking "Advance Skin Active Dry" cuff with thumb loop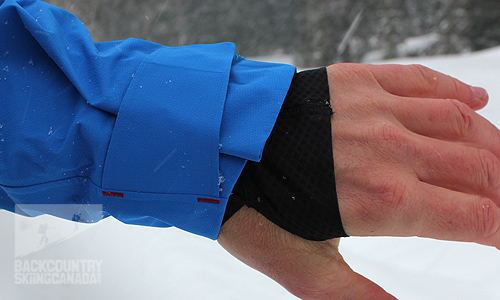 Soulquest BC GTX 3L Pants:
- Motion Fit
- Gore-Tex Pro 3L
- Regular Fit
- Knee articulation
- Skicut crampon and boot protection on cuffs
- ¾ side zip vent
- 100% taped
- Water repellent pocket zipper
- One leg pocket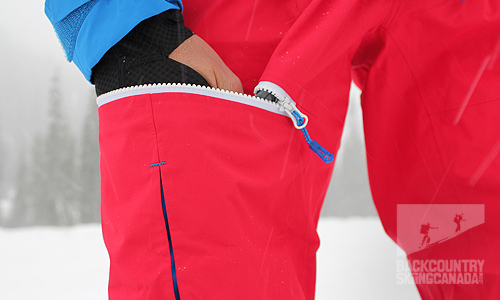 - Waist Adjustment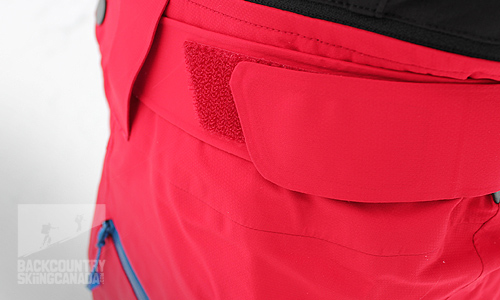 - Two hand zipped pockets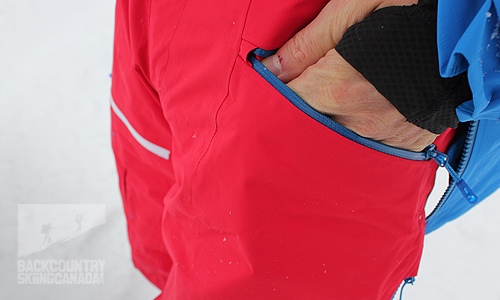 - Adjustable gaiters for summer and winter activities (big boots and climbing boots)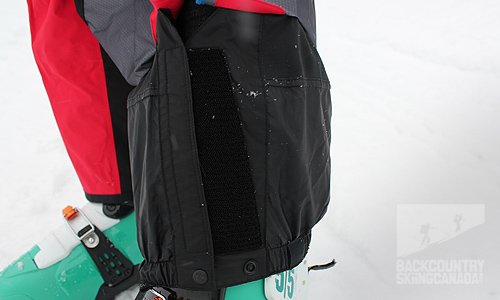 - Unique adjustable pant cuffs with lace hook (ski boot and climbing boots)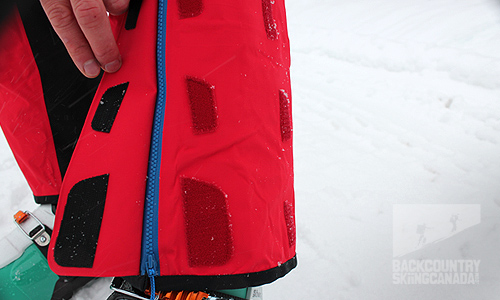 - Security Lock Buttons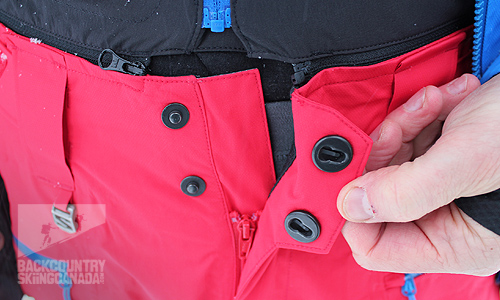 - Removable powderskirt bib with built in pocket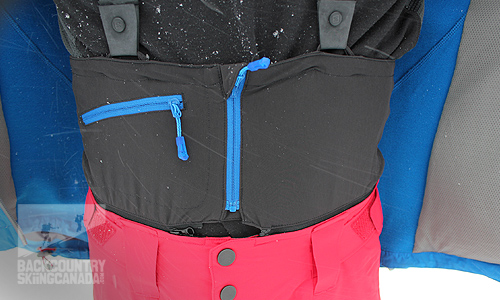 - Adjustable suspenders, attachable with and without bib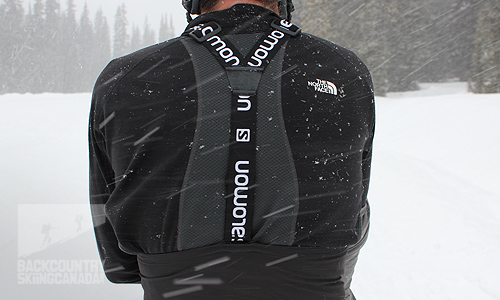 Verdict:
The Salomon Soulquest BC GTX 3L, while a mouthful of a name, is a rugged and relatively lightweight outerwear kit for the impressive features it includes. The integrated pants/jacked system is effective for long tours and the deepest days. The proven Gore-Tex Pro 3L fabric will withstand abuse and retain its waterproof characteristics for a long time if you treat it right.
Salomon packed as much as they could think of into the Soulquest BC GTX combo. I actually can't think of anything more I would add, they have it all covered and then some. My favourite features have to be the innovative locking snaps on the pants which ensure they will not come undone prematurely no matter how hard you flex those abs or how fat you get. Likewise the built in suspenders, belt looks and adjustable hem provide a snug fit as you grow or shrink. The double velcro closure system on the lower pant legs offer up two setting, one for ski boot and one for street boot, this way you don't feel like John Travolta during après ski. Combine these features with a kick-ass helmet compatible hood, super cool thumb loops, removable powder skirt and more pockets than you can shake a stick at and it's feature overload.
While removing a few features would make the Salomon Soulquest BC GTX even lighter and more compact it would lose appeal with pure resort skiers. As a backcountry skier I could do with out some of the features but while skiing the groomers they are all pretty special. One thing I would like to see added for the backcountry skier in me is a beefy clip in the thigh pocket of the pants. This would allow me to carry my transceiver the way I prefer and not in a chest harness.
Overall, well done Salomon. A suit worthy of a super hero for more reasons than one!
SPECS:
Price: Jacket $600, Pants $500 CAN
Weight: Jacket 660g / 1.45lb, Pants 690g / 1.52lb
Fabric: Gore-Tex Pro 3L
Warranty: Limited Lifetime
PROS:
- Comfortable and functional Motion Fit design
- Durable, breathable, waterproof Gore-Tex 3L fabric
- Quality construction
- Functional features
- Competitively priced
- Integrated jacket and pants
CONS:
- Too many features/weight for true mountaineering (but is that the point?)
- More subdued colour options preferred
Rating: 9/10
Fit/Mobility 1.5/2
Packability: 1.5/2
Waterproof/Breathable 2/2
Features: 2/2
Quality/Price: 2/2

This is only our opinion. Do you disagree? Did we miss something? Are we totally out to lunch? Join the discussion in the forums here, and let us know what you think. People like/dislike gear for different reasons so chime in and we'll get a well-rounded evaluation.
Back to the rest of the reviews.