Salomon Quest Motion Fit Jacket and Pants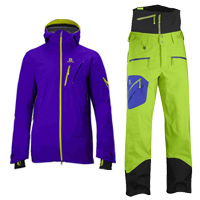 New for fall 2013, Salomon has decided to engineer a little piece of freedom into their new Quest Motion line of Apparel. The approach for designing this set of outerwear has been to make skiers more comfortable and free in the motions that they make on and off the slopes. This could be hucking cliffs, buckling ski boots or putting on skins. They do this by taking a nod from the fashion world and implementing some excellent tailoring and stretch fabric in key areas. Both the pant and jacket have extra panels and gussets added to really increase the comfort and mobility of the wearer. The jacket and pant combo have great color coordination with two color ways. It is available in Purple with Green and Black with Orange.
Salomon sent Backcountry Skiing Canada a jacket and pant to test out last winter and we had a chance to get the pair out into the snow over the late winter and into spring. We liked the way it all fit and it was very noticeable how the newly designed patterning coupled with the stretch fabric gave a great sense of mobility. There wasn't really any limitation to movement at all.
When it came to waterproofness the jacket did wet out after a long day in wet snow but it wasn't soaking through at all. The membrane was very good at keeping the water out. I think that the face fabric on both jacket and pant are great for durability, not so good for water shedding and lightweightness.
For people that want a bit more info about the membrane used here's the technical part of the review. For the Quest Motion Fit Jacket and Pant, Salomon uses a proprietary membrane called climaPRO™ storm 3L. This is a 3 layer fabric construction where there is a face fabric, a membrane and then a backing fabric. These are all laminated together to make a fabric that is durable, wind and waterproof but still breathable. According to Salomon climaPRO storm 3L has a waterproofness rating of 20 000mm in a water column test and 15000 grams per meter squared over 24 hours breathability rating. These numbers are very good levels of waterproofness and breathability. At Backcountry Skiing Canada we don't do independent testing of waterproofness or breathability but in practical application the pants and jacket kept us dry in wet snowy weather while being active.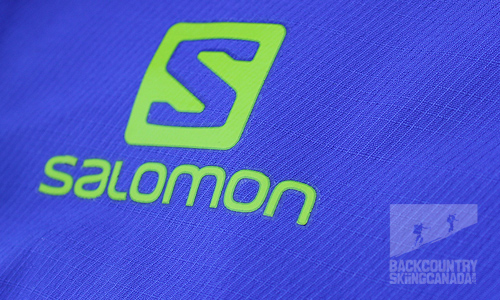 From other manufacturers there has been a huge level of attention given to the breathability of new membranes and Salomon has chosen to focus on the comfort from fit instead. I think it's a smart move as they are offering something unique in fit with these two items and at the same time are avoiding a conversation that most people don't really understand. As an example Gore-Tex has released a new membrane this season that is tested to be 30% more breathable than the top of the line Gore-Tex available last season. This is a great improvement but brings to question just how breathable these waterproof fabrics are.
The innovation in fit used with this jacket won Solomon the ISPO 2013 award for new product. The ISPO judges had this to say:
"The unique concept of the Quest Motion Fit Jacket is based on pattern engineering and tailoring, with the goal to provide an articulated fit with an unrestricted freedom of movement. The jacket offers high durability and waterproofness to ride or ski even in extremely bad weather conditions. Specific fabric applications in high-movement areas and extra stability seams in certain areas to maintain the products shape add to the high-performance concept of this jacket.".
As an outfit this pant and jacket combo works great. Especially since the pant and jacket attach together to keep all the snow out. Freedom of movement and clean lines. For a full review of Salomon's new Quest BC GTX 3L Jacket and Pants click on over here.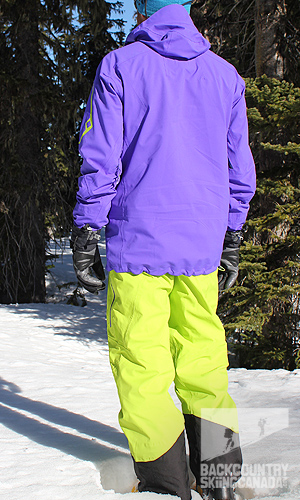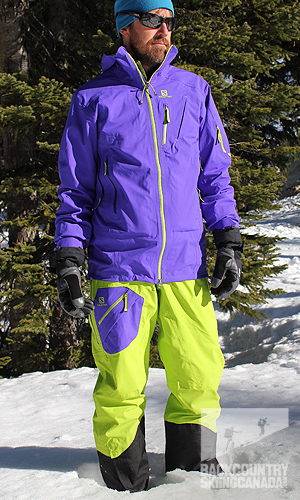 Jacket Features:
100% taped seams
Easy to operate waterproof zippers throughout
Recco avalanche reflector
Built in goggle wipe
Stretchy Lycra® inner cuffs with thumb loop and easy to close velcro cuffs
Removable stretch powderskirt
Snap-in connection with pant
Inner stash pocket with port for headphone cable
Zipped chest pocket
Ski Pass Pocket on left Arm
Helmet compatible hood
Storm pocket
Bottom Hem Fastening
Goggle Mesh Pocket
Hood With 3D Adjustment
2 Hand Zipped Pockets accessable while wearing a back pack.
Fixed Hood
Thumb loops to keep the snow and cold out.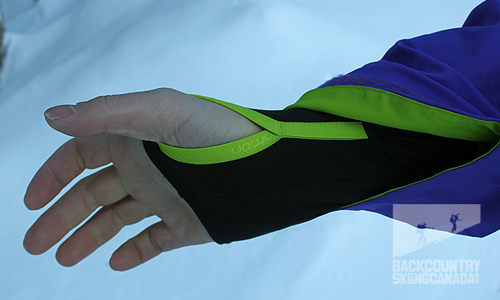 Unique seam design allows for plenty of stretch across the back.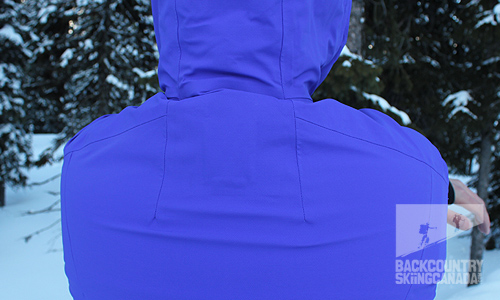 Good coverage and protection from the hood.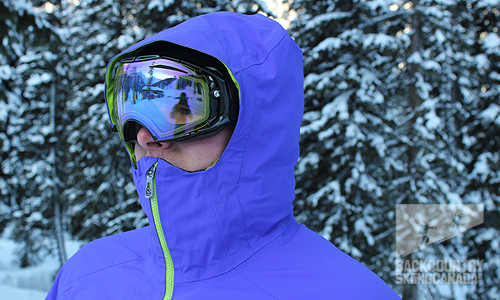 Pit zips of course.

Arm pocket for those of you who like them.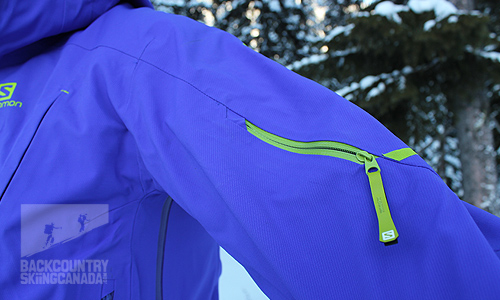 Snaps on the jacket allow it to affix to the pants.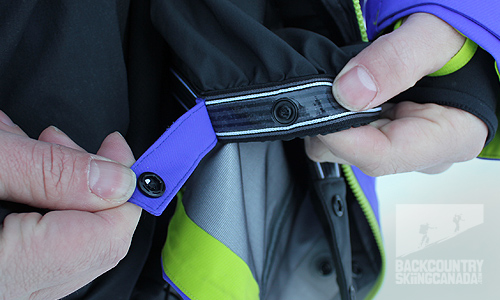 Removable powder skirt for those epic deep days.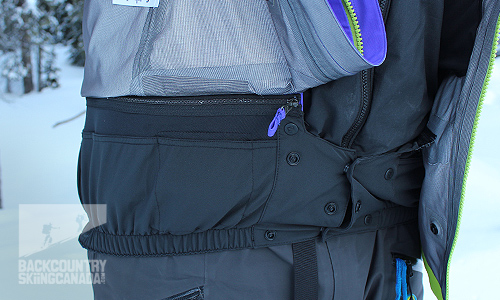 Two internal pockets, one zipped and one not.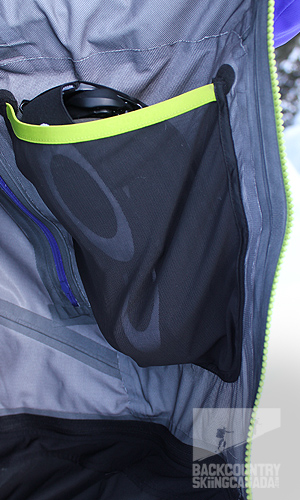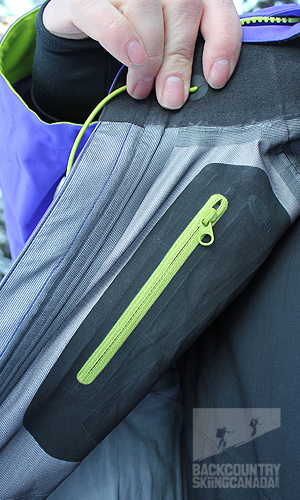 Pants Features:
100% taped seams
Recco avalanche reflector
Powderskirt
Removable bibs
Pant leg air-vents with mesh backing
Storm pocket
Built in waist adjustment and wide belt loops
2 Hand Zipped Pockets
Built in gaiters make for a great seal around your ski boots. Feeling sharply dressed, these pants might be bright for some but they fit very well.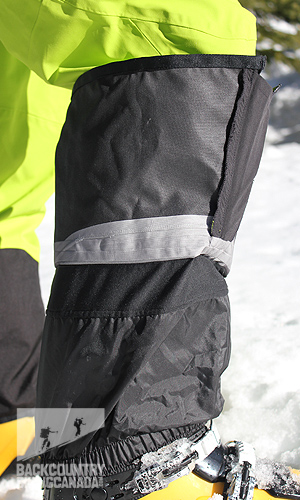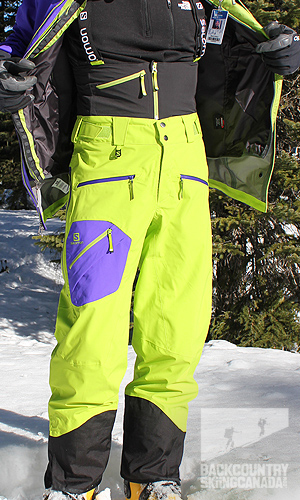 Another well placed zipper pocket on the lower thigh and leg vents with mesh backing, let the heat out, keep the powder from coming in.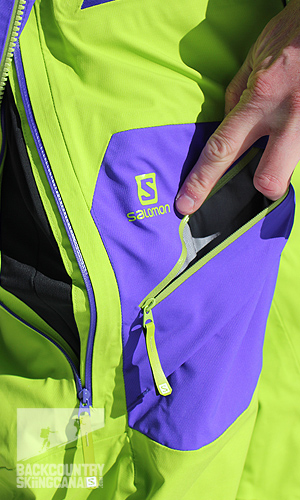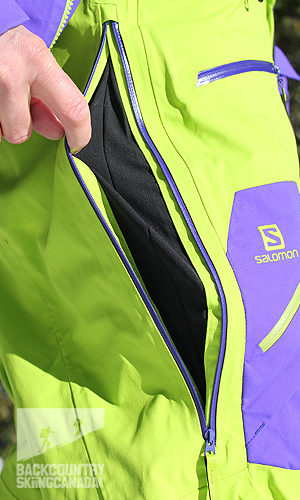 The extra wide built in suspenders were very comfortable and kept the pants in place all day.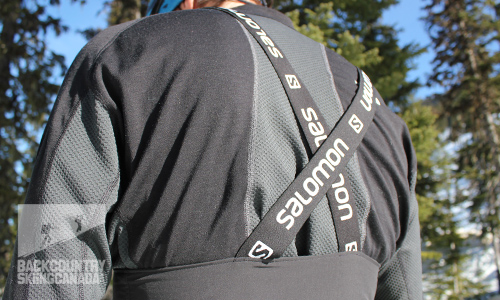 After a day of hiking, you might need to tighten your pants.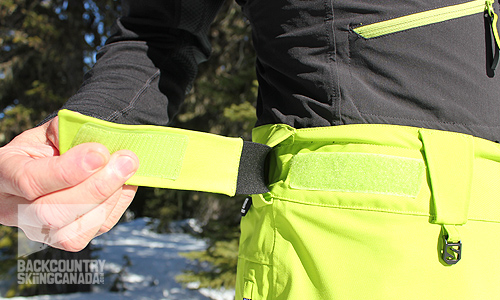 A removable bib, makes these pants even more versatile.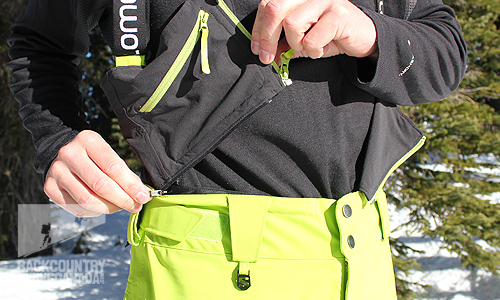 They call this a storm pocket, nothing like a tasty Probar after the storm.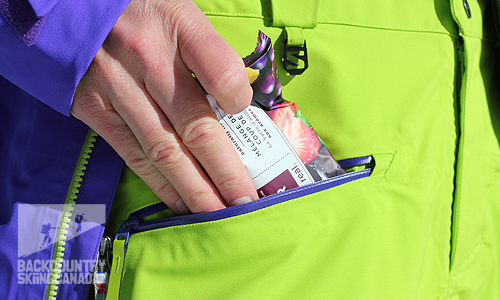 Verdict:
I think that Salomon has made a great pant and jacket and understand where they belong relative to other pieces on the market. They priced fair and chose colors that will stand out. I think that some people will be thrown off by the bright colors and others will want something lighter weight. If I was to base this review solely on how Salomon describes it on their website. "Technical 3L freeski jacket designed to allow you to move freely on a bluebird powder day." I would have to given a score of 10. However, I have to take into context that sometimes it's not bluebird and sometimes you want to spend a whole day earning your turns. With this all in mind, the Quest Motion Fit Jacket and Pant are good buy for the powder seeking resort/cat/heli based freeskier.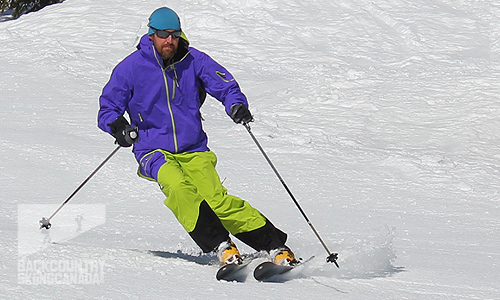 SPECS:
Jacket Price: $450 CAD
Pants Price: $425 CAD
Weight: Jacket 850g / 30oz, Pants 890g / 31.4oz
Fabric: climaPRO ™ storm 3L
Waterproof: 20,000mm
Breathability: 20,000g
Warranty: 3 years
PROS:
The Salomon Quest Motion Fit jacket is well designed and the new advances in fit are excellent. There really are not many jackets that give this range of motion without being overly baggy. I also like the way that the pant and jacket work together, especially the fitted stretchy fabric on the pant bib and the sticky material on the jacket's powder skirt. This interface keeps all the powder out and allows for fluid movement without coming undone when it matters most.
Both the pant and jacket have just the right number of pockets to keep most people happy. These are fully featured pieces so if you get annoyed with extra details that add up in weight this might not be the choice for you.
The main thing I liked about the pants was the way the detachable bib fit snug around the body and didn't have any gaps in to let snow through. I also really liked the lay out of the pockets and the mesh backed vents.
On both pieces the waterproof zippers moved easily and didn't cause any problems with one handed operation. The one thing I would say is that the main zip had a tendency to jam, which will hopefully be fixed in the production jackets.
CONS:
For a backcountry user this combination of jacket and pant is really on the heavy side and also too bulky and not enough breathability for a long hike. The colors are a bit limited with only two colors available. If you don't like purple with lime green accents you are left with black with orange highlights. Also the choice of face fabric while durable has a texture which holds onto water, during a wet snowfall, comprimising breathability.
Rating: 8/10
Fit / Mobility 2/2
Packability 1/2
Waterproof / Breathable 1.5/2
Features 2/2
Quality / Price 1.5/2

This is only our opinion. Do you disagree? Did we miss something? Are we totally out to lunch? Join the discussion in the forums here, and let us know what you think. People like/dislike gear for different reasons so chime in and we'll get a well-rounded evaluation.
Back to the rest of the reviews.
---