Salomon Q96 Lumen Skis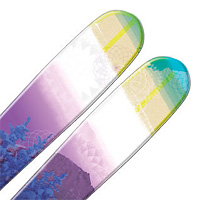 For Winter 2014 Salomon released the Q-96 Lumen as part of it's all mountain and backcountry oriented Quest series. Last season I demoed a pair of the Q-96 Lumens at the SIA demo day, Winter Park, Colorado and they peaked my interest for their maneuverability and ease on hard pack. This season I ultimately chose the Lumen to replace my aging Salomon Guns which had been my everyday resort ski for years. In over two months I have taken these gals out on day tours and tried them in all conditions.
If you are not familiar with Salomon's Quest series it includes a quiver of men's and women's skis as well as boots, packs and apparel. Overall the Quest line of skis is designed to float in powder and stay stable on hard pack, each ski in the line up offers varying degrees of float and maneuverability so you can choose a ski to suit your taste and prevailing ski conditions. In 2013 Backcountry Skiing Canada reviewed the Salomon Q-98 and Q-105—both part the Quest ski line-up for men. The women's Q-96 Lumen is a close but prettier relative to the Q-98. She sits in the middle of the Q-103 Stella and Q-88 Lux (note how the women's skis get fancier names). Beyond the Quest line Salomon fattens up to the Rockette the female version of the Rocker2 which BSC also reviewed in 2013.
The Q-96 Lumen features a full Woodcore from tip to tail for stability, bounce and also to help dampen vibrations.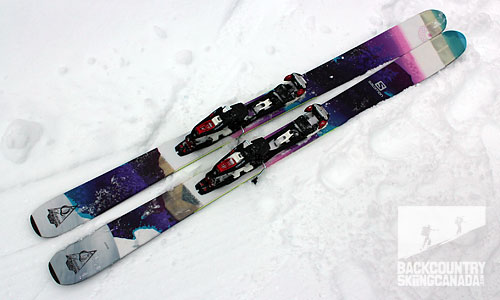 Semi Sandwich or 'monocoque' construction in the tip and tail. Monocoque you ask? A quick search on wikipedia will explain that it's a structural approach where the skin provides the main structural support, which makes sense if you want to reduce the swing weight of the ski to facilitate agile turns. Thicker edges improve shock resistance and durability. Fibre reinforcement on edges increase edge stiffness and add to durability and grip.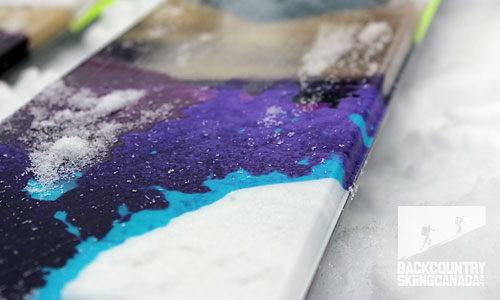 To enhance the sandwich Salomon have included a layer of honeycomb shaped material in the tip and tail. The honeycomb provides additional maneuverability by further reducing of the swing weight but also dampens any tip chatter. The transparent top sheet design allows you to see the honeycomb.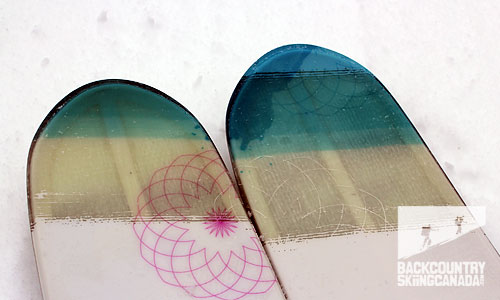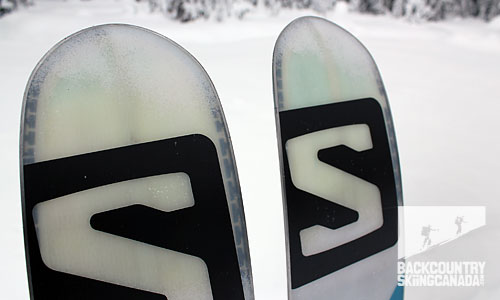 A 'Pulse Pad' which is essentially a layer of rubber along the edges in certain zones of the ski to improve ski-snow contact for a smoother ride. An anti-vibration 'Oversized Pulse Pad' is moulded into the front part of the ski only. Designed to help absorb vibrations and enhance ski/snow contact.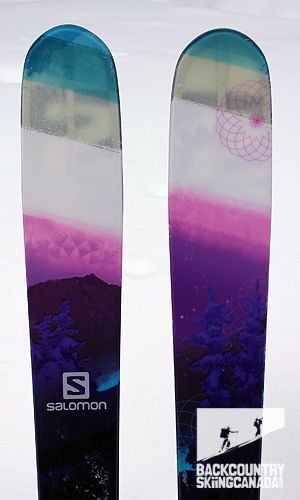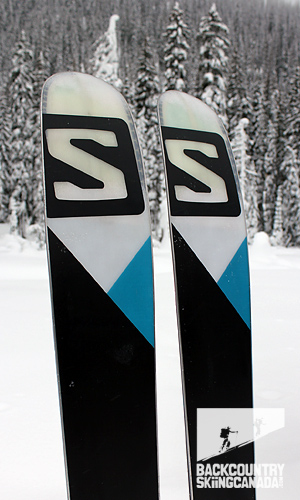 The Lumen is shaped with hybrid version of the twin rocker known as the 'Utility Rocker'. It has loads of camber thanks to a larger carve zone and a lower tail rocker with a gentle rise.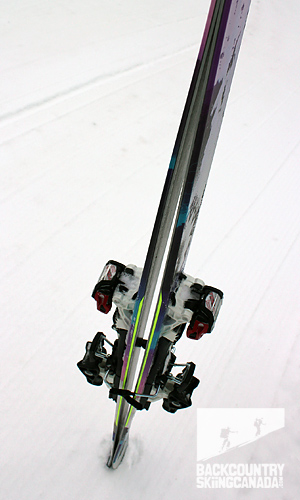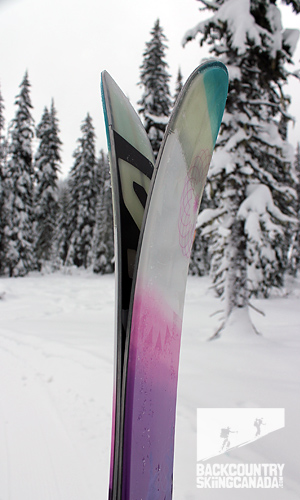 The gentle rise tail increases surface contact and stability.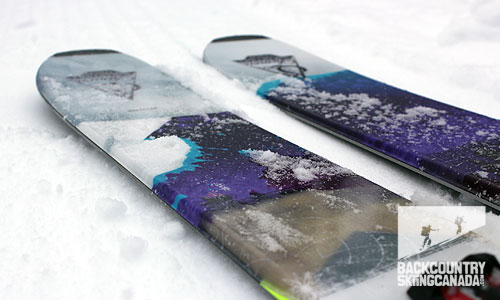 A low rise at the tail also makes it easier to anchor your skis vertically in snow when ski-touring. (My old guns where full twin tip and they would never stay together when I tried to stand them up in snow, used to drive me crazy on a short boot pack.)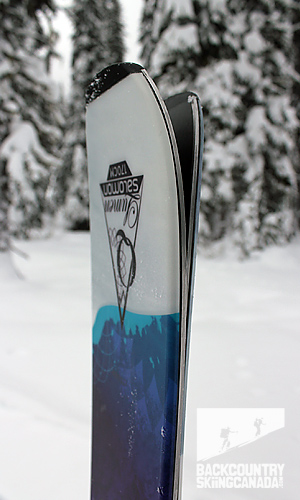 Verdict
When I chose the Q-96 Lumen I was looking for a ski that would accommodate a diverse range of conditions, a ski that was lively enough to be fun and that I could comfortably ski for the next few seasons inbounds and in sidecountry. It was a tall order.
As with any new ski the Q-96 Lumen took a few days for me to feel confident on, I am on the 170cm length and have been used to skiing a slightly shorter ski. The extra length makes them want to go. Once I got a handle on that I didn't look back. They are a really comfortable ride and by comfortable I don't mean boring. I mean stable and forgiving which allows you to lighten up and just enjoy the skiing. The wide front shovel with the front rocker helps carry the ski through crud and keeps the tips up and out in powder. And the integrated technologies such as the honeycomb and pulse pad are noticeable especially when you are skiing hardpack—I have experienced no chatter. I have not once felt compromised by the Q-96's when switching from powder to crud to hardpack, it can handle them all competently. The low swing weight of the tips is noticeable, that with a turn radius of 18.8m helps initiate turns easily so they respond well through the trees.
Probably the most difficulty I had with the Q-96 was feeling confident that they would perform well enough on a good ole Kootenay powder day, of course for powder day conditions the Q-103 Stella would float better but I chose the Q-96 Lumen for ease in all conditions. I have since skied three decent (20cm+) powder days on the Lumens and they were enough for me, in fact, they were a load of fun. On the one day of wind packed powder I did find myself sitting back a touch to make sure my tips were up, that was the only day I felt the Stella would have been a better choice for me. Keep in mind I am not an aggressive skier and I only weigh 130lb which helps with float. Another deciding factor for me was the lower weight of the Lumen (300g per ski) which makes them a friendlier companion on the uptrack and better suited to frequent backcountry skiing.
SPECS:
Price: $549 CAN
Ski Lengths: 154, 162, 170, 178cm
Individual Ski Weight: 1370g (154), 1510g (162), 1660g (170), 1830g (178)
Intended Use: Freeskiing and Alpine touring
Dimension: 131-96-117 mm (170 cm)
Turning Radius: 18.8m (170cm)
PROS:
Highly versatile, stable, lively yet forgiving. Great fun for great value. Light enough for a backcountry jaunt.
CONS:
Ski's deep powder well enough but if you are looking for a dedicated powder ski I would step it up to the Q103 Stella.
Rating: 9/10
Powder Performance         1.5/2  
Groomer Performance       2/2     
Stability                            2/2
Weight                              1.5/2
Value                                2/2

Join the discussion in the forums here, and let us know what you think. People like/dislike gear for different reasons so chime in and we'll get a well-rounded evaluation.
Back to the rest of the reviews.
---