Salomon Synapse Hiking Shoe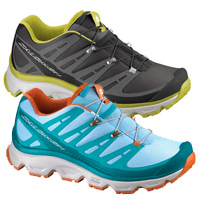 Salomon is a giant brand that spans many categories; in some of those categories, they may be playing catch up in terms of technology or innovation, in others they are always at the forefront pushing the boundaries. The Salomon Synapse is a prime example of why Salomon footwear is usually in this latter group – it represents the creation of a new category of footwear for Solomon – somewhere between a trail runner and a light hiker. Salomon has attached a slogan to this new category – "run your hike" and highlight endurance athletes in their ads for it. I really enjoy wearing this shoe – and I am a long way from an endurance athlete. The Salomon Synapse is available for both men and women and in the regular hiking shoe cut and also a mid cut hiking shoe, and more colours than you can shake a stick at.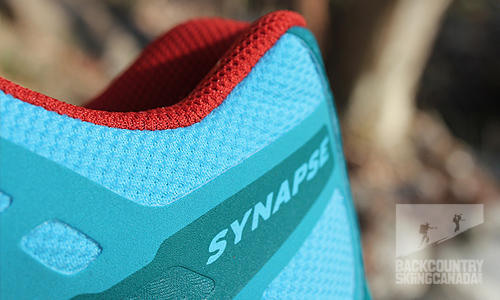 My first thought was, "oh great, another category of shoe to add to the jumble that already exists on the local gear shop wall."  Then I thought a little bit more, back to the hundreds of people that I sold Salomon trail runners to, even though they were not trail running.  They were looking for footwear that was lightweight, but still durable, footwear that could be used for day hiking, but could also be used for walking around town. A trail runner meets those criteria for the most part, unfortunately most of trail runners are full of structure and features designed for running that hikers don't need. I have worn a lot of different light hikers and a lot of different trail runners and the Salomon Synapse feels better. The Synapse is as light, breathable and well cushioned as a trail runner. The motion that you feel when you are walking in it, feels natural. The Salomon Synapse finds a really great balance between natural motion and support, it feels just as appropriate to slip on to take the garbage out as it does to go for a full day hike on moderate terrain.
         
The Salomon Synapse is not a replacement to a hiking boot, but I think for those who like to go fast and light you could get away with carrying a light pack with these. For those like me who like to go slow and heavy, the Salomon Synapse is light enough you can strap these to the outside of your overstuffed oversized pack next to the bag of ripening avocados and use them for day hikes once you get to base camp.     
            
The Salomon Synapse has multi directional grip which is very nice when you are dealing with uneven terrain. The uppers are made out of very breathable, seemingly quite bomber polyester and polyurethane mix. The sock liner is quite comfortable, and a gusseted tongue ensures that sticks and stones stay out.  The Synapse also features a toe re-enforcement piece, which is great for protecting toes on the trail, and I think it will increase the longevity/durability of the shoe.  
As gravy on top of all the other sweet features, the Synapse features a 'Speed Lace' system, which works just as good as regular laces but faster!  Makes for real easy on and off.   In addition to making them more convenient to put on the  Quick-lace system with SensiFit (a Salomon proprietary closure system) disperses pressure across your foot evenly to prevent rubbing or hot-spots.
Mens version.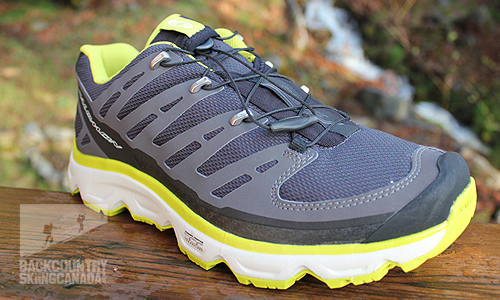 Pretty women's version.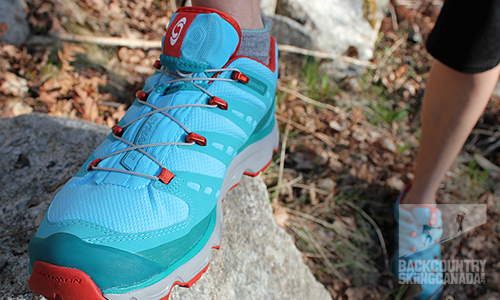 Quick lacing system.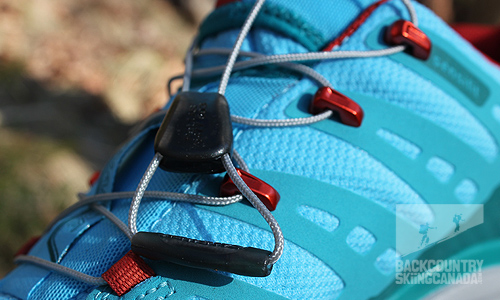 Tongue garage.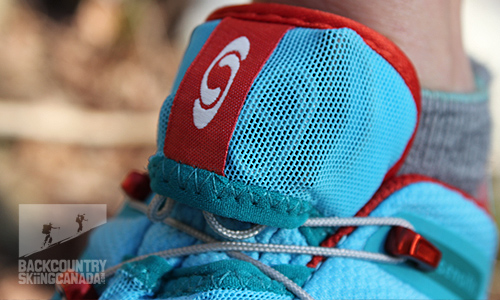 Metal fasteners.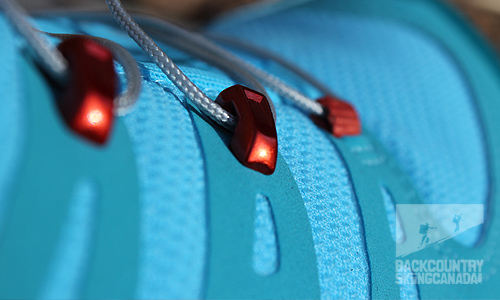 Interior view.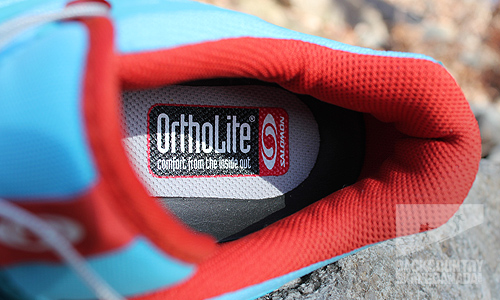 Plenty of tread.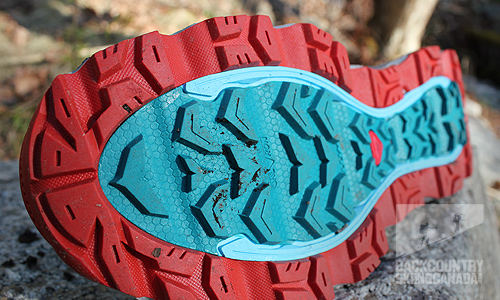 Verdict:
Full marks!  The Salomon Synapse is a great piece of footwear.  It is awesome for around town walking, and way better than most "light hikers" for day hiking on a wide variety of terrain.  They are a great option for those who like to go light and fast.  The Synapse is fully featured, and has been nice and durable so far. I think that these fit well on a wide variety of feet and can be used for a wide spectrum of activity.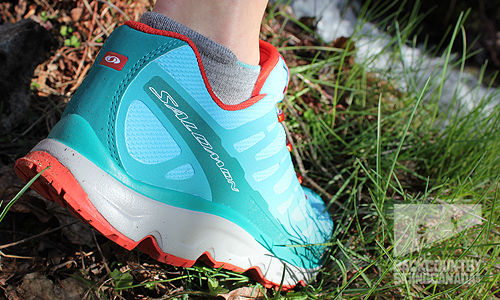 SPECS:
Price: $120 CAD
Weight:  680g (24 oz.) -  mens sz .9
Colours:  Men - Asphalt / S-Green / Light Grey, S-Green / Olive / Moab Orange, Womens - Score Blue / Bay Blue / Moab Orange, Light Tt / Tt / Papaya-B
Sizes:  Mens 8-13 (fits like a running shoe)
Midsole: Full length injected EVA
Uppper: Polyester and Polyurethane
PROS:
-  Nice balance between natural motion and structure
-  Lightweight yet durable
-  Quick lace system
CONS:
 -  None (and I am fussy about shoes!)

This is only our opinion. Do you disagree? Did we miss something? Are we totally out to lunch? Join the discussion in the forums here, and let us know what you think. People like/dislike gear for different reasons so chime in and we'll get a well-rounded evaluation.
Back to the rest of the reviews.
---