Salomon Synapse hiking shoe - REVIEW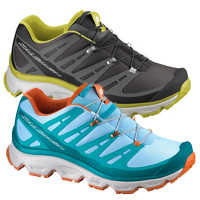 Salomon is a giant brand that spans many categories; in some of those categories, they may be playing catch up in terms of technology or innovation, in others they are always at the forefront pushing the boundaries. The Salomon Synapse is a prime example of why Salomon footwear is usually in this latter group – it represents the creation of a new category of footwear for Solomon – somewhere between a trail runner and a light hiker. Salomon has attached a slogan to this new category – "run your hike" and highlight endurance athletes in their ads for it. I really enjoy wearing this shoe – and I am a long way from an endurance athlete. The Salomon Synapse is available for both men and women and in the regular hiking shoe cut and also a mid cut hiking shoe, and more colours than you can shake a stick at.
Read the full review on our Off-Season Gear review page here.