Ramp Groundhog / Beaver Skis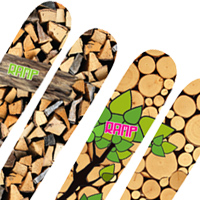 RAMP's Groundhog/Beaver ski is a wolf in sheep's clothing. Don't let the lively cartoon graphics fool you – the Groundhog can charge the hill and float nicely off the piste. 
I tested the Beaver in 179cm (131-100-119mm r=22m), which is the women's version of the Groundhog. As we understand it, the two skis are identical. The Beaver was put through the paces in a wide variety of terrain, from side country tours in boot-deep powder to chopped up crud to corduroy. 
Before we get to the handling and characteristics of the Beaver, let's look at the construction. The Beaver features a wood core/fiberglass wrap construction with wrap-around edges. A durable, vertical ABS sidewall assists with the reasonable dampening and edge hold of this ski. The Beaver has RAMP's 50-50 rocker profile, meaning a moderately rockered tip and traditional tail with a slight upturn (20mm) for navigating tight spots. A proprietary "razor-cut" sidecut features a straight section near the heal of the foot that purportedly provides enhanced carving grip.
I mounted the Beavers with a pair of Fritchie Freeride bindings as we wanted to tour and rip the hill to get the full impression of a ski RAMP claims is the one-ski quiver. At 100mm underfoot, the dimensions of the ski certainly live up to the bill. The bindings were mounted on the suggested line, which gave me some cause for pause. The mount is pretty much dead core centre, which for a traditional style ski (save the rocker tip) seemed a bit forward. More on this later…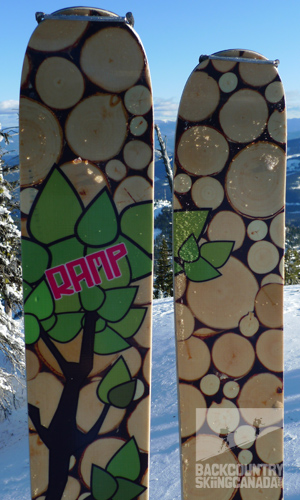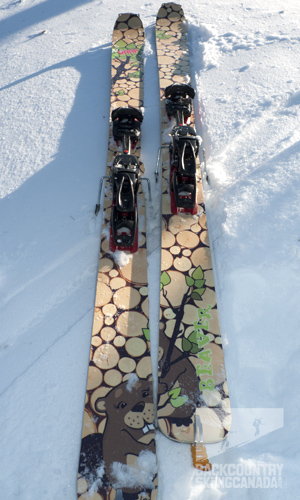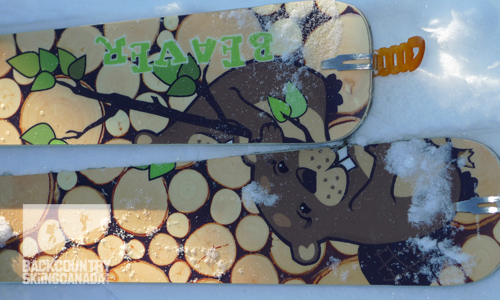 On groomers and in chopped up snow the Beavers really shined. They are a reasonably stiff ski underfoot and in the tail, with a slightly softer tip. In fact, on groomers these skis felt like a wide race ski, likely due to traditional tail and "razor" sidecut. RAMP claims they have "no speed limit" and I'd say that's true for most on-hill situations. They really do carve and hold an edge, much more so than many other rockered all-mountain skis we've been on recently.
The RAMP Beavers like to be driven. Skiers with an aggressive, centred stance can make these skis shine. But woe to the uninitiated who get in the backseat – they'll rule you. There's no question these skis are for the more advanced skier, especially in the women's ski. Even with the rocker tip, these skis felt all of 179cm, if not longer.
In the backcountry the surprisingly light (claimed 7.5lbs) Beavers have enough width and rocker to float reasonably well in powder. The straight to reverse sidecut tip ensured catch-free turns. However, I did find myself in the back seat on these skis to ensure float, most likely due to the centered mount. I think it would be safe to mount these 2-3 cm further back of the suggested line to provide additional float while not compromising the impressive carve-ability of these skis. Twin tips these are not.
RAMP has a unique program whereby they sell their skis directly to the consumer. If you sign up for their "Bro Deal" on the website, you get 35% off MSRP, meaning these skis will run you $569 and arrive directly to your door. There's even an opportunity for people to be personal reps for RAMP, earning a profit of the sales you generate.
Also of interest, RAMP has a unique athlete/music connection. RAMP stands for "Riders, Artists and Musician Project." Not only does their team have top riders and racers, they also partner with musicians who will be riding and representing their brand.
RAMP has gone to considerable effort to be green. They ship their skis in reusable ski bags (a $100 value, but free to the consumer); they offer a $50 buy-back program for people getting new RAMP skis, and use several carbon off-set strategies including alternative wind power energy and fuel programs. This is refreshing and hopefully other companies in the industry are taking note.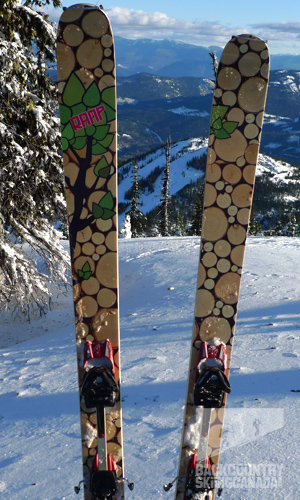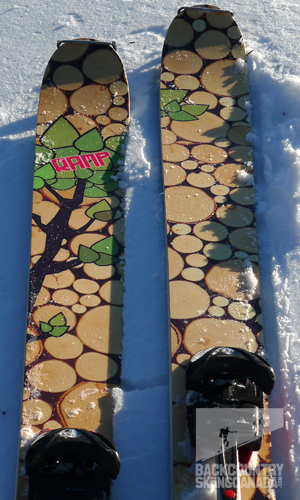 Verdict:
The RAMP Beaver/Groundhog is a charging ski that will best suit an intermediate to advanced skier with good technique. It's light enough to be a regular touring ski (not that it'll be winning any randonee races) and stiff enough to carve fast GS turns all over the hill with confidence. 
I'd mount these with a stiff binding (Freeride Pro or Marker touring binding) to get the most out of these skis. If you live in a powderific region, I'd consider mounting these a couple cm's back from centre to provide extra float. 
The Beaver/Groundhog fits the bill as a one-ski quiver – pretty good in powder but truly excels as an all-mountain ripper. 
SPECS:
Price: $875 CDN; Direct $569 CDN
Weight: 7.5 lbs / 3.4 kg (pair)
Radius: 19.5m
Dimensions: Tip: 131mm, Waist: 100mm, Tail: 119mm
Sizes: 159cm, 169cm, 179cm, 189cm
 
PROS:
- Light
- Unique "Razor Cut" sidecut carves impressively
- Reasonable float in powder
- Stiffer underfoot and in the tail
- Squared tail holds skin clips
- All-around charger
CONS:
- Suggested centre mount too forward for powder
- Cartoon graphics may not appeal to all
- Beavers may be stiff for some women
Rating: 8/10
Powder Performance         1.5/2  
Groomer Performance       1.5/2     
Stability                           1.5/2
Weight                              2/2
Value                                1.5/2

Join the discussion in the forums here, and let us know what you think. People like/dislike gear for different reasons so chime in and we'll get a well-rounded evaluation.
Back to the rest of the reviews.
---