Rocky Mountain Underground Apostle Ski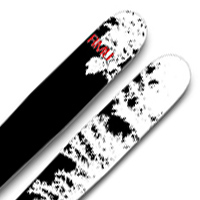 The five point ski is now a staple of the ski market and represents the latest major iteration on rocker design. Whether you're on one of the many renditions of the Rossignol S7, the DPS Wailer 112 or any other number of brands, you can't really distinguish them on shape alone anymore. They all ski great in powder, turn easily in the trees but tend to chatter on icy groomers at high speed.
So why has the Rocky Mountain Underground (RMU) Apostle won so many people over? It's because they take the five point design one step further, or one step back depending on how you look at it.
If you look at the camber profile of most five points skis, the regular camber reaches from underfoot out to the widest points of the ski. These which are the contact points that allow the ski to have such a tight turning radius on groomers and give it the versatility of skiing bumps, tight trees etc. Now, if you look at a Wailer or an S7, you'll see there is a progressive rocker profile all the way to the tip. On the Apostle, that profile is linear. At the risk of sounding confusing, look at the two photos below. When the skis are held together the Wailer 112 makes a "V" with curved arches. The Apostle's "V" is shaped with straight edges like two sides of a triangle.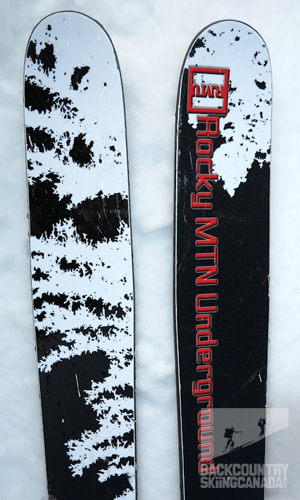 Now what does difference mean when you're actually skiing it? First, it means you'll get bit more performance on harder snow. Not having your rockered tips up there flapping in the breeze will give you more edge engagement throughout the turn, particularly in mixed snow conditions. You still get that five point feel with quick edge-to-edge transitions, but the linear, more relaxed rocker up front feels more stable than any other five point I have skied. Transitioning from harder snow to deeper powder in the resort, you may have experienced "kickback" from those rockered tips as they flex back. Not so with the Apostle, just keep on charging. 
There is a tradeoff to this feature, though. Throw the Apostle into deep, light snow of the Kootenay backcountry and you'll probably find it's not quite as manoeuvrable as a Wailer 112, but this is an incremental difference. You can still turn almost effortlessly, you can still boost airs and spin like a top, but the weight and shape of ski make the Apostle more of a resort and backside rig than a pure backcountry contender.
Plenty of shape and early rise.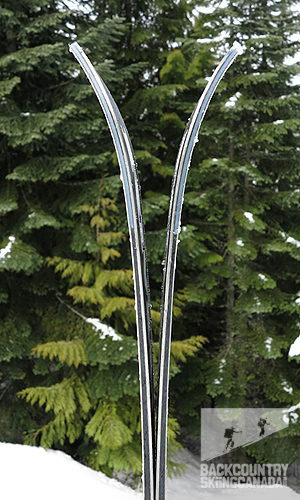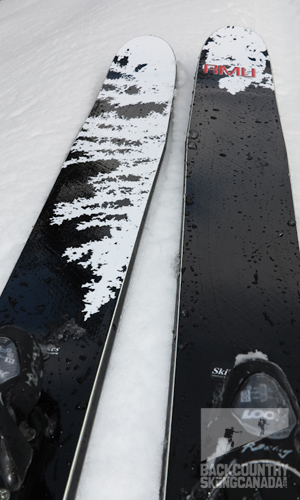 RMU skis originated on the jib scene in Colorado and as such they have been designed to tolerate a lot of abuse. To put it bluntly, pretty much every ski from RMU is built like brick shithouse and the Apostle is no exception. The UHMW sidewalls are over twice as thick as the industry standard, making the ski resilient to lateral impact and edge blow out. World Cup sintered bases are 2.2 mm deep, making core shots less likely and giving you many more base grinds over the years. The edges themselves are thicker and stronger, so you would have to take a serious hit to ruin this ski in a single impact. Knowing that you've got a ski that will last for many more years than your standard five point offering makes that weight difference much more tolerable.
On the aesthetics side of things I wasn't a fan of the top sheet at first, but it has since grown on me. The fact that the ski is made in the Neversummer factory Denver, Colorado and not China does add to the cool factor. RMU is a growing community in Canada and running into like-minded individuals in the lift line is always a conversation starter.

Verdict:
The Apostle may be designated as being in RMU's backcountry set up, but the hefty weight and durability of this ski lends itself to being more of a resort rider. The shape does push the five point design towards being even more versatile and this is noticed in mixed resort conditions more than anywhere else. For $800 this it's a worthy addition to the quiver.
SPECS:
Price: $799 US
Weight: 3.5kg / 7.8lbs (pair)
Dimensions: 126-132-105-120-114mm
Radius: 17.3m
Core: Solid Poplar
Bases: World Cup sintered 2.2 mm thick
PROS:
Exceptional durability, progressive shape that can handle mixed conditions better than most five point skis on the market
CONS:
Too heavy to take on long backcountry missions. Not the best ski for a Dynafit set up.
Rating: 8.5/10
Powder Performance         2/2  
Groomer Performance       1.5/2     
Stability                            2/2
Weight                              1.5/2
Value                                1.5/2

Join the discussion in the forums here, and let us know what you think. People like/dislike gear for different reasons so chime in and we'll get a well-rounded evaluation.
Back to the rest of the reviews.
---