RAMP Peace Pipe Skis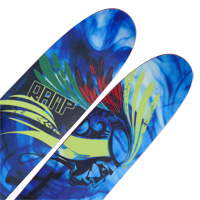 RAMP Sports is a newcomer to the ski market but the company's president and "CESnow" Michael Kilchenstein is certainly no stranger to the industry. He has been a ski maker, tech rep, sales rep and vice president of sales in marketing for the past 34 years. His vision for RAMP, based out of Park City, Utah, is simply that – "vision." By looking as far ahead as possible, RAMP seeks to be on the top of the trend wave, developing ski shapes, rocker, camber and flex patterns to match the needs of today's – and tomorrow's – skiers.
Recently I received a pair of RAMP's Peace Pipes (179cm length, 146-112-134mm) and Beavers (179cm length, 131-100-119mm) to use, abuse and ultimately report my impressions. Both of these skis compare well to the Black Diamond Megawatts and Atomic Access skis I used in 2010/11. I typically have a two-ski quiver, one for backcountry touring and one for Red Mountain and slack touring, and these skis fit the bill perfectly.
I mounted the Peace Pipes with a pair of Fritchi Freeride Pros – a solid freeride backcountry binding I used all season with no complaints. As the Beaver is the women's equivalent of RAMP's Groundhog - apparently identical skis –one of our female testers and I will be putting those skis to the test early next season.
Stiffer mid-foot and tails on the Peace Pipes equal a ski that likes to be skied aggressively.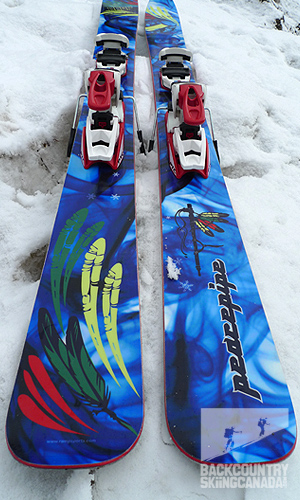 First impressions of the Peace Pipe: I got on the skis for two late season tours, one in brilliant powder and the other wind-scoured slab. Pretty fine conditions for getting the overall feel of these skis. With a substantial rocker to the tip, traditional camber (12mm) and a traditional, slightly upturned tail (20mm), the Peace Pipes are a stiffer yet forgiving (largely due to a softer tip profile) and certainly reward aggressive skiing.
The Peace Pipes have some unique aspects, using what RAMP calls the "Razor Cut" sidecut profile. From the mid-point of the boot back the sidecut is straighter – where you get your "cutting power" – and then curves again for turn shape. According to RAMP this increases edge grip and makes even wide skis excel on hard snow, and I'd have to agree. While I haven't had them on the ski hill (our resort is now closed), they did have remarkable grip on the steep wind slab I encountered, and with a tight turning radius of 14.43 metres, these things should eat up groomers for their width.
Wrap-around edges and ABS sidewalls look durable.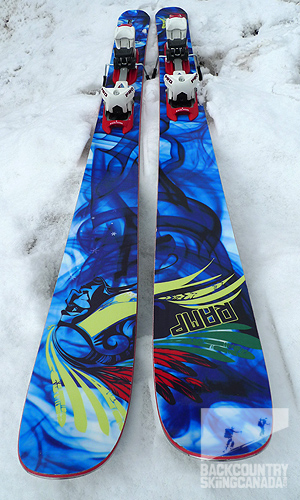 Fritschi Diamir Freeride Pro Binding:
We mounted the K2 Rolling Stones SideStash skis with the Fritschi Diamir Freeride Pro bindings which have a DIN range of 4-12 and weigh in at 2.2kg or 4lb 8oz. With four height adjustments at 0°, 3°, 9° or 13° of lift they provide lots of choice while climbing. The new wider base plates allow for better transmission of power more evenly across todays fatter skis. The Freeride incorporates 'Gliding Technology' which places the pivot point on the toe piece behind the toe of your boot and combined with the moving baseplate allows you to raise your foot until it is completely perpendicular to the ski which results in a more natural stride when skinning. The price point for the Fritschi Diamir Freeride Pro binding is $499.95 US.
Base graphics on the Peace Pipe are simple.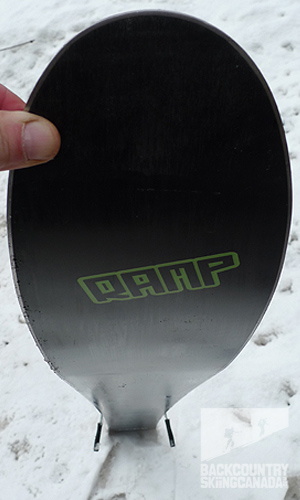 The Peace Pipes feature RAMP's "Pow Camber" profile, with considerable early rise and reverse sidecut in the tip. These skis have remarkable float, nimble turn initiation and feel powerful underfoot and in the tail – a noticeable contrast to many rocker-tailed skis in its width category. The Peace Pipes smeared nicely despite the camber and traditional tail, and were more playful than I anticipated.
However, with the stiffer flex underfoot and in the tail, it was apparent these skis like to charge and can hold their own when straight-lining a choppy run-out or carving super-G turns through crud. Combining good flotation, excellent edge grip and a progressive flex, the Peace Pipes are capable of excelling in powder and not only get you back to the lift – as many wide skis are billed to do – but do it admirably.
At first I wasn't sure about the graphics, but once I saw them in person I quickly changed my mind. The cool blue colour seems to glow in the snow and the ethereal smoke gives a 3-dimentional look.
Admittedly, these may not be the skis you'd want to use for extended backcountry trips, but with a claimed weight of 8.5 lbs they are respectable for slackcountry and short backcountry trips. The wood-fibreglass sandwich construction (no metal inserts) with ABS sidewalls appears stout and well built, but we'll save that for the long-term review.
Generous rocker floats in the soft stuff nicely, with easy turn initiation.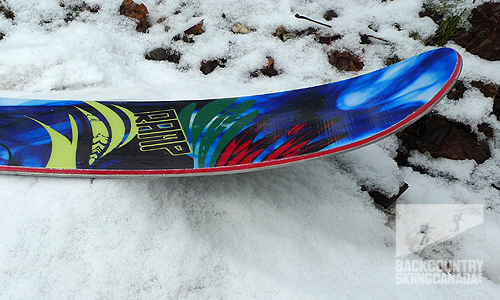 Just enough upturn on the tails of Peace Pipes to help billy goat through the gnarly stuff. The squared tails hold skin clips nicely.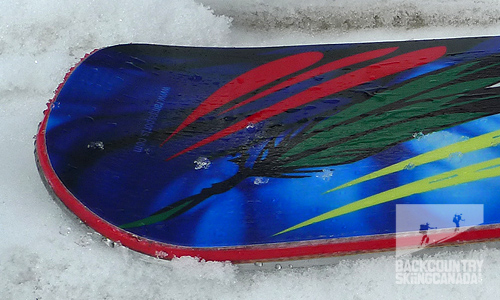 The graphics are pretty cool. They're super bright on the snow.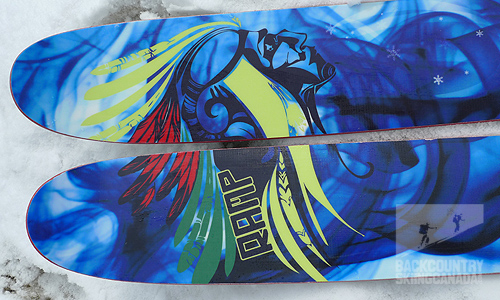 Rockin.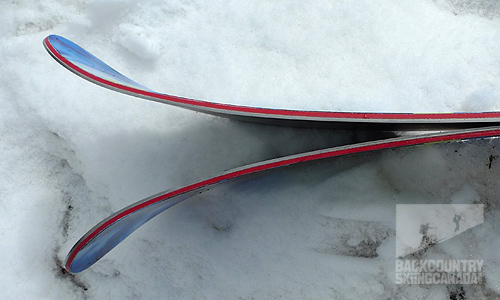 RAMP has a unique program whereby the sell their skis directly to the consumer – something that may put off those who choose to support local shops. If you sign up for their "Bro Deal" on the website, you get 35% off MSRP, meaning these skis will run you $650 and arrive directly to your door. There's even an opportunity for people to be personal reps for RAMP, earning a profit of the sales you generate.
Also of interest, RAMP has a unique athlete/music connection. RAMP stands for "Riders, Artists and Musician Project." Not only does their team have top riders and racers, they also partner with musicians who will be riding and representing their brand.

Join the discussion in the forums here, and let us know what you think. People like/dislike gear for different reasons so chime in and we'll get a well-rounded evaluation.
Back to the rest of the reviews.
---