Patagonia Black Hole Duffel Bag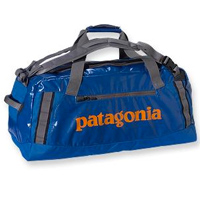 Patagonia makes three sizes of a duffel bags called the 'Black Hole'. These bags are ideally suited for backcountry skiers who are heading into a backcountry lodge, undertaking an expedition or just a trip to the local or not so local ski resort. The Patagonia Black Hole Duffel Bags come in 45L, 60L, 90L and 120L versions and, as the name suggests, they can haul a tonne of gear. There are two carrying options depending upon how much weight you are packing and how long you need to carry it. For lighter loads the traditional webbing handles on the top of the duffel have a snap closure to ensure you get both handles every time. If you are using the Patagonia Black Hole Duffel Bags to their limit then you will want to consider carrying them back pack style with the integrated padded shoulder strap system which can be removed if you do not require them. This frees up your hand for carrying more gear. The bottom of the Black Hole Duffel is padded to protect it's contents and also gives your back some protection from those 'pokey-outy-bits' in your gear that always seem to land directly centred on your spine. There is also a a reinforced haul loop on either end of the back should it need to go vertical up a rock face or for grabbing it out of the trunk.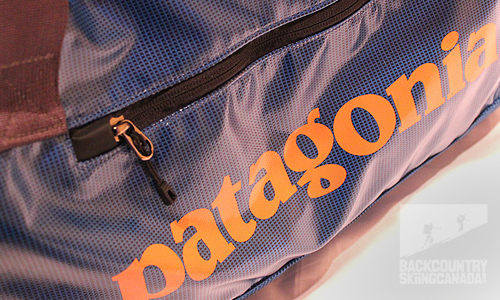 With 4 sizes available you can choose how much space you need—for backcountry skiers we recommend the 90 or 120L versions. You can store fast-to-get-to items in the external zippered pocket. Two additional mesh zippered pockets on the inside of the duffel lid let you store smaller items a little more protected.
Versatility and carrying capacity are only two benefits of the Patagonia Black Hole Duffel Bag. Patagonia also designed the duffles to take on whatever you throw at them. The exterior fabric is water-resistant and super durable thanks to the double-layer polyester which is abrasion-resistant and coated with water-resistant DWR to keep your gear dry in wet environments. The main compartment zipper has a generous zipper flap to keep out snow and water that may accumulate on the top of the duffel. You do have to remember however that the Black Hole Duffels are water resistant and not waterproof so some care is needed to keep the contents dry but we found them to work extremely well in a winter environment.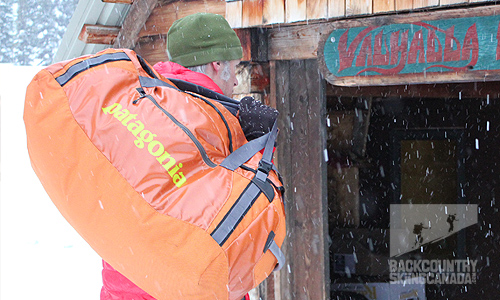 Features:
Material: 14.7-oz 1,200-denier recycled polyester with a TPU film laminate and a DWR (durable water repellent) finish
Pockets: 1 exterior zippered organizer pocket, 2 zippered internal mesh pockets
Carrying options: Removable padded backpack straps, webbing handles with a snap closure, and haul loops at either end that facilitate linking multiple bags
Gear attachment points: Four daisy chains (one on each corner) let you lash additional gear to the outside and give you a place to tie down big loads
Manufacturer Warranty: lifetime
Backpack carry straps.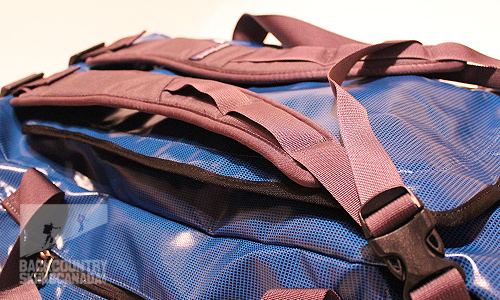 Interior mesh pockets.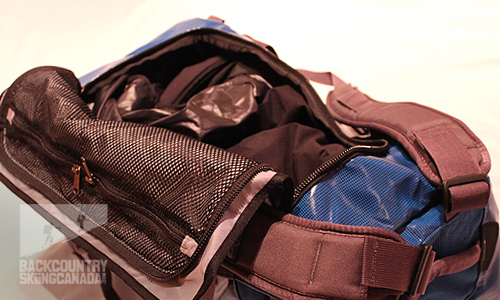 Tough exterior pocket zippers and garages to keep out the wet.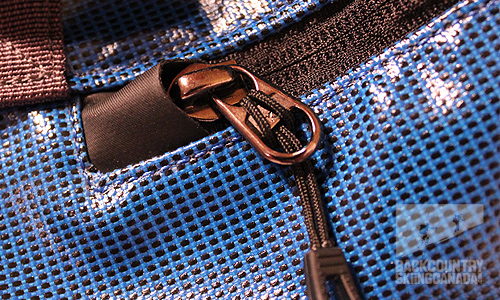 Haul loops at either end.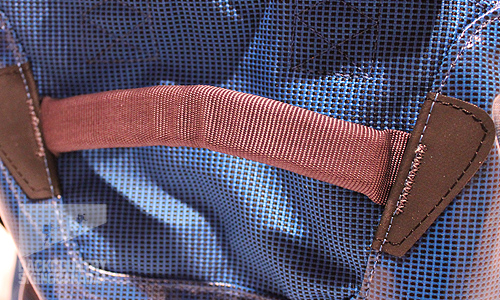 Super-cool, super-tough fabric.

Strap closure system.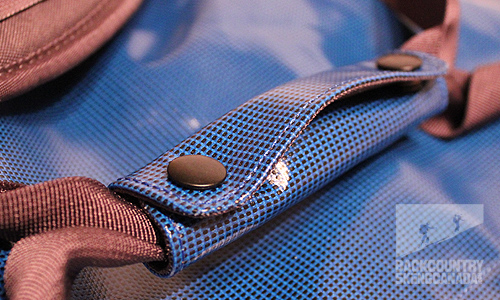 Gear attachment points, four daisy chains (one on each corner).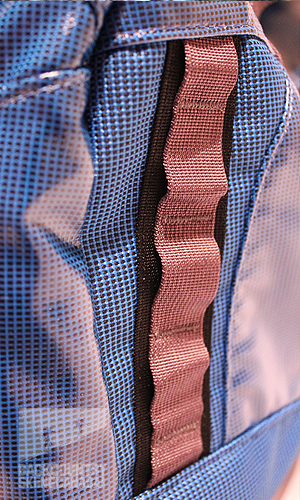 Verdict:
We have been running the 60 and 90 Litre Patagonia Black Hole Duffel Bags for our last half dozen trips and have found that the design is truly rugged. Mud, rain and snow are not an issue thanks to the DWR protected polyester and you can give the bag a good toss or light beating and they show no signs of wear as they are built for this kind of abuse.
We have only noticed two features that could be improved upon and these are with the interior pockets as well as the shoulder straps that allow you to carry the Black Hole Duffel like a back pack. First the interior pocket, it's great that they are included and the mesh allows you to easily see all of your stuff to limit searching for that one item but it's the location of these pockets which do not work well for this reviewer. The pockets are located on the underside of the duffel's lid which means that if you load the pockets up then the lid is heavy and awkward to open. These pockets would be better located on the inside wall of the duffel so you can load them up and not hinder access to the bag. Secondly with the pockets the zippers are located at the top of the lid which when you open the lid fully (how it naturally falls) this now becomes the bottom. So you open the zipper and all the contents fall to the ground - not ideal.
The other design issue is with the shoulder straps, again great idea to include these and even better that they are removable. However, if you are like me you want to keep the straps attached so that when you need them they are handy and quick to use. If you leave them attached to the Patagonia Black Hole Duffel Bag then they quickly get in the way when you are trying to access your things inside the duffel. It would be ideal to see the straps stowable in their own Velcro side pockets so they are out of sight and out of the way until you need them. Rip open the velcro and toss the pack on your back, done and done.
A few of the features that make the Patagonia Black Hole Duffel Bag a must have in my books are the durability that we covered earlier and the pack harness even with it's short comings. In addition to these, the storm zipper flap on the main zipper and the huge access it provides to all your gear are essential as are the haul loops on either end and the four daisy chains for lashing gear. Did we also mention that in true Patagonia style the Black Hole Duffel Bags are made from recycled materials. Way to go Patagonia.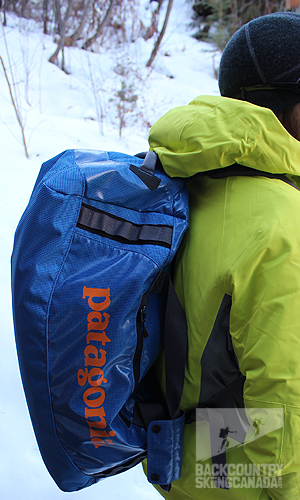 SPECS:
45 Litre
Price: $99 US
Weight: 793 / 1 lbs, 12 oz
Size: 48cm x 25cm x 25cm / 19" x 10" x 10"
Volume: 44,998 cu cm / 2746 cu in
Colours: Mango, Black, Mission Olive, Lagoon
60Litre
Price: $99 US
Weight: 964 / 2 lbs, 2 oz
Size: 60cm x 32cm x 28cm / 23.5" x 13" x 11"
Volume: 59,993 cu cm / 3661 cu in
Colours: Mango, Black, Mission Olive, Lagoon
90Litre
Price: $129 US
Weight: 1191g / 2 lbs, 10 oz
Size: 71cm x 33cm x 33cm / 28" x 13" x 13"
Volume: 89,997 cu cm / 5,492 cu in
Colours: Mango, Black, Lagoon
120Litre
Price: $149 US
Weight: 1361g / 3lbs
Size: 79cm x 38cm x 36cm / 31" x 15" x 14"
Volume: 120,002 cu cm / 7,323 cu in
Colours: Mango, Black, Lagoon
PROS:
A super rugged and water resistant duffel bag for carry all your backcountry gear. Integrated pack straps are a huge plus for heavy loads and freeing your hands for other things.
CONS:
The integrated pack straps are removable but it sure would be nice to be able to stow them and get them out of your way when not in use.

This is only our opinion. Do you disagree? Did we miss something? Are we totally out to lunch? Join the discussion in the forums here, and let us know what you think. People like/dislike gear for different reasons so chime in and we'll get a well-rounded evaluation.
Back to the rest of the reviews.
---