Outdoor Research VooDoo Pants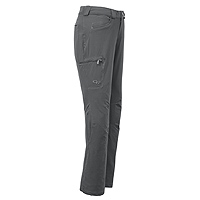 Designed for alpine climbing, the Voodoos have a trim fit. This means that they have tapered legs and a low profile waist that easily fits under a harness. I really liked the tapered legs and found them tight enough to keep the pants out of the way but loose enough to fit over mountaineering boots and to roll up in warmer weather. For my body type (5 foot 6 and 135 pounds), the Voodoos fit great in the leg (length and width), but are too big in the waist. My OR ski touring soft shell pants have an adjustable waist eliminating this problem, but the Voodoo waist is not adjustable. With the Voodoos, a size 8 fit fine in the waist but was too tight in the thighs. The size 10 fits well in the thighs but is too big in the waist. This is a common problem for me across brands; I hopefully await the day that manufacturers start making more sizing options available. The Voodoos do have belt loops, but I prefer not to wear a belt for climbing or while wearing a backpack.
The Voodoos have 4 pockets: two hand pockets, two back pockets and a zippered thigh pocket. I am a big fan of the zippered thigh pocket. I found this to be a great place to store chapstick or a quick snack that I can access without having to stop on the trail. Personally, I rarely use the back pockets but am happy they are there just in case.
The Voodoos are made of a double weave of 88% nylon and 12% spandex. This combination means that they are stretchy and comfortable to wear and move in. They are reasonably light and, therefore, breathable and perfect for warmer weather. I found that they did dry quickly so would also be appropriate for days with some rain showers or trudging through snow. Although the VooDoos are wind and water resistant, they are a lighter pant and for a cold, wet day in the alpine I would definitely bring a pair of waterproof and windproof pants as an extra layer to put over top.
Thigh pocket- The Voodoos have a zippered thigh pocket.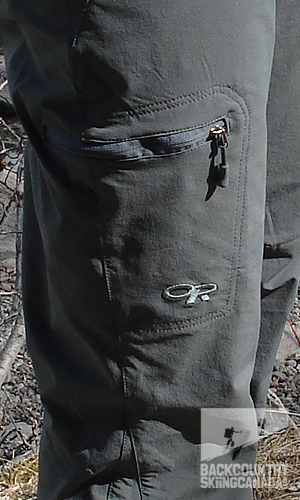 Overall pants- The Voodoos have a trim fit.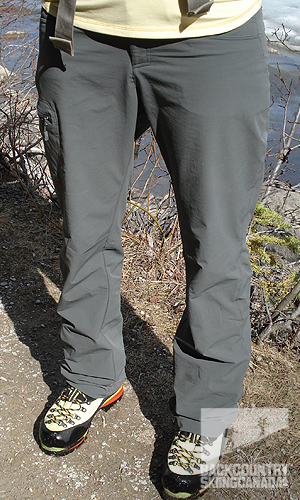 Detail of the hip pocket and fly.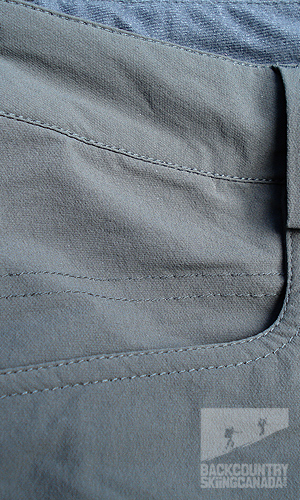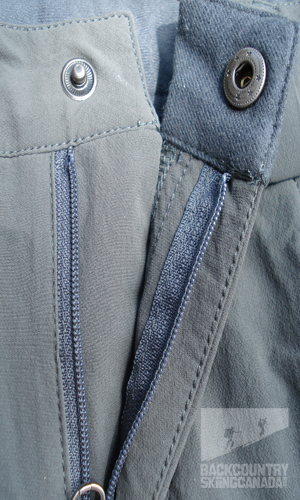 Verdict:
The Voodoos are a comfortable, stretchy, water and wind resistant, quick dry pant that would be great on warmer days or colder days under another layer. The tapered legs work well to keep the pants snug to the boots and the thigh pocket is a great place to keep a few small items easily accessible. Unfortunately, for me, the waist on the Voodoos is too large. Although there are belt loops I would prefer not to need a belt as it is annoying under a backpack waistbelt or a harness. I like that the Voodoos come in a lighter and a darker colour (rather than only in black). It would be fun if there were a few more colour options as well.
SPECS:
Price: $125
Sizes: 2-14
Colours: Black, Charcoal
PROS:
- Quick Dry
- Zippered thigh pocket
- Belt loops
- Tapered leg
- Leg still wide enough to roll up in hot weather
- Stretchy
CONS:
- Either waist too large or thighs too tight (for my body type)
- Only 2 colours available
Rating: 8/10
Innovation 1.5 /2
Function 2 /2
Aesthetics / Fit 1/2
Features 1.75 /2
Quality / Price 1.75 /2

This is only our opinion. Do you disagree? Did we miss something? Are we totally out to lunch? Join the discussion in the forums here, and let us know what you think. People like/dislike gear for different reasons so chime in and we'll get a well-rounded evaluation.
Back to the rest of the reviews.
---