Outdoor Research Trailbreaker Jacket and Pants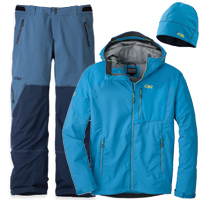 Outdoor Research has a variety of soft shell products in their current clothing line up and a new addition for the 2013/14 season is the Trailbreaker series. While the Outdoor Research Trailbreaker Pants have been a staple for a few years now, OR has added the Trailbreaker Jacket and Trailbreaker Beanie to the mix. The first question you may be pondering is: how are these products different from the Outdoor Research Valhalla Jacket and Pants that we reviewed last season? For starters last season's items were constructed with Gore Windstopper soft shell fabric whereas the Trailbreaker Jacket and Pants use a different material. The new Trailbreaker series also has strategically placed waterproof panels to keep snow from melting through and wetting out the fabric in key areas - namely the jacket's hood, shoulders and lower leg sections on the pants. Both the jacket, pants and even the beanie have been designed from the ground up with us backcountry skiers in mind. Lets take a look at each and see what secret features they hold.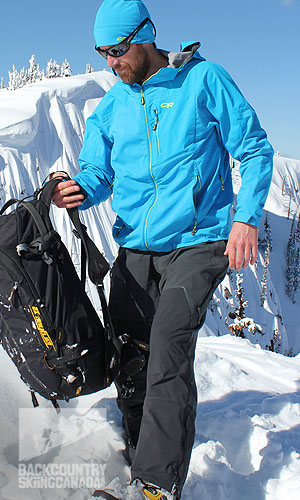 ---
Outdoor Research Trailbreaker Jacket
The Outdoor Research Trailbreaker Jacket is a lightweight soft shell jacket and I mean this in both senses of the word. Yes, it's physically light at only 554 grams but also the fabric is a lighter weight so that it breathes better than a heavier soft shell such as the Valhalla Jacket. The Trailbreaker features a double weave stretch-woven soft shell body with waterproof three-layer Pertex Shield+ on the shoulders and hood where wet snow and dare I say it, rain would fall. The Trailbreaker provides some warmth and wind protection but it's real purpose is to be highly breathable when your engine's RPMs red line chugging on the up-track.
To help with this the Trailbreaker jacket is outfitted with pit zips to dump large amounts of heat in a hurry. The two oversized internal Shove-It pockets which can carry skins, gloves or goggles do double time providing mesh hand warming pockets that can also vent heat in a hurry if you leave them open. There is a third pocket on the chest that even Napoleon would use for his MP3 player given the built in sleeve and headphone pass-through port. Outdoor Research even included a goggle/sun glasses wipe which has a fast clip in order to remove/secure it. The final feature which makes life that much better in a snow storm is the three-way adjustable hood with wire brim that accommodates your every whim, literally.
Fabric:
Body and arms: 96% polyester, 4% spandex double weave body
Shoulders and hood: Pertex Shield+, 87% nylon, 13% spandex, with 100% polyester backer
Features:
- Water and wind resistant
- Breathable, lightweight and durable
- Movement-mirroring stretch
- Articulated elbows
- Drawcord hem
- Hybrid-mapped construction, waterproof on the left and breathable soft shell on the right.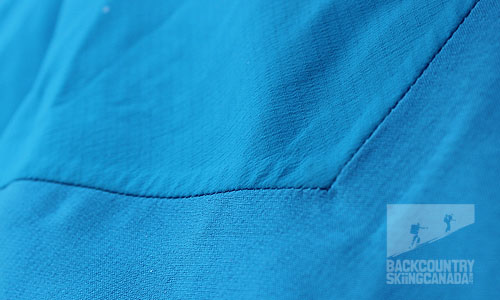 - All the zippers come with two-tone zips and zipper garages. The Single-separating front zipper also has an internal front-zip storm flap.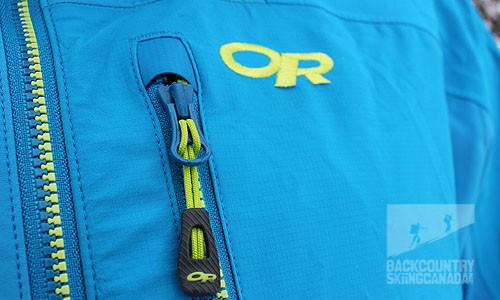 - Inside the Napoleon pocket is a built in goggle wipe with tether and on the reverse you can see the media port.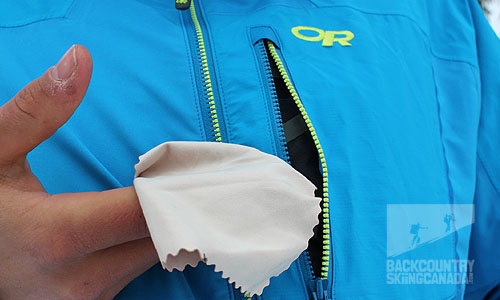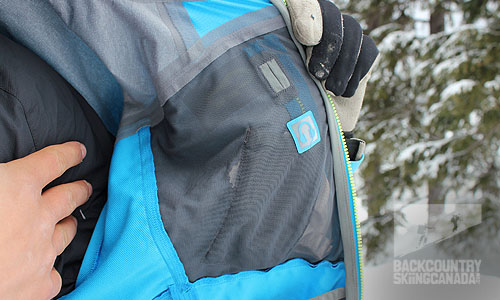 - Hook/Loop cuff closures with nice silk screened detail.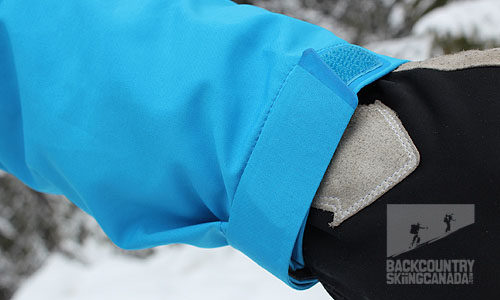 - The Hood has an adjustable wire-rim with "Halo" hood closure and bonded-in-hood cord locks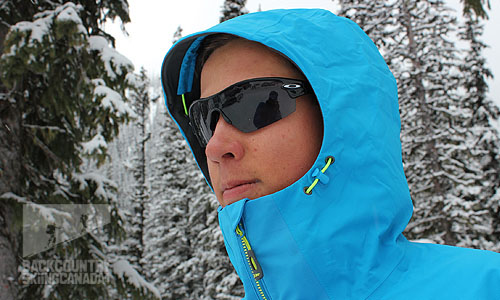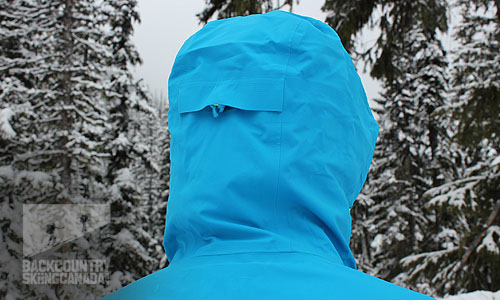 - The two zippered hand pockets have a mesh backing for breathability and also double as internal shove-It pockets.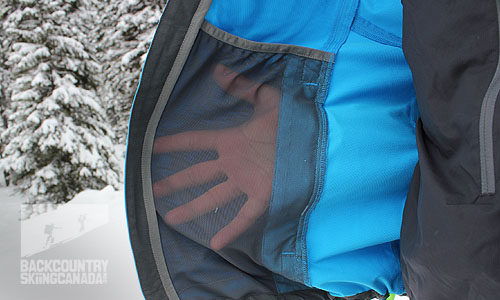 - Pit zips round out this full feature list.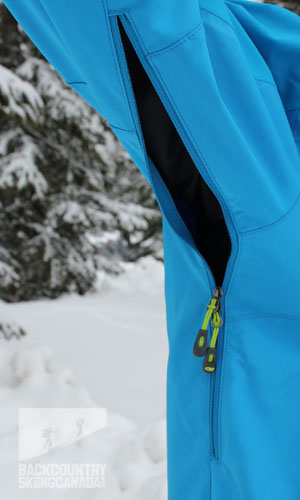 ---
Outdoor Research Trailbreaker Pants
The Outdoor Research Trailbreaker Pants as the name suggests are for, well, breaking trail. Backcountry skiing is most rewarding in deep pow (as we all know) and this means that the front of your pants will typically be in contact with the snow—sometimes thigh deep (you hope). For this reason Outdoor Research placed Pertex Shield+ on the front of the Trailbreaker Pants stopping just above the knees with none on the back of the legs. The same breathable, double weave stretch-woven soft shell that's used in the Trailbreaker jacket is found everywhere else on the pants. This new version of the tried and trusted Trailbreaker pants provides an updated fit for easier movement while still keeping all the features that you may have come to love in the previous incarnation.
The removable gaiters are simple and easy to use; the internal knee pad pockets are ready for those of you who are still dropping the knees on the descent (are you still out there?) and of course the famous gargantuan zippered outer thigh vents will keep you cool when pushing the limits. With five zippered pockets in total (two thigh pockets, one back pocket, one lower back pocket and one rear thigh pocket) you'll have more zippers than Michael Jackson but also plenty of storage space. There is even an internal transceiver sleeve pocket in the right thigh pocket that will affix your transceiver quite securely with the sturdy sewn-in clip, should you choose.
On the fit side, you have a multitude of preferred methods for keeping the Trailbreakewr pants up and in position. There are detachable suspenders for those that like 'em and of course belt loops if you prefer that method. The dual-snap zipper fly ensures that the waist stays securely fastened and the built in velcro waist tabs give you plenty of adjustability in case you happen to be in between sizes.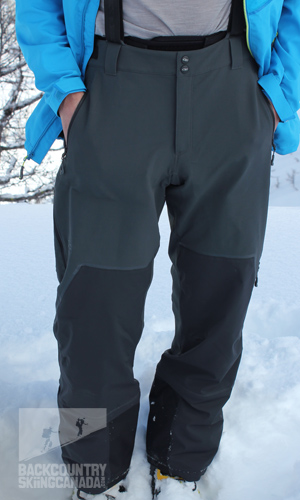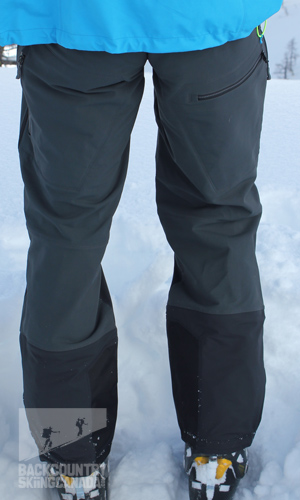 Fabrics:
Thighs and seat: 50% nylon, 43% polyester and 7% spandex double-weave body
Lower legs: Pertex Shield+, 87% nylon,13% spandex, with 100% polyester backer
Features:
- Breathable, water and wind resistant upper
- Includes detachable suspenders
- Dual-snap zipper fly
- Brushed-tricot-lined waistband
- Zippered rear pocket
- Two zippered thigh pockets
- Articulated knees
- Reinforced scuff guards
- Power strap slot on gaiter
- Ankle zippers
- Hybrid-mapped construction with waterproof lower legs which you can see in the lower right of the photo below.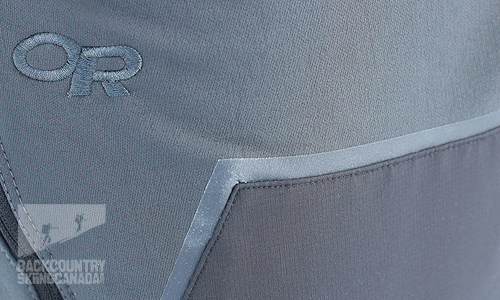 - Adjustable tabs at waist and belt loops (suspenders not shown).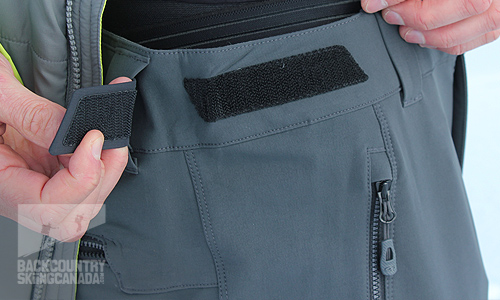 - Zippered outer thigh vents for dumping large amounts of heat as well as the rear thigh pocket—one of five pockets in total.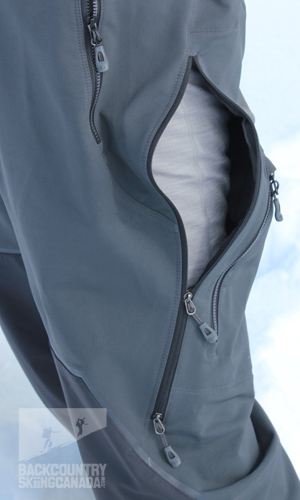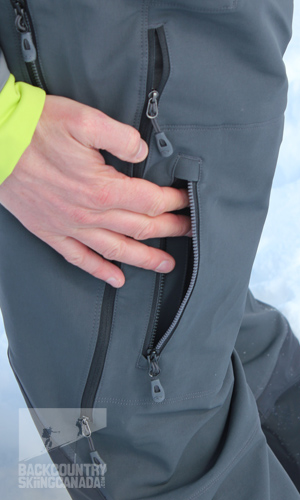 - Avalanche beacon pocket with separate sleeve and key clip (one of my favourite features).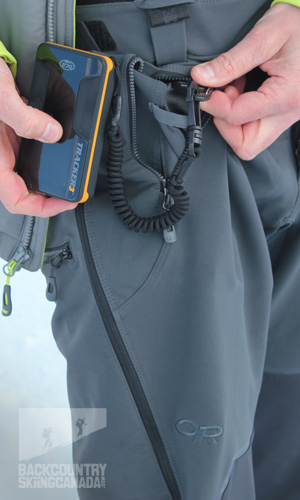 - Stretch-mesh internal gaiter which is removable.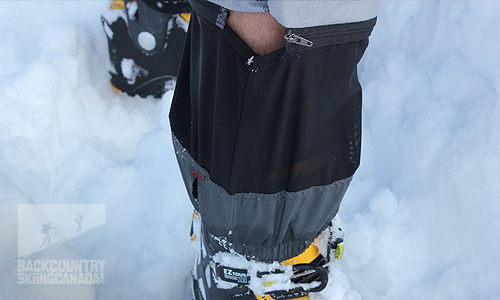 Verdict:
Having spent a heap of days ski touring mid winter and late spring sessions wearing the Outdoor Research Trailbreaker Jacket, Pants and even the Beanie I can attest to the thorough design process that went into each piece. Every feature you could ever want in a soft shell set-up has gone into the Trailbreaker ensemble. Their biggest 'plus' has to be the integration of waterproof panels at those locations where snow typically falls onto or comes in contact with the fabrics. This helps keep you drier along with the long thigh vent zips, mesh hand pockets and lightweight soft shell fabric which is so breathable. If you typically run cold or ski tour in areas where the temps get into deep freeze digits then you will want to layer up under the Trailbreaker jacket and pants in order to stay warm. Generally speaking, typical ski touring days here in the Kootenays range between -5°C and -10°C and I would have to say that this is the sweet spot for the Trailbreaker set-up.
The fit of the Trailbreaker Jacket was spot on for my 6'1", 170lb frame while still allowing plenty of unobstructed movement while ski touring. I found the cut on the Trailbreaker Pants was a little larger than what I typically prefer as a more slender cut helps me retain body heat just that much better. While they were on the large side, the suspenders, adjustable velcro tabs at the waist and built-in belt loops ensured that I could make things work. I did however find that the suspenders were far too small to be effective but since these were a pre-season sample pair I am betting that this will be corrected by the time you are able to purchase these pants in stores.
So how do the Trailbreaker Jacket and Pants compare to the Valhalla Jacket and Pants that were released last year? While both are good solutions for backcountry skiers I think that the Trailbreakers are a great solution. The Features were more extensive and better tailored to ski touring as was the fit. The biggest differentiator however was the Hybrid-mapped construction with waterproof panels. Even if you never have to rely upon them it's just nice to know they're there when you do need them.
The only areas that I could improve upon are noted below in the "Cons" section (you'll notice that there are not many) but the biggest one is my desire to have the waterproof Pertex Shield+ fabric placed in the butt of the Trailbreaker Pants. This would help those of us who occasionally take the lift served option partially up the mountain. Sitting in snow for five minutes on the Silver King lift at Whitewater puts a downer on the start of any tour as you have that wet diaper feeling for the rest of the morning. A little waterproof love would help resolve this and also provide some protection at lunch breaks if you sit on a snow covered pack or skis.
One item you'll want to consider if you're interested in the Outdoor Research Trailbreaker Jacket and Pants is the Trailbreaker Beanie. At $30 Canadian it's a lightweight soft shell toque, as we call it here in the Great White North—a hat to you Americans. It's super light and compact and provides the bare minimum of insulation which is just right for ski touring. It fits under a helmet, sheds snow relatively well and has a Radiant LT Fleece ear band lining to keep your ears warm on those colder days. It also has laser cut holes for integrating your sunglass.
Final thoughts… soft shell is the only way to go if you're a serious backcountry skier and the Outdoor Research Trailbreaker Jacket, Pants and Beanie are innovative, well designed options for those looking for a water and wind resistant, breathable set-up that is also lightweight and waterproof where you need it. If you want to cruise through a heap of other soft shell jacket and pant reviews click on over here.
Here's a final parting shot of the Outdoor Research Trailbreaker Jacket, Pants and Beanie.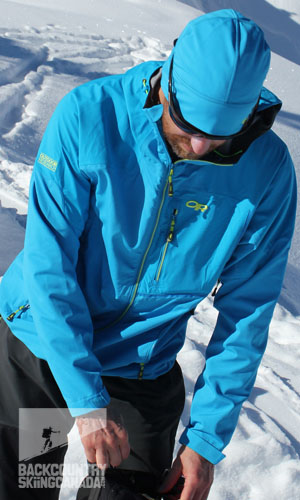 SPECS:
Outdoor Research Trailbreaker Jacket
Price: $300CAN
Sizes: S-XXL
Colours: Taos (maroon), Hydro (blue) and Black
Weight: 554g / 19.6oz size large
Outdoor Research Trailbreaker Pants
Price: $250CAN
Sizes: S-XXL
Colours: Dusk/night (dark blue), pewter (gray/silver) and black
Weight: 818g / 28.9oz size large
PROS:
Outdoor Research Trailbreaker Jacket
- Full featured, everything you could ever want in a ski touring soft shell.
- Waterproof material on shoulders and hood where falling snow melts.
- Use instead of a shell on warmer days that are not too windy.
- Nice lightweight material compacts down in a pack and also helps prevent you from over heating.
Outdoor Research Trailbreaker Pants
- Transceiver clip is beefy and easy to use.
- Big leg vents, nice for dumping heat quickly.
- Combo of adjustable waist, belt loops and suspenders offer multiple fitting options.
- Minimal gaiter avoids any catching and fuss
CONS:
Outdoor Research Trailbreaker Jacket
- Lower front hem of jacket seems to sag and bulge out a little so perhaps the cut is too relaxed in that location (keep in mind that this is a very picky observation).
- Hand warmer pockets are mesh lined to help vent heat but I worry about them getting holes from sharp objects.
- Pricey for a light weight soft shell.
- Hand warmer pockets are not pack and harness compatible.
Outdoor Research Trailbreaker Pants
- Leg vents could use a mesh as snow gets in when deep or occasionally from poles.
- It would be nice to have waterproof material on the butt so you can sit in the snow on breaks.
- Suspenders are not nearly long enough for me and I am only 6' tall (likely just a pre-production thing).
- Separate transceiver sleeve in right thigh pocket is very small and makes it difficult to get your transceiver in and out.
- Waterproof material comes up over the knees, which I think that is too high as I find I sweat more under this material when climbing.
Rating:
Outdoor Research Trailbreaker Jacket 9/10
Fit/Mobility 2/2
Packability/Durability 1.5/2
Waterproof/Breathable 2/2
Features 2/2
Value 1.5/2
Outdoor Research Trailbreaker Pants 8/10
Fit/Mobility 1/2
Packability/Durability 1.5/2
Waterproof/Breathable 1.5/2
Features 2/2
Value 2/2

This is only our opinion. Do you disagree? Did we miss something? Are we totally out to lunch? Join the discussion in the forums here, and let us know what you think. People like/dislike gear for different reasons so chime in and we'll get a well-rounded evaluation.
Back to the rest of the reviews.
---