Outdoor Research Termini Shirt, Ferrosi Shorts, and Equinox pants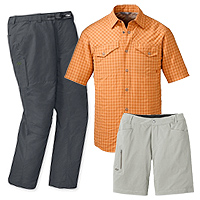 Outdoor Research or "OR," as it know by its friends, is a 27 year old Seattle, Washington based company that designs and manufactures a variety of outdoor clothes and gear for alpine, ice and rock climbing, paddling, hiking, backpacking and, of course, backcountry skiing. I have been a fan of OR's for well over 20 years since I first bought a pair of those iconic OR gaiters that started it all. Not only are their products well thought out and reasonably priced but they are guaranteed for life. Yup, guaranteed for the life of the product.
This review will cover a summer combo of the Outdoor Research Equinox Pants, Ferrosi Shorts and Termini Shirt; all clothes that will work in the mountains hiking and playing (while we all wait for winter's snow to return) and also in town as functional urban wear.
Equinox Pants:
Price: $70 US
Colour: Mushroom, Charcoal, Cairn
Sizes: 30, 32, 34, 36, 38
Weight: 10.4oz / 294g (size 34)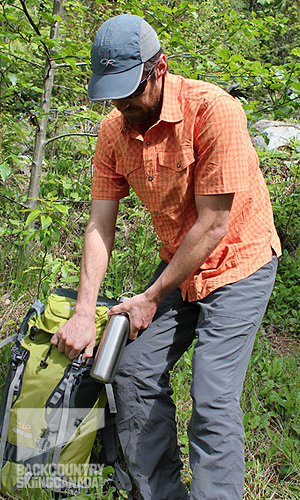 The Outdoor Research Equinox Pants, like the soon to be discussed Ferrosi Shorts and Termini Shirt, are what I would call cross-over clothes. They are designed for pursuing outdoor adventure but also work well as casual urban wear. The primary advantage of the Equinox Pants is that they are extremely light weight; made of 100% Supplex nylon, they're only 294 grams. As a result the pants both help keep you cool and allow you to move freely even on those hot hiking days. In addition, the fabric dries incredibly quickly so they're also ideal for water based activities or inclement weather while still providing a UPF rating of 50+. The next best thing about the Equinox Pants is their ability to pack down to next to nothing in your pack (think of something the size of a grapefruit). These three properties alone have made the OR Equinox my go to hiking pants and hut pants for winter ski trips.
There is a DWR finish to shed light moisture but this will have to be re-applied to ensure it maintains its water shedding properties and we found this finish to have minimal effect on the new pair we tested.
The fit of the Equinox pants is loose and offers plenty or room for high steps and lunges in boulder fields, articulated knees and a gusseted crotch further this freedom of movement. On top of this, draw cord cuffs let you batten down the hatches for snow travel or hike up the pant legs for river crossings. An integrated belt loop and snap system ensures that your pack won't pull the pants down even if you load up the two front, two back and single thigh zippered storage pocket (this one has laser cut drain holes to shed water).
Articulated knees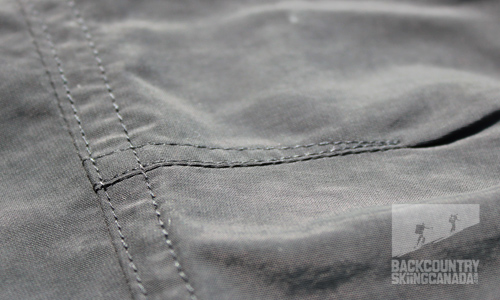 Draw cord at the ankles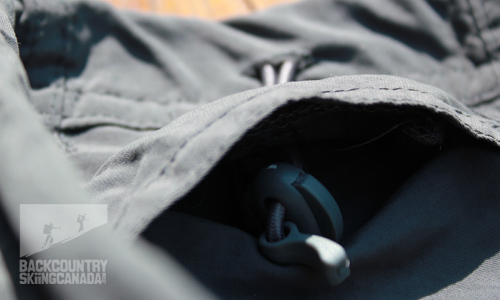 Back pockets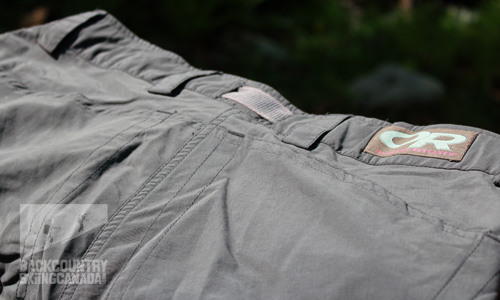 Invisible zippered storage pocket on the right thigh with drain holes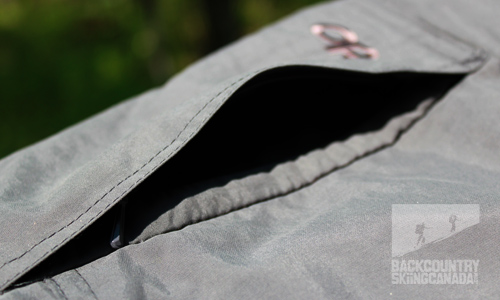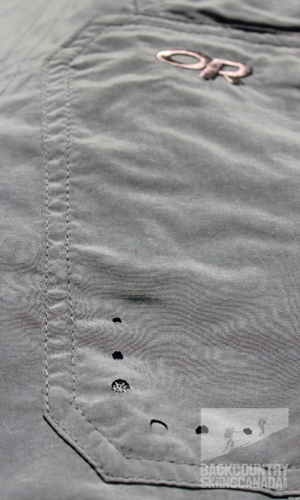 Integrated belt; snap and zipper fly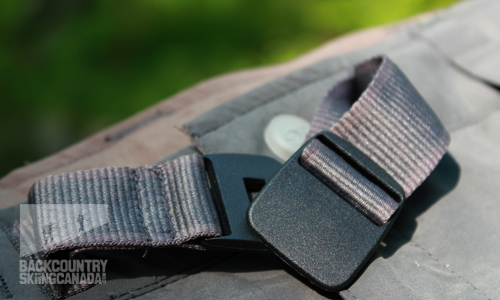 Features:
Pockets: An invisible zippered storage pocket on the right thigh with drain holes, two front and two back slash pockets.
Fabric: Lightweight, quick-drying Supplex nylon; UPF 50+; DWR finish.
Fit: Loose. Gusseted crotch and articulated knees.
Adjustments: Draw cord ankles, integrated belt; snap and zipper fly
---
Ferrosi Shorts:
Price: $65 US
Colour: Mushroom, Black, Beige
Sizes: 30, 32, 34, 36, 38
Weight: 8oz / 227g (size 34)
Stretch-woven; 89% nylon/ 14% spandex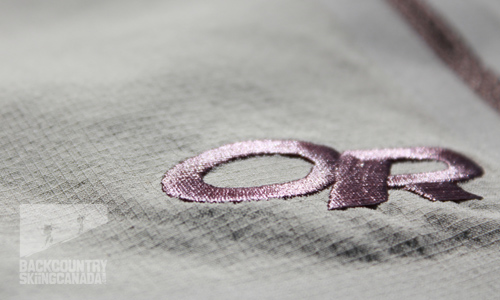 With several years of blissful backcountry skiing and hiking to its credit my OR Ferrosi hoody is a staple on any of my adventures so I was happy to see that Outdoor Research now has a pair of shorts made from the same fabric. Made of stretch-woven 89% nylon and 14% spandex, the OR Ferrosi Shorts continue with our theme of lightweight, compact and breathable clothing that does not inhibit movement, even high steps. The fabric is abrasion-resistance and should hold up well for scrambling and climbing; our testing, however, was limited to hiking, backpacking and hanging out around town. The active fit of the shorts provides plenty of room and was super comfy with the brushed tricot-lined waistband. Unfortunately I did find the 12"/30 cm inseam a bit long for my liking – so that is something to watch out for. The two front mesh pockets add to the breathability of the shorts and the zippered cargo pocket is a nice design detail and handy for smaller items.
Zippered cargo pocket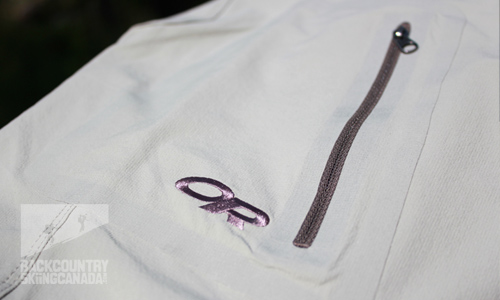 Snap and zipper fly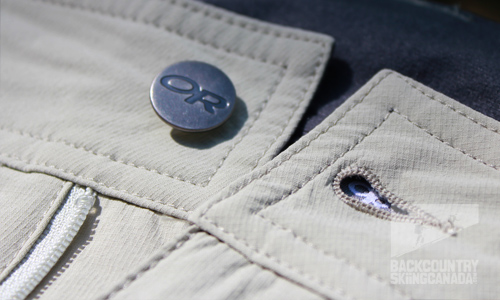 Two front pockets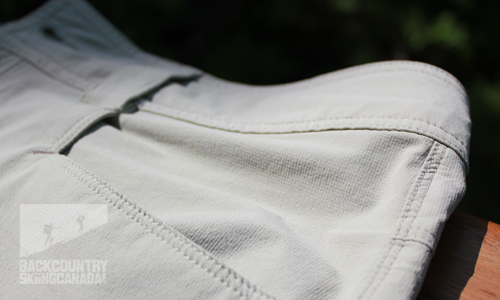 Two back pockets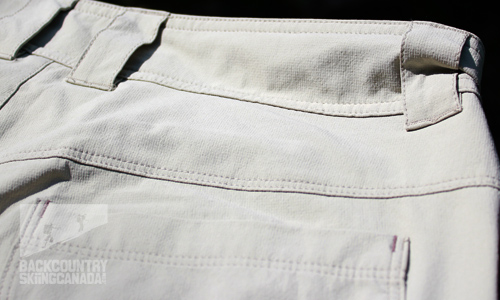 Features:
Fabric: Stretch-woven; 89% nylon/ 14% spandex which has a air permeability rating of 9,0CFM.
Adjustments: Snap and zipper fly
Pockets: Two front slash pockets, two rear pockets and a zippered cargo pocket
Fit: Gusseted crotch
---
Termini Shirt:
Price: $65
Colours: Chrome, Ember, Walnut
Sizes: S, M, L, XL
Weight: 8.2oz / 232g (size Large)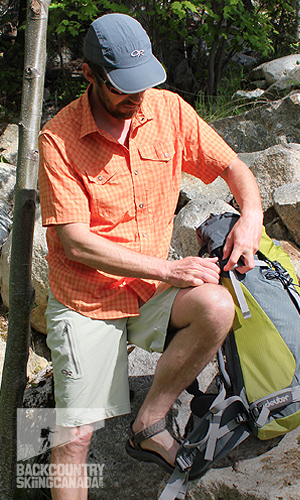 If you're looking for a wicking shirt that doesn't look like your standard wick shirt then the Termini Shirt may be the shirt for you. Although it was primarily designed to keep you cool and odour free on the trails, with a contoured hem, side cuts and subtle branding the Termini has the added bonus of working wonders when you need to "tidy up".
Made from 100% nylon fabric combined with a mesh lined neck and pockets, the extremely light Termini wicks moisture away from your body to keep you cool in the hot sun. If you need more venting than provided by the mesh, the full button-down front allows for this. In addition, the nylon fabric of the Termini has "Polygiene Active odour control" which is made from silver salt (low concentrations of recycled silver) that inhibits the growth of odour-causing bacteria, fungus, and mildew and is said to keep you smelling respectable when you break a sweat. We found that the odour control worked well in the short term and we will have to update you after a full season on the trails as to how it worked in the long term.
Two front snap pockets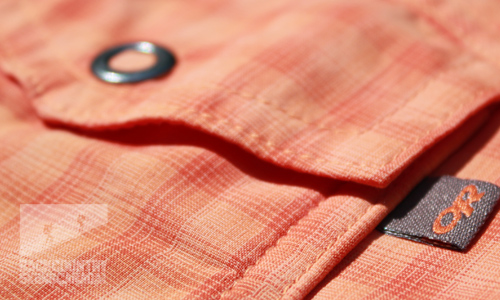 Front snap closure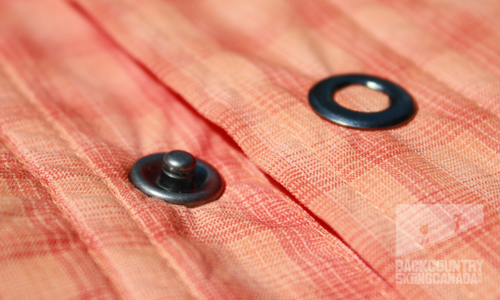 Interior back and shoulder mesh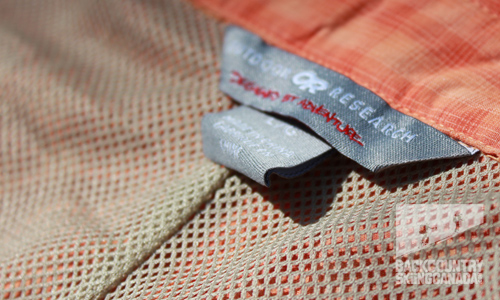 Active cut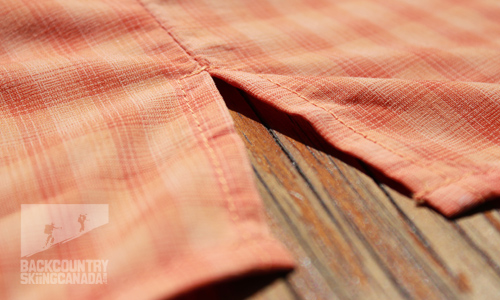 Features:
Fabric: 100% Nylon, moisture wicking, UPF 30, Polygiene® active odor control
Adjustments: Front snap closure
Pockets: Two front snap pockets
Fit: Active / casual.
---
Verdict:
Outdoor Research has always been successful at designing functional clothes for reasonable prices. They have been a staple in my backcountry skiing kit for years and it is nice to see that there are plenty of choices for summer. The Outdoor Research Termini Shirt, Ferrosi Shorts, and Equinox Pants are three such items that can go from trail head to cafe while keeping you cool on hot summer days and packing down to almost nothing in your pack
PROS:
Compact, light and cool in the heat. Look good on the trails and great in the city.
CONS:
With lightweight/breathable fabrics comes the possibility for tears and abrasions from rocks and falls. The Equinox Pants and Ferrosi Shorts could use velcro fasteners on the back pockets to help keep their contents from going astray.

This is only our opinion. Do you disagree? Did we miss something? Are we totally out to lunch? Join the discussion in the forums here, and let us know what you think. People like/dislike gear for different reasons so chime in and we'll get a well-rounded evaluation.
Back to the rest of the reviews.
---