The Osprey Kode ABS Compatible 42L Pack is a great backcountry ski touring pack. It fits well, has all the features a serious backcountry skier could want and most importantly is easy to use. The ABS Vario Base unit contains the shoulder straps, hip belt, single hip belt pocket for storing the activation handle and a velcro holster to ensure you do not inadvertently pull the handle once it is installed. The steel air cartridge is housed in the puncture unit at the top of the base unit and the dual airbags are located on either side. Each dynamically shaped airbag has an 85L capacity for a total volume of 170L. The twinbag design increases your chance of survival if one airbag gets punctured as the other one will stay inflated since they are separate.
The ABS Vario base unit fits seamlessly with the Osprey Kode ABS Compatible 42L Pack. Despite this, there are several features that are missing from the Vario base or are just better on the regular base unit. First, the harness is not as comfortable and functional as the Osprey harness base unit. Also, the back panel is not thermoformed and the hip belt and shoulder straps aren't as contoured. You also lose the insulated hydration tube sleeve and one of the zippered hip belt pockets. Overall it still works well but just not as well as the Osprey harness base unit.
Here's a look at the back side of the ABS Vario Base unit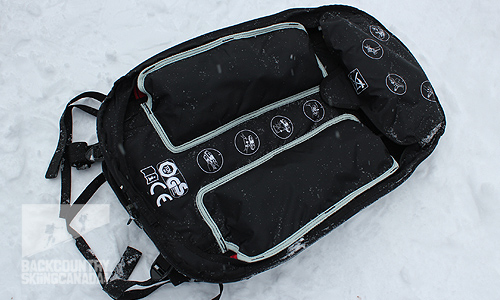 If you do ever have to activate the ABS dual airbag system (check out this video from Winter Outdoor Retailer to see this in action) the re-packing of the airbags is almost idiot proof, case in point, even I can do it. You will need to refill your air canister and also replace the pull handle since it uses a built-in pyrotechnic pneumatic activation system.
A close up of the canister installed in the puncture unit.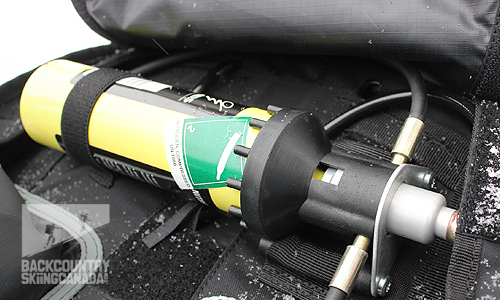 Tear-away velcro closure that contains one of the two 85L airbags.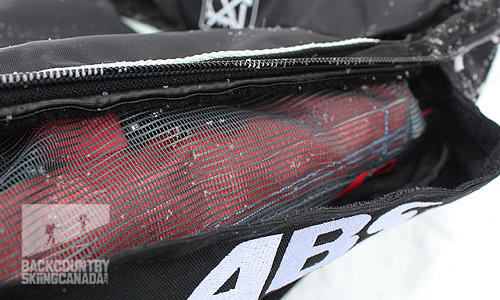 Metal harness clasp which is sturdy and won't break if you step on it or crunch it while in transit.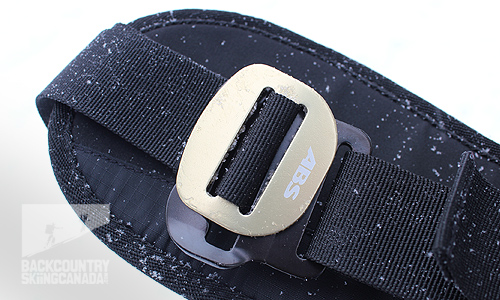 The pneumatic activation handle is stored in the hip belt pocket when not needed.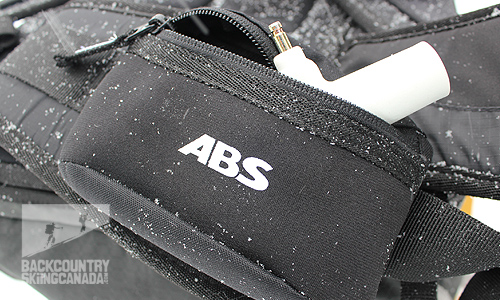 The pneumatic activation handle disengaged.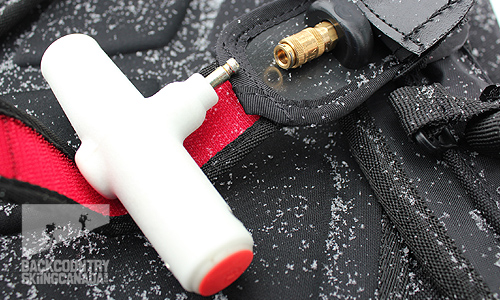 The pneumatic activation handle engaged with the velcro safety "on" so you cannot inadvertently activate the unit.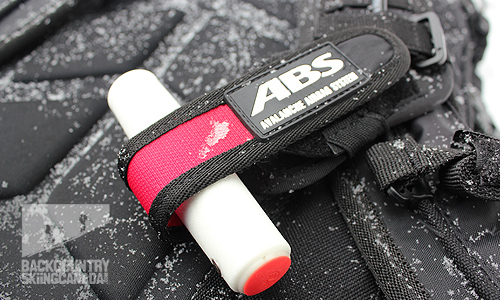 Air travel with the ABS portion of the Osprey Kode ABS Compatible 42L Pack requires that you pre-register your ABS Airbag with the airline 14 days before you fly. You are allowed one activation unit per ABS backpack and the activation handle must not be installed. It is strongly advised that you download the International Air Transport Association (IATA) guidelines and carry them with you as you may need to show them to your airline. Also include a copy with the ABS cartridge, activation handle and backpack in your carry-on luggage. If you are flying in the USA you will also have to comply with FAA rules so there is a bit more legwork for you if you are in that situation.
Another great bonus of this pack is that the ABS Vario Base unit fits the Osprey Kode 22L + 10 Pack as well. This means that if you need a smaller slack country ski touring ABS compatible pack you can swap the ABS Vario Base unit from the 42L Kode to this smaller sized pack.
Osprey Kode ABS Compatible 42L Pack Features:
- Removable zip-off pack body compatible with ABS Vario Base Unit- Dual top load and back panel access to main compartment
- Top lid with zippered pocket and goggle sleeve and integrated helmet carry
- Integrated rope compression strap
- Climbing skin pocket
- 2 hip belt pockets
- Ice-axe carry
- A-frame ski carry
- Snowboard carry
- Vertical ski carry
- Diagonal ski carry
- Lower reinforced loops for a-frame ski carry
- 2 zippered hip belt pockets
- Extra-large front panel J-zip access to avalanche safety kit pocket with shovel and probe sleeve
- Glove-friendly zippers and buckles
- Insulated hydration sleeve
- Insulated hydration hose sleeve
- Reinforced wear points to protect the pack from metal edge abrasion
- Light wire frame and 1.2mm HDPE frame sheet (42L)
- Thermoformed contoured back panel uses snow shedding material to reduce ice/snow buildup
- Contoured EVA harness with webbing attachment points and insulated hydration hose sleeve and adjustable sternum strap with whistle
- Fixed EVA hip belt with single 25mm webbing ErgoPull closure with padded hip wings
Insulated hydration sleeve in the right shoulder strap to prevent your water from freezing.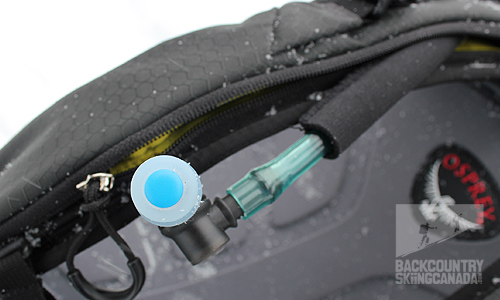 One of two massive hip belt pockets that can easily carry a point and shoot camera or some snacks, sunscreen and lip balm.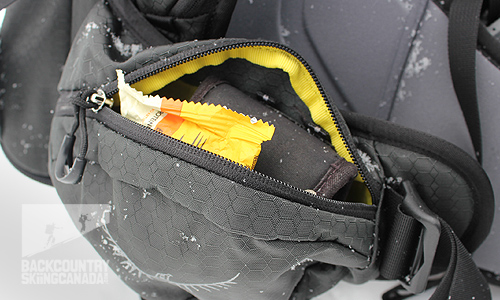 Avalanche tool pocket with sleeves for your shovel handle and probe. I also have a snow saw in there.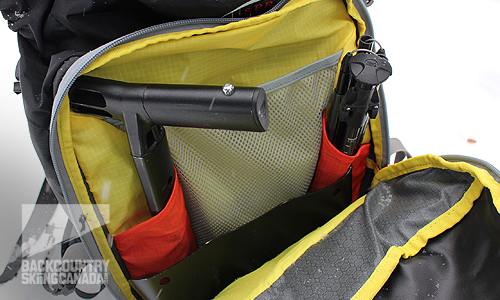 Vertical ski carry and A-frame ski carry.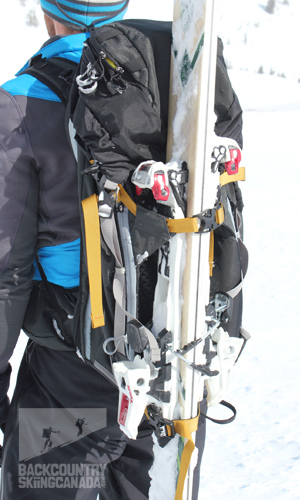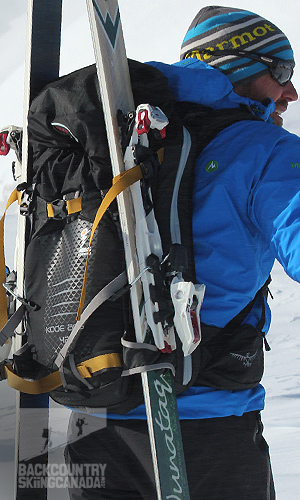 ABS Airbag System Features:
Two 85L (170L total) side mounted, independently chambered TwinBags ensure a horizontal position for maximum float and rescue visibility
- Pyrotechnic-pneumatic pull handle and nitrogen gas canister ensure extremely rapid airbag deployment
- TUV certified, with third-party testing since 1991
Verdict:
I think Osprey has taken a great product and made it even better with the addition of the optional ABS Vario base unit feature. I tested this product for most of the winter in both configurations (with and without the ABS Vario Base unit) on side country laps and full backcountry days in all kinds of conditions and it performed flawlessly.
If you are considering an avalanche airbag pack why wouldn't you consider a pack that gives you the versatility of the Kode ABS Compatible 42L Pack? You are essentially getting two packs in one. The standard Osprey Kode for when you don't wish to carry an airbag system and the full-on Kode ABS 42L Pack for when you want that added security of an airbag system while backcountry skiing. If you're on the fence as to whether or not you would want to invest in an airbag pack you have nothing to lose by purchasing the Kode ABS Compatible Pack as it functions every bit as well as the non-ABS compatible version and allows you the option to upgrade to the ABS Vario at any time. The only differences that I could find between the Kode ABS Compatible 42L Pack and the regular Kode 42 was a price increase from $199 to $250 and the fact that internal mesh zippered pocket on the back of the water bladder pocket is no longer there.
While using the ABS Vario Unit integrated into the Osprey Kode 42L Pack there are a few difference you will notice from using the regular harness base unit. First off there is an additional 2.5kg on your back and you'll have to make do without the two large hip belt pockets. Instead, you have a single smaller hip belt pocket which stores the trigger handle when not in use. As well the vario's back panel and hip belt are not as nice as the Osprey code harness.
As with our review of the regular Kode 42L Pack I found that the top pocket serving double duty as a helmet carrier rendered that pocket useless for storage of other items while occupied by the helmet. It would be better if that pocket was simply a pocket and a helmet carrier was located elsewhere. I did, however, appreciate the two hidden pockets located in the top lid. One is under the lid itself and one is in the main lid pocket under the grey fabric which comes complete with key ring attachment point. I did miss having a dry pocket located in the interior of the pack to store a map and electronics; unfortunately, this feature is no longer standard issue.
The clips which secure the shoulder straps to the pack body were a complaint on the original Kode (non ABS compatible) pack review but in this situation, with the Vario harness, their location is warranted. These clips alleviate a great deal of the weight that is placed on the zipper which attaches the ABS base unit to the Kode 42. Without them, this zipper would take the full brunt of the weight and would surely not win the battle. One thing that was slightly annoying with the two shoulder strap clips is that they are located too close to the back panel access zipper and constantly dangle into the line of fire when zipping up the back panel. If they were to be moved just 3 or 4 centimetres higher they would be well out of the way and not an issue.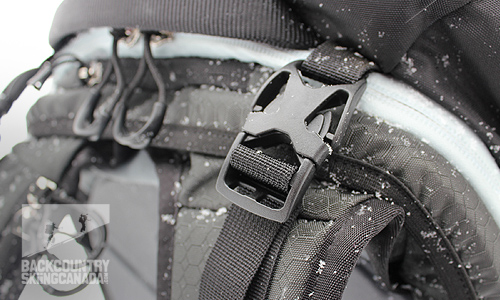 The Osprey Kode ABS Compatible 42L Pack has plenty of pros as you can see below, one of which I discovered while reviewing the new BCA BC Link Radio. The radio MIC is able to be threaded through the hydration sleeve and the MIC itself can then be stored directly in the shoulder strap sleeve when not in use, a nice secondary use for sure.
The ABS system is really simple to use. Affixing the trigger handle is quick and easy and removal is pretty safe with little chance of an accidental deployment of the airbag. The velcro safety is a nice feature once the activation handle is in place as this will ensure you don't deploy the bag at the wrong time, however, while in avalanche terrain the handle should be exposed and ready to pull no matter if you are on the up track or skiing down. If you do deploy the airbags then deflating and re-packing is pretty straightforward as well. Give the following video a watch to see what I mean, you'll see the deployment and repacking of the system at the Outdoor Retailer show:
I have been testing the Osprey Kode 42L ABS Compatible Pack this winter with the ABS portion installed while on backcountry hut trips and in bigger glaciated terrain. Around my local ski hill where the terrain is more mellow and I know ti intimately I prefer to go lighter and just use the Kode harness system. The configuration is up to you, your risk tolerance and your preference for safety or lightweight mobility.
ABS reports that 97% of people who use their products and activate them in avalanches stay on top of the debris or are visible. This compares with only 57% of people without an ABS airbag system. Do yourself and your family a favour and consider an avalanche airbag for backcountry skiing, do yourself an even bigger favour and consider the Osprey Kode ABS Compatible 42L Pack.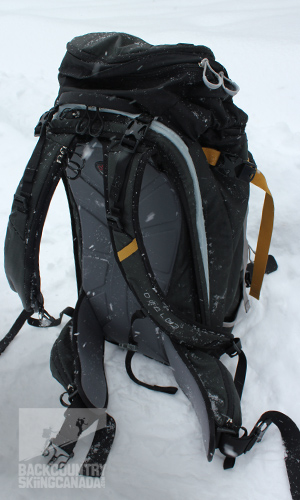 SPECS:
Osprey Kode ABS Compatible 42L Pack
Price: $250 US (ABS Airbag System sold separately)
Capacity: 40 (s/m), 42 (M/L)
Weight: 1.91kg / 4lb 3 oz (S/M), 1.95kg / 4lb 5oz (M/L)
Dimensions: 69 x 33 x 30cm / 27 x 13 x 12"
Colour: Black with gold trim
ABS Vario Base Unit Airbag System
Price: $930 (purchased separately from an ABS authorized dealer)
Weight: 2.5kg / 5lb 8 oz (S/M), 2.5kg / 5lb 8oz (M/L)
PROS:
- The versatility of using the Osprey Kode 42L Pack with or without the ABS Vario unit depending upon your needs.
- Osprey Kode ABS Vario unit is compatible with the Osprey Kode 22 + 10L as well.
- Dual airbags for redundancy and increased safety.
- Removable ABS pneumatic trigger handle.
- Two massive hip belt pockets.
- Drain hole at bottom of pack.
- All the same great features of the regular Osprey Kode 42L Pack
- Super large back panel access to the interior of the pack.
- Glove-friendly zipper pulls.
CONS:
- Bottom snowboard carrier loop is not that streamlined and sticks out quite far.
- The whistle chest clip was upside down but likely due to this being a pre-production model.
- When you use the ABS Vario unit you loose the two large hip belt pockets and have one small neoprene pocket only.
- The zip on the ABS Vario unit has no zipper pull so it is hard to grab.
- No internal dry pocket for important maps, wallet and electronic devices.
- You lose the top pocket if you wear a helmet as this is where the helmet carry is located.
- The straps that secure the top lid of the pack run in front of the avi tool pocket and delay access to this area. I question if you even need a top access given the back panel is so large and easily accessible.
- ABS system is still very expensive.
Rating: 9/10
Comfort / Fit 2/2
Features 2/2
Durability 2/2
Function 1.5/2
Quality / Price 1.5/2

This is only our opinion. Do you disagree? Did we miss something? Are we totally out to lunch? Join the discussion in the forums here, and let us know what you think. People like/dislike gear for different reasons so chime in and we'll get a well-rounded evaluation.
Back to the rest of the reviews.
---