Oboz Beartooth Boots and Firebrand II Hiking Shoes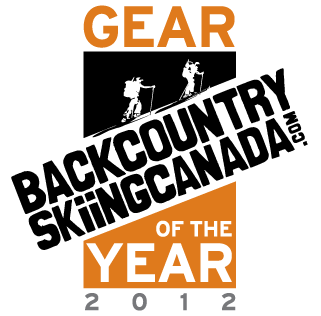 Oboz Footwear has received top honours from the Backcountry Skiing Canada test team for their Beartooth Boots and Firebrand II Shoes. Innovation, good looks and super solid construction not only makes our little piggies happy—they also make these items from Oboz winners in our books.
The Backcountry Skiing Canada Team.
---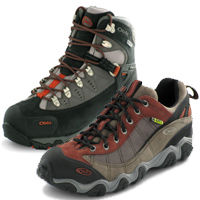 Oboz footwear has had its headquarters in Bozeman Montana since 2007 but if you have not heard of them before you are not alone. Until recently, I had not heard much about this manufacturer other than to take note of its odd name. It turns out that the name is actually a combo of "Outside" and "Bozeman" and they offer some of the most comfortable and technically advanced footwear I have had the pleasure of wearing. The two products we will review today are the Oboz Beartooth boots and the Oboz Firebrand ll hiking shoes. The Beartooth boots are packed with plenty of features to tame the trail and are Oboz's beefiest backpacking boot. The Oboz Firebrand IIs, on the other hand, are their light hiking shoe that offers heaps of support and waterproof protection. Since first hearing of the company, I have discovered that Mountain Equipment Coop in Canada and REI in the US both stock Oboz footwear, so perhaps it was just me who was out of the loop.
Oboz Firebrand II:
Price: $139
Sizes: 8-12, 13, 14
Colours: Earth
Weight: 2lb 5oz / 1.048kg (9 Medium)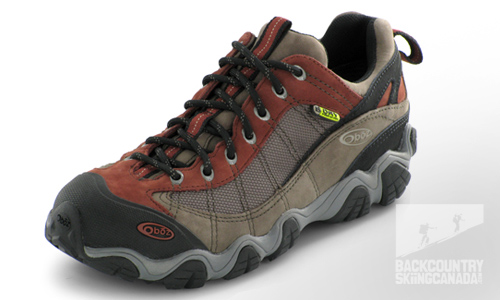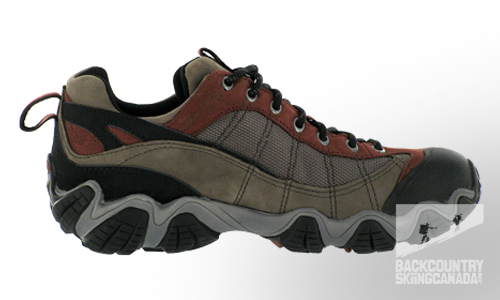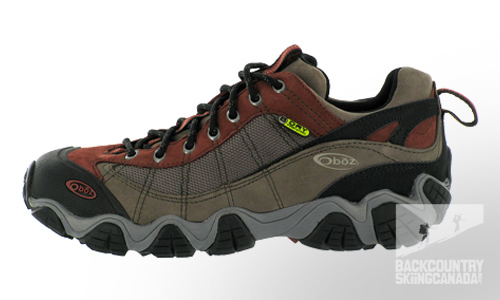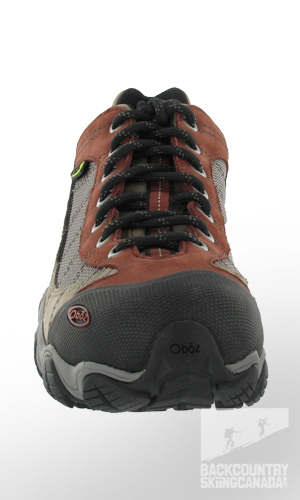 The first thing that struck me about the Oboz Firebrand II hiking shoes is that although they have a solid/rugged design they are still fairly lightweight. This has always been the challenge; how do you make a shoe light yet sturdy with a rigid feel. To achieve this combination, Oboz based the Firebrand II on their sturdy Sawtooth outsole but they eliminated the unneeded rubber to save on the weight. In addition, the two-part midsole includes dual-densities of EVA and a nylon shank with a 3D moulded external heel counter to provide stability. This all comes together to weigh in at only 525 grams per shoe - not bad, not bad at all.
Straight out of the box the shoes fit me like a glove and really cradled my feet to provide a solid ride with reasonable flex and torsional rigidity. The included "Oboz Bfit Deluxe Footbed" provided some nice arch support and a heel cradle to keep things comfy even on longer walks pounding the pavement. The Oboz Firebrand IIs really were at home on the trail though. The moulded rubber toe cap and uppers made from a combo of Nuebuck leather and high abrasion textiles kept nicks and gouges from rocks to a minimum. The aggressive tread pattern provided really good grip and friction on all surfaces and, overall, they felt like a shoe in 4-wheel drive.
If all this was not enough, the Firebrand II comes with a waterproof membrane called "B-Dry". I am always skeptical of these proprietary waterproof technologies as I find that my feet often still get wet from either the outside or the inside, but the B-Dry really does work: it kept water out while also letting inside moisture escape. I had the Firebrand IIs out in light rain, 2" deep puddles and even in some spring time corn snow and they kept my feet dry through it all. I found that since the B-Dry membrane is breathable my foot did not overheat too much either which was nice. Given the stability and snugness of the upper I was surprised that my feet were able to stay relatively cool.
The Firebrand II is a light yet rugged, waterproof hiker that fits incredibly well and works on trail and off. I would venture to say that this is the most comfortable and well designed hiking shoe I have ever worn. I went back to my old hiking shoes for a day and they felt like wishy-washy bags of oatmeal in comparison to the Firebrand lls and so they are relegated to garden shoes from here on out.
Aggressive tread pattern for good traction on any surface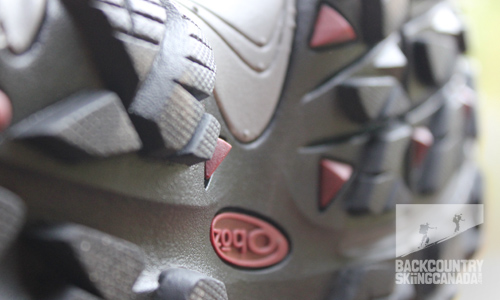 Tough toe cap to help prevent scuffs and cuts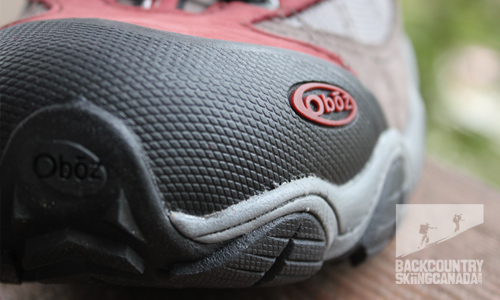 Waterproof B-DRY breathable membrane and super tough fabrics like nubuck leather and abrasion-resistant nylon mesh panels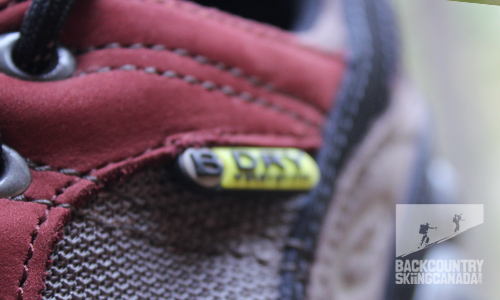 Features:
Uppers: Waterproof nubuck leather uppers feature abrasion-resistant nylon mesh panels breathability and protection.
Waterproof: B-DRY™ waterproof, breathable membranes keep soggy elements out while letting water vapor escape, keeping your feet cool and comfortable.
Liner: Nylon mesh linings wick moisture, dry quickly and further enhance breathability.
Footbeds: Anatomic EVA footbeds called BFit
Midsoles: dual-density EVA midsoles provide cushioning.
Shank: Nylon shanks offer torsional stability and protection underfoot, increasing sure footedness on varied terrain.
---
Oboze Beartooth:
Price: $210 CAN
Sizes: 8-12, 13, 14
Colours: Midnight
Weight: 4lb 3oz/1,900 g (men's 9)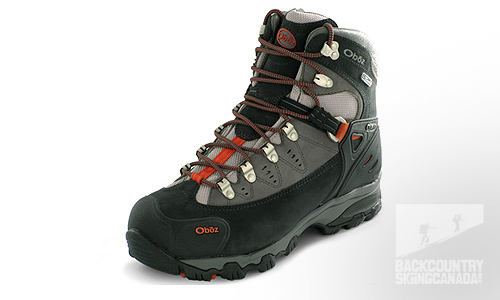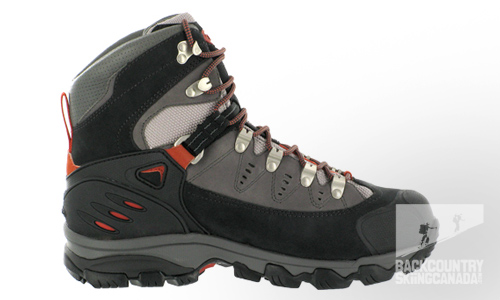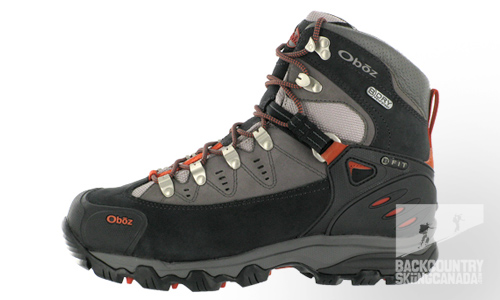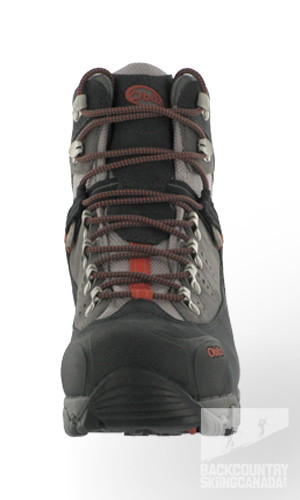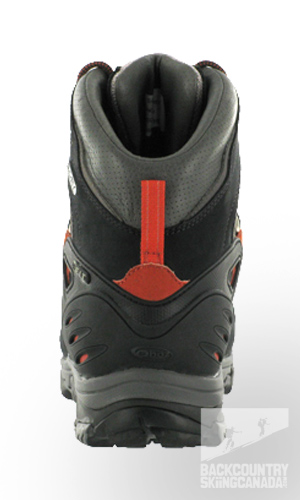 Unlike the Oboz Firebrand II, the Oboz Beartooth is a much heavier full-on hiking and backpacking boot that extends over the ankle to provide protection and ankle support. The Oboz Beartooth is waterproof (just like the Firebrand II) thanks to the B-Dry waterproof/breathable membrane and also comes with the B-fit EVA footbeds. The Beartooth is built on the Oboz Windriver outsole and features a two part polyurethane midsole with an injection moulded polypropylene last. This boot is burly, with minimal flex laterally and good torsional rigidity but walking is easy and natural thanks to the curved or "rockered" sole.
As soon as I received the Oboz Beartooth boots for testing I knew I was going to enjoy them; as I pulled them out of the box they just screamed rugged, tough construction. I immediately put them on and found them as comfortable as they were burly. Although I spent a few days breaking them in, it really was not necessary as these puppies simply fit me right off the bat with lots of room in the toe box.
The boots are lined with leather on the tongue and heal area which is cut high for added ankle support and protection from water and snow. Combined with a waterproof gaiter, the B-dry membrane ensures you stay dry from outside water. Unfortunately, all of this beef does reduce the venting properties and I did find that my feet were warm on hot summer days. Despite this, there are areas of nylon mesh that enhance breathability and combined with a lighter merino wool sock I was able to keep internal moisture in the normal range.
To keep your foot secure the Beartooth uses an elaborate "Bfit" lacing system which spreads the tension evenly over your forefoot. There are four sets of metal lace guides on the forefoot with two sets of metal fast lace hooks up top. The second of these hooks is pinched so they actually grab and hold the laces while you tie your finishing knot.
The big feature here though is what Oboz calls the 3D Moulded External Heel. This feature includes a webbing strap and D-rings that, when tensioned with the laces, allows you to anchor your heal down into the heal cup virtually eliminating heal movement and those dreaded blisters. While the external heel counter system provides a snug fit, generous openings and a rear webbing loop still allow you to put your boots on and off with ease. This rugged sole also helps protect against hard obstacles on the ground or motorcycle pegs if you need a sturdy boot for motorcycle adventures.
Aggressive self-cleaning deep lugged soles provide good grip on snow, rock and dirt and are cut away at the mid sole to accommodate gaiter straps. I found that the traction was like glue on uphill, downhill and side-slopes. The tread themselves are moulded with a topographic map insert, which does not provide any added traction but does provide a good conversation piece. The Oboz Beartooth boots are not classified as mountaineering boots (in my opinion they easily could be used for this though) but they are crampon compatible and the moulded rubber toe cap and nubuck leather uppers offer protection from rocks and debris.
Tough materials with some venting to control interior moisture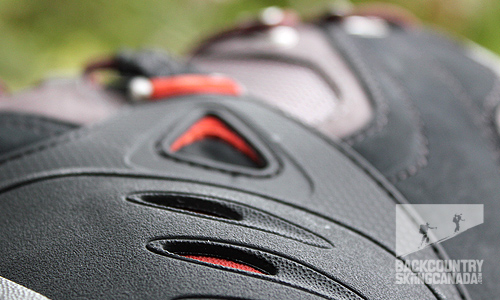 Aggressive tread pattern with topo map inset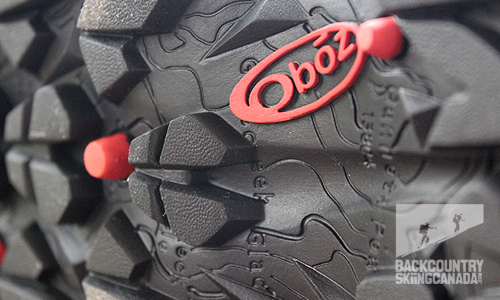 Moulded Rubber Toe Rand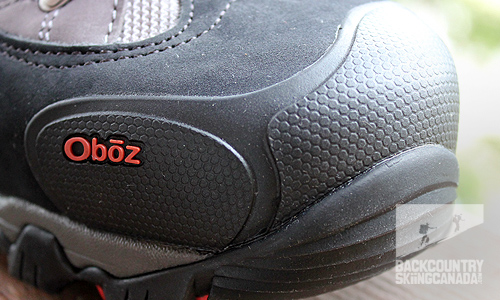 BFit Lacing System with 3D Moulded External Heel Counter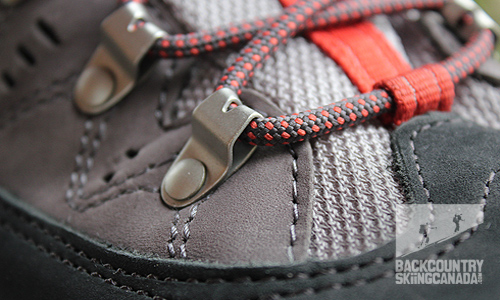 Features:
Uppers: Waterproof Nubuck leather and high abrasion Textile
Waterproof: Oboz B-Dry waterproof/breathable membrane
Lacing: BFit Lacing System with 3D Moulded External Heel Counter
Liners: A mix of perforated glove leather for smooth, durable comfort and nylon mesh for moisture-wicking, quick-drying performance.
Footbeds: BFit footbed are anatomically shaped, multi-density footbeds which provide the support of aftermarket insoles without the added cost.
Midsoles: Two part dual-density polyurethane midsoles provide cushioning.
Shank: Nylon shanks.
Outsoles: High friction, non-marking carbon rubber.
Scuff guard: Moulded Rubber Toe Rand
---
Verdict:
It is hard to convey all the positive attributes of fit, style and construction with the Oboz Beartooth Boots and Firebrand II Hiking Shoes in a written review. Better for you to try on a pair and see what I am talking about. If you are like me - you won't take them off.
Read our most recent Oboz review of the Helium multi-sport shoes if you are looking for a lighter more versatile shoe that can handle wet environments.
PROS:
Reasonable price, great fit right out of the box: solid, snug and comfortable.
B-Dry membrane keeps feet dry. Waterproof and rugged materials used keep them looking (relatively) new.
CONS:
Wish I had heard of Oboz years ago.

This is only our opinion. Do you disagree? Did we miss something? Are we totally out to lunch? Join the discussion in the forums here, and let us know what you think. People like/dislike gear for different reasons so chime in and we'll get a well-rounded evaluation.
Back to the rest of the reviews.
---