Oboz Beartooth Boots and Oboz Firebrand II Hiking Shoes - REVIEW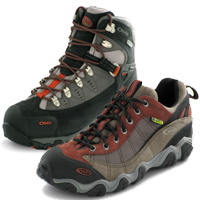 Oboz footwear has had its headquarters in Bozeman Montana since 2007 but if you have not heard of them before you are not alone. Until recently, I had not heard much about this manufacturer other than to take note of its odd name. It turns out that the name is actually a combo of "Outside" and "Bozeman" and they offer some of the most comfortable and technically advanced footwear I have had the pleasure of wearing.
The two products we will review today are the Oboz Beartooth boots and the Oboz Firebrand ll hiking shoes. The Beartooth boots are packed with plenty of features to tame the trail and are Oboz's beefiest backpacking boot. The Oboz Firebrand IIs, on the other hand, are their light hiking shoe that offers heaps of support and waterproof protection. Since first hearing of the company, I have discovered that Mountain Equipment Coop in Canada and REI in the US both stock Oboz footwear, so perhaps it was just me who was out of the loop.
Plenty more to read on these products in the full review located over here.