Mountain Hardwear Stretch Capacitor Jacket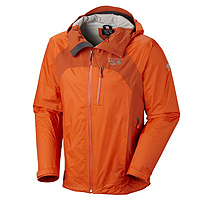 Living in the mountains weather can change quite quickly, especially in spring as we've seen here in the middle of May in Nelson, BC. Because of this it's very important to have a reliable water proof rain jacket in your hiking pack, ready to go in case the weather moves in. The most important factors for this category of jackets are packability, waterproofness, breathability, weight and affordability.
Traditionally the affordable packable rain jacket was sort of limited on its ability to provide much more than an emergency shelter during a hike, forcing you to suffer a humid, clammy green house effect if worn while actually hiking. The jacket that I tested stands to change all this, giving people an option of being comfortably dry from the outside and from the inside as well. As with all water proof breathables there is still a limit to how much moisture you can push through this membrane but I noticed the improvement in breathability in a big way. I was able to move at a good pace on a rainy day up and down hills around town and I even did a small hike with a full back pack of camera gear including a heavy tripod up at Kokanee Park's Glacier Creek while helping a friend film some video. All without having to unzip and vent. I didn't once wish that the jacket had pit zips keeping the main zip done up the whole period I was out and about.
The Following is a picture of the Membrane Close Up.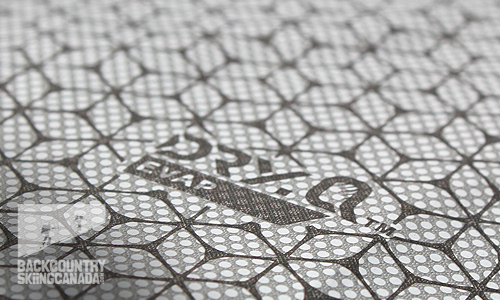 The Stretch Capacitor Jacket uses a brand new membrane called Dry.Q™ EVAP. This is a Poly Urethane Based Membrane that is Air Permeable and has a new surface treatment that keeps the fabric off your skin and wicks moisture.
"Hybrid versatility with Dry.Q™ EVAP for unbeatable wicking. Designed for maximum mobility, the lightweight, waterproof Stretch Capacitor delivers a remarkable interior feel. Dry.Q™ EVAP's innovative system of channels disperses sweat quickly for faster evaporation, improved breathability and a drier interior feel without pit zips." Mountain Hardwear Marketing from their website.
This lightweight rain jacket has a good layout with two zippered hand pockets, one zipperend chest pocket and two mesh interior pockets one zippered and one not. All the zippers are lighweight PU coated water resistant zippers. The hood has an easy to use adjustable drawcord and fit's nicely over a hat but not a helmet. The fabric of the jacket is lightweight and stretch in the shoulders and side panels.
The theory is that the new membrane being air permeable allows for such an increase in breathability that the jacket no longer needs pit zips. This is a huge benefit to the overall construction as it allows for less bulk, lower overall weight and more consistent moisture management. The biggest problem with pit zips is that by opening them you give up on membrane breathability and hope to vent some hot moist air quickly. The truth of it is, as soon as those pit zips open the pressure difference from inside your jacket to the outside world drops and all of a sudden the jacket's membrane just stops working completely. I found the breathabilty of this shell to be much better than previous versions from Mountain Hardwear and I did not miss having pit zips.
The basic change in this membrane is to allow air molecules to pass through the fabric more easily bringing moisture with them. This does lead to a naturally less humid climate inside the jacket and will also make the wearer have to readjust layering to a given temperature. You can feel the wind a bit more and your body's ability to regulate temperature through evaporation will work better. Means less sweat and more cooling. If you get cold, put on another layer.
I took this jacket for long walks in the rain when I first got it and I was pretty impressed. I walked for more than a hour in varying levels of down pour and the face fabric beaded up like a champ and I didn't feel clammy, even after some good sized hills.
This Jacket doesn't take up much space in a pack when rolled into it's hood.
The Stretch Capacitor Jacket is the top line in Mountain Hardwear's 2.5 layer shell line up. For $280 you get an upgraded face fabric with stretch panels in the shoulders and sides, three zippered pockets and two inside mesh pockets. Compared to it's little brother the Capacitor Jacket, that's a second zip pocket on the interior, a zippered exterior chest pocket and a lighter weight and more compressable face fabric. Overall you gain very little besides the feel of stretch and more pocket options while unexpectedly adding an oz in weight. Given the lighter fabric used I feel like Mountain Hardwear could have designed this jacket to be much lighter and pack down smaller for the extra money. I would not miss the chest pocket if it meant that I was shaving a few ounces by upgrading to this model from the Capacitor Jacket. The best thing about both of these jackets is the new membrane which I am very satisfied with so far.
Inside Non-Zippered Mesh pocket for dropping in sunglasses, or a quick snack. All seams are taped and welding/lamination is used in various places throughout the jacket.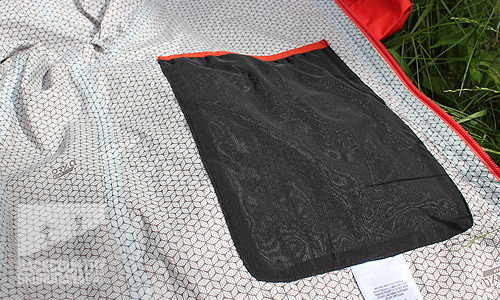 Inside Zippered Mesh Pocket to keep keys, cash or small items.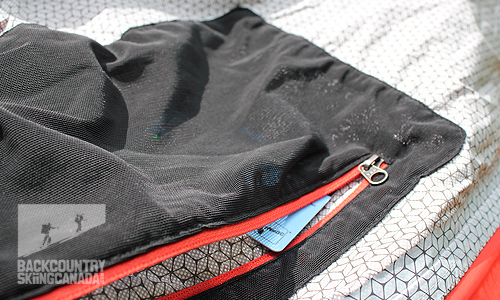 Pockets and main zip are high quality light weight water resistance zips.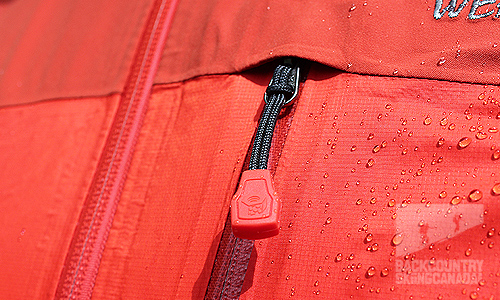 Comfortable cut with generous length in the arms.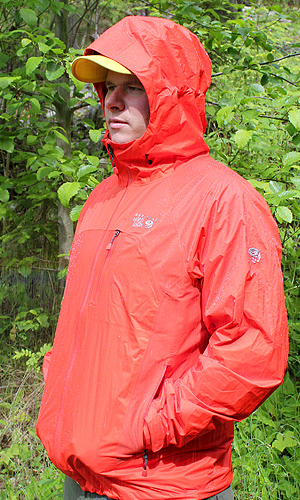 Features:
- Total waterproof protection with every seam taped and lot's of high tech welded fabric construction.
- Cuff tabs and hem drawcords for quick fit adjustments.
- Interior zip pocket for keys, ID, other small items.
- Internal stash pocket.
- Watertight zips seal out moisture.
- Stretch back and side panels for increased mobility and comfort.
>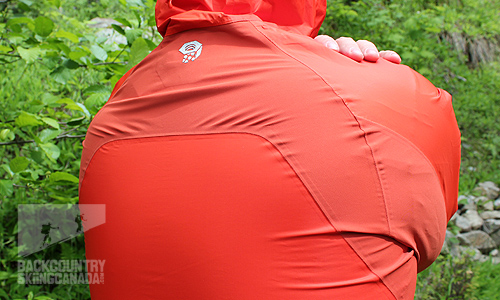 - Fully adjustable hood with single pull adjustment system.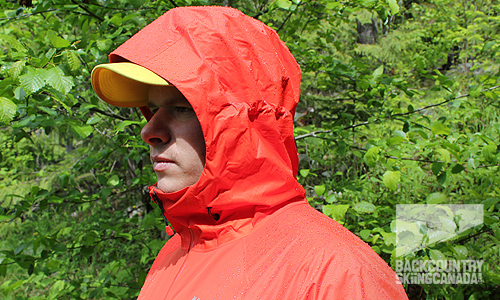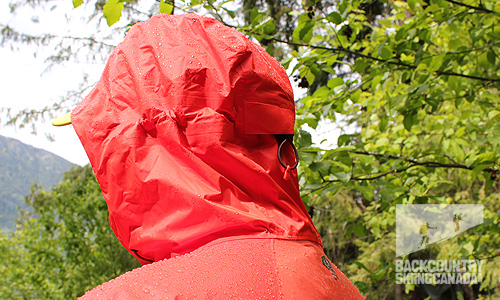 - Zipper garage and good coverage on the front of the face for when it really starts storming.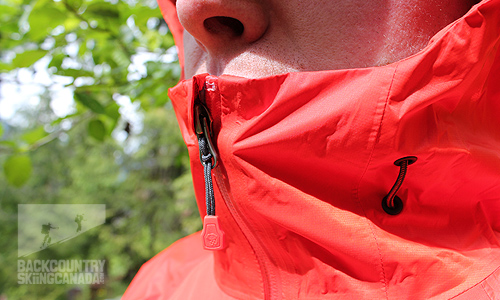 - 15 denier Dry.Q™ EVAP fabric combined with strategically placed stretch panels.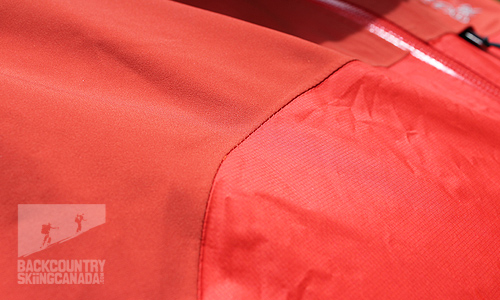 Verdict:
If you are wanting to spoil yourself and get the best you can get without spending over $300 this new lightweight rain jacket from Mountain Hardwear is a great option. I found it to be highly breathable, very waterproof and it cut the wind well. The fit was roomy but not baggy and the arms are a nice length. Colour choice is varied with 5 options. If anything, I wouldn't be likely to spend the extra money to get the features that this jacket offers over the more basic model but I'm sure for some people the welded seams, stretch fabric and extra pockets will be worthwhile upgrades.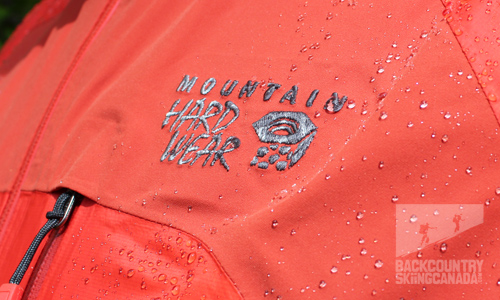 SPECS:
Price: $280 CAD
Colours:Static Blue/Deep Lagoon, Black/Black, Slate Orange/Russet Orange, Acid Green/Backcountry Green, Mountain Red
Weight 10.9 oz. / 310 g.
Sizes: S, M, L, Xl, XXL
PROS:
Lightweight, Very Breathable, Stretch where needed.
CONS:
A bit expensive for what you are getting, I think the other rain jacket options in the line have better value. As an example I don't feel like it's worth spending the extra $50 upgrading from the Capacitor Jacket to gain an oz in weight, stretch panels in the shoulders and sides and two extra pockets.
Rating: 8/10
Innovation 2/2
Function 2/2
Aesthetics / Fit 1.5/2
Features 1.5/2
Quality/Price 1/2

This is only our opinion. Do you disagree? Did we miss something? Are we totally out to lunch? Join the discussion in the forums here, and let us know what you think. People like/dislike gear for different reasons so chime in and we'll get a well-rounded evaluation.
Back to the rest of the reviews.
---