Mountain Hardwear Stretch Capacitor Jacket - Review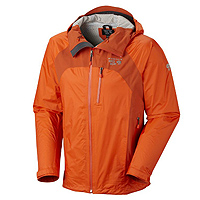 Living in the mountains weather can change quite quickly, especially in spring as we've seen here in the middle of May in Nelson, BC. Because of this it's very important to have a reliable water proof rain jacket in your hiking pack, ready to go in case the weather moves in. The most important factors for this category of jackets is packability, waterproofness, breathability, weight and affordability.
Traditionally the affordable packable rain jacket was sort of limited on it's ability to provide much more than an emergency shelter during a hike, forcing you to suffer a humid, clammy green house effect if worn while actually hiking. The jacket that I tested stands to change all this, giving people an option of being comfortably dry from the outside and from the inside as well....
Read the complete review over here in our gear review section.