Mountain Hardwear Phantom 32 Down Sleeping Bag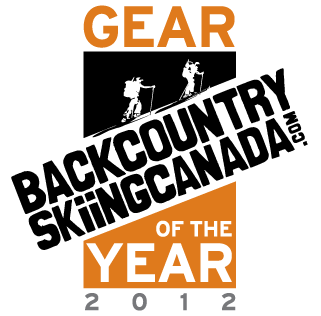 The Mountain Hardwear Phantom 32 Down Sleeping Bag was one of our favourite pieces of gear for the 2012 off-season. We were blown away by the light, compact design that didn't sacrifice warmth or comfort.
The Backcountry Skiing Canada Team.
---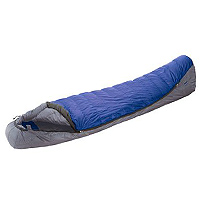 In the world of sleeping bags there are many different options for various activities and different times of the year. From the age old debate of down versus synthetic (or a hybrid) to the various temperature ratings of +5, 0, -10, -15, -20 or even -30 degrees. Over the years I have found that no matter which combination of these I choose my favorite sleeping bags always adheres to the basic requirements of lightweight and compact.
When introduced to the Mountain Hardware Phantom 32 degree sleeping bag I was happy to learn that it easily meets both of these criteria. Since it's made of down and has a snug mommy cut, the Phantom 32 is nice and light and with its zero degree rating it also compacts super small. The Phantom 32 is classified as a two season bag but we found that with a good tent and an insulating base layer clothing you can easily use this sleeping bag three out of the four seasons. For those number junkies out there, the Phantom 32 is rated at 0˚C / 32˚ F in accordance with the EN 13537 European standard the T Comfort rating is 2˚ C / 37˚ F, the T Limit is -2˚ C / 28˚ F and the T Extreme of -17˚ C / 0˚F, however this is an extreme survival rating and should not be relied on for general use.
The exterior of the Phantom 32 is made of 15-denier rip stop fabric with tuck stitched seams for added durability. The interior of the bag is lined with 20D Nylon Taffeta, which is soft and plush to sleep in. Between these two layers is 800-fill goose down. Despite the durable exterior, it is good to keep in mind that this is a down bag so you will have to treat it with special care and not be too rough on it. To keep it in tip-top shape it's important to follow the manufacturers suggestion for cleaning and always store it in the nylon storage bag (included) so that the down does not lose its loft over time.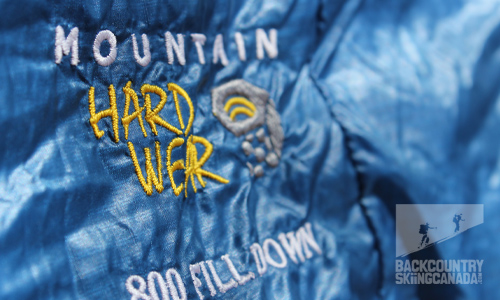 To keep you warm in the Phantom 32, Mountain Hardwear used 5" baffle spacing for optimal loft and warmth and to prevent the insulation from shifting around and creating cold spots. Additionally, an insulated draft tube along the zipper, a face gasket and a tailored hood with a draft collar give added comfort and block out all drafts. Up at the head you can adjust the single-handed draw cords to keep things nice and snug when the nights get colder. At the other end, Mountain Hardwear has designed the 'Comfort Footbox,' which essentially follows your natural foot position (and not purely horizontal) for maximum warmth and comfort.
Inside the neck area Mountain Hardwear was thinking and included not one but two pockets: one zippered pocket for precious cargo like a headlamp or iPod and a second velcro pocket for earplugs and TP - for that midnight sniffle or the call of nature.
All of this goodness weighs in at only 640g (my back just smiled there) and compresses down to something the size of a Nalgene bottle - thats about 10" x 5" for those with BPA phobias out there. With all these features and a weight and stuff size like this it's no wonder then that is the most popular down bag Mountain Hardwear makes.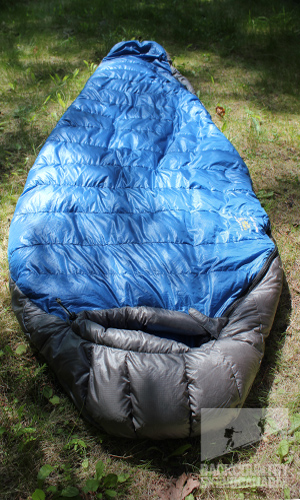 Features:
Lining: 20D Nylon Taffeta
Insulation: Piumino 800 fill Down
Loft: Tight 5-inch baffle spacing creates optimal loft
Hood: Six-chamber hood design maintains even loft around head for consistent warmth. A down-filled face gasket comfortably blocks drafts at the hood opening
Storage: Nylon mesh storage sack and stuff sack included
Pockets: Dual pockets for storage, one with velcro fastener and one with zipper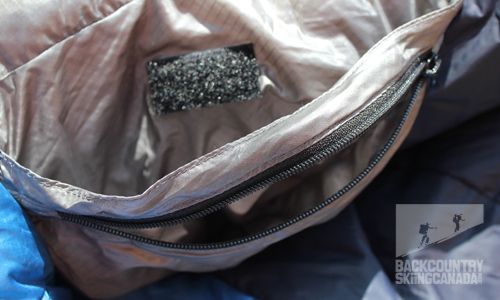 Adjustments: Single-handed drawcords simplify adjustments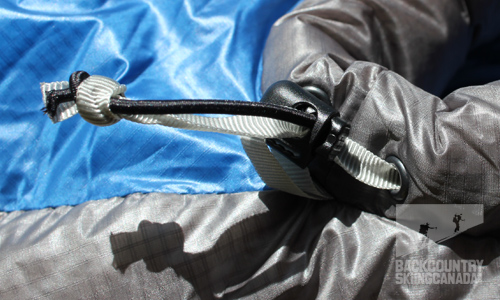 Shell: Superlight 15D Rip stop Nylon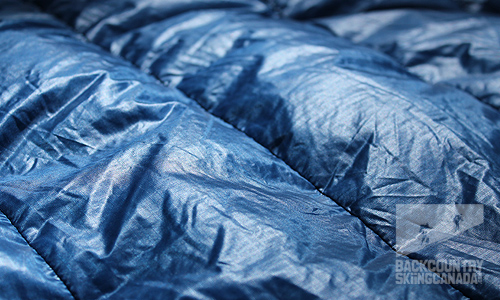 Footbox: Follows natural foot position for maximum warmth and comfort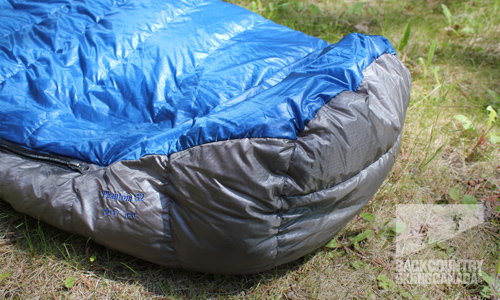 Fastener: Velcro fastener to keep the zipper secure and things snug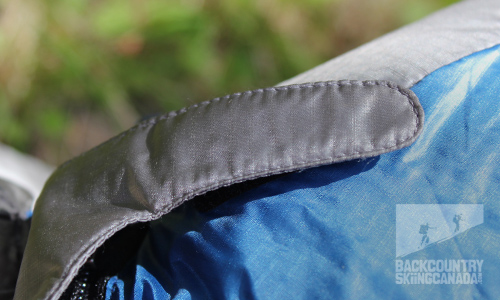 Zipper: Two-way zipper with insulated draft tube with anti-snag panel prevents cold spots along zipper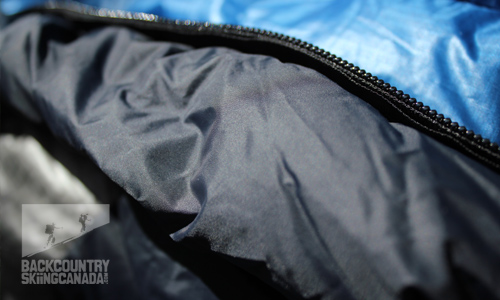 Verdict:
Despite having a super small compression size, with 4" of loft the Mountain Hardwear Phantom 32 degree Down Sleeping Bag puffs up soon after being released and, as such, the bag can still keep you toasty warm. This loft contains a mixture of air and down (mostly air) and while it's the air your body heats up, it is the down that retains the heat. Functionally this means you get a tremendous amount of warmth from a light and small bag. The face gasket and draft collar also add to the warmth of the bag.
Through out my testing, I found the Phantom32 to be the perfect summer bag in the mountains where night temps routinely get down around 10˚ C at valley bottom and well below 5 ˚ C in the alpine. In addition, it's also a good option for winter hut based backcountry skiing trips since you have the protection and safety of a heated hut. If you are unsure of the hut location, however, I would recommend a 4 season bag as the added weight will easily offset the risk of spending a cold night out.
Of all the things I liked about the Phantom32 (how light and compressible it is, how comfortable the nylon Taffeta lining and "Comfort Footbox" are, how durable the rip stop fabric is), my favourite feature has to be the double pockets up near the top. I really appreciate this added detail as I was forever losing my ear plugs and iPod as I fell asleep listening to music and/or podcasts - no more!
If synthetic insulation is more your thing and you want to save a C-note then consider the Mountain Hardwear UltraLamina sleeping bag. If the 0°C temperatire rating isn't enough warmth for you then you should have a read of our Mountain Hardwear Hibachi Sleeping Bag Review as it's rated to -11°C.
A whole lot in a very little package (not the stuff sack included)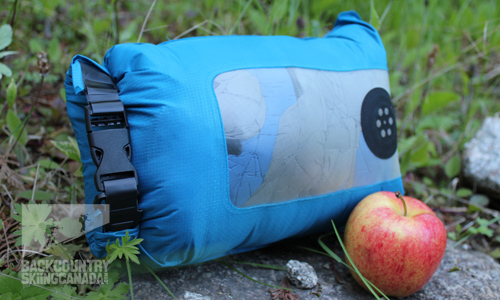 SPECS:
Price: $350US
Weight: 1lb 7oz / 640g
Colour: Vivid Blue
Insulation: 800 Down fill
Bag Shape: Performance Mummy Cut with "Comfort Footbox"
EN Rating: T-Limit 28F / -2C, T-Comfort 37F / 3C
Loft: 4in / 10cm
Stuff Size: 7x8in / 18x20cm
Length: Regular 78in / 198cm, Long 84in / 213cm
Shoulder Girth: Regular 60in / 152cm, Long 62in / 157cm
Foot Girth: Regular 38in / 97cm, Long 40in / 102cm
Hip Girth: Regular 56in / 142cm, Long 58in / 147cm
PROS:
Super light and very compressible. Two storage pockets are a nice plus for ear plugs and headlamp.
CONS:
On the higher end of the price range.
Rating: 9/10
Warmth                1.5/2
Compressibility     2/2
Features               1.5/2
Weight                  2/2
Quality / Price      2/2

This is only our opinion. Do you disagree? Did we miss something? Are we totally out to lunch? Join the discussion in the forums here, and let us know what you think. People like/dislike gear for different reasons so chime in and we'll get a well-rounded evaluation.
Back to the rest of the reviews.
---