High Trail Evotec Climbing Skins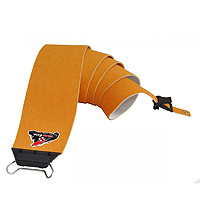 Nova Sport AG, the Switzerland-based parent company of the High Trail brand, was founded in 2005 by Yvonne Rochat and since then has tried to perfect climbing skin technology. For years it offered the classic, which is a glue-based, 100 percent mohair skin, but now the company has ventured into the "glueless" market with its Evotec skins, which are 65% mohair and 35% nylon. (A quick note about mohair versus nylon: the latter provides great traction and durability and is more hydrophobic but they don't glide as well as mohair and so are considered "slower." Check out our 'Climbing Skins 101' video here for more on this.) There are other companies that have been attempting to perfect the "glueless" skin (read our review of the Geko climbing skins here) but just like the traditional climbing skin market, there have been some growing pains along the way. The challenge is coming up with an adhesive formula that works in all kinds of conditions, from -30°C to +5°C and in light and dry snow or soaking wet slush. Not an easy feat but High Trail claims to have created a silicone-based adhesive coating that it says "has remarkable performance characteristics that are ground-breaking when compared to conventional adhesive skins." Here are some of the company's claims about the Evotec skins:
- Evotec skins have consistent adhesion every time they are used, in any weather, even at very low temperatures
- The adhesion coating is not affected by sun and warmth
- The coating is maintenance-free
- Even the widest skins store easily with adhesive side against adhesive side with no need for "skin savers" and they can be pulled apart easily
- The skin's plush adhesion coating can be washed in cold water to remove any dirt

That's a lot to claim for a climbing skin but if High Trail has perfected the adhesive, then they deserve to brag. However, the issue with other "glueless" climbing skins has been their performance in cold and dry conditions and their longevity. Unfortunately, we won't be able to speak to the longevity of the skins in this review but as the season progresses, we'll continue adding notes on this page.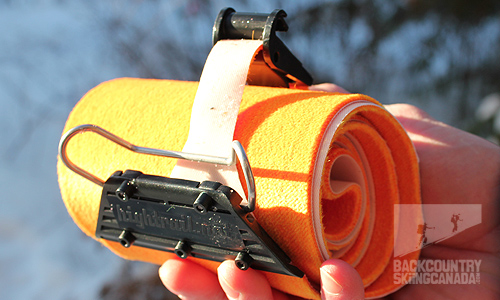 High Trail Evotec Climbing Skins Kit Contents:
- 1 pair of skins (65% mohair, 35% nylon)
- 2 Eagle toe clip mounts
- Trimming knife
- Skin bag
- Instructions and care information
The tip clip on the top and underside of the ski.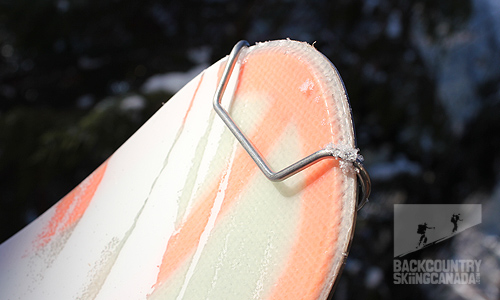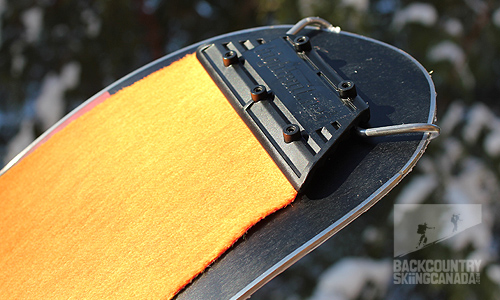 Tail cam on the top and underside of the ski.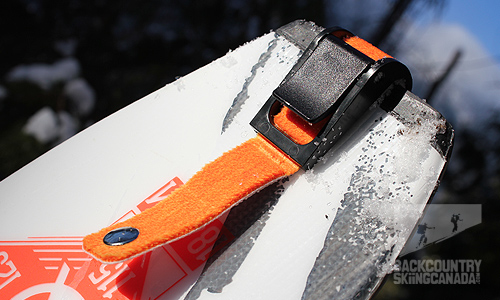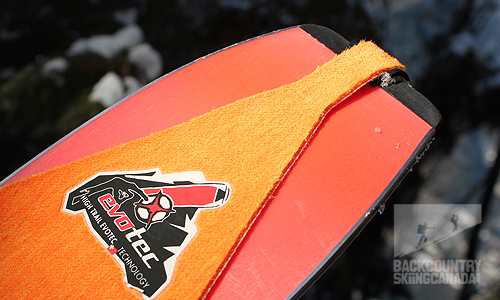 Verdict:
The first thing I noticed when I took the High Trail Evotec Climbing Skins out of the box was the tail clip system, which is cut out of the one piece of mohair/nylon fabric and has a moveable plastic clip on it. Immediately I wondered just how long it would take me to either break that clip or tear the mohair itself. (I've broken a few tail clip systems on other skins and they were an easy replacement – not so with these.) Also, there's a metal rivet in the tail piece that's there so the plastic clip doesn't fall off but what it also does is slap against the top of your ski as your moving, making a "tic tic tic" noise.
When it came time to cut the skins and apply the tip piece the process was a bit finicky but I was impressed with the Eagle mounts, which are metal and wide enough to fit the tips of the fattest skis. (Click here for a tutorial video of how to cut your Evotec skins.)

Once we got the skins out onto the mountain, they performed excellently from -15°C to -5°C conditions. They had excellent glide and grip, shed water really well and, the best part is they were super easy to take apart. On another backcountry trip in -15°C weather I've literally stood for 10 minutes at the base of a run trying to get my old-school glue skins apart – eventually I had to enlist the help of a friend and even then it took us another five minutes and some popped blood vessels to get them to separated. I never perceive this happening with the Evotecs. The key with these and with all glueless skins, though, is that you want to ensure you always keep them in your jacket on the way down. Fail in this, especially in colder weather, and you might find they don't have enough stick for the return trip up especially if they are contaminated with snow, that snow will need to be melted off with your body heat prior to re-applying. We'll be better able to speak to this and to the durability of them after a full season but in the meantime, the High Trail Evotec Climbing Skins are definitely worth checking out.
The plush is 65% mohair and 35% nylon for a good mix of grip and glide.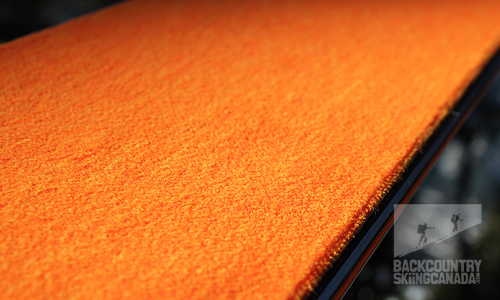 ---


Update December 2016:
High Trail's glueless, Evotec climbing skins have been under my touring skis for a full season now, and I can confidently say that they perform far better than the Gecko glueless skins we reviewed the previous year. A climbing skin claiming to be "glueless" is a bit of a misnomer: while it's true that traditional glue is not used, the silicone-based adhesive that is used could still qualify as a glue of sorts. Glue vs. adhesive debate aside, the composition of the new Evotec skins has changed. They are no longer 65% mohair / 35% nylon, but rather 100% synthetic. According to Yvonne, the owner of High Trail, the exact material composition is a secret which he will not divulge. However, he did tell me that this new material provides an additional 15% weight savings over the previous version, which was already considerably lighter than traditional glue skins. Yvonne also told me that the silicone-based adhesive is stickier than the previous version even though the formula has not changed, thanks to the new secret synthetic skin material. Lightness and stickiness are two properties that are always a plus for any climbing skin, but how they work in the field is the real deciding factor. Having over a dozen ski touring days on new Evotec skins, I can tell you that I would have to agree with all of Yvonne's claims. They do stick better than the previous version, and their weight (albeit minimally noticeable) is also lighter. On my second ski tour of the year, I made the potentially fatal error of forgetting my poles at home. However, with my newly found confidence in the Evotec skins I decided to carry on sans poles. Climbing 1300 vertical feet without poles is a great way to test the 'gription' of skins while getting a killer thigh workout. The Evotec Synt Plus skins (as they're formally called) performed flawlessly, and even without my poles, I didn't slip back once, even on the steeper section of the climb. The previous version of Evotec skins (which I am also testing) are still performing like new with well over 50 days on them. The adhesive remains sticky and debris free thanks to the ability to clean them with only water. The plush side still grips and glides as always, and my initial worry of the tail section tearing has not become a concern to date. The new Evotec Synt Plus skins still have the same tip and tail hardware, which is simple but works well. If you are considering new climbing skins and want an alternative to hernia-inducing traditional glue skins, then consider the new Evotec Synt Plus skins, which are ideal for female backcountry skiers in your group as well.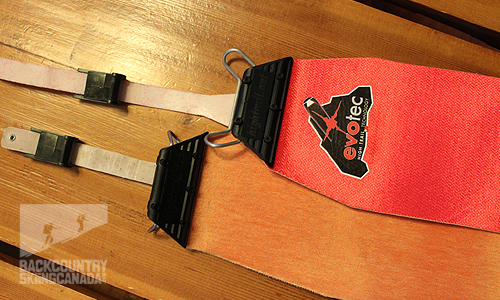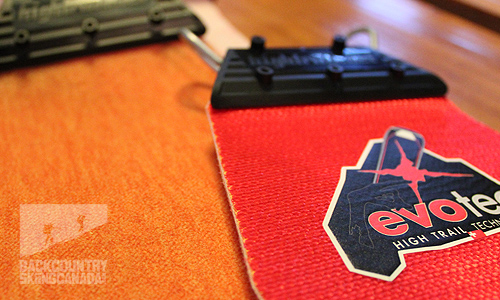 ---
SPECS:
Price: $186 – $220 US
Size: Standard widths up to 140mm
Weight: 396 grams (14oz) each uncut
PROS:
The glide and grip are excellent and they're super easy to take apart. Also, the tip piece will fit any size of ski.
CONS:
The tail piece is made of the same material as the skin and the clip is plastic, which I believe will break in due time. Also the metal rivet at the end of the tail piece tends to smack against the top of the ski in an annoying way as you walk. The adhesion to your skis is temperamental in very cold conditions so be sure to keep them warm in your jacket on the ski down. The durability of the rest of this product remains to be seen and we will report back after a full season on them.
Rating: 8/10
Grip/Glide 2/2
Glue 1.5/2
Attachments 1/2
Weight 2/2
Quality / Price 1.5/2

Join the discussion in the forums here, and let us know what you think. People like/dislike gear for different reasons so chime in and we'll get a well-rounded evaluation.
Back to the rest of the reviews.
---