High Trail Climbing Skins - REVIEW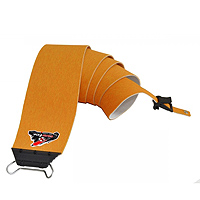 Climbing skins are evolving and High Trail has developed the Evotech glueless skins which use a silicone instead of a traditional glue. We previously reviewed the Geko climbing skins and so far with our on-going testing the High Trail skins seem to be performing better. Out onto the mountain, they performed excellently from -15°C to -5°C conditions. They had excellent glide and grip, shed water really well and, the best part is they were super easy to take apart.
Read the full review of the High Trail Evotech skins here and be sure to check out our 'Climbing Skins 101' video here.
In addition to being easy to separate, the High Trail Climbing Skins are lighter and more compact!