Grand Trunk Hammocks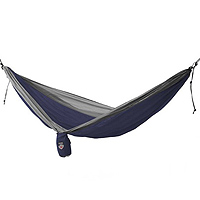 Grand Trunk is a Chicago based company that specializes in gear for travel most notably travel/hiking hammocks, accessories and goods for the road. The company was formerly known just as The Travel Hammock but changed their name a number of years back as they started to make more products. Obviously lounging is by far the most popular use of a hammock and rightfully so, Grand Trunk's hammocks won't disappoint in this regard as they are comfortable and easy to set up. Compared to a Mexican woven hammock or similar these designs give the benefit of better durability, smoother fabric and better packability.
In this review we will be testing three different hammocks, a tarp, and a hanging kit. Each hammock has its own strengths and weaknesses and I will attempt to make note of these differences. First up is the Grand Trunk Hammock Tree Sling Hanging Kit, followed by the All Purpose Rainfly, then the Parachute Nylon Double Hammock, the Microlight Nano-7 Hammock and finally the Grand Trunk Ultralight Hammock.
The three hammocks are all reasonably small in size, the most impressive though was the Nano which was a fair bit smaller than a 1L Nalgene water bottle and weighed only 7.5oz. Most people would use a hammock as a comfortable way to rest on a hike or day at the park. I feel like with the three choices presented there's something for everyone. Choose between great value, compact size and low weight or generous size and most comfortable fabric.
Hammock camping is a growing segment as more and more people realize the benefits of sleeping off the ground. In my experience, having slept in a number of travel hammocks, my preference for camping is definitely a hammock over a tent in many situations. Hammock camping is not for everyone though so make sure that you test out your ability to have a well rested sleep in a hammock before relying on one for a long excursion. One of the more important aspects about hammock camping is getting a proper ground mat under your body as with all that air passing under you at night, the chances of getting cold are very high. I have had good success with a Exped Down Mat as they are thick, warm and you can get good insulation out of them without having them rock hard inflated.
---
Grand Trunk Hammock Tree Sling Hanging Kit:
Price: $19.99US
Weight: 159g / 5.6oz
Material: Synthetic 5mm cord
Length: Two 20-ft cords with slings
This hanging kit makes set up much more straight forward while also protecting the trees with nylon webbing over the rope. For the cost this is a worthwhile purchase if you are wanting a simple way to set up your hammock.
Features:
- The ropes are knotted for easy adjustment and hammock tension.
- This kit is rated to 400lbs.
- Comes with a nylon stuff sack.
- Set includes 2x10 ft knotted ropes and 2x24" Tree Protectors.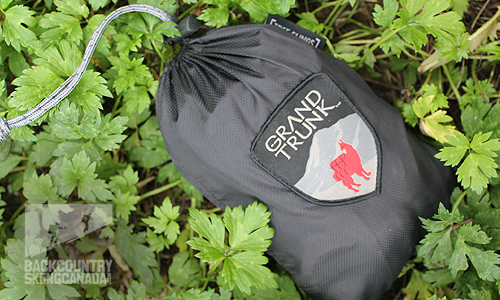 The Tree sling kit protects the trees and your ropes from pitch and makes set up a snap.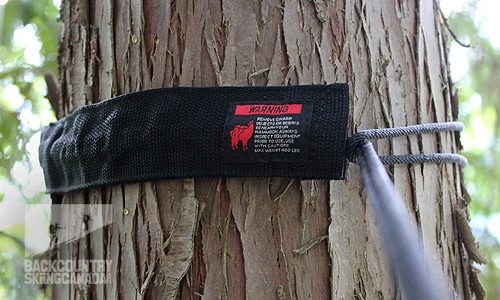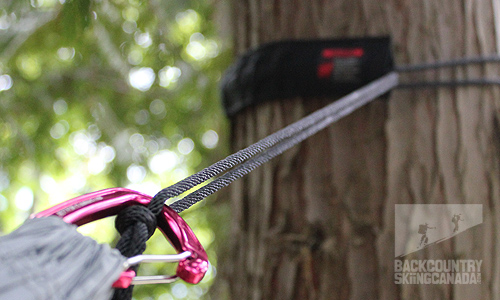 ---
Grand Trunk All Purpose Rain Fly:
Price: $79.99US
Dimensions: 10' (L) X 10'(W)
Weight: 567g / 20oz
This tarp is pretty straight forward, it is a good quality tarp made from polyester ripstop 210T-PU Coated waterproofing rated to 500 mm. There are 15 take off points and the tarp comes with both guy lines and ground stakes. The tarp has a unique shape designed for hammock use but would also be a good guides tarp, sunshade or emergency shelter.
There are better, lighter tarps on the market but for the price this is a good one. The polyester means it will do well in the sun in regards to UV damage and have very little stretch. Polyester is also naturally water resistant unlike nylon.
All seams are triple stitched and there are 3/4" nylon webbing take off points and reinforced grommets in the corners. The guy lines are decent with adjusters included. The material used in the guy lines could be better quality, some were already frayed when new. There are six aluminum ground stakes included also. These are not super high end stakes and are notorious for bending when used in tough ground.
Features:
- 210T PU-coated waterproof ripstop polyester.
- Triple-stitched reinforced seams and reinforced corner grommets stand up to seasons of use.
- Included stuff sack, stakes, and guy lines.
- 15 Takeoff ¾" nylon webbing tabs.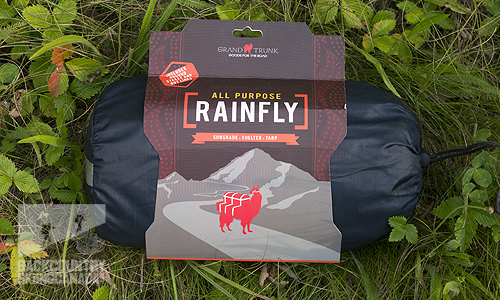 There are 15 3/4" Nylon take off points to attach guy lines to and the distinct catenary cut designed is specifically shaped for hammock use. Whether you are blocking sun or rain this shelter is a great addition to your hammock set up.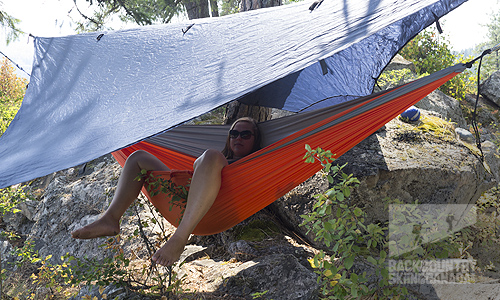 The All Purpose Rain Fly comes with 6 aluminum ground stakes and guy lines for set up.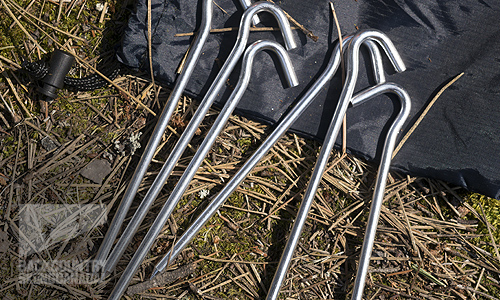 ---
Grand Trunk Parachute Nylon Double Hammock:
Price: $64.99US
Dimensions: 10' 6" (L) X 6' 6" (W)
Weight: 567g / 20oz
This was my favourite hammock of the three from Grand Trunk that I tested because it was generous in size, made of high quality parachute nylon and came with ropes for set up. The nylon breathes very well and naturally stretches around your body to keep things super comfortable. Included with this hammock is a basic hanging kit and nautical grade steel carabiners. There is a stuff sack sewn to one edge of the hammock for easy packing.
No hammocks are comfortable sleeping two people but this Double was great for lounging with two people and the best option for large sleepers.
There is ample room for a sleep mat to keep you warm over night and the edges can even be wrapped around you, there is that much extra room.
I would recommend this hammock to someone who wants to primarily use it for car camping, parks, day hikes or setting up at home. Larger campers would be very happy to use this for a sleep system, I would just upgrade the hanging system and pair it with a tarp and bug protection where needed.
Features:
- Capacity of 400 lbs.
- Triple Stitched SeamsPros: Super Roomy, breathable, cool colours.
- High-strength, mildew-resistant with triple-stitched seams and nautical-grade hanging carabiners.
- Rope and hanging instructions are included.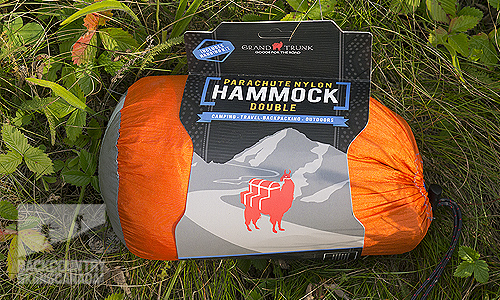 The bag sewn to the side of the hammock makes packing things up convenient.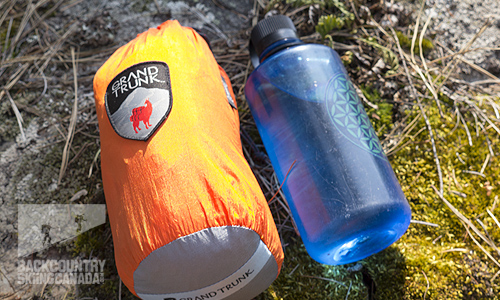 The Parachute Nylon Double has ample room for sitting no matter your size and lot's of room for two people to hang out.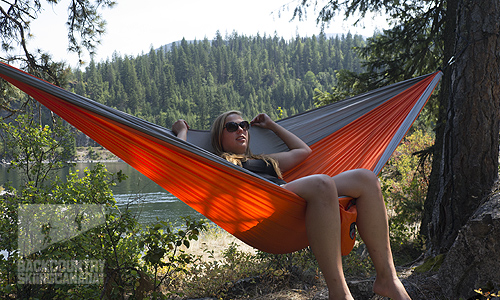 Stainless steel carabiners attach to the included hanging kit.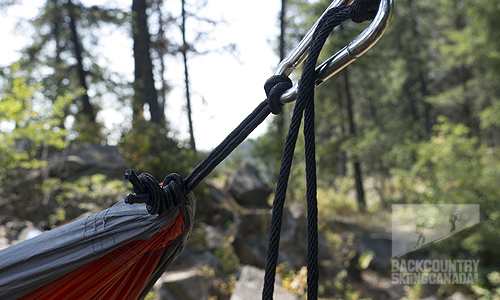 ---
Grand Trunk Microlight Nano-7 Hammock:
Price: $69.99US
Dimensions: 9' (L) X 4' (W)
Weight: 212g / 7.4 oz
This is the lightest and most compact hammock on the market and is very popular among the weight saving crowd. Initially I was very impressed with the concept but it only took a few moments setting it up to realize that it was not going to work for me. I am 6ft 2in tall and larger in size and it was just too small for me. I tried laying in it but quickly fell out onto the ground, too bad.
The hammock comes with two high quality climbing carabiners and needs to be paired with a hanging kit of some kind to be functional. The carabiners are light weight aluminum wire gate, very strong and light weight. There is also a stuff sack sewn to one edge of the hammock for easy packing.
Because the fabric used in the Nano is so tightly woven it has a less forgiving feel and is less breathable. When you go extremely light weight you have to expect a compromise and in this instance you are sacrificing comfort, durability and function in regards to sleep mat choices. This is a great option to have in your back pack and for smaller campers it is the lightest hammock available for a sleep system.
Features:
- 100% Rip-Stop Nylon.
- Triple Stitched Seams.
- Includes Bent Wire Carabiners
- Capacity of 300 lbs.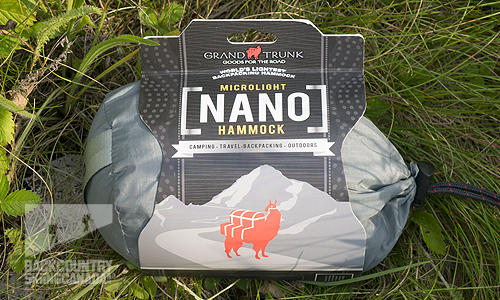 Easy to pack away into a bag sewn to the side of the hammock.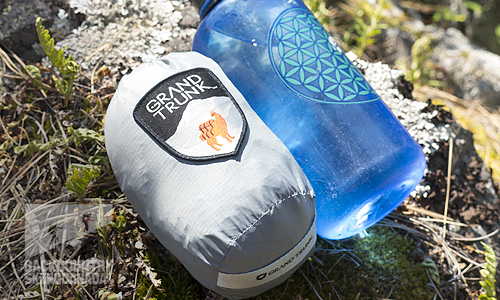 The Nano has room for small to medium sized campers lying down.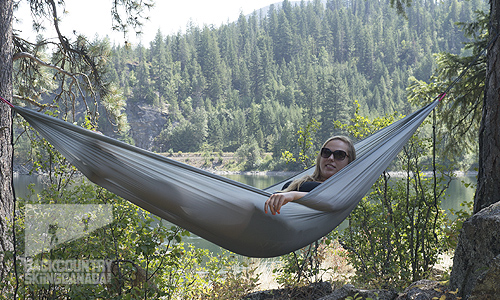 A close up of the high quality aluminum wire gate climbing carabiners, notice there is also no rope tying the ends of the hammock together just a well thought out use of the lightweight nylon ripstop fabric. Saves on both weight and pack size.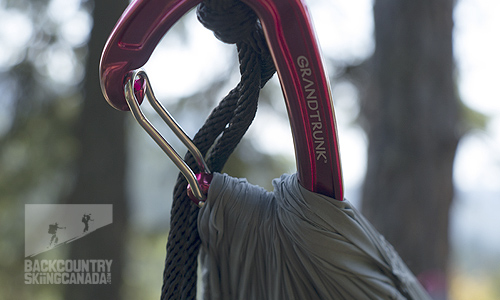 ---
Grand Trunk Ultralight Hammock:
Price: $19.99
Dimensions: 9' " (L) X 4' 5"(W)
Weight: 340g / 12 oz
This hammock is great for people that want to get a camping hammock but don't want to spend a lot of money. The design is very similar to the parachute nylon double hammock but smaller and instead of using an iron carabiner they use iron S hooks. This is to save money and really effects the load allowance of the whole set up.
The fabric used is a polyester taffeta which is a fabric often used as a liner material of jackets. The taffeta fabric is naturally quite breathable, has low stretch and is smooth to the touch. Less expensive than parachute nylon, this polyester fabric still does a good job.
There is a stuff sack sewn to one edge of the hammock for easy packing.
Features:
- 100% Polyester Taffeta.
- Triple Stitched Seams.
- Capacity of 250 lbs.
- Alternative to a tent and sleeping pad for the light and cost-conscious traveler.
- Sturdy S-shaped hanging hooks.
- Durable polyester, and triple-stitched seams boost the hammock's strength.
- Mildew-resistant, machine-washable fabric.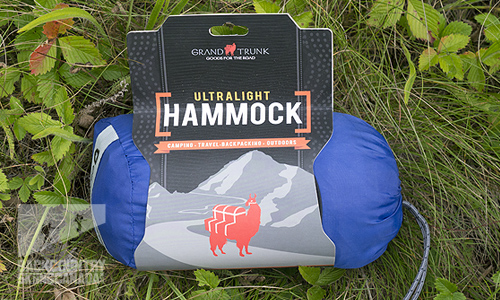 For a hammock this low in price you can still have a comfortable nap or overnight.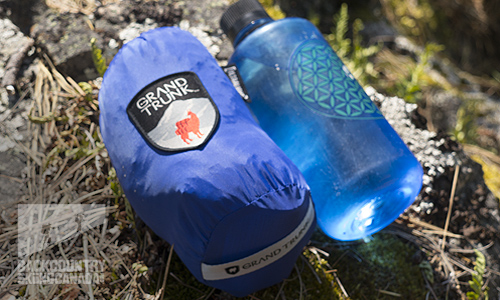 Even the economy model at $20 has a built in bag sewn to the side for convenience.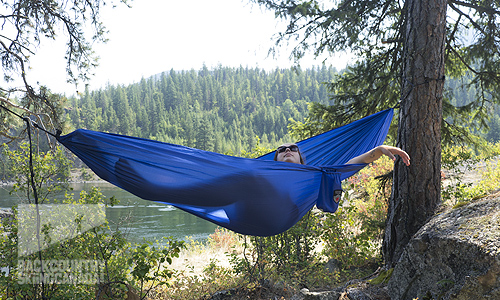 To save money a Steel S hook is used instead of a carabiner, sacrifices weight allowance but great value.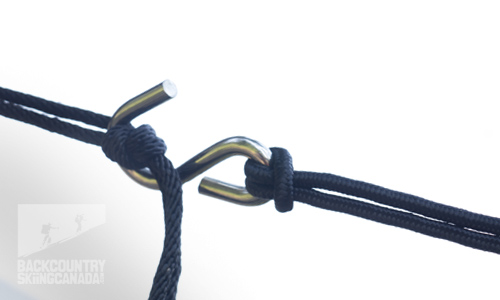 ---
Verdict:
Grand Trunk has produced a number of good products from what we have seen. They compete very well with the competition, such as Eagles Nest Outfitters. The most remarkable items are the Nano Hammock for its extreme weight reduction and compact size and also the ultralight hammock for its great value at $20. I would like to see how the Nano Hammock holds up over time as it is a very light fabric. 
Grand Trunk has a huge range of hammock product so there is likely something for everyone's preferences and price range however hammock camping isn't for everyone so be sure to test out a hammock set-up in the comfort of your backyard before venturing into the mountains for that week long epic traverse. Grand Trunk's products offer up good value at a very fair price for those looking to lighten up their camping set-up or perhaps those who just wanting to try something new.
If you are interested in another hammock brand then read our review of the ENO Onelink Slpee System here.
PROS:
- Tree sling Hanging Kit is easy to set up and very convenient.
- Rain Fly is well priced and comes with triple stitched seams.
- Nylon Double Hammock is super roomy, breathable and comes in cool colours.
- The Microlight Nano Hammock has an amazing minimal pack size and low weight.
- The Ultralight Hammock is a great Value at just $20 and very light weight.
CONS:
- You could purchase your own cord for less than the price of the Tree Sling Hanging Kit.
- Rain Fly comes with low endsStakes and guy lines and is a little bulky.
- The Nylon Double Hammock is bulky and could be lighter weight. The included hanging kit isn't very useful as the ropes aren't very long and there are only two adjustment knots.
- The Microlight Nano Hammock is too small for large people and the fabric lacks breathability.
- The Ultralight Hammock S hooks are a little sketchy for hanging the hammock, I also question the strength of fabric and long term durability
Rating: 8/10
Comfort          1.5/2
Design             1.5/2
Features          1.5/2
Weight             2/2
Quality / Price 1.5/2

This is only our opinion. Do you disagree? Did we miss something? Are we totally out to lunch? Join the discussion in the forums here, and let us know what you think. People like/dislike gear for different reasons so chime in and we'll get a well-rounded evaluation.
Back to the rest of the reviews.
---