ENO Onelink Sleep System Hammock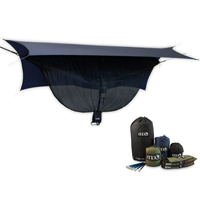 Eagles Nest Outfitters or 'ENO' is a company that specializes in building the world's best hammocks. They are now based in Asheville, NC. They build hammocks and outdoor lifestyle accessories for travelers, campers and hikers. The company was started in 1999 by brothers Peter and Paul Pinholster, who decided they wanted to build the world's most comfortable hammocks. The two brothers started out in a minivan traveling the East Coast of the US, selling their hammocks along the way at music festivals and community markets. The company has grown globally in sales and avid followers of the brand.
The OneLink Sleep System – DoubleNest comes as a tidy package with each piece in it's own stuff sack. The Guardian Bug Mesh and Hammock have stuff sacks sewn along the edge so you don' t lose them. All the individual pieces fit nicely in the larger stuff sack pictured in the image above.
 
The OneLink Sleep system is a hammock package that includes a number of must have items in order to enjoy hammock camping to its fullest. The kit includes the following, a Hammock, Rainfly, Suspension Straps, Bug Mesh and Aluminum Stakes. There are choices when it comes to the hammock and the rainfly. We chose the Doublenest Hammock and the Profly. They came packaged nicely in a stuff sack with the other items all ready to go for a day in the mountains.
The great thing about hammock camping is that as long as there are trees around, you can always find a place to sleep. This flexibility for choosing a campsite really gives an advantage over tenting. Also, there's never the risk of rolling over and finding a stone or stick in your back that you didn't notice when you set up camp.
One tip that I mentioned in the Grand Trunk hammock review was the importance of a sleep mat. You really do need a good mat to prevent convective heat loss in cooler weather. The slightest night time breeze can quickly rob you of a good nights sleep
There are also under quilts available for people that want added warmth during late fall or winter. They are for the dedicated cold season hammock campers. I am looking forward to testing one, that is if I can get my hands on one.
DoubleNest Hammock
Dimensions: 9' 4" (L) X 6' 2" (W)
Weight: 595g / 21oz
The DoubleNest Hammock is a classic ENO design using high quality woven breathable nylon. ENO makes three sizes of their hammocks, the SingleNest , DoubleNest and DoubleDeluxe. The DoubleNest is very popular and will work for most people. The DoubleNest is perfect for larger people, couples or a few kids to hang out in. At 6 2" and around 250lbs I really like the extra room this hammock has to offer. ENO limits capacity at 400lbs, so keep that in mind.
Super Cozy with lot's of room to spare, my girlfriend shows the extra space available. Please note, she is not 6 2". or 250 lbs. The ENO DoubleNest was just plain comfortable.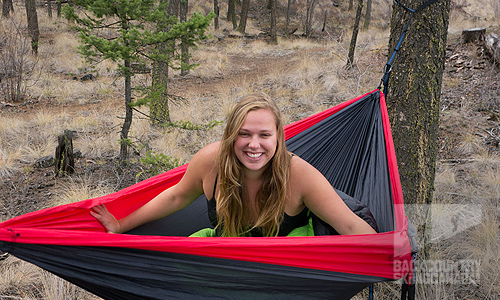 The cut on this hammock is more comfortable than the comparable Grand Trunk Hammock Reviewed here. There was however a fair bit of extra fabric to flap around in the wind, you win some you lose some.
The carabiners provided are high quality aluminum and light weight. They connect very well with the Atlas suspension straps that come with this kit. Eno has put together a very good quality hammock with great construction and fabrics.

ENO includes a stuff sack for the hammock sewn to the edge so you will never lose it. The stuff sack has a draw cord and compression straps.
ENO has been producing hammocks for a long time and supports their products with a 2 year guarantee. The seams are interlocking triple stitched with super strong nautical grade line being used for the attachment points.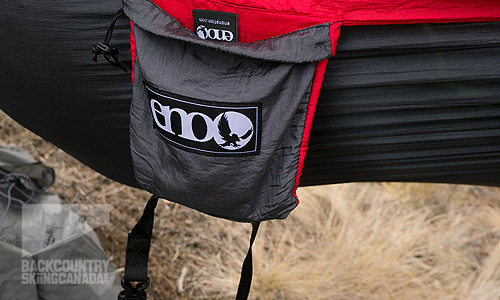 Easton Aluminum Stakes
Dimensions: 6"
These stakes are very good quality. You get 4 with the OneLink DoubleNest Sleep System. They are round stakes made of good quality aluminum, are very strong and have a hole at the top of the stake to tie the guy lines to. As with everything in this kit they come with a nice stuff sack. Great Quality stakes are important, ENO includes 4 sturdy Eason aluminum Stakes.
Atlas Straps
Dimensions: 9' 1"
Weight: 311g / 11oz
The Atlas Straps Kit is a pair of durable 1" Flat Poly Filament Webbing lengths with daisy chained loops stitched securely along to attach the carabiners from the hammock. Each strap has a loop on the end that you use to secure the strap to the tree. These straps are wide enough that they protect the tree without any additional pieces. The Atlas Suspension System attaches securely to a tree with just a quick pass of the webbing through the end loop.
Having a dedicated solution for hanging your hammock is a must have. A lot of people suggest just getting some webbing and tying knots in it. I have found that with the ease of use and compact size that a a strap kit gives you it's money well spent.
I chose the Atlas straps over the SlapstrapPro because I wanted the quickest set up and I wanted to try the new 30 daisy chain design. The Slap Straps on my SingleNest are good but it can be hard to fine tune the tension. The Atlas strap design offers the most adjustability and made set up fast and easy.
Guardian Bug Net
Dimensions: 9' 4" x 4' 3"
Weight: 453g / 16oz
Materials: 950 square inch No-see-um netting
In British Columbia there are various areas that get hammered with mosquitos and black flies. In these zones having a bug net is a must have. The Guardian Bug Net gives you a fully sealed protective barrier to all flying and crawling insects. It is easy to set up and also provides ample head room and a very simple access point.
Two Double Sides zippes provide easy access in the middle of the Guardian Bug Net. The whole set up works perfeclty together, keeping you dry and bug free.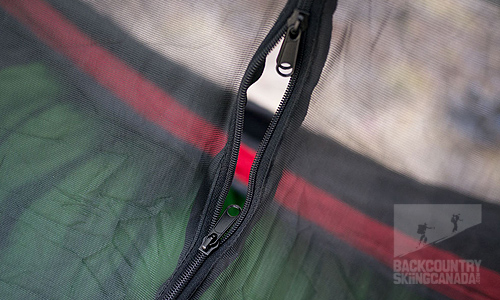 ProFly Rainfly
Dimensions: 10' 6" x 6' 4"
Weight: 623g / 22oz
Materials: Poly Coated Ripstop Nylon
The ProFly Rainfly was easy to set up and works great to keep the weather at bay. I really liked the included LineLoc Fasteners and guy lines, they were easy to tension. As with the rest of the products in this kit, the ProFly is super well thought out and works great with the OneLink System. There is ample room under the tarp for keeping your gear dry as well. The guy lines included are lightweight and have a stiff quality which makes them easy to handle. The coverage for the fly was enough to keep some gear below dry if things aren't too stormy.
Atlas Strap and Pro FLy in action, notice the looping daisy chains for quick adjustment.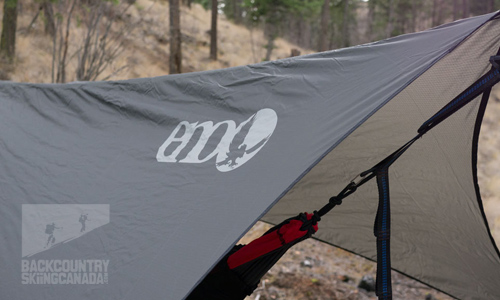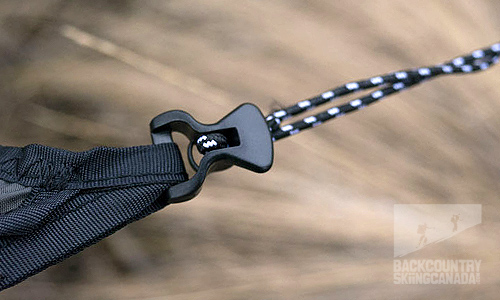 All Set up with a great view, the OneLink Sleep System - DoubleNest should offer some great outdoor sleeping experiences.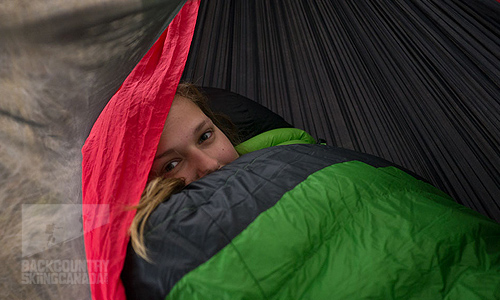 I have owned a few of these hammocks before doing this review and they are really a product that I recommend. I have an ENO single nest that is going strong after 6 years and know people who have had similar experiences having sold them for as many years at Rivers Oceans and Mountains Shop in Nelson, BC. 
Now that ENO has produced some newer products like the Reactor hammock and Pronest there are other great choices to be had for the more specialist users out there. I was able to try camping in early March this year and this set up worked well for some chilly overnight temperatures up at Edith Lake in Kamloops. I think that the sleeping bag and undermat really contributed to the successful sleep. Temperature was about -4 C with a bag rating of -15 C.
Verdict:
As a hammock system the OneLink Sleep System - DoubleNest is a very complete kit. You get a good value buying it all together and since everything comes in its own stuff sack, it's easy to keep things organized. I like ENO over other complete hammock systems because it's modular, making it so you don't have to take all the pieces with you on any given excursion. All of the pieces in the OneLink Sleep System are available separately. Also, if you just want a hammock at the beach you have that option too. I also like the bright colours, some other brands make their hammocks in survivalist colours only and that is functional too, but sometimes having a bit of colour is fun. I have spoke to people who have had their ENO hammock for over 10 years and going strong.
SPECS:
Price: $220 US (Sold as a package)
Includes: DoubleNest Hammock, Guardian Bug Net, Atlas Suspension Straps, ProFly Tarp, and Easton Aluminum Stakes
PROS:
All pieces of the ENO OneLink DoubleNest Sleep System are well made and work well together, you can trust the brands quality and they do a lot to maintain a community of users which means they know what to make next. Buying the whole kit together saves you money. Overall the biggest pro is that the hammocks are very comfortable and easy to set up.
CONS:
If you are thinking of using this as your sole camping solution there are some pit falls. You need trees that are the right spacing and, the whole package is heavier and more bulky than sharing a lightweight two person tent with someone. These hammocks are not as warm as a tent and you can't share body heat through the night. In a heavy wind the extra hammock fabric flaps around a lot, consider getting a Single Nest if you don't need the extra room. Also the DoubleNest does have a lot of spare fabric, allowing the sleep mat to shift around at night if you toss and turn
Rating: 9/10
Comfort:        2/2
Design:           1.5/2
Features:        2/2
Weight:           1.5/2
Quality/Price: 2/2

This is only our opinion. Do you disagree? Did we miss something? Are we totally out to lunch? Join the discussion in the forums here, and let us know what you think. People like/dislike gear for different reasons so chime in and we'll get a well-rounded evaluation.
Back to the rest of the reviews.
---