Foon Gretski Skis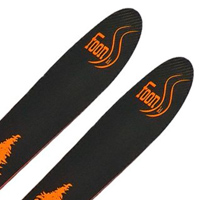 The Great White north (aka Canada) is know for a few things: saying "eh" after every sentence, Tim Horton Donuts and the legendary Wayne Gretzky (not necessarily in that order). Not being a huge hockey fan myself I still grew up in the era where Wayne Gretzky was the "great one" and now Johnny "Foon" Chilton has brought us a new great ski, aptly named the 'Gretski'. It also just happens to be 99.99mm wide under foot—get the metaphor? Good. All hockey metaphors aside the Foon Gretski is an all mountain, lightweight, ski anything, mountaineering ski that holds its' own on any line that Jonny "Foon" Chilton and his compadres would label as a 'great ski' (or gretski). The Gretski is a homage to the 'great one' and also to Johnny's backcountry adventures of first descents and 'great' lines.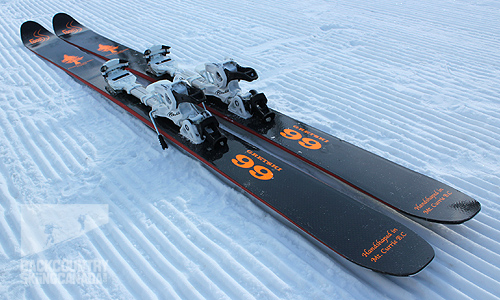 As it says 'Hand crafted in Mt. Currie BC'.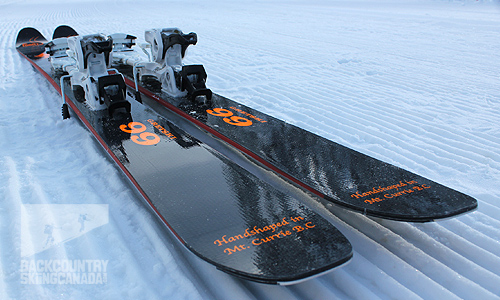 Every Foon ski is made by Johnny himself, who could be a self proclaimed 'shredsmith'. His personal love of skiing and discerning touch is infused into each and every ski. Johnny has had a long career as a pro rider who designed skis for other big name factories, only to have his creativity limited by unit costs and ROIs. Johnny decided to get in the game himself by creating handcrafted skis in small runs at his Mt. Currie, British Columbia headquarters.
The Gretski is the newest addition to the Foon Ski line up and is available in 175 and 188cm lengths. The Gretski is a true carbon build with a clear top sheet to show off just how beautiful a carbon ski can be. The sandwich construction consists of a yellow cedar core which is milled from a single piece of BC coast mountain yellow cedar. Yellow Cedar has a tight grain so it absorbs vibrations well and provides a stable ride. Working with a single piece of yellow cedar (instead of traditional laminated wood strips) utilizes the natural flex of the wood. Each pair of skis is crafted from the same piece of cedar so consistent flex is maintained between the left and right ski. The hand shaping process optimizes the Gretski's sidecut, base profile and flex profile. There is no foam in the Foon Gretski, as Johnny says "Foam is for shaving".
The early rise tip starts pretty low on the ski and gets more progressive as it nears the tippy-top. This provides the ability to ski in deeper snow, chop and variable snow conditions. The tail has a slight up turn to make reversing on the skin track an option while still being flat enough to anchor into the snow on steeper boot packs. The "Active Rocker Technology" as it's called works in concert with the Gretskis minimal camber, creating a variable rocker. This allows the ski to be stable on groomers and more nimble in the trees where you need it most.
Tip and tail shots show off the early rise on both ends, however there is not a whole lot of camber underfoot.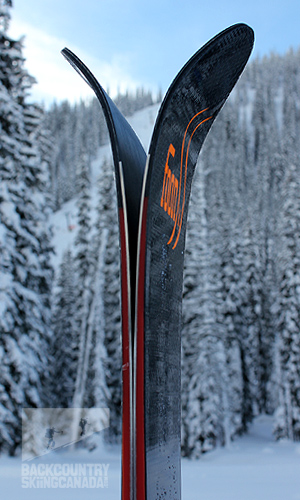 Materials:
- Ultralight Carbon placed on the top of the sandwich construction
- 2 layers of locally harvested yellow cedar
- Durasurf 4001 graphite black base
Early rise tips and cool lookin' top sheet.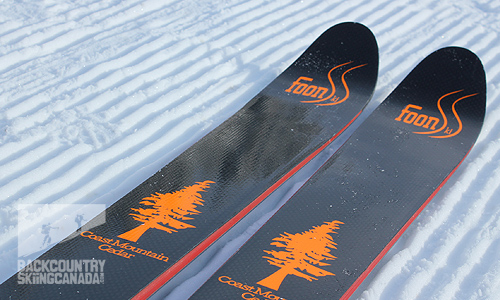 Very slight tail flare for reverse skiing and anchors.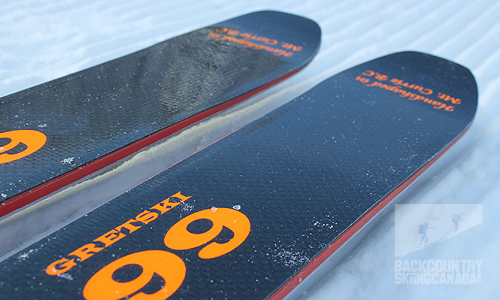 Sandwich construction and edge detail.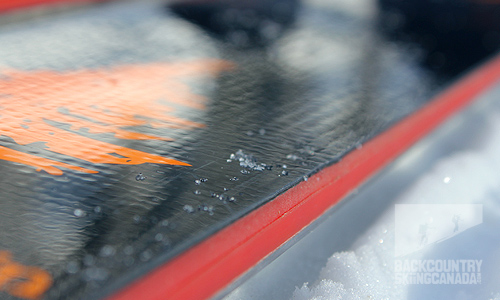 Verdict:
I was counting on the Foon Gretskis to be able to rail on the groomers but was surprised to find that they were just as much at home in the deep backcountry pow. Given that it is only 99cm underfoot which by today's standards is not considered a fat ski, the Gretski performed much like a wider set of planks. I mounted the Gretskis with the new Tyrolia Ambition Alpine Touring Bindings which paired well with the lightweight characteristics of this ski. A pair of tech bindings would have been a phenomenal match as well. The ski's dimensions are perfect for carving groomers; they're stable, responsive and the great edge hold allowed me to open up the throttle and let them run full bore. After testing the Gretskis for a week at Powder Creek backcountry lodge in 40cm of light fluffy powder I am convinced the Gretskis can hold their own in any conditions.
On the downside, since the Foon Gretskis are a hand crafted ski and not mass produced in some far-away factory you will need to save your pennies as they are not cheap. At $1249 this ski is not in everyone's price range but if you are after a stable ski that still feels nimble and allows you to carve and float then you can be 99.99% sure that this is a ski worth considering.
Glamour shots of that carbon top sheet and Tyrolia Ambition AT Bindings.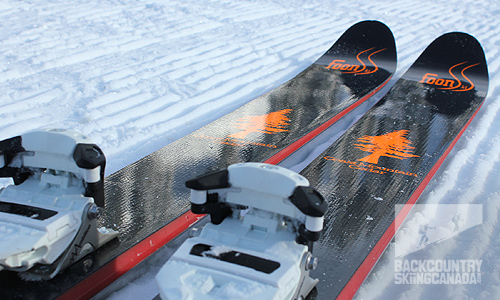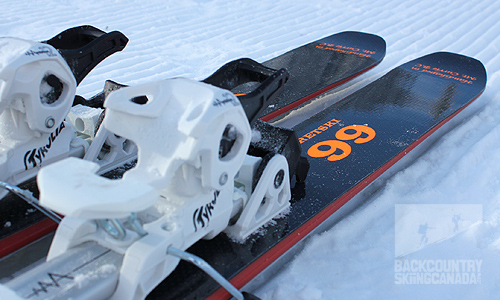 SPECS:
Price: $1249 CDN
Length: 175, 188
Dimensions: 129 / 99.99 / 112mm, 131 / 99.99 / 114mm
Turn Radius: 25m
Weight (pair): 3.2kg / 7lb
PROS:
- Beautiful see through top sheet with minimal graphics that shows off the carbon layer underneath
- Rails on groomers and handles deep backcountry snow with surprising ease given the dimensions
- Great edge hold and fast transitions
- Solid feeling ski while still being pretty light
CONS:
- Super pricey ski at $1249 but for a hand crafted carbon ski this is the going rate
- I wouldn't describe the character of this ski as overly fun but more as a serious, reliable ski
- Some tip chatter given the progressive early rise tip
Rating: 8.5/10
Powder Performance         1.5/2  
Groomer Performance       2/2     
Stability                            2/2
Weight                              2/2
Value                                1/2

Join the discussion in the forums here, and let us know what you think. People like/dislike gear for different reasons so chime in and we'll get a well-rounded evaluation.
Back to the rest of the reviews.
---