Exped 40L Mountain Lite Backpack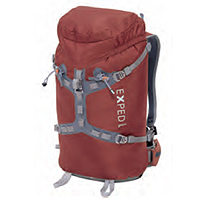 Exped's tagline is "Maximum outdoor experience with minimal means" and their Mountain Lite backpack series definitely lives up to the mantra. These packs eschew any of the bells and whistles in favour of the bare essentials wrapped into a comfortable hiking pack. Before I continue, however, I should be clear that while the Mountain Lite 40 backpack I reviewed is very good, it's not ideal for a backcountry ski experience. I used this pack on both a day trip and an overnight hike into the Valhalla mountain range but I've not taken it skiing. The reason for this is, because it's a minimalist pack with one main pocket, the Mountain Lite doesn't comfortably store everything I need for a day ski into the backcountry. No matter how I tucked my shovel into the bag, for example, it simply did not feel good against my back and there aren't any outer straps to affix it to. That said, because of its light weight and small size (when the two aluminum back stays are removed it can be compressed to the size of a rolled-up pair of jeans) I could imagine taking the pack along on a multi-day tour and using it for short summit runs rather than humping a large touring pack to the top of a bowl. What the Mountain Lite 40 is ideal for, though, is short hikes whether on foot or on snowshoes. At only 1100g (or 2.4 lbs) it barely registers on your back and yet its robust design ensures you don't have to be gentle with it out there.
Front and back shots.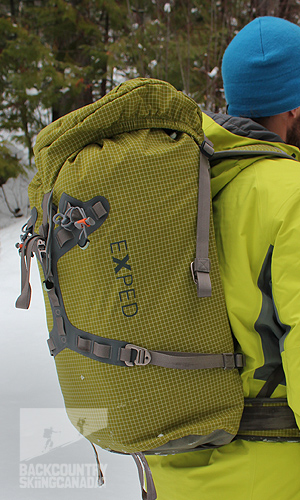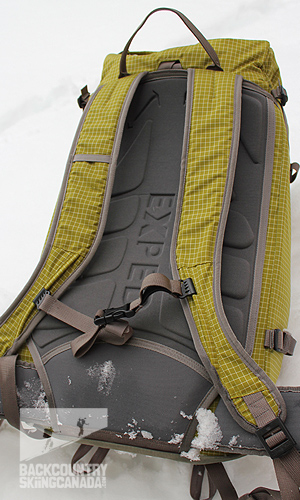 Features:
- The 210D high-density ripstop nylon and 1500mm PU coating ensure enhanced tear strength and high abrasion resistance.
- Side compression straps with metal "rapide hooks" that won't break, unlike plastic buckles.
- Dual ice axe loops and a haul loop
- Padded back with dual removable stays that, when taken out, allow you to compress the pack to the size of a rolled-up pair of jeans.
- Removable foam padded hip belt
- Hip belt pockets
- Internal pouch for water bladder
- Two zippered pockets in the top flap of the pack – one that's easily accessible from the outside and another that's tucked away into the underside of the flap.
- Two sizes for torso fit: medium and large
Under the lid pocket.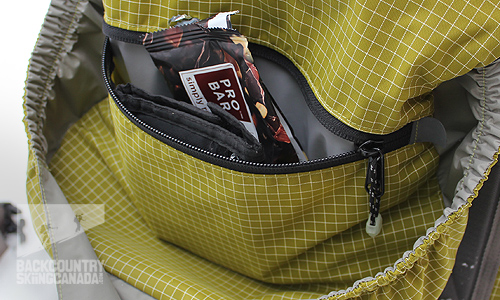 Zipper tab and recessed weather proofing.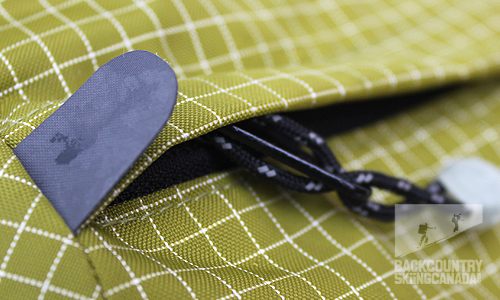 Draw cord to keep contents secure.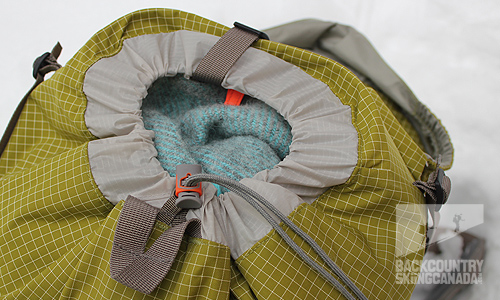 Compression strap to cinch down your stuff.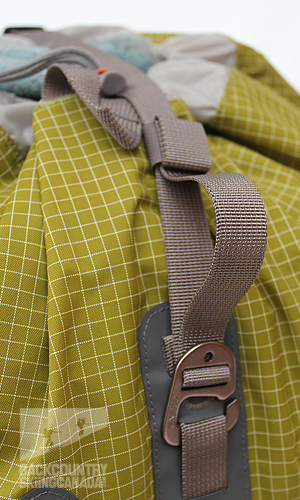 Two ice axe loops for your mountainerring tools.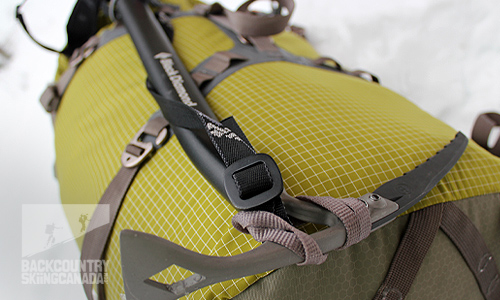 Adjustable ice axe strap.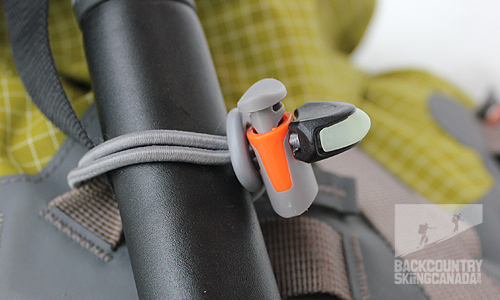 Ski side carry.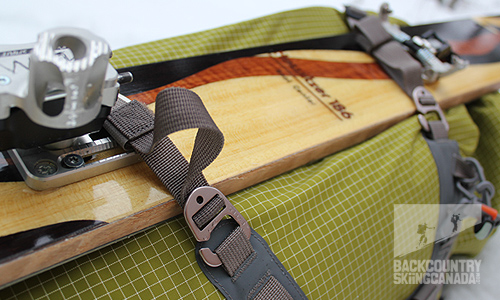 Clip close up.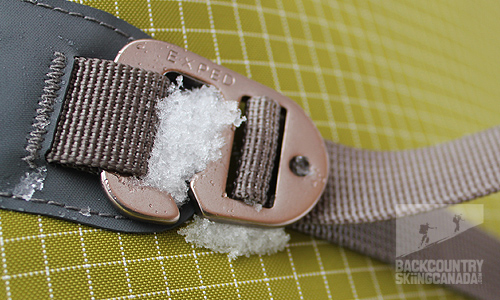 Padded back with venting and Exped logo.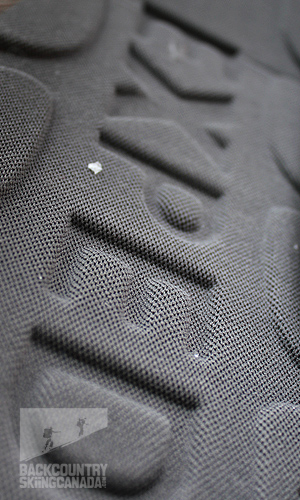 Verdict:
While I can't say enough good things about the Exped sleeping pads (especially the Downmat 7) and their Ultralight sleeping bag series, this is the first Exped backpack I've ever reviewed and all I can say is that it's just OK. As mentioned above, this is not an ideal pack for backcountry skiing and is better suited for day walks, snowshoe hikes or short overnighters. While it's a very light pack (just over two pounds), it's not the lightest on the market but it is very robust. The 210D ripstop nylon is extremely resistant and the metal fastening hooks will never break, unlike the plastic buckles I seem to destroy regularly on my other packs. (That said, the sternum and waistbelt clips on the Mountain Lite are plastic.) The padded backing has a minimal amount of relief, which allows for airflow, and the aluminum stays ensure the pack conforms to the contours of your body. In keeping with the minimalist design, there are only two pockets on the pack, contained in the upper flap of the bag, and I found myself wishing there was at least one pocket on the waist flap for carrying snacks or a camera. (Apparently Exped will be including these on newer models.) There's also an internal pouch in the main compartment of the bag for holding a water bladder but unfortunately there isn't a hole for threading a water tube through. Instead it must come up and out of the main pocket of the bag. (There is an elastic fastener for holding the bite valve to the right shoulder strap however.)
The thing I like most about the Exped Mountain Lite 40 is the compression system. With its metal clips and reinforced webbing loops spaced at varying intervals around the main face of the pack, this is about as robust as it gets. You can hurl this thing onto the ground and know that the straps aren't going to fray and the buckles aren't going to splinter. For a minimalist pack, that's an impressive feat. The one thing I might change on the metal clips would be to shrink the hooked opening to ensure they never jostle out of place.
Overall, my verdict is that the Mountain Lite 40 isn't the lightest minimalist pack out there but it is strong and comfortable making it a good choice for those who enjoy short hikes or snowshoe trips through the mountains.
SPECS:
Price: $219 CAN
Colours: Terracotta or Deep Sea Blue
Sizes: Medium and large
Weight: 1100g / 2lb 7oz
Volume: 40L
Fabric: 210D high-density ripstop nylon with a 1500mm PU coating
PROS:
The 210D ripstop nylon, plus the metal clips and reinforced webbing loops of the compression system, make the Mountain Lite 40 one of the most robust minimalist packs on the market.
CONS:
Not the lightest pack on the market and not ideal for skiing. Although it has an internal pouch for a water bladder, there is no hole for you to feed a water tube through, Also, there aren't any hip belt pockets on the model I reviewed although the company says they'll be included them on newer versions.
Rating: 7/10
Innovation 1/2
Function 1/2
Aesthetics 2/2
Features 1/2
Quality / Price 2/2

This is only our opinion. Do you disagree? Did we miss something? Are we totally out to lunch? Join the discussion in the forums here, and let us know what you think. People like/dislike gear for different reasons so chime in and we'll get a well-rounded evaluation.
Back to the rest of the reviews.
---