Let's look at some pictures, shall we?
Huascaran at rest. Note the widebody.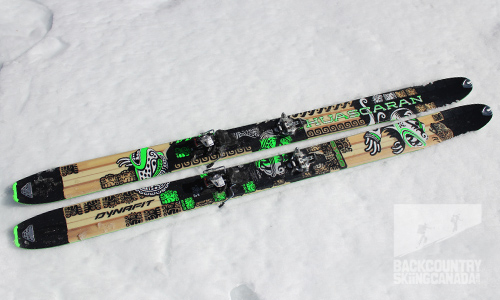 Grrrrr. Phast and light. And phat.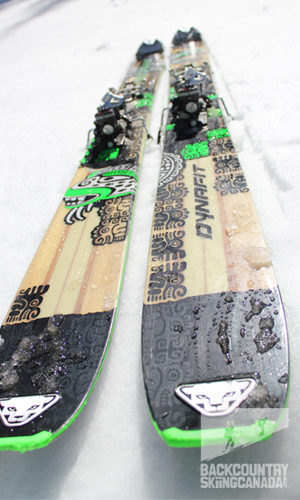 Tip rocker is not overly pronounced but there's enough there to feel the surfy sensation for sure. Dynafit engineers refer to it as "scoop rocker."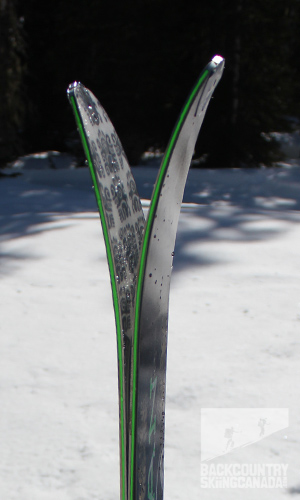 The Dynafit Huascaran tail notches, which also appear on the Dynafit Stoke. 'make taking the speedskins on and off a breeze.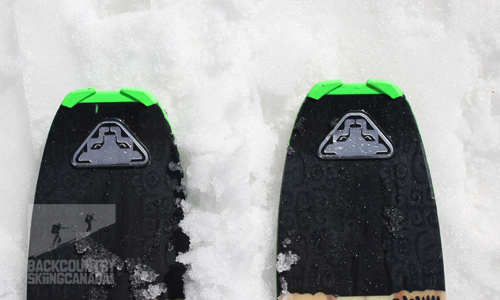 Here's the integrated tip attachment. If you get a pair of Huascarans, you MUST get the Dynafit speedskins to experience the full benefits of therapy.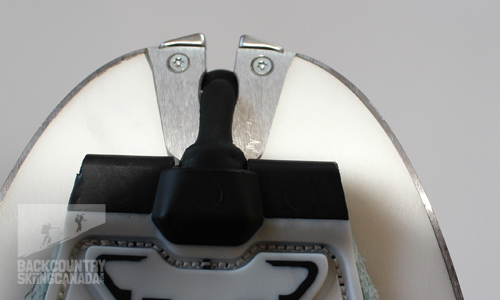 Here's a close-up of the core through the topsheet. "Isocore Paulownia Ultralight wood with stringers in beech and bamboo," says the Dynafit marketing material. The graphics are way easier on the eyes than the Stokes'.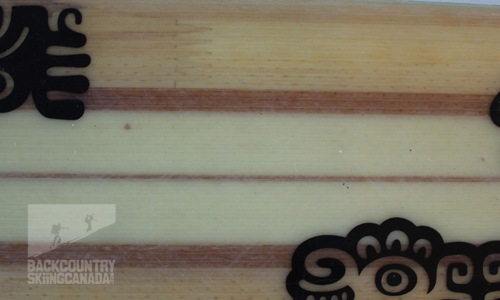 Verdict:
As our video indicates, the Huascarans are exceptionally good skis if you are looking for something fat enough to have fun in deep snow but light enough to go all day. Because the tip and tail rocker is less than something like the Big Bend skis we reviewed last season, the ski has a more traditional, less surfy feel to it. Dynafit is a European manufacturer with a long and storied history of building gear for long-distance touring. The Huascaran represents a ski more in tune with North American freeskiing but still built on the foundation of an intelligently designed and built touring ski. This may be the ideal ski for a week-long hut trip or a big day where you know you'll have good snow.
The Dynafit Huascarans earning their keep at Ice Creek Lodge.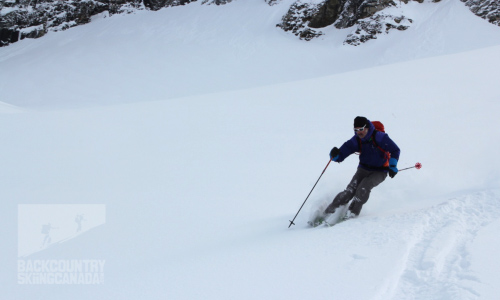 SPECS:
Price: $899.95ish US
Weight: 1850g / 4.07lbs (per ski)
Sidecut: 135-114-124
Radius: 35/20/30
Running surface: sintered graphite coatings (Electra Race)
Laminate: Fiberglass/Carbon Hybrid Technology with Titanal inserts
Core construction: Isocore Paulownia Ultralight wood with stringers in beech and bamboo
PROS:
Remarkably lightweight for a ski its size. With the Dynafit Speedskin, and Radical ST binding, the system is ideal for long tours in good snow. I skied the Huascaran on groomers at the area for a few days and was pleasantly surprised too.
CONS:
Some say it skis a little "planky." I say this is only somewhat true when compared to a fully rockered ski. The Huarscaran is happiest when paired with the Dynafit Speedskin. This is a plus and a minus—maybe more of a minus because the combo work so well but the skins may be a little hard to find here in Canada. The graphics aren't the best, but that's subjective. Bordering on cultural appropriation (as were the Stokes).
Rating: 8/10
Powder Performance 2/2
Groomer Performance 1/2
Stability 1.5/2
Weight 2/2
Value 1.5/2

Join the discussion in the forums here, and let us know what you think. People like/dislike gear for different reasons so chime in and we'll get a well-rounded evaluation.
Back to the rest of the reviews.
---