To put the 'One' theory to the test we spent several days skiing in and out of bounds at Whitewater Ski Resort where thanks to the 343cm that fell in December we spent 16 consecutive days in the Dynafit One boots. On top of this we had a 4 day New Years eve trip to Grassy Cabin which is part of the Bonnington traverse. During this time, the boots got a daily 8 - 4 work-out. Normally this regiment would have turned some part of my feet to hamburger but the Dynafit One PX boots were very comfortable and kind to my feet, even on day 20. The thermo form liners and top notch boot fitting no doubt played a part in this but that is standard protocol for any boot I would test so I have to give most of the credit to the design and construction of the Dynafit One PX boot itself.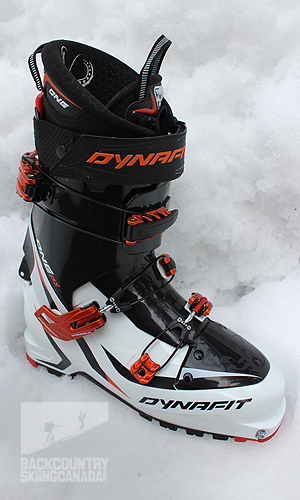 Beefy grip soles for climbing.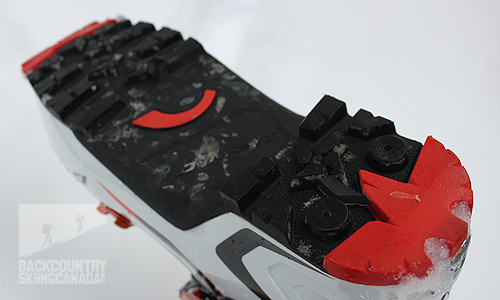 The Dynafit One PX AT boots are built on the Dynafit TLT chassis with the same Ultra-Lock Cuff Latch System and Central Buckle System. The buckle system places a magnesium buckle directly over the instep of your foot, which works well to keep your heel in place while you ski, much like the configuration on the Scarpa Maestrale boots which we have also reviewed. The main difference between the Dynafit One PX and the TLT5 Alpine Touring boots is the fact that the One has an extra buckle, is 250 grams heavier per boot, has a much beefier power strap at the top and the One will step into alpine or frame-style AT bindings. This last one is a huge bonus if you are like me and have a quiver of skis to choose from depending on the day the adventure and the conditions.
Dynafit has targeted a wider audience with the Dynafit One PX Alpine Touring boots than with their previous boots. Their mandate was to make a boot that is more comfortable, easier to use, taller, more supportive and able to drive fatter skis so that it is more versatile and less geared towards racing. The list of improvements mentioned earlier comes with some added weight as you may have guessed but Dynafit did an admirable job of keeping the fat off so that the Ones are still a light backcountry ski boot that is able to tame the snow in bounds.
Ultra-Lock Cuff Latch System:
Beyond the ability of the Dynafit One PX Alpine Touring boots to ski in and out of bounds seamlessly the big story (for this Dynafit newbie at least) is the Ultra-Lock Cuff Latch System. Simply put, this utilizes the top buckle of the boot to change between walk and ski mode. Specifically, when you want to switch into walk mode you just release the top buckle and start walking - that simple. To ensure that this buckle nests as close as possible to the boot, Dynafit has placed a double hinge in the buckle itself so that it does not stick out and taunt rocks or other obstacles to rip it off. For me, this system makes perfect sense; why add additional weight and another piece with the potential to break when the top buckle is in the ideal location and already there.
The top buckle that does all the magic.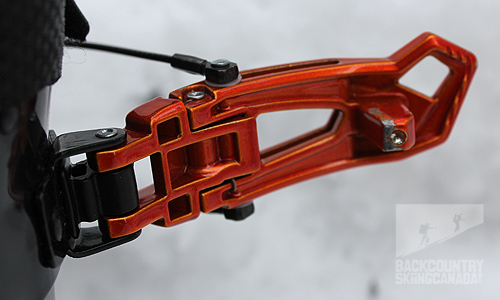 Double hinged so it lays relatively flat against the boot.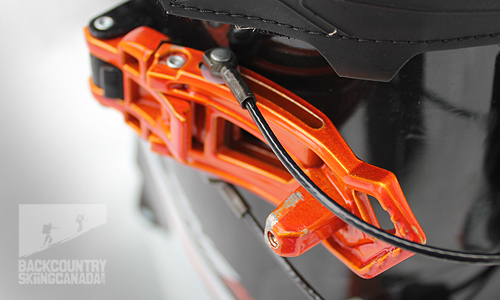 The buckle going into lock down mode.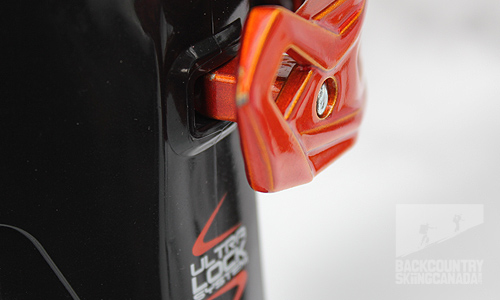 Features:
Insulated with a polyurethane layer glued inside the shell.
Thermoform-able liner has a unique flex zone (with optional lacing) to increase agility while climbing or skinning.
Ultra lock system has a magnesium cuff buckle that lets you open and close the buckle easily while changing between walk and ski mode.
Buckle cable retention system prevents unintentional release.
Flex tongue keeps the snow out and doesn't restrict the 60-degree cuff rotation.
Rockered sole is made with durable and sticky rubber, lugged for secure traction
DIN standard touring sole dimensions so they fit in any alpine or touring bindings
Tech fittings for use with Dynafit or other tech compatible alpine touring bindings
Buckle covers so that they stay in place in walk mode while the buckle is open.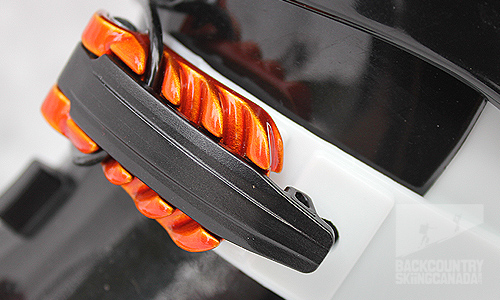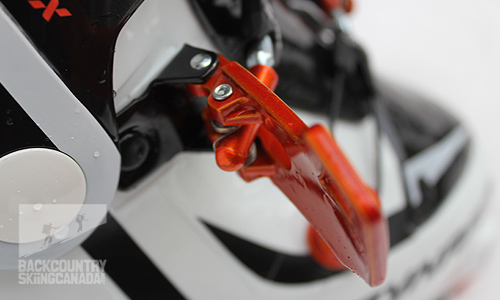 Shell and liner.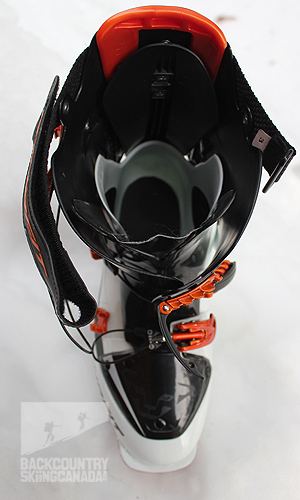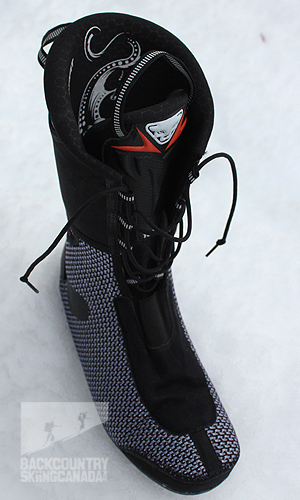 The liner has a specail flex zone that is said to help flex while in walk mode.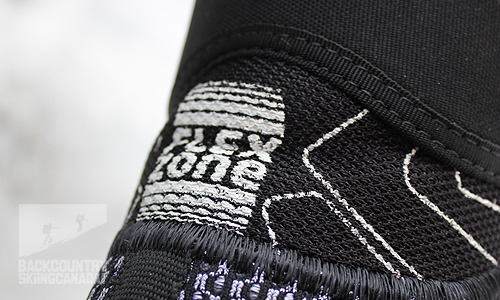 Standard tech fitting in the heel.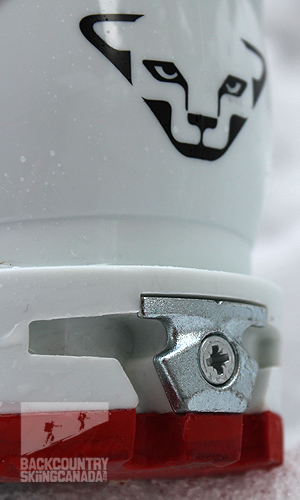 Tech fittings in the toe have Dynafit's unique alignment notch as you can see below.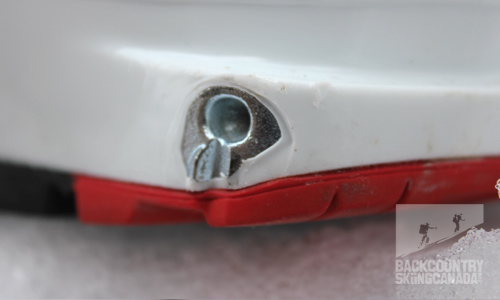 Verdict:
What's not to love about a boot that is in the upper reaches of the light weight category yet can still provide enough stability and support to drive a 110mm waist skis. Add in the versatility of the standardized DIN touring sole for compatibility with other AT and downhill bindings and you have a boot which will appeal to gram counters and huckers alike. As mentioned above the primo feature for this reviewer was the Ultra-Lock Cuff Latch System. I don't know how many times I have inadvertently skinned up in ski mode or skied down in walk mode. The simple process of flipping the walk/ski switch on other boots is often forgotten amongst all the other items on the switch over to-do list. With the Dynafit Ultra-Lock Cuff Latch System it's impossible to ignore. This one buckle does it all: it provides additional flex in walk mode and gives your feet some breathing space for the ski up and secures them snug for the ski down. The double hinged on this top magnesium buckle also keeps it close to the boot so it still fits under ski pants no problemo.
The skiability to comfort ratio on the Dynafit One PX Alpine Touring boots is outstanding. The large toe box provides your piggies with room to spread out and stay warm as I did find the liners still on the cool side. The instep buckle placement is ideal as it actually holds your heel in place rather than crushing your foot from above. Also, with ample cuff height and loads of support for such a light boot you are able to drive any size ski with confidence. Not to be outdone on the skin track, their 2.98kg weight is one of life's simple pleasures as I saved over a kilo when compared to my last pair of alpine touring boots.
My only real beef with the Dynafit One PX Alpine Touring boots is the limited amount of additional forward flex in tour mode. Once the Ultra-Lock Cuff Latch System is unbuckled I found that there was plenty of flex to the back but virtually no forward flex gain. This is something that I miss from other alpine touring boots but given the weight savings it is a sacrifice I am willing to make.
If you are looking for a lighter boot, but are not ready for the full-on skimo experience of an ultralight boot and ski performance is high on your list then I would encourage you to take a test drive of the new Dynafit One PX Alpine Touring boots. Your feet and back will love you on the way up and the grin will not diminish on the way down either.
They work with fixed frame alpine touring bindings as well.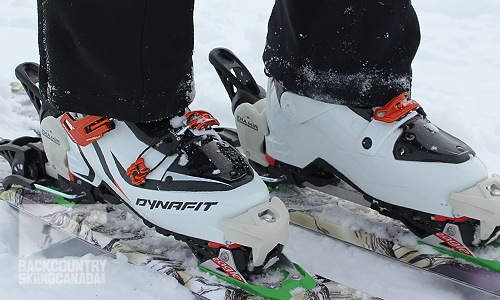 SPECS:
Price $605 CAN
Weight: 2.98 kg / 6.39lbs (size 27.5 pair)
Flex: 110
Forward lean: 15°- 18°
Colour: white, orange, black
Size: 25 - 31.5 in 1/2 sizes
Cuff rotation: 60°
PROS:
The most comfortable ski boot I have ever worn, light, adequately stiff and supportive, Ultra-Lock cuff latch system is a game changer
CONS:
A little hard to get in and out, difficult to re-insert the boot liners, power straps wear quickly, liners not as warm as other options
Rating: 9/10
Fit/Comfort 2/2
Cuff Rotation 1.5/2
Function 1.5/2
Weight 2/2
Quality / Price 2/2

Join the discussion in the forums here, and let us know what you think. People like/dislike gear for different reasons so chime in and we'll get a well-rounded evaluation.
Back to the rest of the reviews.
---