Dynafit One PX Alpine Touring boots - VIDEO REVIEW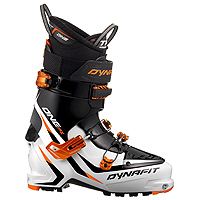 Dynafit has a reputation of being a solid alpine touring focused company that designs and produces light weight backcountry ski gear for the pro racer as well as the average joe. Being new to Dynafit boots, I was eager to give the Dynafit One PX Alpine Touring boots a go this season. The 'One' represents the versatility of the boot; this is the one boot you'll need for both the resort and the backcountry. It is also appropriate as only one movement is required to switch between ski and walk mode. They call this magic the Ultra-Lock Cuff Latch System and we will discuss this more later in the review. Also from the name, PX stands for Pebax Plastic which is a very light and tough plastic that Dynafit uses in the upper and lower of the boot. The PX gives the boot some stiffness and helps with its overall solid construction.
Read the full review over here.