The drive from Durango to Silverton would have been spectacular on any other day—and at least it was snowing. A lot. As with the Utah trip, low snow reports messed with our stoke prior to taking off. We got over it though and knew we were up for an adventure. As the circulation began returning to our knuckles, we arrived in Silverton, an old mining town that is experiencing a bit of a renaissance lately—likely at least in part to nearby Silverton Mountain. Apparently, the summer is even more active thanks to the old school Durango & Silverton Narrow Gauge Railroad that pulls rail-fetishists and tourists into town in droves. We stayed at the Grand Imperial Hotel on the main drag. A functional crash pad that had a good bar/happy hour and a boatload of character.
Silverton Mountain has character to the core.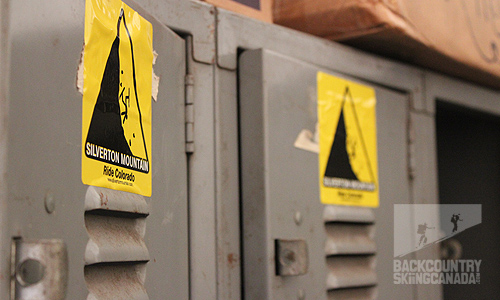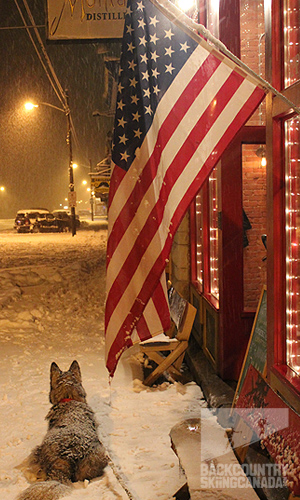 Silverton Mountain is about a half hour out of town. Be sure to check out the video because it's featured prominently. After the big snowfall, the ploughs were out and managed to put a nice "buff" on the slight hill out of town. The rental-car's all-season radials began spinning out almost immediately so we had to be resourceful.
We grabbed our stuff, stuck out our thumbs and were picked up by a nice guy who'd driven all night from Boulder to get to Silverton. He was stoked and, lucky for us, was driving a 4X4. The Silverton Mountain concept is a good one—especially appealing to folks keen to have an easily accessed backcountry experience. One lift up the guts of it, base elevation at 10,400', chair peaks out at 12,300' and the hike-to terrain brings you up to 13,487'. Most of the time a guide is required for safety and, well, guidance. We had about a foot of snow on a next-to-nothing base so we were happy to have someone leading the way. Due to sketchy conditions, we stuck to fairly conservative slopes—mostly on the east face and just a short boot pack from the top of the chair. On days with better stability, we might have hit the west face and made it up to lines like Billboard and #'s 1, 2, and 3. They looked tasty. Of course, they got hit with two-or-so feet after we left. It was a good experience and I'd recommend being there for at least two days if you have the option. They also do heli-skiing if you're keen. Either one-rides or all day. The terrain is awesome and very "big mountain."
Plenty deep in the trees.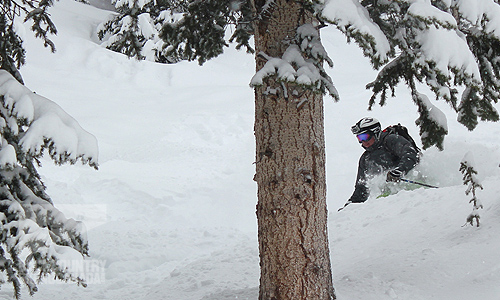 With only one chair, the Silverton Mountain Correctional Facility offers routine pick up for skiers.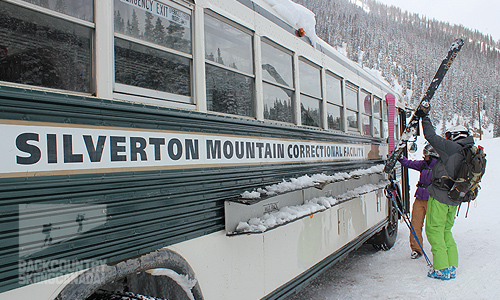 If the chair can't get you where you want to be, there is always the heli option for the day or by the hour.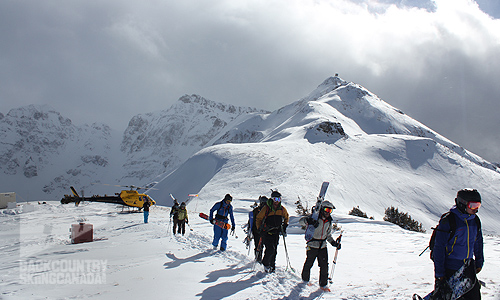 Next on the itinerary was Telluride. We peeled out of the Grand Imperial in downtown Silverton hoping that our drive along the Million Dollar Highway (as it's known) would be uneventful. As well as spectacular views and super-cool towns like Ouray, an ice-climbing mecca, the roads were dry so it was an easy drive. Telluride is another well-known mountain with a lot of character, big slopes and copious amounts of snow. If you have the choice, stay in the town rather than the village. We stayed at the Camel's Garden, a swanky yet comfy hotel with a great view from the hot tub and awesome breakfasts. As has been the case with Backcountry Skiing Canada team junkets to date, our high hopes for local ski tours were shattered due to a severe lack of stability on the other side of the gates.
Telluride offers lots of hike-to terrain when the conditions are right, and it's easy to get to—between 5 minutes and an hour and a half boot pack. Skins aren't really needed but why not throw them in your pack in case? If we weren't limited by stability, Palmyra Peak and the Gold Hill Chutes looked like the best zones. We'd love to go back to Telluride try the slackcountry because the terrain and access looks to be some of the best we've seen. We'd also make a point of visiting the nearby town of Ophir, apparently a gateway to loads of high-quality touring.
There's a controversy raging in the Telluride area brought on by developer Tom Chapman (look for "Tom Chapman is a douchebag" stickers if you visit). Chapman wants to develop a 1,300-acre helicopter- and human-powered ski area in the steep terrain of Bear Creek—already popular with backcountry skiers. Seems like a weird idea and it'd shut down a big chunk of what is now considered Telluride backcountry.
A max elevation of 12,570' (3,831 m) for lift served and a hike-to max of 13,150' (4,008m) means it makes sense to get to Telluride a day or two early to acclimatize to the thinner air (same goes for Silverton). Our home mountains in the Kootenays peak out at about 7 or 8,000' and we could definitely feel the difference.
The Town of Telluride at night.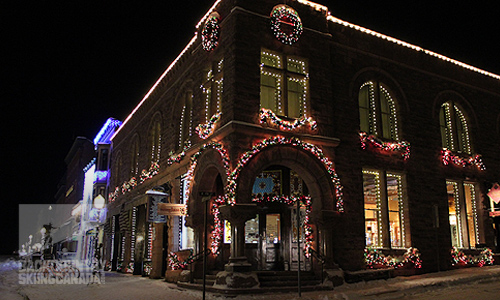 Telluride Ski Resort offers up some great views of the San Juan Mountains, including Silver Mountain and the San Joaquin Ridge.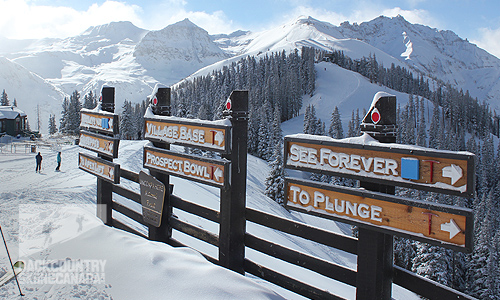 You can ski right out of the Town of Telluride and, in our case, the Gondi station was literally only 36 steps from our hotel (yes, we are step counters).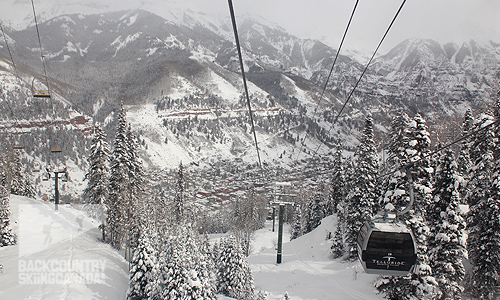 (Denver (and the SIA show) was the next stop along the road. I won't bore you with the details, just poke around the site and see all the new gear videos we shot.) Because of its proximity to Denver, the ski areas of Summit County have a different vibe than Telluride and Silverton further south—and many more people. We targeted Winterpark, Loveland, and Arapahoe Basin because they seemed to be the most off-the-beaten path and also had some backcountry options within striking distance. We used the Holiday Inn Summit County, in Frisco, as our base—it's central and featured the requisite hot tub, pool, sauna and massive breakfast. Give them a call at 970.668.5000 and mention we sent you (alomng with this code: IDOTHFBP) and get your self 30% off room rates.
Holiday Inn Frisco was our staging area for over a half dozen resorts and Loveland Pass backcountry skiing.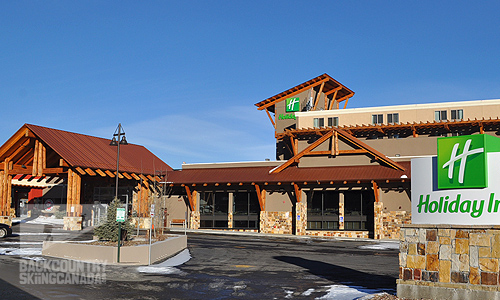 Winter Park was up first and, with a total 50" snowpack (60% of normal) we were happy that 11 of those inches had fallen a few days before we arrived. There were actually still a few nice spots left in the trees. As with our experience in southern Colorado, there was limited-to-no access to the backcountry. With a deeper snowpack, the Vasquez Cirque, an inbounds hike-to high altitude ridge, looked to be the place to go. Another slackcountry zone that looked appealing, and a little hairball, was the stuff off the top of the Panoramic Express. Check it out if conditions and gates allow.
Winter Park is, at about an hour, very close to Denver. In fact, the mountain was once the City of Denver's "Recreational Mountain Park" and it's still owned in part by the city. Seems like most of the locals ski on the Mary Jane side of the mountain. At Lunch Rock, grab a recliner deck chair, soak in the rays and pretend you're in Europe. Crowds were big (thanks to hosting the SIA on-hill demo days) but due to an elaborate high speed lift system, and seemingly endless terrain, we rarely had to wait more than a minute. The big draw for any backcountry skier heading to the Winter Park area (aside from the inbound options) is Berthoud Pass. It's a few clicks back up the on the road where multiple pull outs give you access to some great touring options. Unfortunately for us, this was strike four as there was a mere 36" on the ground. 30" of that was pure facets and depth hoar so our tour was a brief jaunt for exploratory purposes and obviously on the conservative side of things. There is a cat ski op at the base of Winter Park called Powder Addiction for those of you who prefer mechanized backcountry access.
All smiles and soaking up the sun at Winter Park.
<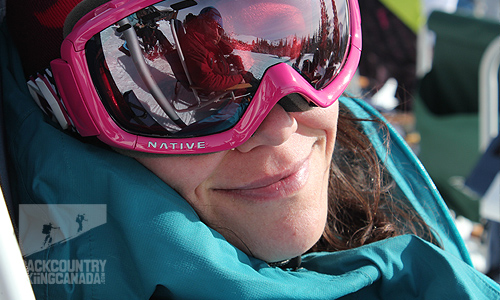 The Euro vibe is alive at Winter Park.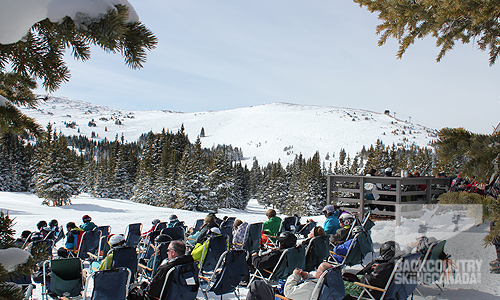 Berthoud Pass is only a few miles from Winter Park and offers up a myriad of ski touring options.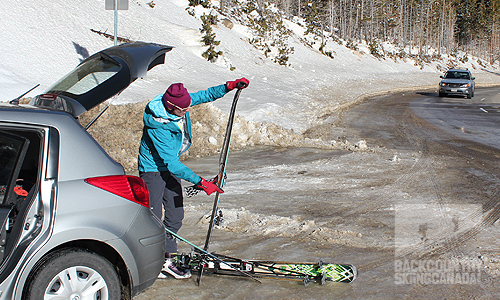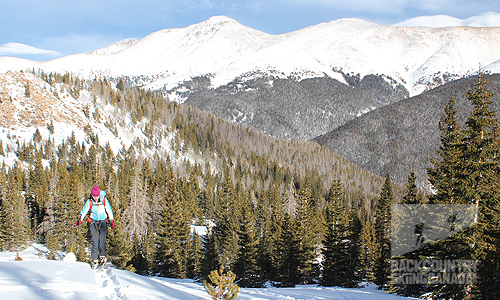 Next was Loveland. We'd heard a lot about the hill and the adjacent Loveland Pass so we were stoked. (Learn all about our tour at "the pass" over here.) Loveland Ski Resort is a giant bowl, right on the continental divide, with lift access to 12,700' and hike-to access to 13,010'. From this height, you have 360° unobstructed views of A-Basin, Keystone and Breckenridge.
Though backcountry is not something the resort promotes, it has the easiest and most visible out-of-bounds access. Hiking uphill in bounds appears to be tolerated; we witnessed a few keeners on our first run. There are backcountry gates to the north and south of the mountain where, with stable conditions and a good coverage, you would find more terrain than you could poke a stick at since each gate accesses other alpine bowls. Due to fairly consistent winds coming up the divide, the ridges likely remain a little boney and wind-loaded—while perhaps enticing, they'd become sleeping giants in a good snow year.
The terrain had something for everyone: from plenty of blue groomers to black and double-black, hike-to routes. There was also a backcountry access gate that tempted us, but, with Loveland Pass and car drop options so close, we opted for that.
The highway winds itself up to the summit of Loveland Pass at 11,999 feet on the way to A-basin. Because of the numerous switchbacks, it's possible to park at either the bottom or top and catch a lift instead of skinning. We had to give this a try and, within 5 minutes, a salt-of-the-earth Coloradan picked us up. He kept us entertained for the brief time we were with him and his dog Lucy. For lap two, we decided to stretch our legs (as there was far too little of this on the trip for our liking) so we headed west up to the shoulder that butts up against Loveland and one of their access gates. The snow was again minimal by Colorado standards and, to add into the facet/depth hoar mix, Mother Nature also gave us unsupported sun crusts to contend with. Needless to say, we played it ultra conservative and were satisfied with a skin and boot pack to the ridge and a summit with views all around. The ski down was less than inspiring and further fueled our commitment to return and sample the real Colorado snows we have heard so much about.
Right around the corner from Loveland Ski Resort is Loveland Pass which provides skiing of the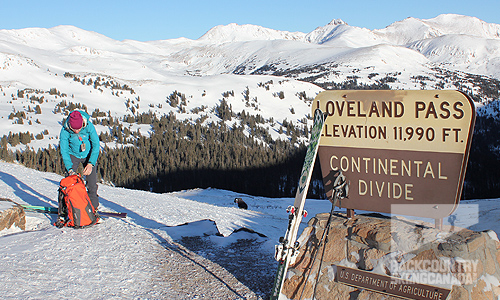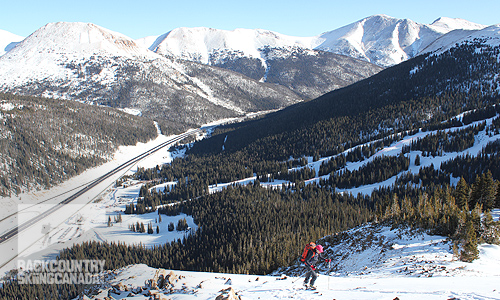 At 75 years, Loveland is Colorado's second oldest ski hill. The vibe here on week days is retro and pretty mellow—it seems to be more of a locals' mountain with a slew of the old regulars skiing everyday. Riding their steady, old-timer chairs and imagining powder days that have come and gone added to the charm for us. The lodge is friendly, unassuming and offers up good home-style chow. At $61 for a day, it's good value too. We'll be back.
Last up on the ski-tinerary was Arapahoe Basin (call it A-Basin or people will look at you funny). A-Basin was another real-deal ski hill, same ballpark elevation-wise: lift access 12,472', hike-to 13,050'. A-Basin's claim to fame, amongst other things, is that is open longer than any other ski area in North America. The resort has an interesting history with some cool tie-ins to the famous 10th mountain division, the namesake of a string of huts in the area we'd love to investigate on our next trip. With a rep' as a skiers hill, A-Basin has some excellent double black diamond runs. Be sure to explore the lines off the Pallavicini Lift if you're looking to be challenged. Like Loveland, A-Basin has a common-sense uphill access policy—be certain to read it first and grab an uphill pass before skinning up.
The East Wall at Arapahoe Basin wasn't open while we were there but the lines look pretty intimidating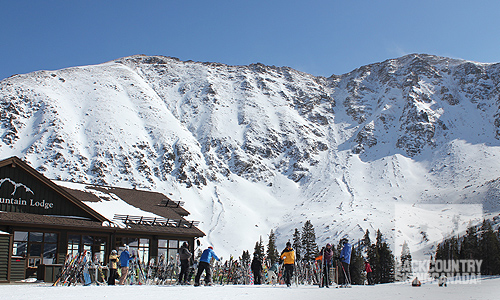 Arapahoe Basin has a good mix of terrain for everyone: from beginner to expert and even the backcountry skier with their uphill access policy.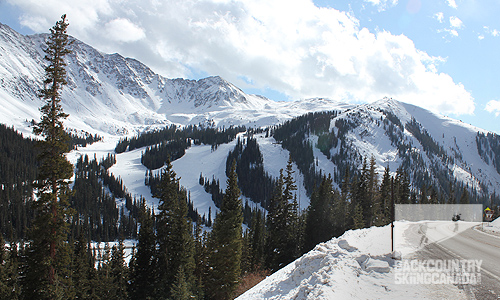 As far as hike-to terrain goes, check out the East Wall which is accessible via the North Pole Hiking Gate to the left of the Lenawee Mountain Lift. When we were there, the season was off to a slow start and, though the East Wall was looking fairly bare, we could see the full range of the possibilities on offer as we sat on the deck of the Black Mountain Lodge. There is also a backcountry access gate off the Pallavicini Lift which accesses a backside bowl; looks like local knowledge would be helpful there to find your way through the trees and back to the road. In general though it'd be pretty easy to get into a lot of trouble if you don't have the skills and knowledge to be safe when venturing beyond the gates here—same goes for most places in Colorado. The combo of big mountains and a continental snowpack can add up sketchiness and high risk.
This sign says it all.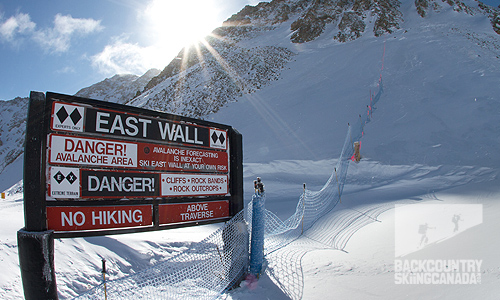 Like our trip to Utah, our experience in Colorado was a little frustrating because we couldn't jump into all the tasty looking slack- and backcountry. Colorado's access policies appeared to be a little more forgiving so the experience was particularly bittersweet. If we spring for a trip to ISPO in Europe would our chances be better? Maybe we should just stay away from tradeshows. The two weeks in Colorado just whetted our appetites. The trip gave us a good idea of how a deeper snowpack would have made the difference between a good trip and an awesome one. We like awesome so we'll be back.
SPECS:
Silverton Mountain
Price of an adult day ticket: Guided - $99-$139, unguided - $4
Website: www.silvertonmountain.com
Telluride Ski Resort
Price of an adult day ticket: $92
Website: www.tellurideskiresort.com
Winter Park Resort
Price of an adult day ticket: $109
Website: www.winterparkresort.com
Loveland
Price of an adult day ticket: $61
Website: www.skiloveland.com
Arapahoe Basin
Price of an adult day ticket: $59
Website: www.arapahoebasin.com
PROS:
Big mountains and high elevations. Sweet backcountry that is easily accessible when conditions are right.
CONS:
Poor conditions this time around, occasionally agro, powder hungry skiers in the lift lines.
This is only our opinion. Do you disagree? Did we miss something? Are we totally out to lunch? Join the discussion in the forums here, and let us know what you think.
Back to the rest of the reviews.
---
Some additional shots from our trip:
Snow farming to give mother nature a little help.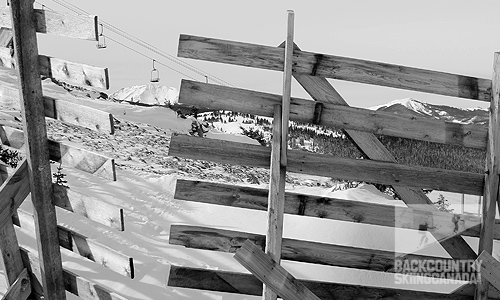 Winter Park, the playground of Denver.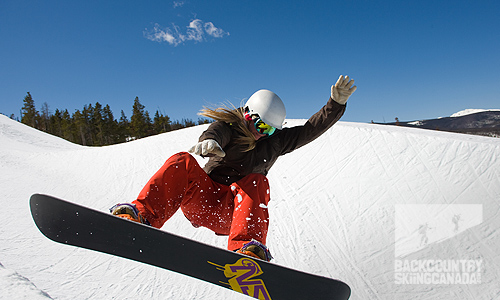 Ski touring Berthoud Pass and Loveland Pass.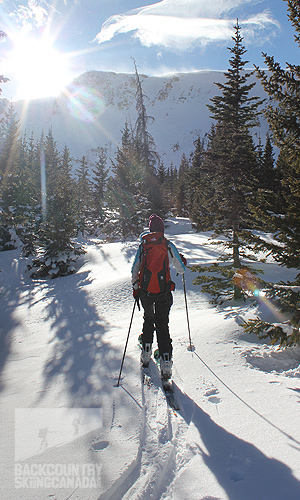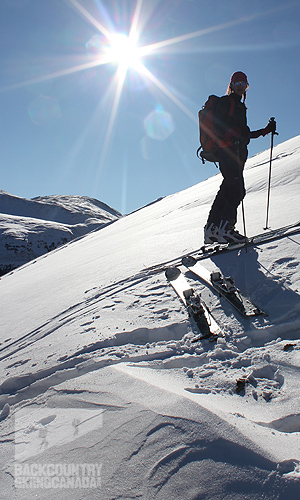 Silverton Mountain Delivered the goods.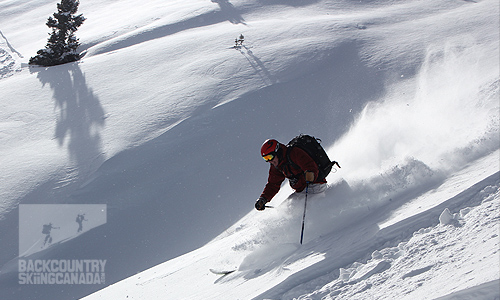 The one and only town of Telluride.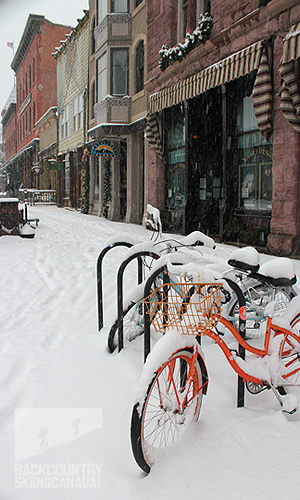 Loveland Ski Resort has terrain at 13,000 feet.