Chrome Industries Barrage Cargo Backpack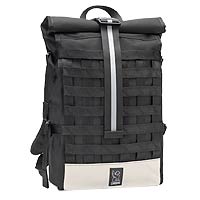 Chrome Industries have always impressed me with their variety of eclectic products—including the new Barrage Cargo Backpack we'll talk about here. Their packs, from what I understand, were initially made for bike messengers. Although that might be their intended function, their funky yet minimally designs are being rocked by all walks of life. From the everyday styled-out messenger in Brooklyn, to the backcountry gear-head of the Kootenays, their packs are well constructed and suit anybody who appreciates bombproof, stylish, high-quality products. To read reviews done on other Chrome products here on the site, click as indicated: Chrome Industries Soyuz Laptop Bag, Chrome Buran Messenger Bag, Chrome Kursk Pro and Storm Kursk Shoes.
The Barrage Cargo proves to be an ideal pack for urban living. For me, the pack serves multiple uses. I mainly use it for everyday errands such as groceries, storing extra clothes, transporting my laptop along with other miscellaneous goods, or filling it with beer and water for a night out. Althouhg it looks very sleek and ideal to carry things to and from the office, it can also be used as a backpack for camping if need be. The 100% welded-waterproof rolltop design allows the everyday commuter to keep the inside of their pack bone dry and free of any unwanted elements. The waterproof bucket liner on the inside of the pack invites us to experiment with anything from an ice filled beer cooler to storing a 15" laptop in its respectful sleeve and filling the rest with books or what have you.
I've grown to appreciate the side compression straps, which allow me to control the size of my load. Be it opening the straps and stuffing the pack to max capacity with groceries or tightening them for a minimal amount of goods.
The cargo net is perhaps my favourite feature. With its adjustable size and indestructible, military-grade material, it lets me store anything from my bike helmet, to a windbreaker or a pair of shoes. The Barrage Cargo also features a well-placed side pocket for a U-Lock or a water bottle. The overall comfort of the pack is supported by the EVA foam back panel which protects us from any discomfort along the spine. The adjustable seatbelt sternum strap is cool too. The only thing I might suggest is making the pack slightly wider for us 6'+ men with broad shoulders.
Nifty mini seat-belt buckle sternum strap.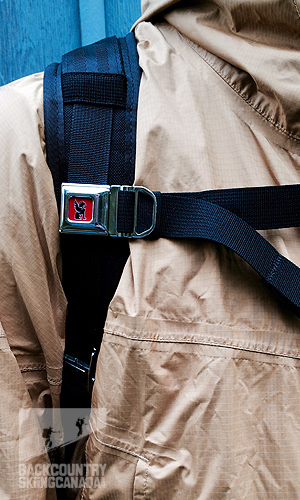 Side view, showing off the cincheable side straps that make the bag expandable.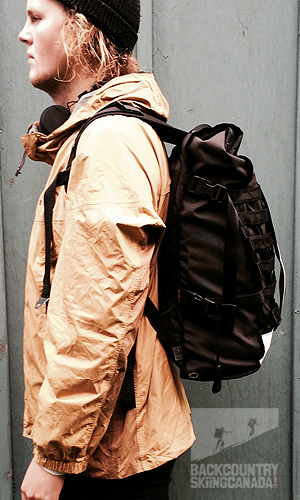 From the back. Nice white accents that'll get dirtied up pretty quick.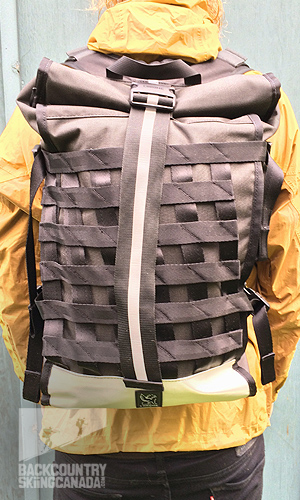 With a helmet in the gear sling. This is a super handy feature.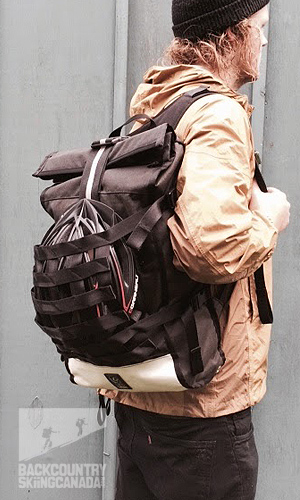 Here's a snap showing a laptop on its way into the sleeve in the main compartment. The zipper visible on the front face opens up a little enclosure for this-and-that. If you roll up the top, as you should, this little area gets rolled up too. This may be a downside.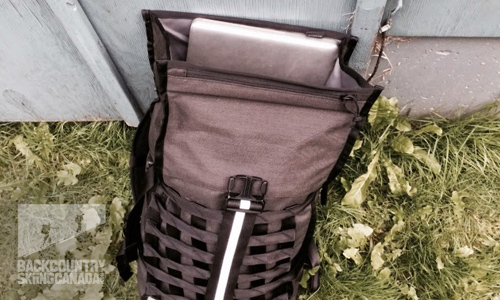 The almighty Chrome Industries griffon. Appearing all-over-the-place, more and more often.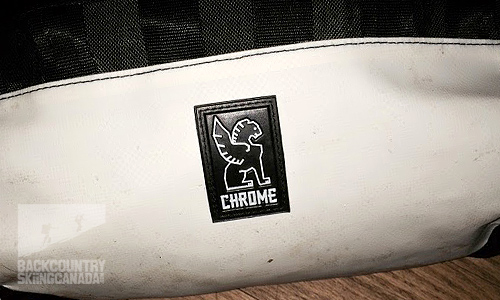 Verdict:
All in all, a fantastic pack. The Barrage Cargo is exceedingly functional for the everyday user, all while flashing those mandatory style points for urban living. While the pack is fully protected from Mother Nature, and what she chooses to do on any given day, it comes with a bit of an elevated price at $180. In comparison to other packs in its league, I feel comfortable claiming it to be the most quality, and solid pack I've had the privilege of using. I have full confidence the rapidly growing, San Francisco-based gear company will continue to fabricate stylish, and practical products for us gear enthusiasts.
SPECS:
Price: $180 US
Volume: 22-34L
Colours: Graphite/crimson, ranger/black, alpine/graphite. U-pick colour options for an extra $20.
Inner "bucket" liner made with 600 denier truck tarpaulin
Weight: Not listed but the bag is likely 3 -4 lbs. Not super-light by any means.
PROS:
- Innovative cargo net opening up new load possibilities
- Adjustable side straps allowing for varied load sizes
- Military grade materials establishing the bulletproof design
- Wet/Dry compartments make for happy cargo
- Back panel and sternum strap make for a comfortable fit
- Perfect for wet climates like Vancouver in the fall.
- Guaranteed for life. Really.
CONS:
- The pack is slightly slim for people that are 6'+ and have broad shoulders.
- The zippered compartment on the roll top means contents get rolled too.
- Slightly elevated price. They go on sale occasionally.
Rating: 8.5/10
Innovation: 2/2
Function: 1.5/2
Aesthetics: 2/2
Features: 1.5/2
Price: 1.5/2

This is only our opinion. Do you disagree? Did we miss something? Are we totally out to lunch? Join the discussion in the forums here, and let us know what you think. People like/dislike gear for different reasons so chime in and we'll get a well-rounded evaluation.
Back to the rest of the reviews.
---