Black Diamond Element 60 Backpack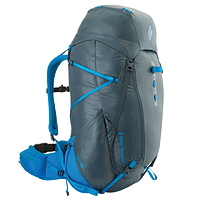 Backpacks are a tricky thing – you don't want too many bells and whistles because they'll just increase the weight, but you don't want a garbage bag either. I tend to prefer those packs that fall into the middle of the road: just enough straps to keep everything in place but without dozens of pockets, external cords and an espresso machine. Utah-based Black Diamond offers about 70 different packs so most likely there's something for everyone in its quiver. (And that doesn't include the Gregory line of backpacks, which parent company Black Diamond Inc. owns.) In the case of the newly launched Black Diamond Element line, the company is looking to appeal to the "minimalist-minded weekend backpacker" who is looking for a "streamlined and lightweight top-loader." The Element comes in a 45-litre and a 60-litre option and the equivalent line in the female-specific category is called "Elixir." Both models feature Black Diamond's proprietary "reACTIV" suspension system and "SwingArm" shoulder straps that the company says articulate and move with you while you're hiking over uneven terrain, thus reducing fatigue. When I looked more closely into this system, I learned that what the company is trying to do is have certain parts of the pack move with your body rather than remaining static so that when you bounce and swivel over rocks and roots, the entire load of the pack isn't forced to move with you. The SwingArm straps have a stainless steel cable running through them that ensures they remain relatively friction free while allowing for greater movement and the waist belt isn't affixed to any part of the frame, which means it too can move freely without bringing the entire weight of the pack along for the ride.
The Element features 210d ripstop nylon with a water-resistant finish.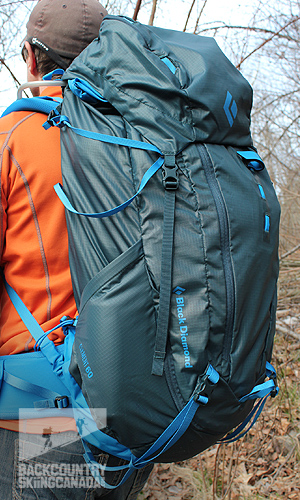 Features:
- reACTIV suspension with SwingArm shoulder straps
- High-flow, OpenAir back panel
- Removable floating top pocket (with 2 inner pockets) that converts to a lumbar pack
- Large zippered access to sleeping bag
- Zippered front pocket with mesh/elastic internal organizer pockets
- Quick-cinch side pockets and hipbelt pockets
- Retractable trekking pole/ice axe loop
- Sleeping pad straps
- Internal pouch for water bladder
- Two sizes for torso fit: medium and large
Thin compression straps save weight.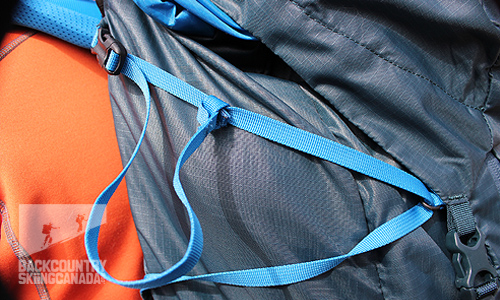 Bottom zipper opens into the main pocket allowing for easy access of your sleeping bag.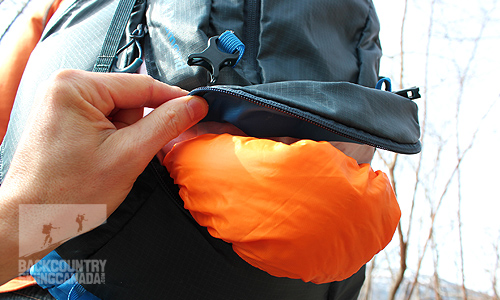 The Element is hydration compatible and features a elasticized pouch in the main pocket that keeps your water bladder in place.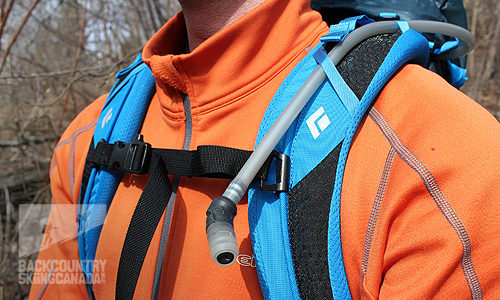 There are two zippered hip belt pockets.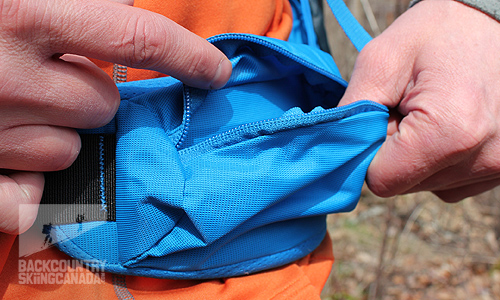 The side pockets are wide and easily accessible and each has a one-handed cinch cord.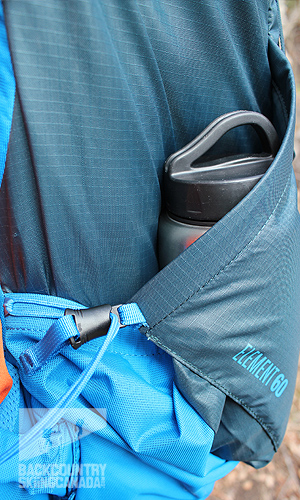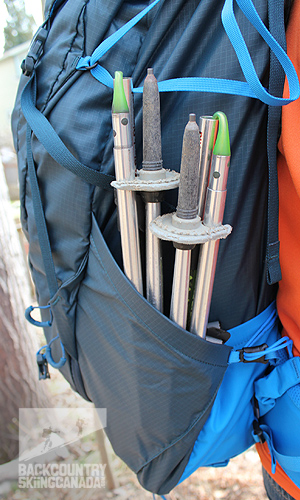 Removable floating top pocket (with 2 inner pockets) converts to a lumbar pack and under that is a large easy access top opening.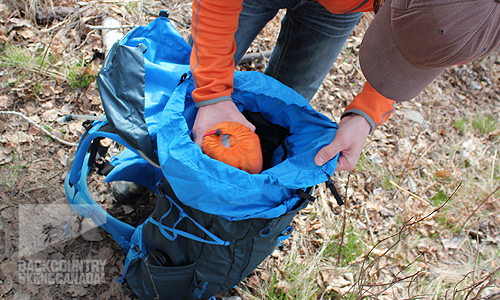 The front pocket contains 2 mesh pockets and its wide opening zipper makes it easily accessible.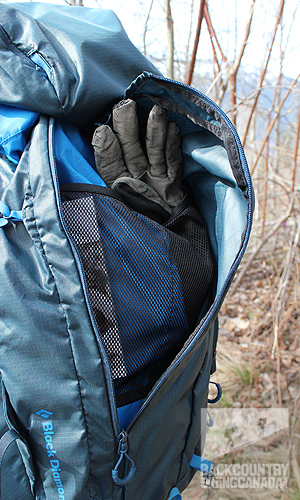 Verdict:
The Black Diamond Element 60 comes close to what I would define as "too much backpack." The first thing I noticed were the plethora of buckled cords hanging off the outside. (Honestly, who uses the bottom straps intended to hold a sleeping pad anymore? Who even owns a long foam pad when there are other comfortable, and tiny, options out there such as the Exped Downmat and Therm-a-rest NeoAir? But I digress.) The second thing I realized was the backpack had no less than 11 pockets, including the main chamber. (This is more than my big city briefcase with its pen holders, business card sleeves, etc.) For a "streamlined" pack, this seems to be a bit of overkill. That said, I was impressed with its weight – or lack of it. The Element 60 tips the scales at a lowly 1.5kg which is about 500 grams lighter than a lot of the competitors' offerings in the 60L range. This is impressive, especially considering the 210D ripstop nylon is extremely resistant. I had no hesitation throwing my 60 pounds of rock climbing gear into this pack and hauling it around the crags. (It should be noted that I only used this pack in the spring/summer months and did not take it ski touring.)
During my first use of the Element 60, three awesome features stood out. Firstly, the side pockets are huge and have an easy-to-use draw string cord on them, allowing me to reach back, pull out a guidebook and then stuff it back in and cinch it into place with only one hand. Secondly, the zippered flap on the large front pocket opens wide allowing for easy access. (To reach the main chamber you can go top-down or use the zippered opening near the bottom.) Thirdly, the elasticized pouch inside the main chamber kept my water bladder snug in place – as it got smaller over the course of the day, it didn't sag and restrict water flow. There were a few aspects I didn't like about the backpack, however. As mentioned above, there were too many pockets. The waist belt ones and the side pockets came in handy but I think three in the upper lid and two in the front pocket is overkill. (I kept having to search through all of them because I couldn't remember where I put things.) And speaking of the upper lid, Black Diamond says it can be fully removed and converted into a hip pack but without detailed instructions, I was never able to figure out how to do this.
In my opinion the best feature of the Element 60 is the suspension system. In the off season I typically use a pack of this size to haul around a 70-metre climbing rope, full trad rack, 14 quickdraws, shoes, harness, helmet, food and water and I spend a lot of time scrambling over scree slopes. That's a lot of weight to be jostling around as I lean, tip and hop around and on boulders. If I was spending most of my time hiking relatively flat trails, I probably wouldn't even give the reACTIV system a second thought. But, because of my sporadic movement over rocky terrain, I was impressed with how the pack moved with me and not against me. Because the waist belt isn't affixed to the frame, it moves freely with your hips and the SwingArm shoulder straps also have a huge range of motion yet are solid thanks to the embedded steel cable. (Although I did notice the shoulder straps squeaked a lot, but that could lessen over time.) Also, the back panel is well-padded but ventilated. It's not the most airy set-up on the market (my back did sweat against it a fair bit) but the cushioned padding was comfortable.
Overall, my verdict is that the Black Diamond Element 60 is a light and, most especially, comfortable backpack. By streamlining the pocket options and outer straps, this pack would be absolutely perfect.
The reACTIV suspension system and SwingArm shoulder straps allow you to move freely.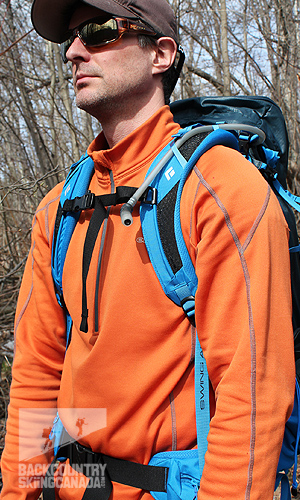 SPECS:
Price: $219.95US
Colours: Black, Moroccan Blue
Sizes: Medium, large
Weight: [M] 1.49kg / 3lb 4oz, [L] 1.51kg / 3lb 5oz
Volume: [M] 60L, [L] 62L
Fabric: 210d ripstop nylon (with water-resistant finish), 420d nylon
PROS:
Light and comfortable. The reACTIV suspension system is a bonus in that it allows for range of motion autonomous of the main body of the backpack. Plus the easy-to-access side pockets and elasticized inner water bladder pouch are excellent features.
CONS:
Eleven pockets and 16 straps seem excessive and it is not patently obvious how to convert the top pocket into a hip pack.
Rating: 8/10
Comfort 2/2
Durability 2/2
Features 1/2
Innovation 1/2
Quality / Price 2/2

This is only our opinion. Do you disagree? Did we miss something? Are we totally out to lunch? Join the discussion in the forums here, and let us know what you think. People like/dislike gear for different reasons so chime in and we'll get a well-rounded evaluation.
Back to the rest of the reviews.
---