The Black Diamond Dawn Patrol Pants are made of a Schoeller stretch-woven fabric which makes them durable and breathable with great stretch properties. NanoSphere durable water-repellent (or DWR) is used to repel water and dirt and is reportedly the industry's best-performing and longest-lasting DWR. Since we have only tested the Dawn Patrol Pants for a dozen or so days thus far so we'll get back to you on the durability. I can, however, vouch for the fit and stretch of the Schoeller fabric. Over half of my testing took place at Kokanee Glacier Cabin the week of May 4 - 11, 2013, which also happened to be the spring hot spell where temps got up to fifteen degrees in the alpine and five degrees on 9,000 ft summits. Surprisingly I was incredibly cool considering the temps, cooler in fact than my lighter ski touring pants. Most of the cooling credit has to go to the Schoeller fabric itself with some credit to the massive side zips that allow a breeze to get in and the earth tone colour of the pants. On the converse, our 6:00 am starts could be down right cold and for these the Dawn Patrol Pants kept me more than warm. The leg zips make these pants appropriate for a variety of temperatures; open the zips and pockets on the up track and get some cool glacier breeze flowing through then close them for the ski down to warm back up.
There are a few other features on the Black Diamond Dawn Patrol Pants worth mentioning, things that make them better than other soft shell pants I have worn in the past. First off, suspenders. The suspenders are a great option so that you have the choice between belt or no belt. I prefer no belt as it tends to get crushed into my hip bones by my pack or climbing harness. Similarly, the Two way fly zipper is a nice feature. It makes the job easy when nature calls in the backcountry. The built-in Recco system seems to be standard issue these days on any backcountry apparel but the mini gaiters were a new feature for this reviewer. A leg gaiter is a necessity here in the Kootenay region of BC as we get so much snow but they often get in the way when doing up your boots or loosening buckles when you switch over to walk mode. Black Diamond has minimized the gaiters in the Dawn Patrol Pants to the bare essentials so they do their job but don't interfere with other functions.
Bluesign:
The Black Diamond Dawn Patrol Pants are designated as a Bluesign product which means that they are manufactured in accordance with high environmental standards and assures that production processes are designed around maximum resource productivity. Workers health and safety is also a priority as is assuring that quality and performance are maintained. Bluesign is an environmental standard which guarantees compliance with stringent standards including water and air emissions. It ensures conservation of resources and the exclusion of hazardous substances throughout the entire manufacturing chain of all labeled products.
Features:
Adjustments: Belt loops and suspenders
Fly: Two-way zipped fly
Leg vents: Two-way side zipper doubles as a vent
Pockets: Two zipped hand pockets and one zipped cargo pocket
Construction: Gusseted
Hem: Built in snow gaiter with drawcord hem and kick patch
Safety: Recco system
Tough ankle patches to resist ski edges and rocks when ski mountaineering.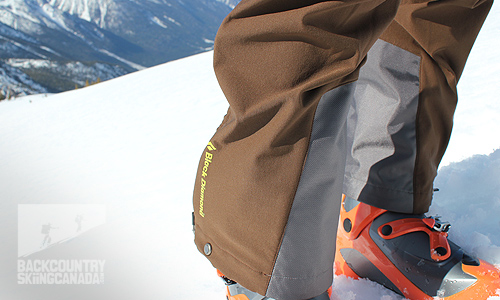 Optional suspenders instead of the belt in order to hold things up.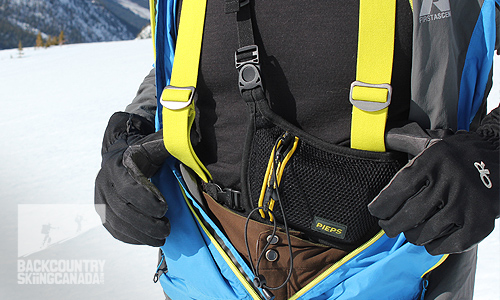 Mini elasticized gaiter to keep out the snow.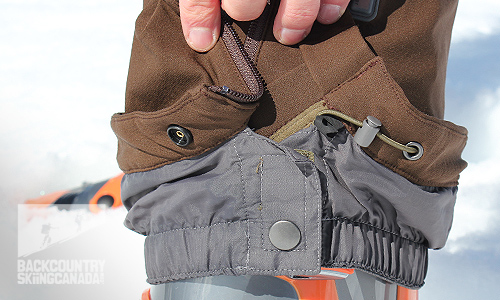 Zippered thigh pocket for items you need on the go.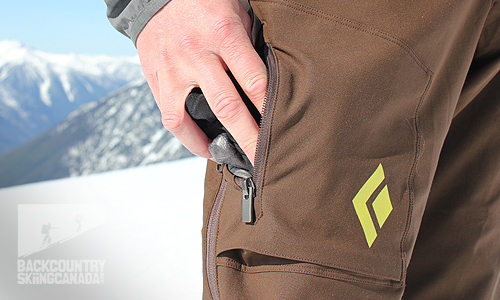 Two hand warmer pockets also help with venting heat when you climb.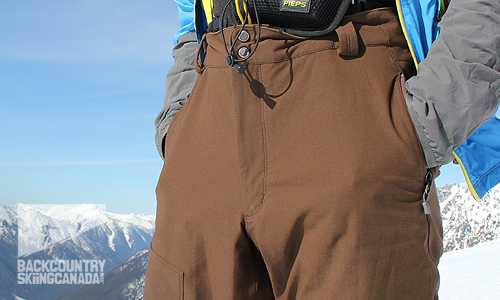 Nice long thigh vents and lower leg zips.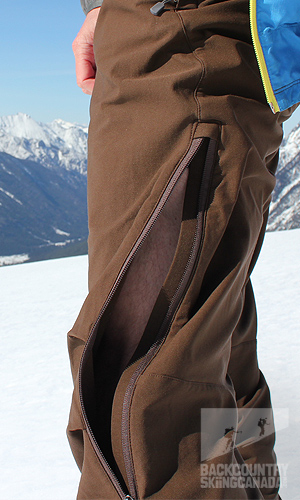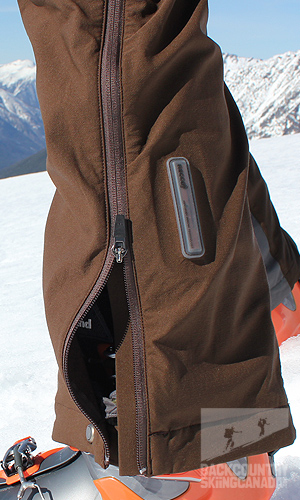 Black Diamond Access Hybrid Vest:
The other new piece of apparel that I received was the Black Diamond Access Hybrid Vest. This is a Primaloft vest for colder ski tours, alpine belays or just winter life in the city. The Black Diamond Access Hybrid Vest features a chest pocket, two zipped hand pockets, two interior drop pockets and a drawcord hem. It's made of a 20denier ripstop Nylon shell with a NanoSphere DWR coating and Primaloft insulation ad weighs in at 290 grams or 10.23 oz. There are also Schoeller StretchWoven nylon side panels to allow some venting and breathability. The Access Hybrid Vest retails for $169 (fall 2013) and is available in Cinder, Jasper, Granite and Onyx. This is a good insulating layer that will keep you warm when you're not moving and also provide some flexibility in your layering system on the skin track and due to unforseen circumstances.
A few photos to show you some of the details: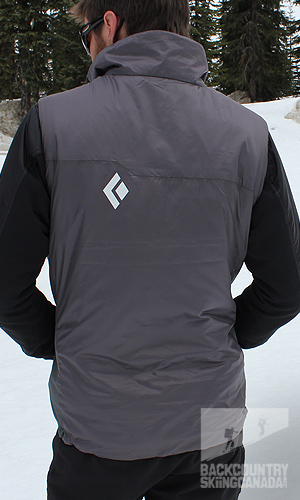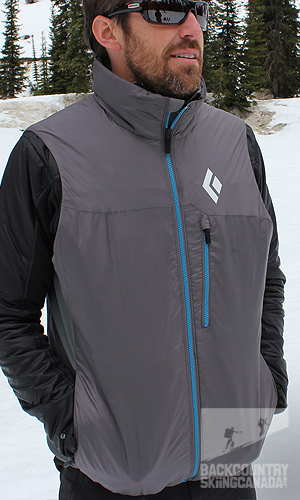 Inside pocket which could hold a skin.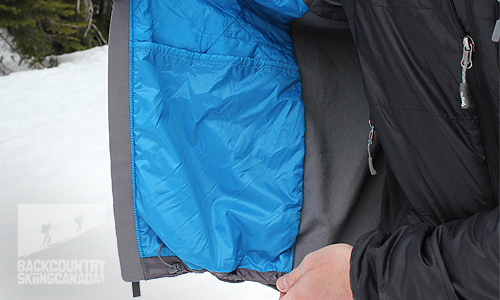 Two exterior hand warmer pockets.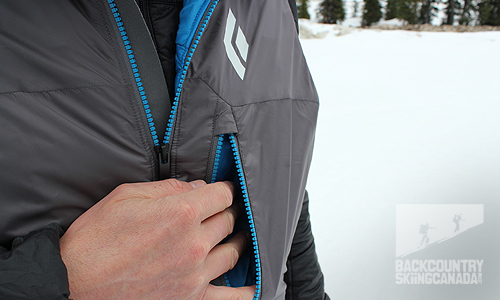 Nice high collar with zipper garage.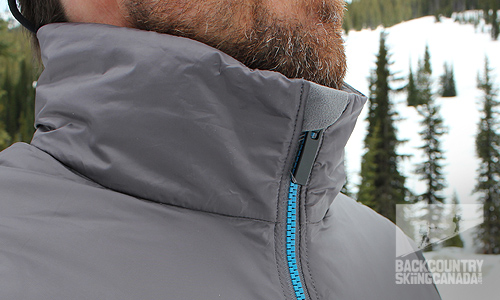 Fleece lined zip and hem adjustment.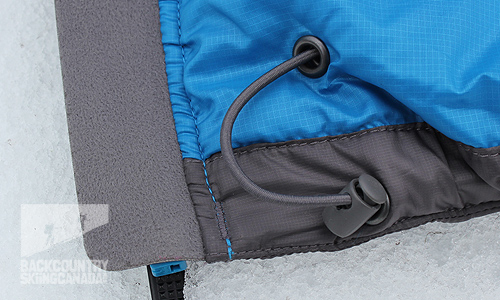 Verdict:
I have been looking for a dedicated soft shell ski touring pant for over two years now. It's the one weakness in my backcountry skiing tickle trunk and it has likely taken this long due to my long list of requirements or maybe I am just too picky? The Black Diamond Dawn Patrol Pants seem to fit the bill so far and I am really happy with their breathability and warmth, while being quite surprised at how cool they are on warmer days. I have already discussed most of the features that stoke my fire but there are a few areas where things could possibly be improved. Namely, they are not cheap at three bills, but you do get what you pay for I suppose. Additionally the thigh pockets are cut relatively small for my average sized hands, never mind if I have thin touring gloves on. They are also high on the pants so they get covered under my pack hip belt and harness. The last beef may be a result of these being a pre-production sample, I could not find a clip in the thigh pocket for a transceiver. I don't carry my transceiver in a pocket (ever) but I know that this practice is becoming more and more common so hopefully this is a feature on the retail version available in fall 2013. Overall a great pair of soft shell touring pants that I will integrate into my ski touring wardrobe.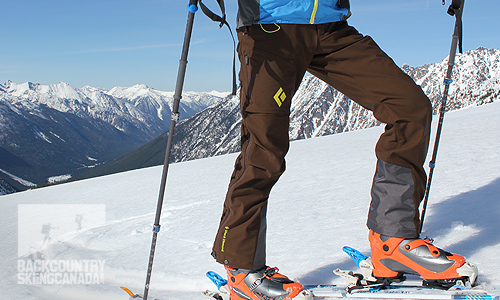 SPECS:
Price: $299 US
Weight: 770g / 27.16oz
Fabric: Schoeller StretchWoven nylon (260 g/m2, 91% nylon, 9% elastane) with brushed back and NanoSphere Technology
Colours: Granite, Mineral, Onyx
PROS:
- Leg vents
- Schoeller fabric keeps you warm on cold days and cool on warmer days
- Two way zips on the fly - very handy!
- Two way leg vents to dump heat on the up track
- Suspenders that don't get in the way of pack hip belt or harness
- Mini boot gaiters
- 3 colour options
- BlueSign certified
CONS:
- Pricey
- No clip in thigh pocket for a beacon should you choose to wear yours there
- Hand pockets could have larger openings as they are tight even for my average hands
- Hand pockets get covered by hip belts and harnesses
- Not a huge fan of the brown colour but on hot spring tours it's not as hot as black
- Vest could be made of Primaloft Eco insulation which is far more environmentally friendly
Rating: 8.5/10
Fit / Mobility 1.5/2
Packability 2/2
Warmth / Breathable 2/2
Features 1.5/2
Quality / Price 1.5/2

Are we totally out to lunch? Join the discussion in the forums here, and let us know what you think. People like/dislike gear for different reasons so chime in and we'll get a well-rounded evaluation.
Back to the rest of the reviews.
---