Black Diamond Dawn Patrol Pants - Review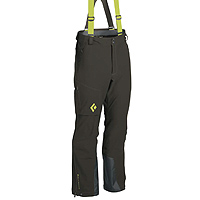 Black Diamond has been around for a few decades and is well known for their mountaineering, climbing and ski touring "hard goods." As of fall 2013 BD is adding a full line-up of clothes to their repertoire, propelling them into the "soft goods" side of the industry. Their new clothing line-up is divided into three collections: the Schoeller Collection dubbed the "Dawn Patrol" (thank Alex Lowe for that one) for us backcountry skiers, the Prima Loft Collection for the rock climbers and the Polartec Collection for the urban dweller.
Last season we were sent out two items, the Dawn Patrol Pants and the Access Hybrid Vest. Give a click here to read the full review of both of these new Black Diamond products.
If you are more the visual type then give the following video a watch: