Big Agnes Lost Ranger 15 Sleeping Bag and Q-Core Sleeping Pad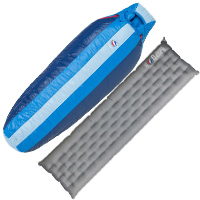 About 10 years ago I became an aficionado of ultra-light camping techniques. I followed the teachings of adventure guru Ray Jardine and started shaving grams from my backpack: I ditched the tent in favour of a sil tarp, I bought titanium cutlery and I chopped the handle of my toothbrush in half. I also invested in a 3/4-length sleeping system that featured half a down sleeping bag with straps that wrapped around an ultralight pad. The theory is that the down in the underside of your sleeping bag is useless because it's being crushed by your body weight. So, rather than lug it around, just have down on top of your body and utilize the insulating properties of the sleeping pad for warmth. That's the theory but what they don't tell you is it's not terribly comfortable. On my adventures I enjoyed the days carrying a tiny backpack and at night I'd be like, "The wind's howling through this tarp, I'm uncomfortable in this sleeping bag and I can't wait until the sun rises and I can start hiking again." Needless to say my ultralight camping faze was short lived. I share this story because I was recently asked to review the Big Agnes Lost Ranger sleeping bag and Q-Core insulated pad, which subscribe to the theory that down is useless crushed under your body weight and instead you should utilize the sleeping pad's insulating qualities. The Lost Ranger bag only has down in two-thirds of its structure and the pad slides into an integrated sleeve on the bottom of the bag. In other words, you can't really have one without the other so if you already have a sleeping pad that you love, this product probably isn't for you.
Rectangular shaped bag offers up plenty of room.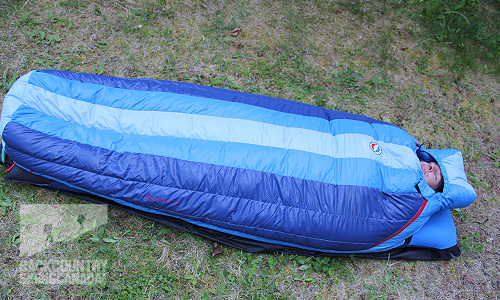 Integrated full pad sleeve.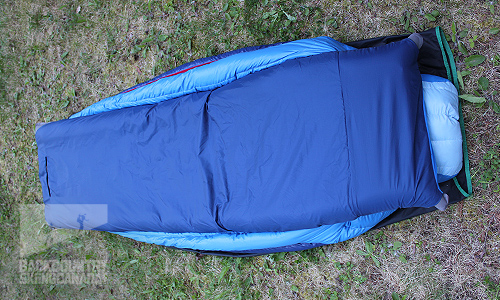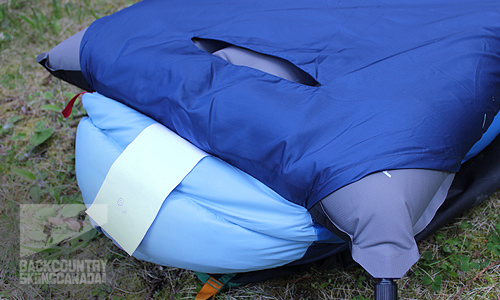 Stretch panel on pad sleeve doubles as pillow stabilizer.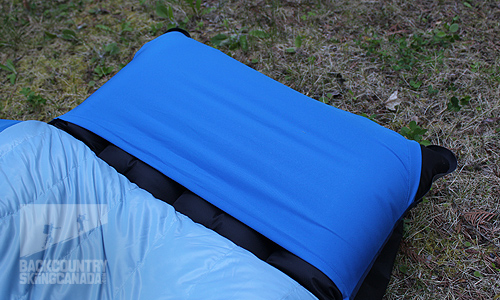 Features of the Big Agnes Lost Ranger Sleeping Bag:
- Rectangular shaped bag with an ergonomic hood design
- Integrated full pad sleeve
- Liner loops
- Stretch panel on pad sleeve doubles as pillow stabilizer
- No-draft collar and zipper
- Exterior loops for hang drying or storage
- Nylon taffeta lining and rip-stop shell fabric
- 650 fill DownTek water repellent down
- Mesh storage sack and nylon stuff sack
- It's possible to mate together left and right zip bags
The bag features 650 fill DownTek water repellent down.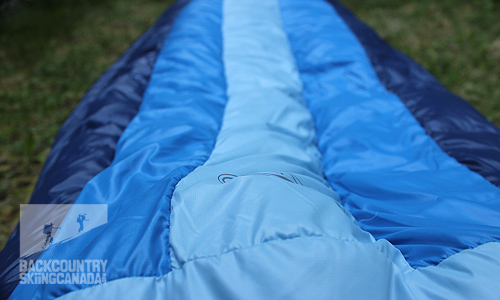 Ergonomic hood design with draw cord.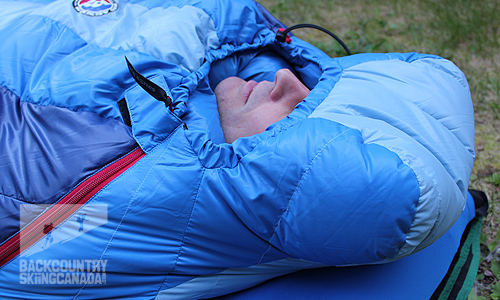 Comfy footbox.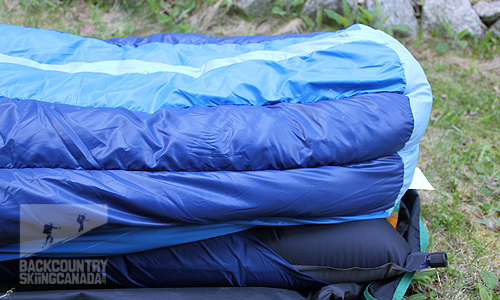 Packed size is 20x22cm.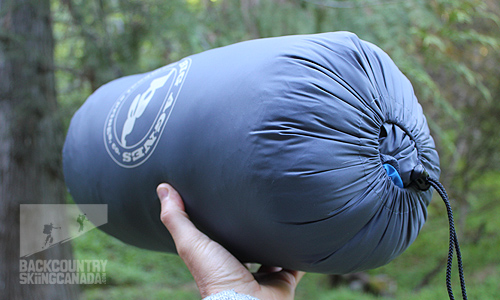 Features of the Insulated Q-Core Sleeping Pad:
- Estimated R-Value of 5
- X-Static synthetic insulation
- Alternating I-Beam construction
- Nylon rip-stop top and bottom
- Internal polyurethane coating
- Includes stuff sack and repair kit
Alternating I-Beam construction or waffle pattern is supper comfortable and Nylon rip-stop top and bottom for durability.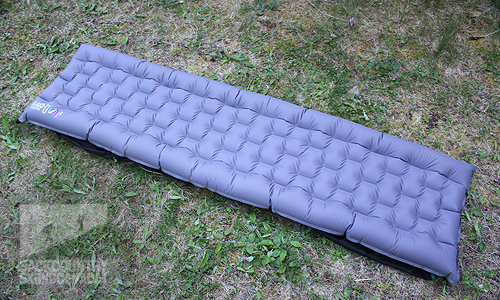 Simple single inflation valve.

Verdict:
The first thing you notice when you unpack the Big Agnes Lost Ranger sleeping bag is the cool colour scheme: the striped pattern of varying shades of blue with the red zipper is a refreshing change from the monotone norm. The second thing you notice is the shape: this isn't your typical mummy bag. Instead it's more of a rectangular shape that allows for a lot of room in the waist and feet. After an initial review I set about blowing up the Q-Core sleeping pad (the company's self-inflating models are the Two Track and Hinman pads) and sliding it into the sleeve in the bottom of the sleeping bag, which took me longer than I expected. (I suppose you'd get better at it with practice.) As mentioned above, the theory is that by having an integrated sleeping pad system you can forego the down in the underside of the bag, plus you don't have to worry about rolling off your sleeping pad. Although, honestly, when was the last time you rolled off your sleeping pad? I move around so much in my sleep I've been accused of practicing the Highland Fling and yet I've never found myself lying on the cold floor of the tent with my sleeping pad shoved into the corner. But I digress.
Eventually I crawled into the bag and then came to realize where the Big Agnes Lost Ranger sleeping bag system falls short – comfort. The thing about having a sleeping bag attached to a sleeping pad is that the bag doesn't move with you. Granted, the Lost Ranger's rectangular styling ensures there's plenty of room to move around within it but unless you sleep on your back, your face is going to be buried in the side of the hood. Plus, for me it felt restrictive not being able to move parts of the sleeping bag – so much so that I didn't even spend a night in it. I'll have to take the company's word that the synthetic insulation in the Q-Core pad, and the down insulation in the Lost Ranger are sufficient for -9°C temperatures. That said, the fabric between the pad and the bag (that is, the material without the down in it) felt clammy and slippery when I first got into it. Granted, that would probably change as your body temperature warms up the pad but it's not a pleasant feeling at first.
Other short-falls of the Lost Ranger included the zipper that snagged the few times I used it (although the material around the zipper is thicker than the rest of the bag so you won't damage the fabric) and lack of a storage pocket. (When I'm car camping I like to put the key in my sleeping bag pocket so I don't lose it.) However, the cinch cord for the hood is easy to use with one hand and it's great the zipper runs both ways so you can air out your feet if it gets too warm down there.
Another good feature of the Big Anes Lost Ranger sleeping bag is the price – at less than US$300 it's one of the cheaper down sleeping bags on the market. However, unless you already have a rectangular shaped sleeping pad that's close to 50x100x20cm in dimension, you'll have to purchase the Q-Core sleeping pad to go with the Lost Ranger, which isn't a cheap option at US$169.
If the Lost Ranger offered significant weight savings then I might be more inclined to recommend it but, despite the lack of down in the underside, it still weighs in at 1332g (almost three pounds) and that, combined with the Q-Core pad means your total sleeping setup weighs just under five pounds. (My current, and extremely comfortable, sleeping bag and pad weigh in at just under three-and-a-half pounds.) All in all, I like that Big Agnes is exploring the integrated sleeping bag/pad system but, in my opinion, the Lost Ranger and Q-Core pad does not offer enough benefits for me to return to this model.
* NOTE: This product was reviewed by a side sleeper. To read a review by a back sleeper who enjoyed the Big Agnes sleeping system, click here.
SPECS:
Lost Ranger Sleeping Bag Specs (for size Regular):
Price: $279.95 - 299.95 US
Temperature limit: -9°C (comfort)
Length: 178cm
Weight: 1332g / 2lb 15oz
Packed Size: 20x22cm
Insulation: 650+ loft
Fill weight: 451g / 16oz
Colour: Blue striped

Insulated Q-Core Sleeping Pad Specs (for size 50x200cm):
Price: $169.95US
Size: 50 x 200 x 10cm / 20" x 78" x 4"
Weight: 822g / 1lb 13oz
Packed Size: 16 x 24cm / 6" x 9.5"
R-value: 5.0
Colour: Silver/Gray
PROS:
- Sleeping bag is a great colour
- Good to have a two-way zipper
- There's an easy-to-use cinch cord in the hood
- Sleeping pad's alternating I-Beam construction and synthetic insulation ensures body heat is trapped, allowing for a comfortable sleep
CONS:
- The system is awkward to set up when sliding the pad into the sleeping bag
- Bag is uncomfortable to move around in because it doesn't move with you
- If you're a side-sleeper, your face ends up buried in the side of the hood
- The bag is well priced but the sleeping pad is expensive considering the synthetic insulation
Rating of the Lost Ranger Sleeping Bag: 7.5/10
Warmth: 2/2
Compressibility: 1.5/2
Features: 1.5/2
Weight: 1/2
Quality/Price: 1.5/2
Rating of the Insulated Q-Core Sleeping Pad: 7/10
Innovation: 1.5/2
Function: 1.5/2
Aesthetics/Fit: 2/2
Features: 1/2
Quality/Price: 1/2

Join the discussion in the forums here, and let us know what you think. People like/dislike gear for different reasons so chime in and we'll get a well-rounded evaluation.
Back to the rest of the reviews.
---