Big Agnes Mystic SL Sleeping Bag and Q-Core SL Pad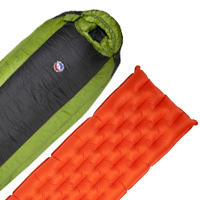 Most sleeping bags are pretty traditional in their design. Lightweight yet durable exterior fabrics retain the loft of either synthetic or down insulation depending upon your preference. Include a side zip, zipper baffle, hood, neck collar and you are done. Not so if you are Big Agnes, however. The company name sounds rather bold and their approach to product design echoes this sentiment. The Big Agnes Mystic SL Sleeping Bag and Q-Core SL Pad are part of the Big Agnes 'System Bags' as they call them. What's this mean? Simply put, Big Agnes integrates their sleeping pad with the design of their sleeping bag to offer a complete integrated 'system'. This system prevents you from ever rolling off your sleeping pad and also allows for a lighter sleeping bag since you don't really need to insulate the bottom of the bag. More on this later, first lets look at the company.
Big Agnes was formed in 1999 and is located in Steamboat Springs Colorado. It's supposedly named after a local 12,040 foot peak in the Mt. Zirkel Wilderness Area just outside town. The company itself is still relatively small but their products include tents, sleeping bags, sleeping pads, hiking poles, chairs, pillows and duffle bags. They offer several products made form 100% recycled materials and purchase wind energy to power 100% of their office and warehouse spaces. The list of non-profit organizations they support is almost as long as their list of products and includes Leave No Trace, The Conservation Alliance and The American Alpine Club, to name a few.
The Big Agnes sleep system with mat exposed so you can see how thing integrate.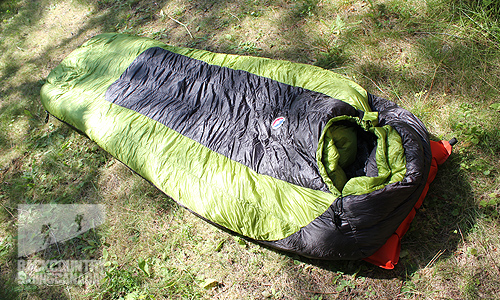 Big Agnes Mystic SL Sleeping Bag:
Traditional mummy sleeping bag designs are typically lighter due to the reduced material requirements when compared to the classic semi-rectangular shape of the Big Agnes Mystic SL Sleeping Bag. However, this classic cut provides increased volume inside the bag which translates into more room to move around and stretch out, which is ideal if you are on the larger side of average or just get the 'jimmy-leg' during the night. Since the Mystic SL is part of the 'system' I mentioned earlier and has no insulation on the bottom side, it's actually one of the lightest sleeping bags we have ever reviewed at just 1105 grams—that's light!
The Big Agnes Q-Core SL Pad slips into an integrated sleeve on the bottom of the Mystic SL and becomes one with the sleeping bag. No more waking up on the ground. No more sliding too far up or down on your sleeping pad. The Q-Core pad provides insulation, comfort and warmth from below while from above heat is retained by the 800 fill goose down which covers the top or roughly two thirds of the bag. Traditional sleeping bags use down on the bottom of the bag, but since this doesn't actually provide much insulation value when the down is compressed under your body weight, Big Agnes did away with this. Wait - it gets better! The Mystic SL also has a built in pillow pocket so you will never loose your pillow in the midst of a good slumber.
The Big Agnes Mystic SL Sleeping Bag has all the required features like a full length zipper with draft tube, hood and neck collar to keep out the cold, hang loops, recycled mesh storage sack and a nylon stuff sack. On the design side the Mystic SL uses 'Insotect Flow construction' which is a fancy term for length-wise baffles (or what Big Agnes calls Vertical Thermal Channels) rather than traditional width-wise baffles. This provides a better distribution or warmth from your core where you generate the majority of heat, and moves it down to your extremities where you tend to get cold first. On top of this the baffles have 'flow gates' built inside them which minimize the ability of the down to shift and clump together thus increasing its insulation properties. Insotect Flow also provides a more form fitting feel with less bulk since the baffles follow the contour of your body.This just makes more sense than sleeping bags with traditional baffle design.
The pillow pocket - my favorite feature from Big Agnes.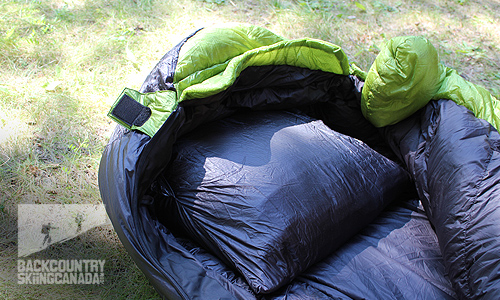 Not a mummy cut so plenty of room for tossing and turning.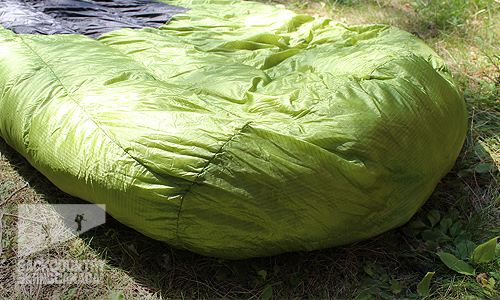 Hood and baffle, check.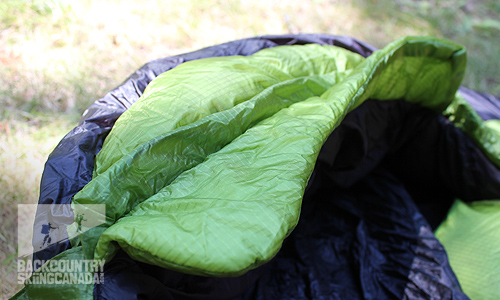 Neck baffle, check.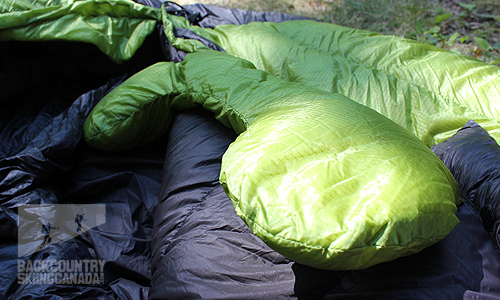 Full zip with reinforced fabric to prevent snags, check.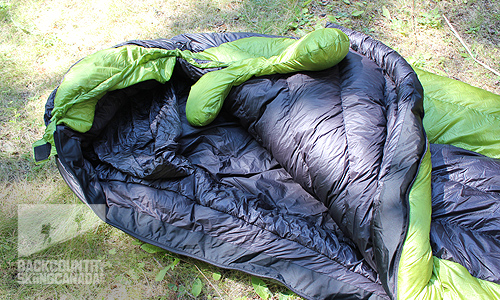 Two way zipper with velcro closure, check.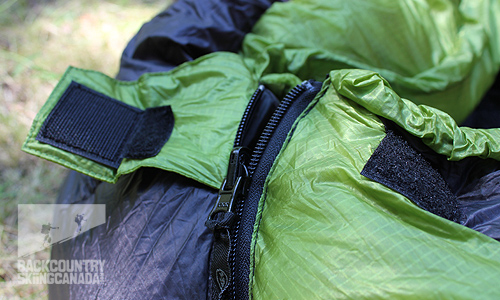 Insotect baffle design, double check.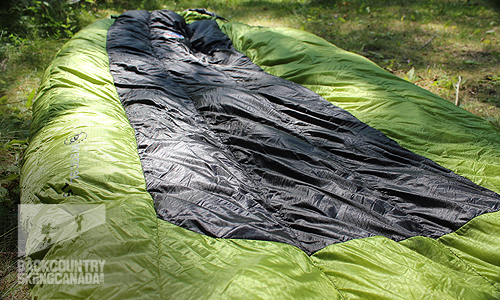 Fabrics:
The Big Agnes Mystic SL Sleeping Bag uses Pertex Quantum rip-stop nylon fabric as the exterior shell. This fabric is fast becoming the industry standard as it's high thread count is durable but offers up a silky soft feel with great packing volume characteristics. A water repellent surface treatment is then applied. The interior fabric is Nylon taffeta which is found on most high end sleeping bags due to its incredibly soft feel and comfort.
No stuff sac included so things are not as compact as they could be.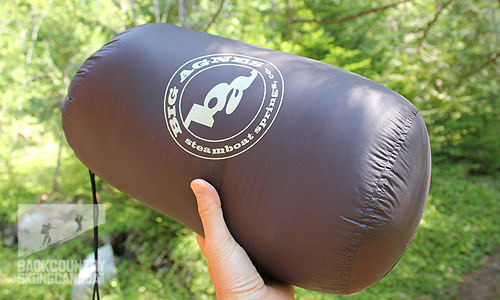 Storage sac included, check.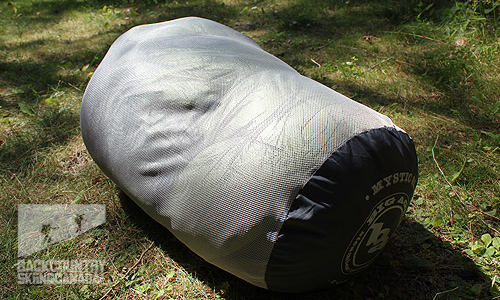 Big Agnes Q-Core SL Pad :
Big Agnes didn't stop at revolutionizing sleeping bag design; they applied this same bold approach to their Q-Core SL Pad. I reviewed the Q-Core SL Pad in conjunction with the Mystic SL sleeping bag, because after all it is a 'system'. The first thing you will notice about the Q-Core SL is that it packs down small and is really light. The 20" x 78" version (there are many sizes to choose from) weighs only 625 grams, and stuffed, it measures just 12"x4". This is one of the lightest sleeping pads we here at Backcountry Skiing Canada have reviewed to date. The second thing you will notice about the Q-Core Pad upon inflating it is that it uses a very unique quilted design. Standard sleeping pads use length-wise air chambers, but not so with the Big Agnes Q-Core SL - it uses what they call 'Alternating I-beam Construction'. It's a unique design that works. It's far more comfortable than traditional sleeping pads as each quilt gives non-liner support to your back, head, butt and feet. Kind of like a mini massage as you rest. The left and right side air chambers are also slightly larger so they help keep you more centred on the pad and almost cradled while you sleep. This is a minor feature and you have to really look to see it but once you know it's there it really explains a lot.
With a thickness of 9cm and an estimated R-Value of 4.5 the Big Agnes Q-Core SL is a solid three season sleeping pad. It uses 'X-Static synthetic insulation' which according to Big Agnes "consists of silver filament to enhance thermodynamic, anti-microbial and anti-odor properties". The interior has a polyurethane coating and the exterior is a light weight rip-stop nylon to keep punctures to a minimum.
If you want a Big Agnes sleeping pad with a higher R-Value of 5 then check out the regular Q-core, it's a little easier on the pocket book but will add an additional 170 grams to your load.
Unique quilted design makes this the most comfortable sleeping pad I have ever used.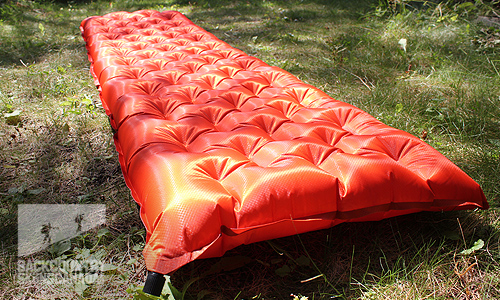 Single value for inflation and deflation.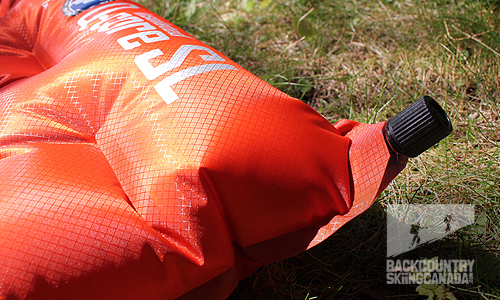 Close up of that quilted pattern that makes sleeping almost as good as being in your own bed.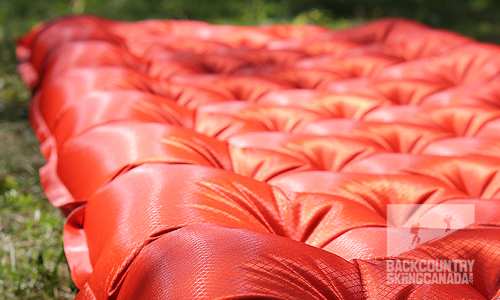 9cm of thickness, who says size doesn't matter.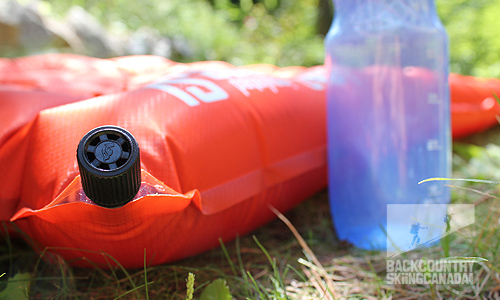 Rolls up super small and light.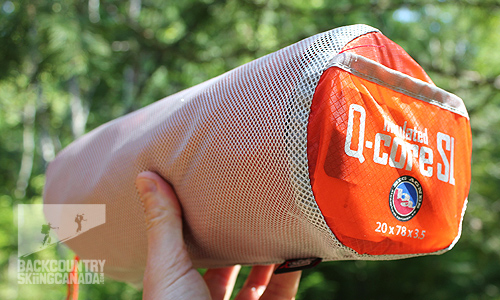 Verdict:
I had heard of Big Agnes products for many years but never had the opportunity to review any of their gear until the Big Agnes Mystic SL Sleeping Bag and Q-Core SL Pad arrived at Backcountry Skiing Canada HQ. I am glad they did as I would have to say that their sleep system is one of the best innovations to hit sleeping bag and sleeping pad design in a long, long time. They took two products that have not evolved much over the past few years and meshed them together into a system that improves your sleeping experience by leaps and bounds. Use them apart and they still function equally as well or use them with other non-Big Agnes products if you so choose.
Weighing in on the lighter end always wins big points from this reviewer and the Big Agnes Mystic SL and Q-core SL get full marks here. They are among the lightest in their category but they don't sacrifice comfort or features in order to achieve this. When combined together I can honestly say that they provided one of the top sleeping experiences in my long camping history. The Quilted Q-core is killer comfortable.
I tried very hard to find anything to fault either of these products and even then they were only minor points as you can read below in the Cons section.
The Mystic SL and Q-Core SL combine to make an ingenious sleep system. This is the top view with pad exposed so you can see where it belongs.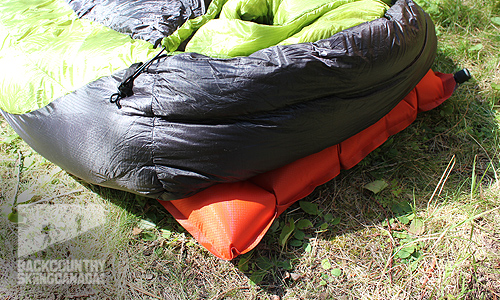 Notice on the bottom view that there is no down insulation, not needed.  The Q-Core SL's rated to -9.4°C.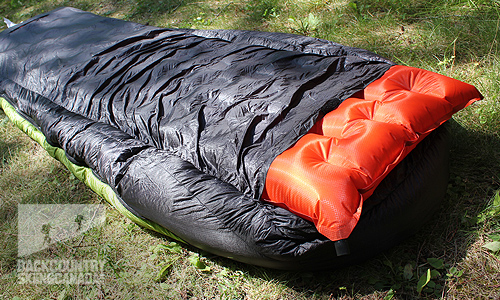 SPECS:
Big Agnes Mystic SL Sleeping Bag
Price: $419.95US
Weight: 1105g / 2lb 7 oz
Rating: -9.4°C / 15°F
Fill: 800 fill goose down
Colour: Black/Green
Stuff Size: 8" x 17.5"
Big Agnes Q-Core SL Pad
Price: $169US
Weight: 652g / 23oz
Sizes: 20" x 66" x 3.5", 20" x 72" x 3.5",20" x 72" x 3.25" mummy, 20" x 78" x 3.5" (tested), 25" x 78" x 3.5"
R-Value: 4.5
Colour: Orange
PROS:
- Integrated "system" design with the sleeping pad is brilliant.
- Pillow pocket in the Mystic SL bag is my favourite feature.
- Warm and comfortable.
- Q-Core Pad offers more comfort than other pads due to its quilted design.
- One of the lightest sleeping bag and sleeping pads we have tested to date.
- No side drafts where down insulation meets the integrated sleeping pad.
CONS:
- Stuff sac offers no compression which would be helpful to reduce volume.
- Mystic SL is a little pricey since you are only getting 2/3 the down of other bags.
- Standard inflation valve on the Q-Core Pad limits how fast you can inflate it.
- 20" wide Q-Core Pad is a little narrow for my average frame.
- Q-core repair kit is hidden so look twice.
Rating of the Big Agnes Mystic SL Sleeping Bag: 9/10
Warmth               2/2
Compressibility    1.5/2
Features              1.5/2
Weight                 2/2
Quality / Price     2/2
Rating of the Big Agnes Q-Core SL Pad: 9/10
Innovation           2/2
Function              2/2
Aesthetics / Fit    1.5/2
Features              1.5/2
Quality / Price     2/2

Join the discussion in the forums here, and let us know what you think. People like/dislike gear for different reasons so chime in and we'll get a well-rounded evaluation.
Back to the rest of the reviews.
---