Atlas Aspect Snowshoes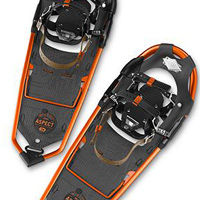 You gotta get up to get down – and when you are a snowboarder that can't or doesn't want to spent 2K on a splitboard setup, snowshoes become an easy answer to get you into the backcountry.  The popularity of snowshoes has been exploding over the last couple of years, but most of that growth has come in the "I want to go walk in the park" category.  Snowshoes are not created equal – not by a long shot, most of the snowshoes on the market are built for that user who is going for a walk in the park.  A backcountry snowshoe needs to pack well, be durable, have good traction and be comfortable when climbing.  Enter the Atlas Aspect Snowshoe built with the backcountry user in mind. 
The Atlas Aspect Snowshoe replaces the BC (Backcountry) model in the Atlas line up.  It is a great replacement; I think they have done a great job of creating a product that has everything that a snowboarder headed off resort could ask for in a snowshoe.  Here is what this shoe has and what I like about it.  
The Walking Part:
The Atlas Aspect Snowshoe Springloaded suspension system - this is the piece that attaches the binding to the shoe part. "Springloaded" means that every time you take a step the snowshoe comes back in line with your foot and does not drag through the snow as much.  I have heard people complain that this flicks snow up behind you and onto your back.  I have not noticed this being an issue, and I am out there to play in the snow anyway so I am not too worried.
I consider a heel riser to be a requisite on any backcountry snowshoe, these have it and it seems to work well and limits the calf burn.  The shape of the shoe seems to be well thought out – I am not a particularly coordinated individual, but I found the amount of times I stepped on my own shoes was quite small.
I consider a heel riser to be a requisite on any backcountry snowshoe, these have it and it seems to work well and limits the calf burn. The shape seems to be well thought out also – I am not a particularly coordinated individual, but I found the amount of times I stepped on my own shoes was quite small.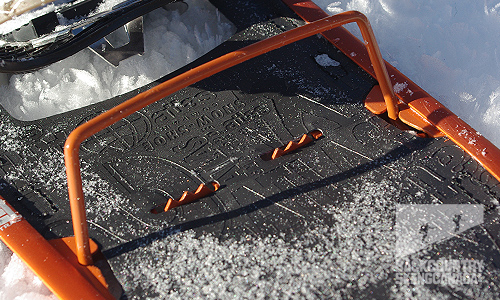 The Traction Part:
The spring loaded suspension that I mentioned above allows you to get good purchase in cruddy, steep snow by easily being able to dig in the underfoot crampon.  The other part of the traction puzzle is where Atlas has made their biggest improvements on this shoe.  They have taken a page right out of MSR's book and incorporated traction pieces right on to the outer frame of the snowshoe – they call it ReactiV-Trac™  the construction features aggressive saw-toothed perimeter traction that works incredibly well when side stepping up or down steep windblown ridges.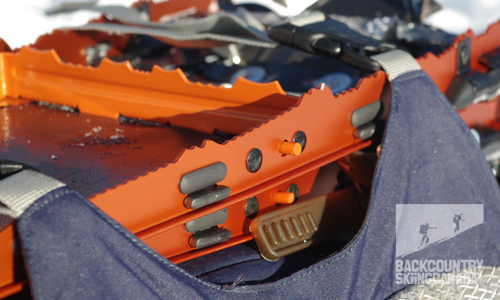 The Packing Part:
Getting you up is only part of the package when you are using snowshoes as a backcountry access tool – getting them down with you is the other part.  The binding and shape of the snowshoes are such that they sit together very tightly, giving a small profile to strap to your bag.  I am thinking the new ReactiV Trac – might eventually do wear down my pack straps.  Despite adding a bunch of metal to the shoes Atlas has kept the weight of the Aspect pretty reasonable and under 5lbs/pair.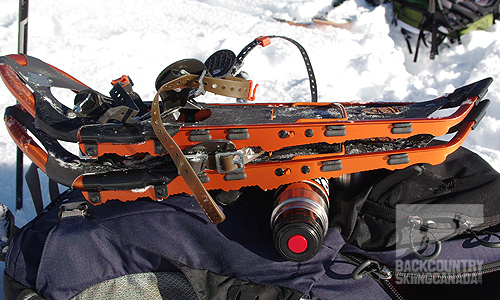 The Float Part:
The Atlas Aspect Snowshoe come in two sizes 24" and 28,"  - they are wider than most of the Atlas line, but I would say narrower then the BC model that they replaced.  Float is almost directly related to surface area 163 sq in for the 24 and 192 sq in. for the 28.  I elected to test the 24's because I wanted them to be as small as possible on my pack.  With my gear and board on, I am definitely above the recommended weight for the 24's, but, I found that in snow conditions that had any amount of consolidation I did not have any issues with float.  In flat areas with lots of fresh snow, I sunk at least a foot down at every step.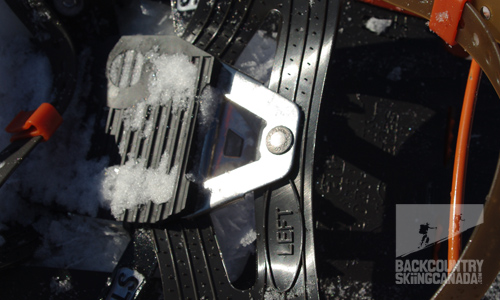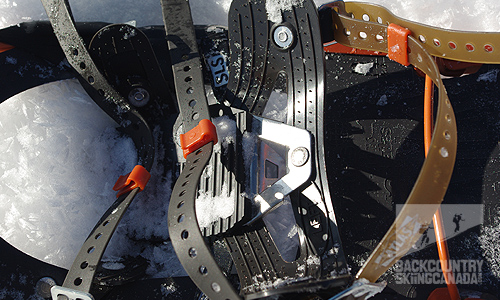 The Fit Part:
The binding on this shoe seems well designed; it accommodates large boots and is easy on and off while still holding your foot well.  The straps seem like they have potential to break but they appear  to be the same as other Atlas straps which I have not heard of any breakage issues and you can find replacements through dealers.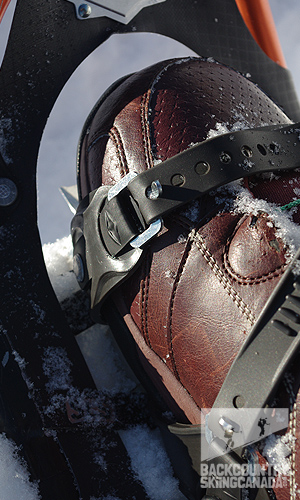 Verdict:
Best snowshoe out there for backcountry snowboarding. The Atlas Aspect have it dialled in all the areas that matter - great traction on steeps and crud, they are light and they stow on a pack well, they are durable and most important they are comfortable to walk in.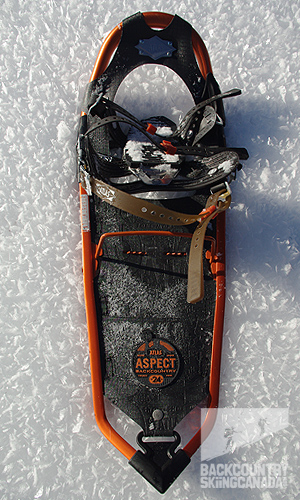 SPECS:
Price: $280 CDN
Weight: 24's - 4.59 lbs / 2081 g, 28's - 4.94 lbs / 224 1g
Surface Area: 24's - 163 sq. inches / 1052 sq. cm, 28's – 192 sq. inches / 1239 sq. cm
Load: 24's - 100 to 190 lbs / 45.4 to 86 kg, 28's - 135 to 225 lbs/ 61 to 102 kg
PROS:
- Great Traction
– Spring loaded suspension combined with saw-tooth perimeter traction ensure good purchase on all kinds of terrain.
- Pack very flat – efficient binding design allow the Aspect to be stowed well for the ride down.
CONS:
- none yet – will update if they come up
Rating: 10/10
Innovation        2/2
Function           2/2
Aesthetics         2/2
Features           2/2
Quality / Price   2/2

Join the discussion in the forums here, and let us know what you think. People like/dislike gear for different reasons so chime in and we'll get a well-rounded evaluation. Check back mid-season to see how our review stands up to our in-the-field testing.
Back to the rest of the reviews.
---