Atlas Aspect snowshoes - REVIEW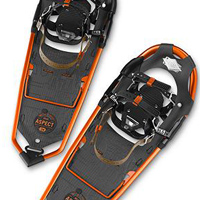 You gotta get up to get down – and when you are a snowboarder that can't or doesn't want to spent 2K on a splitboard setup, snowshoes become an easy answer to get you into the backcountry. The popularity of snowshoes has been exploding over the last couple of years, but most of that growth has come in the "I want to go walk in the park" category. Snowshoes are not created equal – not by a long shot, most of the snowshoes on the market are built for that user who is going for a walk in the park. A backcountry snowshoe needs to pack well, be durable, have good traction and be comfortable when climbing. Enter the Atlas Aspect Snowshoe built with the backcountry user in mind.
Read the rest of the review here to find out why these scored a perfect 5/5.