Arcteryx Lithic Comp Jacket and Pants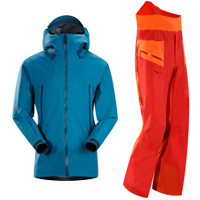 We have tested a whack of items from Arc'teryx over the years. In fact, our review of the Arc'teryx Theta SV Pants, back in the fall of 2010, was one of the site's first. We've looked at insulation layers, like the Fission SL and our beloved Atom LT, we've also tested gloves, including the Cadens, which are still going strong today.
Arc'teryx is an undeniably strong brand in the apparel world. Distinctive, minimalist design, top-notch materials, and a range of options that covers just about ever kind of outdoor pursuit you could imagine. Heck, they're even Canadian.
The Arc'teryx Lithic Comp Jacket and Pants represent a bit of a departure for the company. It seems like, with the Lithic, the company has introduced a purpose-built kit for ski touring. Many of their prior models fit into either ice climbing or alpine/big mountain skiing categories. Perhaps with the popularity of all-things backcountry, Arc'teryx has focussed its effort and the Lithic Comp program shouts SKI TOURING. Other manufacturers have offered products with "zonal" construction—many of them feeling and looking a little too patchworky and featuring seams in all the wrong places. The Lithic Comp pant and jacket provide the benefits of zonal construction (or composite, as Arc'teryx calls it) without the wearer ever knowing it's there. Bonus.
The whole idea behind these items is to let you dump heat on the way up, and stay warm on the way down--expelling any excessive moisture in your layering system. I've grown away from a pure softshell program because many softshell fabrics can feel a little heavy and grabby on your body. Their snow shedding properties also can leave a little to be desired. Recently, I've run outfits with Gore Active Shell because I like the lightweight and breathability. Composite construction may be the logical evolution; the best of both worlds. With the hard/soft combo offered by the Lithic Jacket and Pants, you get some Trusaro softshell fabric, but not too much. On the jacket, it's on the back and nape of the neck. With the pants, it's featured in the bib and the backs of the legs. The Gore hardshell fabric is featured where you need it to cut the wind and manage abrasion—mostly on the front facing bits.
We shot a video review of the kit here, below. To see some close up pics and read our impressions in more detail, just scroll down the page.

Simple design but very functional. Nice, clean lines.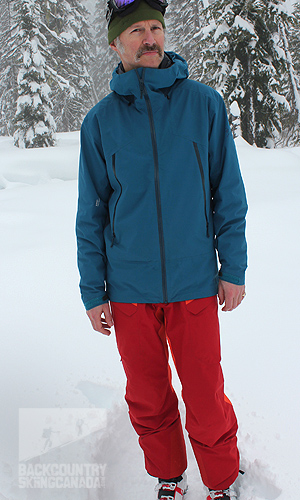 Taped seams for weatherproofness and no bulk.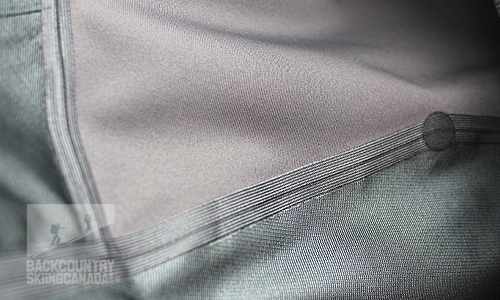 Big mesh pocket on both sides. They're actually big enough to fit fat board skins.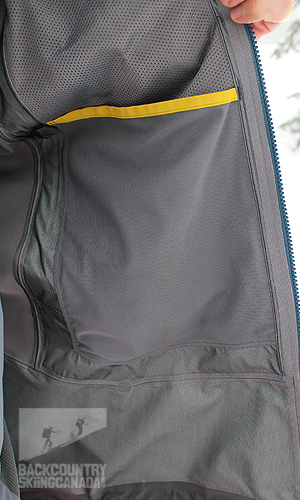 Remarkably tidy and well constructed all around.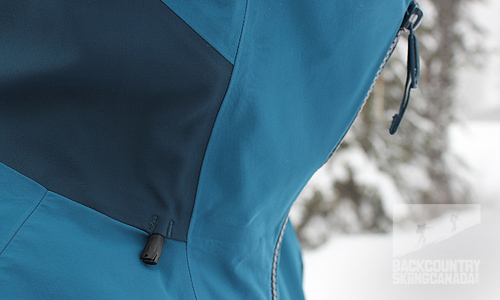 Helmet compatible stormhood. 'natch.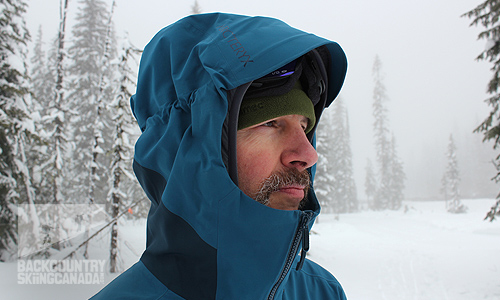 Die-cut Velcro adjusters on the cuffs.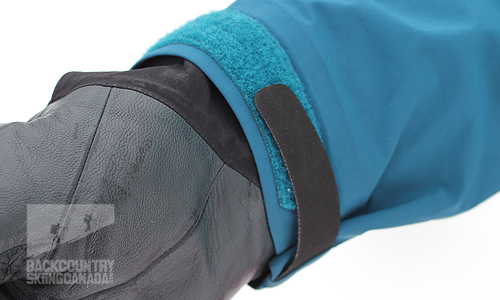 Pants, front and back. Belt not included. The orange patches are the Trusaro softshell.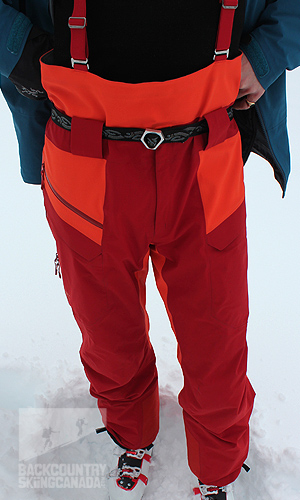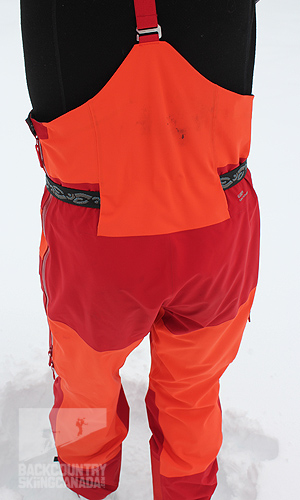 Thigh pockets on either side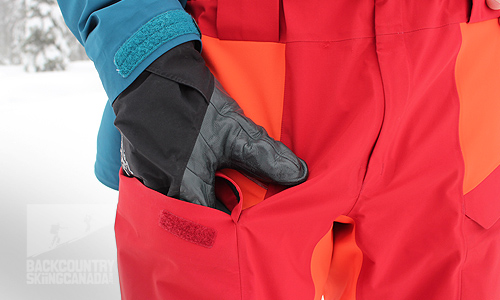 Additional, zippered pocket, skier's right. Side of the thigh zips for optimal venting.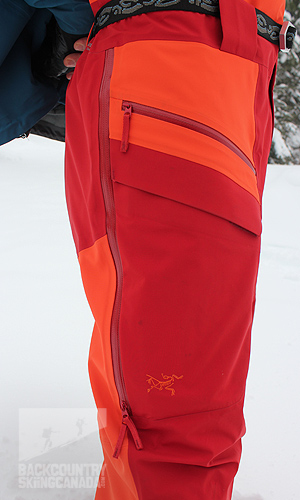 Simple, pull on and off gaiter system. No Velcro.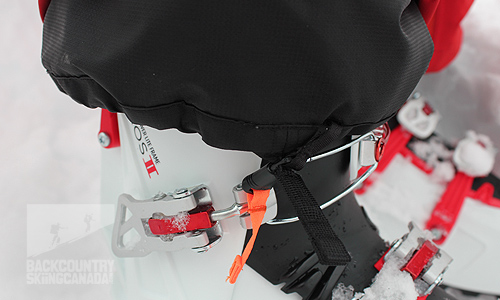 Bomber Keprotek scuff patches.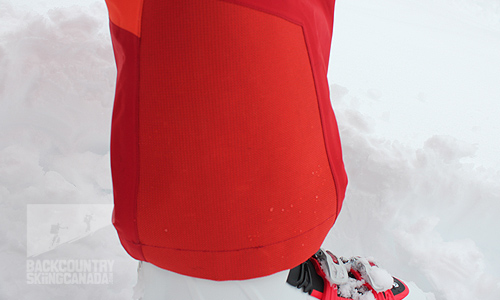 Features:
Arc'teryx Lithic Comp Jacket:
- Taped seams for added weatherproofness
- Composite Construction for backcountry performance
- Articulated elbows
- Gusseted underarms
- Expedition with e3D fit for easy layering, svelte profile and functional articulation
- Helmet compatible StormHood™
- Full front zip with laminated wind flap and chinguard
- WaterTight™ full length front zip
- Die-cut Velcro® cuff adjusters
- Adjustable hem drawcord
- Laminated drop back hem
- Two hand pockets with WaterTight™ zippers and two internal mesh pockets
- Hidden Recco® reflector
Arc'teryx Lithic Comp Pants:
- Taped seams for added weatherproofness
- Composite GORE-TEX® materials to enhance functionality and performance
- Articulated knees and seat
- Gusseted crotch
- Expedition with e3D fit
- WaterTight™ front fly zip
- Micro webbing zipper pulls
- WaterTight™ 1/2 length leg zippers
- Belt loops
- Two cargo pockets with flaps and thigh pocket with zip
- Quick adjust and release Cordura® Powdercuff
- Keprotec™ instep patches
- Hidden Recco® reflector
- Removable suspenders
Verdict:
Sometimes I try not to like Arc'teryx kit—but it just doesn't work. The Lithic Comp Pant and Jacket combo works excellently as a ski touring outer layer (that's what Arc'teryx sell it as) and I even wear the jacket on lift service days, mostly because I like how it fits. We've had a depressingly mild winter thus far in BC's interior, so I haven't exposed these items to much, or anything, in the way of extreme cold. If it was really cold, and really windy, the Trusaro softshell fabric might let in a little too much wind. I've found that if I am moving, the Lithic Comp kit works like a charm. Nice and light, form fitting, stretches where you need it to, the right number of pockets in the right places. I love the bib to ward off drafts and pow.
At first I questioned the placement of the Trusaro softshell fabric on the back of the jacket, where your pack sits. After touring for a few days, it all makes sense. A pack already works as an insulator so the Trusaro acts to keep your back cool. As usual, the Arc' designers have thought this through. In terms of feel, the jacket is like a Beta FL jacket, almost. Nice, light and weatherproof, but with a little stretch to make it all the more comfortable. Same goes for the pants.
A word on fit: I am a skinny guy. 6' 2", about 175 lbs sopping wet. My waist is a 33". The review was done with a size medium for both pants and jacket. Arc'teryx describes the fit as "Expedition with e3D." The sizing is designed to accommodate multiple mid players, etc. If I were in a colder climate, I might go for a large. As it is, I don't often wear anything other than a thin mid-layer, and a thin base-layer layer, under the jacket.
Lithic Comps in use. Five-Mile Basin, Whitewater Resort slackcountry.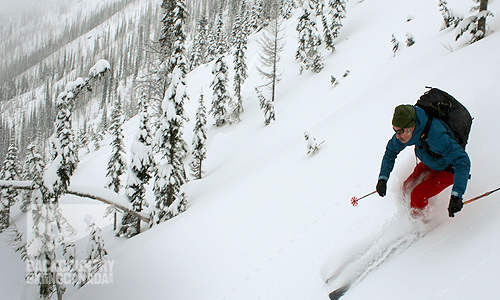 SPECS:
Price: Jacket $470, Pants $400 CAN
Weight: Jacket 510g /1 lb 2 oz, Pants 545 g / 1 lb 3.2 oz Colours: Jacket – Aruna (as reviewed), green boa, thalo blue. Pants – Aruna, black and thalo blue
Fabrics: N70p 3L GORE Fabric Technology, Trusaro™—60% nylon, 30% polyester, 10% elastane.
PROS:
- Funky colours
- Keeps you cool, dry and happy
- Fit is glove-like
- Lightweight - Not crinkly
- Just the right number of features
CONS:
- A little pricey - Thigh pocket flaps on pants are a minor impediment (watch video) - Not super abrasion resistant
Rating: 9/10
Fit/Mobility 1.5/2
Packability: 2/2
Waterproof/Breathable 2/2
Features: 2/2
Quality/Price: 1.5/2

This is only our opinion. Do you disagree? Did we miss something? Are we totally out to lunch? Join the discussion in the forums here, and let us know what you think. People like/dislike gear for different reasons so chime in and we'll get a well-rounded evaluation.
Back to the rest of the reviews.
---