Arc'teryx Issues Voluntary recall of Procline Boot
We got word yesterday that Arc'teryx has issued a voluntary recall of its Procline AT boot. The company points out that no injuries were reported; rather, that 18 reports came in from people who'd had issues with the rear pivot pin, which connects the cuff to the shoe.
This recall should be looked at closely by the 4,400 buyers of the Procline in Canada and the US. Here, below, is a chart (from the Amer Sport website) detailing the models recalled. Of these models, those recalled do not have a coloured dot on the inside of the spoiler (the upper portion of the rear of the boot). "Arc'teryx" is located on the front of the boot.
Bottom line? IF YOU HAVE A PAIR OF PROCLINES, TALK TO WHOEVER SOLD THEM TO YOU AND SEE IF THERE'S A RECALL. Repair is simple and free.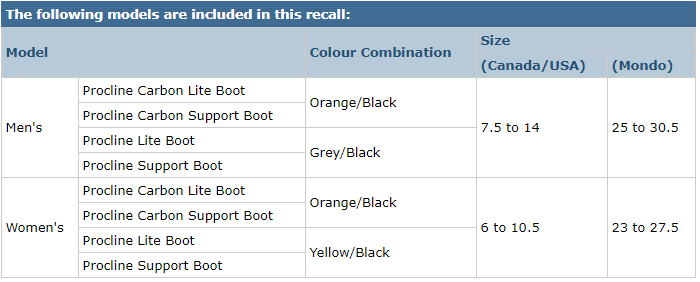 Props to Arc'teryx for getting ahead of this one. It's not unlike
what went down with the Scarpa F1 Evo
(different issue, same zone on the boot).
Here is the official letter from Arc'teryx Equipment's President and GM.
To Our Loyal Consumers,
Today, we're announcing a voluntary recall for all first generation Procline Ski Boots sold by Arc'teryx Equipment.
We are all deeply committed to the safety of our users and while there have been no injuries reported involving any Procline Ski Boots, our commitment to our users' safety leads us to issue this recall to make the required axis pin repair. In a small number of boots, the axis pin has dislodged which could cause the skier to lose control or fall and suffer injuries. All 2016 Procline Boots will be repaired to secure the axis pin and allow the boot to function as designed.
If you own a Procline Ski Boot, please visit recall.arcteryx.com for more information and instructions on how to return your boot free of charge for the required repair.
On behalf of Arc'teryx, thank you for your patience as we bring this new technology to market. Innovation and quality are foundational building blocks of our brand design culture. We sincerely apologize for the inconvenience this issue has caused and wish you to know that over our 25 year history of making climbing equipment we have been and remain committed to creating products that enable consumers to move safely in the mountains.
Sincerely,
Jon Hoerauf
President and GM