Large Avalanche Cycle throughout BC
Two reports of recent BIG activity on the coast and at Rogers Pass. Time to be carefull put there! Anyone else have any other Beta?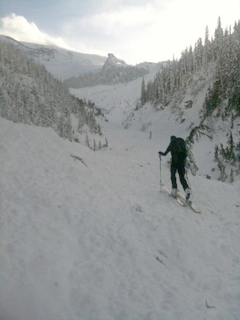 This info is a bit dated, but on Thursday, a large natural avalanche released from Mt. Jupiter in the Asulkan Drainage, Rogers Pass. It ran from Sapphire Col all the way to Mt. Leda, and filled the mousetrap. This avalanche follows a large avalanche cycle that started last Wednesday with the Pineapple Express weather system moved through, bringing heavy rains and snowfall to the Pass. Numerous large avalanches were also noted in the highway corridor, most notably a size 4 from Mt. Tupper, and several size 3-3.5. The cycle subsided yesterday with the clearing skies, however the next system is coming through this weekend. Large propagations are possible, so keep your eyes open!
Sylvia Forest, Mountain Guide
Just a heads up: we are hearing reports of large avalanches reaching low elevation roads in the Sea to Sky country. Some of these slides are starting well below treeline. Know what is above you if you plan to head out on the Forrest Service Roads.
Cheers, Conny Amelunxen