HELP - How do I add a video to a post?
This post is for the old Backcountry Skiing Canada web site and no longer applicable.
To find out how to add a video to a post like the one below simply follow steps below the video which take you through the process.
1. CREATE A NEW POST
Either click on "Add A New Topic" on the right side of the orange bar above the existing forum topics, or you can reply to an existing post by clicking on the "Reply To Post" in the same orange bar. In both cases remember that you have to be registered and logged in with your username and password.
2. GET STARTED
Click on the "movie strip" icon" in the menu bar above the text editor you type into.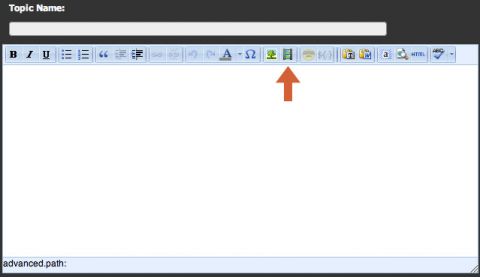 3. VIDEO LINK
Go to youtube.com and find the video you want to play in your post. Copy the web page URL in your browsers address bar at the top of your screen it should look like this: http://www.youtube.com/watch?v.....FNbpNjxR9g
4. DETAILS, DETAILS, DETAILS
Paste this link you just copied from YouTube into the "File/URL" space and be sure to select a "Type" as flash. Ensure your video dimensions are not over 500 pixels wide (if they are reduce this size proportionally by entering in some new dimensions.) You should now see a preview of your video in the lower preview window. Now click on "Insert"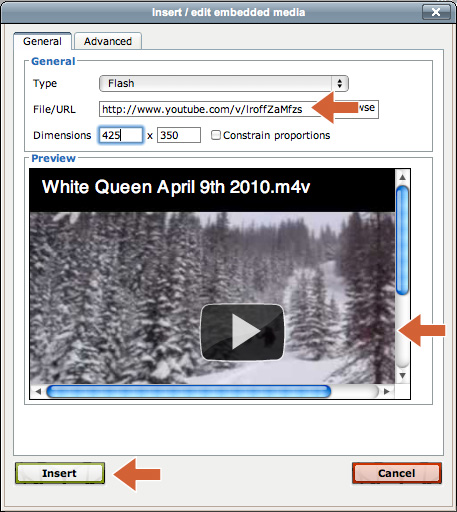 Your video should now be placed in your post (even if you do not see the preview there). Complete your post with some more text and you are done.
If you want to add a video from your hard drive simply create an account with youtube.com and follow the directions above once it is live on youtube.com as this is the easiest way to not only share your video with the world but also ensure it's the correct format for this web site.
If this is not for you then follow steps one and two in this post and then steps three to six in the "HELP – How do I add an image to a post?" which can be found here.
*****NOTE: For Vimeo you can just paste in the URL link as above for Youtube videos, if you try and use the embed code this will not work so you need to click on "Use old embed code" and then copy a portion that looks like this:http://vimeo.com/moogaloop.swf?
clip_id=21864555&server=vimeo.com&show_title=1&show_byline=
1&show_portrait=0&color=&fullscreen=1