New Opportunities to Ski the Chic Chocs!
Skiing in the Chic Chocs has undergone a radical revamp for Winter 2021-2022 - check out the full press release below. Some highlights include new accommodation options, new snow making equipment, and a cat-ski operation!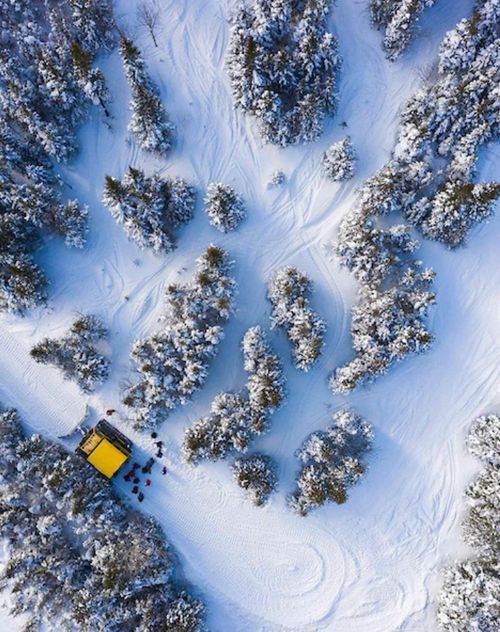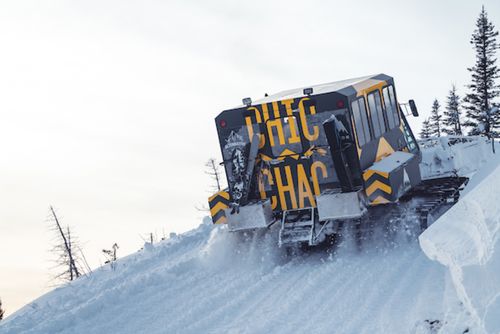 The Chic-Chac in Murdochville: A winter season filled with opportunities! 
There's plenty new to do when you love skiing in the Chic-Chocs
New: Quartier Général, Olympic Motel, and a revamped experience at Mont Miller
Some $2 million invested over the last two years
Murdochville, November 25, 2021 – The team at Chic-Chac—your backcountry ski resort destination in Gaspésie—will kick off this year's ski season with the opening of Quartier Général, a large, newly redesigned multifunctional space located in the old village church. The team is also excited to announce even more accommodation space with the acquisition of the Olympic Motel, plus get set for an enhanced experience on all three ski hills. 
A former church transforms into Quartier Général
The official opening of Quartier Général is the result of the recent purchase and redesign of the village church, at a cost of $1.2 million. Visitors now have access to a restaurant and bar that seats 160, a concert venue that can hold 400, a boutique, rental services, and private event organization.
This project was created by Lemay architecture, and is destined to become the place for skiers, tourists, and residents of Murdochville alike. It will be the new base camp for the Chic-Chac resort complex—built to ensure everyone feels welcome while enjoying the great outdoors.
From New York to Murdoch: A $200,000 investment to acquire the Olympic Motel
In 1980, the Olympic Motel housed athletes during the Olympic Games in Lake Placid, New York. It was then moved to Murdochville by an Olympic enthusiast, and recently purchased and renovated by the Chic-Chac team for $200,000. The 8-room accommodation has retained many of its original retro touches. "As well as attracting local and worldwide visitors to Murdochville," says Marketing Director Félix Rioux, "we are proud to maintain the spirit as well as much of the original cachet of the city's built heritage."
Ideally located at the foot of Mont Miller, the Olympic Motel offers direct access to the ski hill as well as snowmobile route #597. It's also conveniently close to Quartier Général. Packages for snowmobilers start at $114 per person and include meals. Packages for skiers and snowboarders are also available. Each room comes with a bathroom, wifi, microwave, and a mini fridge.
Snowmaking equipment and more on Mont Miller: a $230,000 investment
The Chic-Chac team has acquired a slew of snow cannons to ensure the Centrale ski run is always ready to go. "Skiers can now take advantage of the hills earlier and later in the season," says CEO Guillaume Molaison. "The Hazard ski run has been trimmed and widened, giving skiers more room for exciting turns." The complete reconstruction of the T-bar, addition of an Alpine circuit, and triangular platforms allow skiers to access the jump by experience level: from the bottom for beginners, and the middle for experienced skiers. Mont Miller has never offered skiers more!
 
Catski adventures for up to 14 guests: a $100,000 investment
To meet the growing demand of backcountry skiers, Chic-Chac has expanded its track vehicle collection with the recent purchase of a catski motorized lift, which will be up and running in just a few weeks' time. This $100,000 investment seats 14 and will continuously serve Monts Porphyre and York.
 
New spaces for those who love to travel by van, in collaboration with Advanture
Four new electric spaces have been added behind the Presbytère to accommodate those who love to live the van life. Guests have access to the showers at the Presbytère and Quartier Général. Laundry service is available by reservation. $40/night + tax for 2 adults, with or without kids.
 
 
For information or reservations: chic-chac.com | 418-784-3311
  
New for winter 2021-2022
Opening of Quartier Général (former church, acquired in 2019)
Purchase and renovation of the Olympic Motel (8 rooms)
Space for 4 minivans, with electricity hookup
Purchase of a catski that seats 14
Chic-Chac: Highlights
3 hills and 4 skiable areas
More than 60 runs
Over 7 metres of snow every year
For beginners to experts
A selection of natural and man-made jumps
Lifts: motorized, track vehicles, chairlifts, helicopter, ski skin
Over 1,000 catski outings in 2021
Over 10,000 visits to Murdochville
Over 30 full- and part-time jobs
Distance: 70 minutes from Gaspé, 6.5 hours from Quebec City, 9 hours from Montreal
  
About the Chic-Chac resort 
Chic-Chac offers an adventure tourism experience and a wide range of options for a day to remember or an all-inclusive stay, including accommodation, restaurants, a bar, and guided adventures. Their vast, skiable domain features 3 hills and 500 acres for beginners to experts. Founded in 2008 by Guillaume Molaison and Eloïse Bourdon, the Chic-Chac is a key player in the region's economical development of Monts Miller, York, Porphyre, and Lyall, and the resort's growing accommodation capacity is attracting more and more visitors, year round.
 
Accommodation
Auberge Chic-Chac: 26 beds (+ communal dining room and large living area)
Presbytère: 28 beds (+ living space and pool table) + 4 spaces for vans behind the building
Duplex: 12 beds
Mont Miller House: 9 to 12 people
Big Bill House: 12 to 16 people
Olympic Motel: 8 rooms (including 2 with quadruple occupancy)
Houses for rent available in the city
 
Related sports and activities (4 seasons) 
Cross-country skiing, snowshoeing, snowmobiling, hiking, rafting, camping, canoe, kayak, fly fishing, mountain biking, motocross, hunting.